Yeovil Half 2018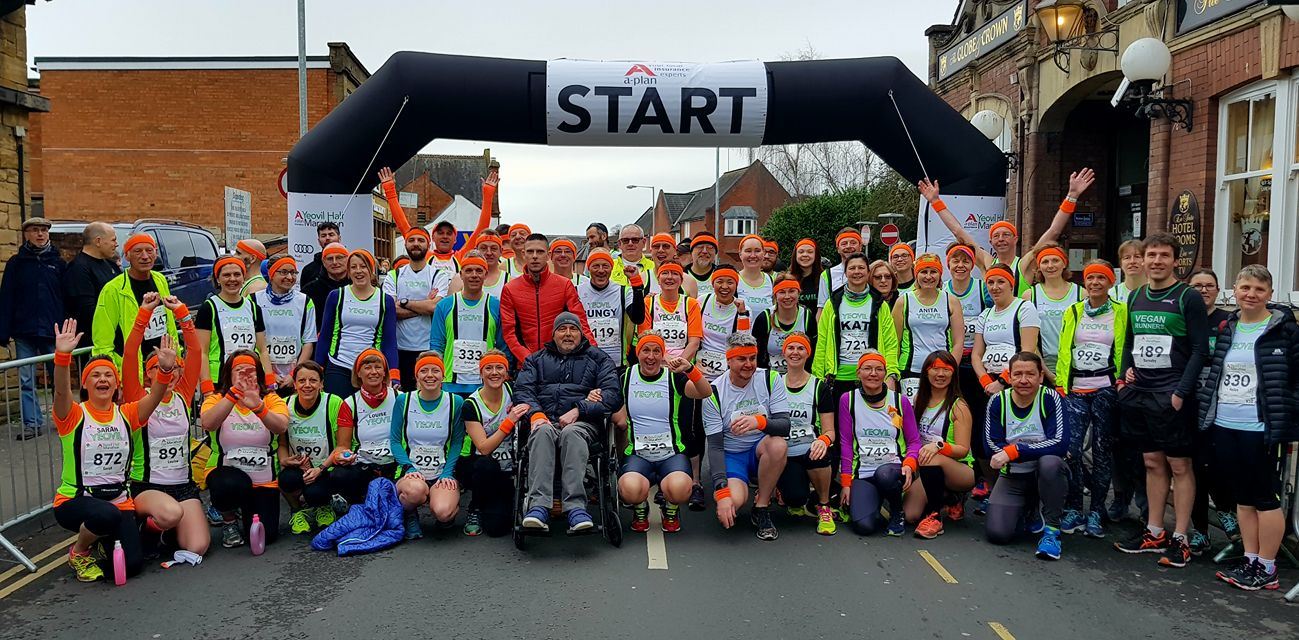 The 2018 Yeovil Half by Yeovil Town RRC
Well, all I can say is what a great day for the Club, it started with an early photograph that I think is the largest number of the Club in one phot for a few years. Thanks Steve Membury. This was followed by Pete saying a few words before the mass start.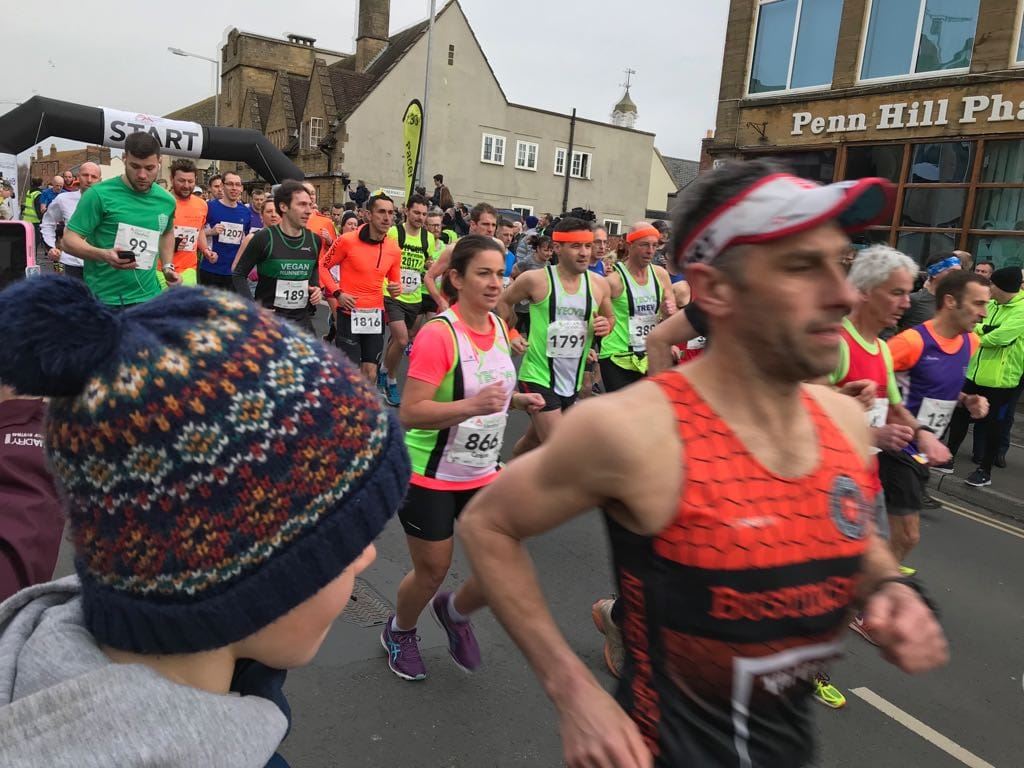 In support of John Enright who sadly left us a few weeks ago, we all wore an Orange Handband and also Wristlets to show that John will never be forgotten. Thanks to Lindsay for all her work in sorting this out.
From the Gun Paul Card was out in front for the Club and had a great race and got one of the Clubs many PB today, sadly the results don't show this and there seems to be an issue with the timings, it might I think just be Gun to Chip as I was the last person over the mat at the start and on my watch I did 1:36 and the results have me down for 1:38.32 and it did take me a while to get over the mat. The results have Paul at 1:27:41 and the second place male for the Club with Steve Lye, who also got a PB first with 1:26:48. Pauls watch says differently on his "official time". Great running Paul and looking good for London.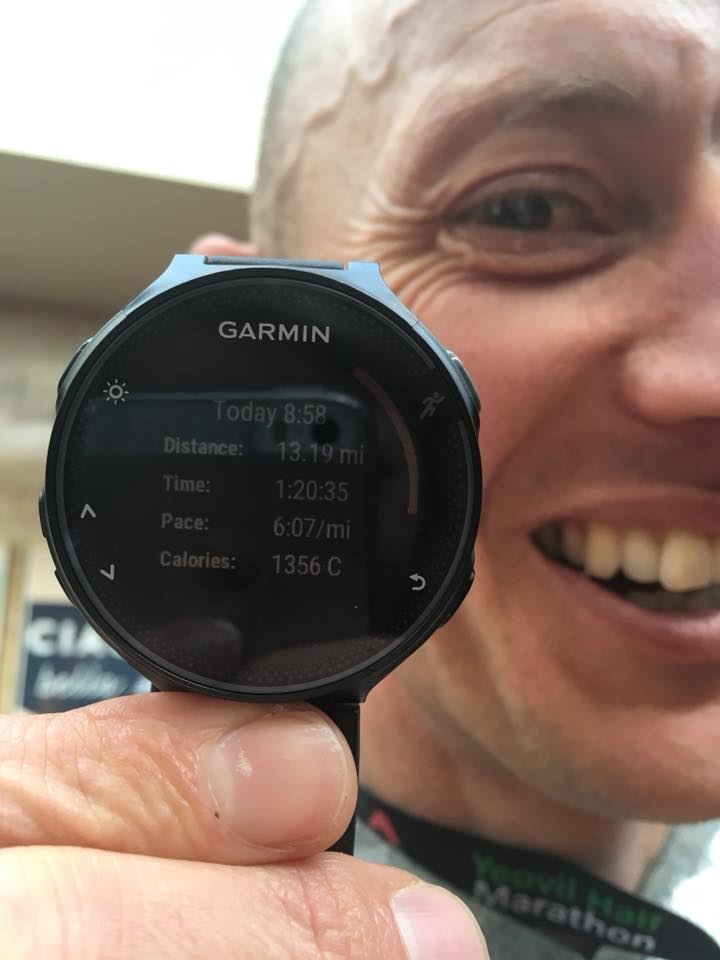 Our first lady according to the results was Harriet Quast in 1:39, great running Harriet.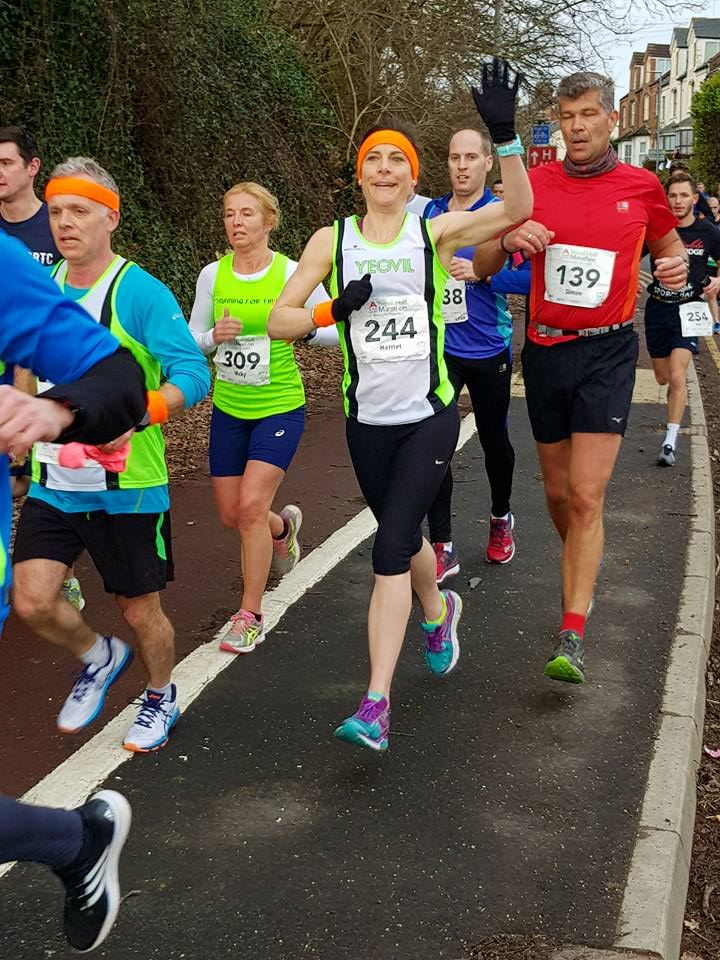 There was some great effort out there today and Richard Howes gave it all, he just couldn't take much more and the tears just poured out. Mind you it could be because he had to go home to Steph's cooking....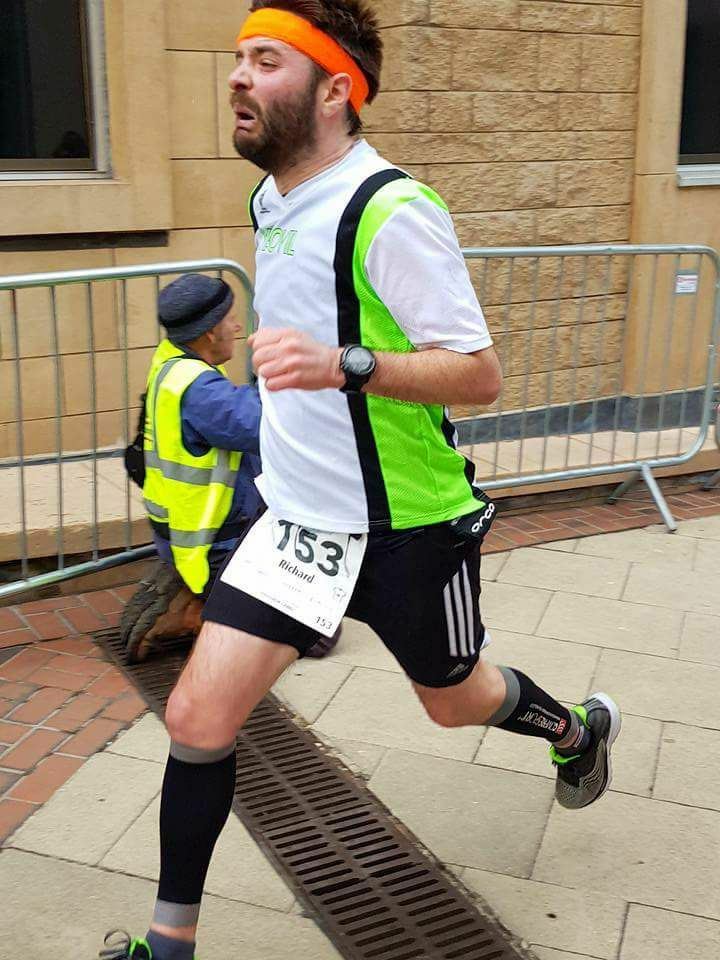 Some other great photographs were taken by our great support team: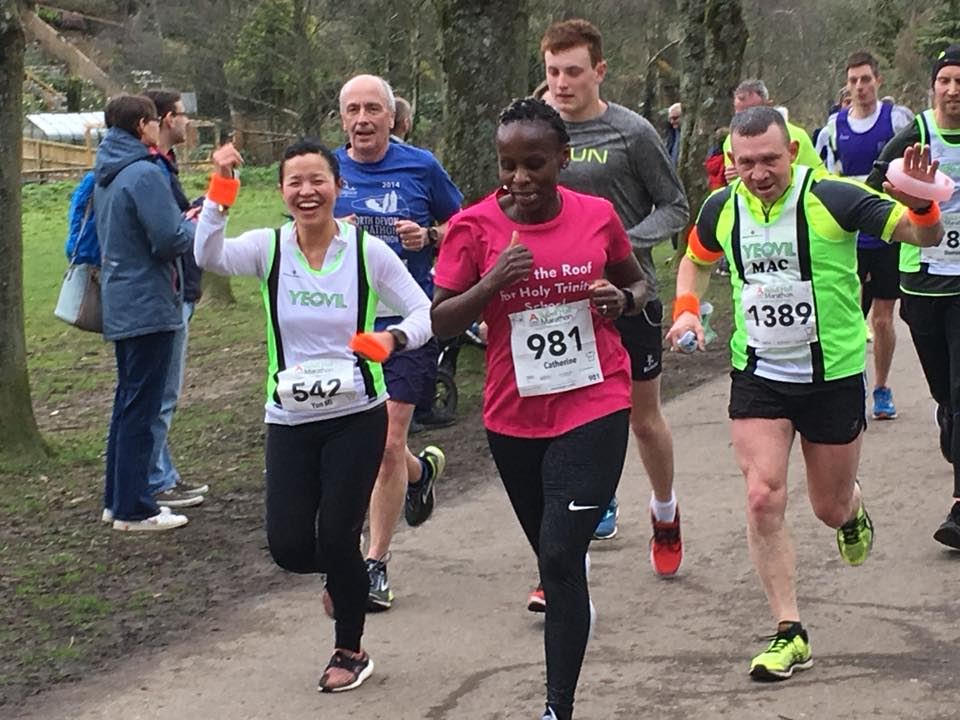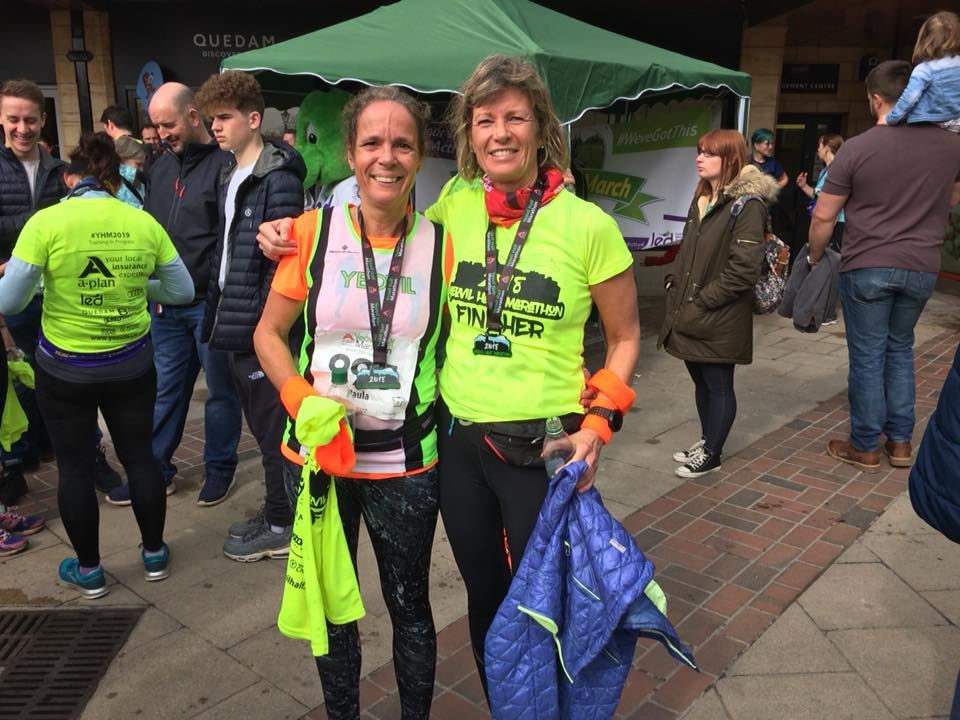 Someone did try to overtake Harriet so she punched him in the face....and rather enjoyed it.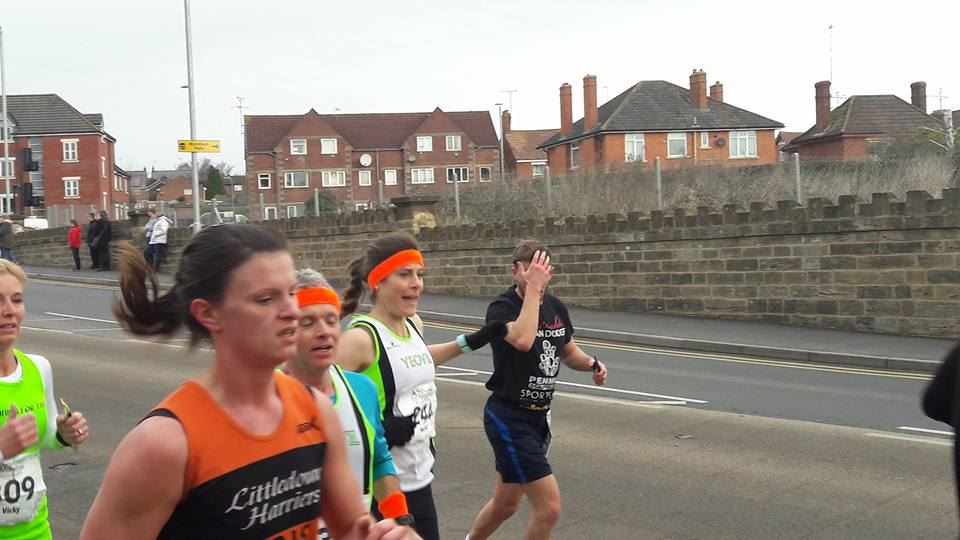 A happy Trev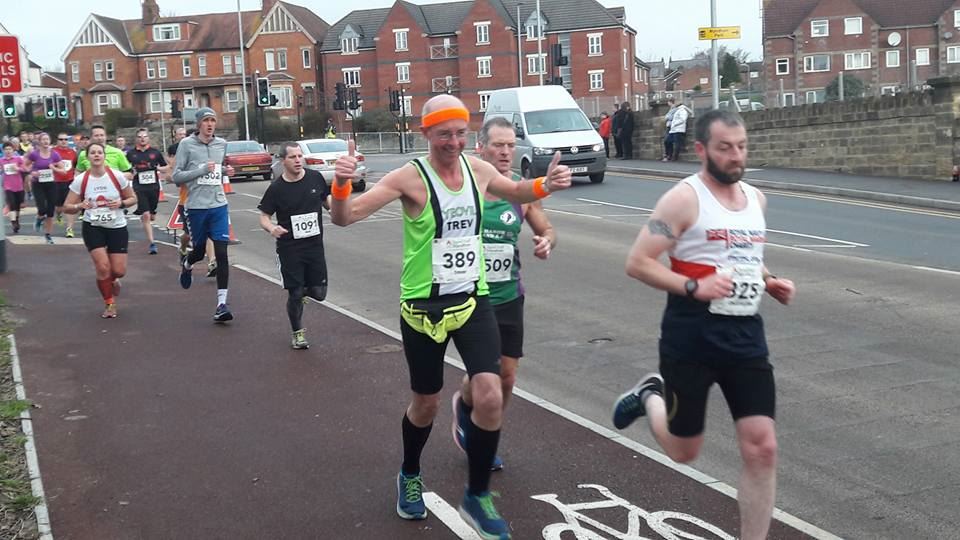 From Paul Felstead: I just wanted to Thank all of the Club for their support since I Joined, Today was a very special Day shared with my running buddy Louise Hallett. my first ever Half Marathon. A lot of you won't know this but Last June I was sedentary, couldn't run more than 10 Yards unless I was chasing an ice cream van. In Late June I returned home from Holiday and witnessed my neighbours being Burgled, I managed to chase and catch them, although it nearly killed me, and I thought then I have to do something about my fitness. I completed the couch to 5K app then joined the club, and I haven't looked back since, so Thank you all for your support and encouragement, we Did John Enright proud today with a sea of Orange Headbands and wristbands, and I bet he was laughing his head off looking down on us. I'm going to enjoy this achievement a little and look forward to seeing you all Tuesday, Paul
👍
🏃‍♂️
🏁
Mark Larcombe has now done all the Yeovil Halfs.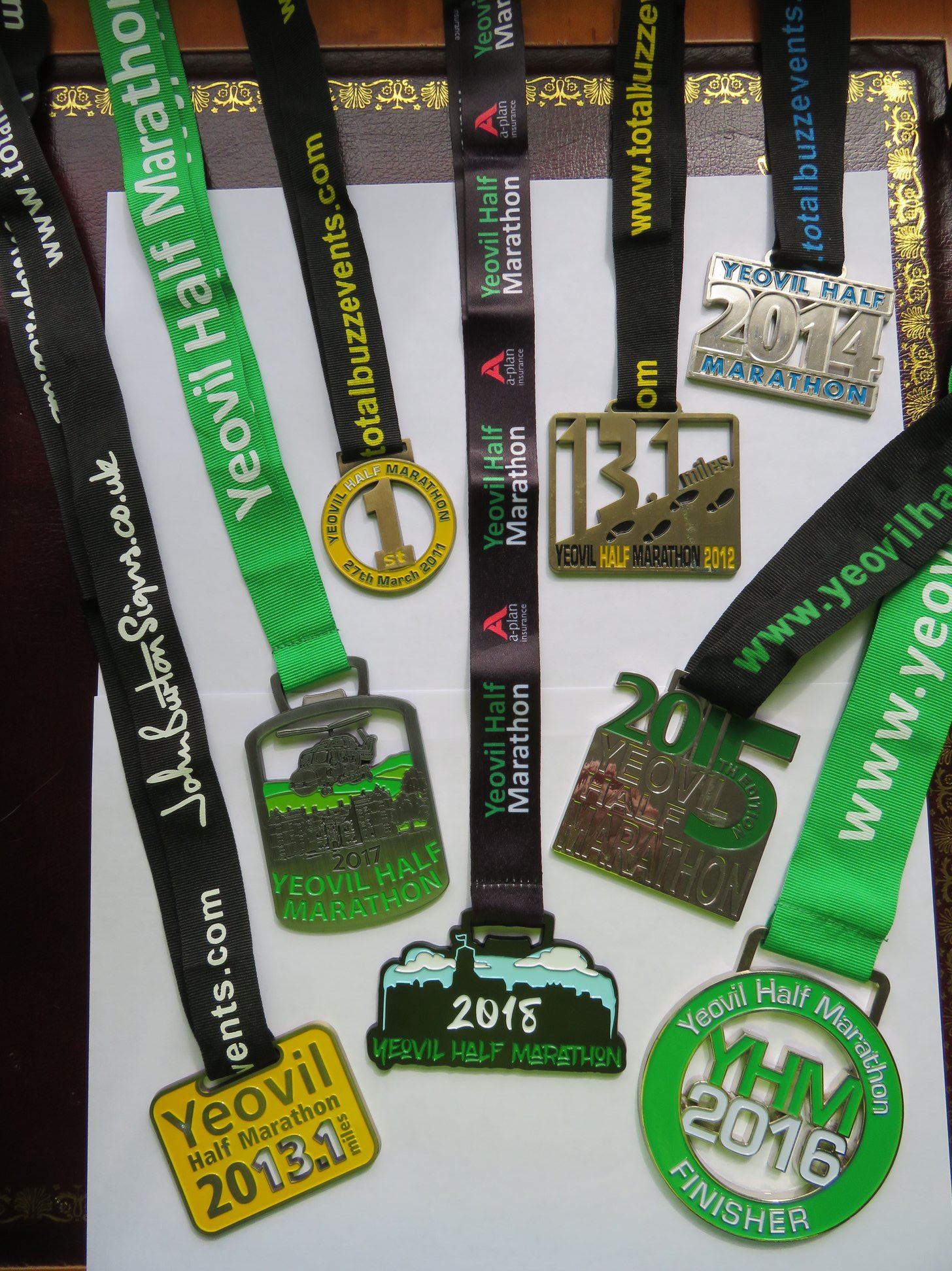 After the Race some of us went to the Manor Hotel for Sunday Lunch organised by Denies, it was a great meal and for a Fiver also great value. Lindsay turned up and took some phots but sadly they have not come through yet but I will add when I get them.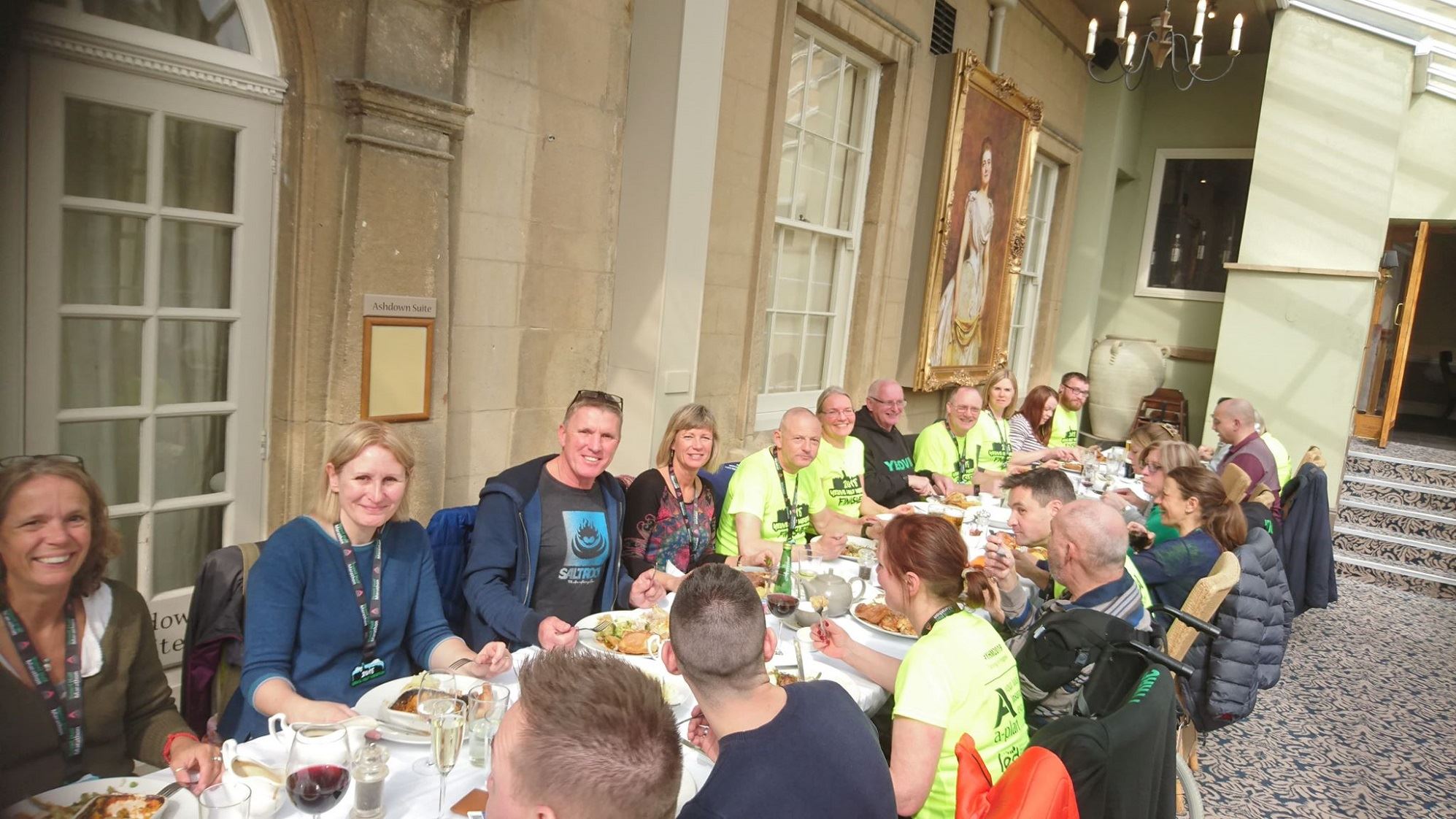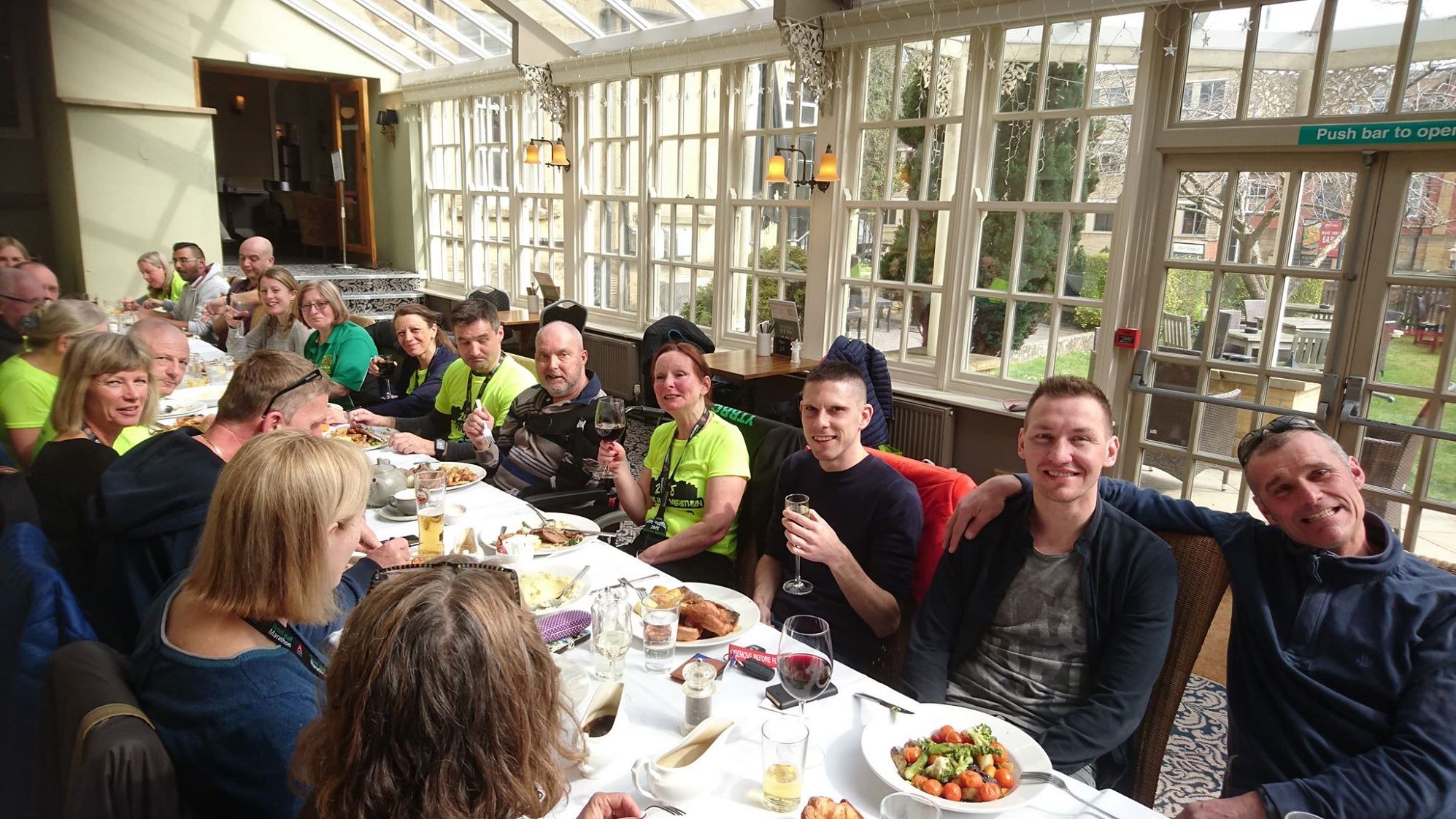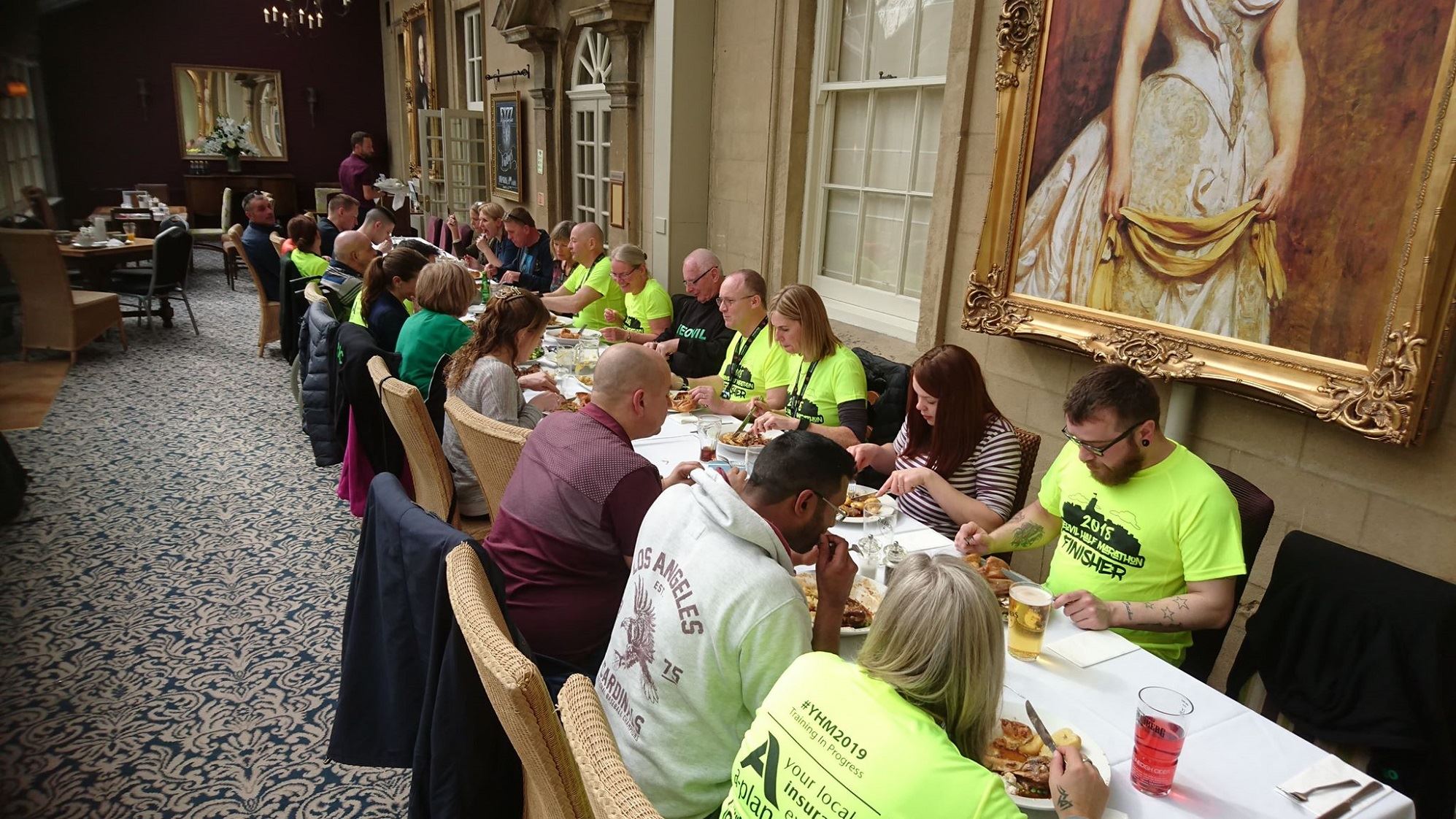 Thanks to all those that helped or Ran today, really was a great club morning and we all did John proud.
Butleigh 10k
From Katie Brooks: YTRRC does Butleigh 10k (ish). After supporting the club at Yeovil half and taking pics i hot-footed it over Butleigh. Very muddy and rather sticky multi-terrain course. Very well organised and marshalled with a bit of bling at the end.
YEY I was the first Yeovil back ......... and last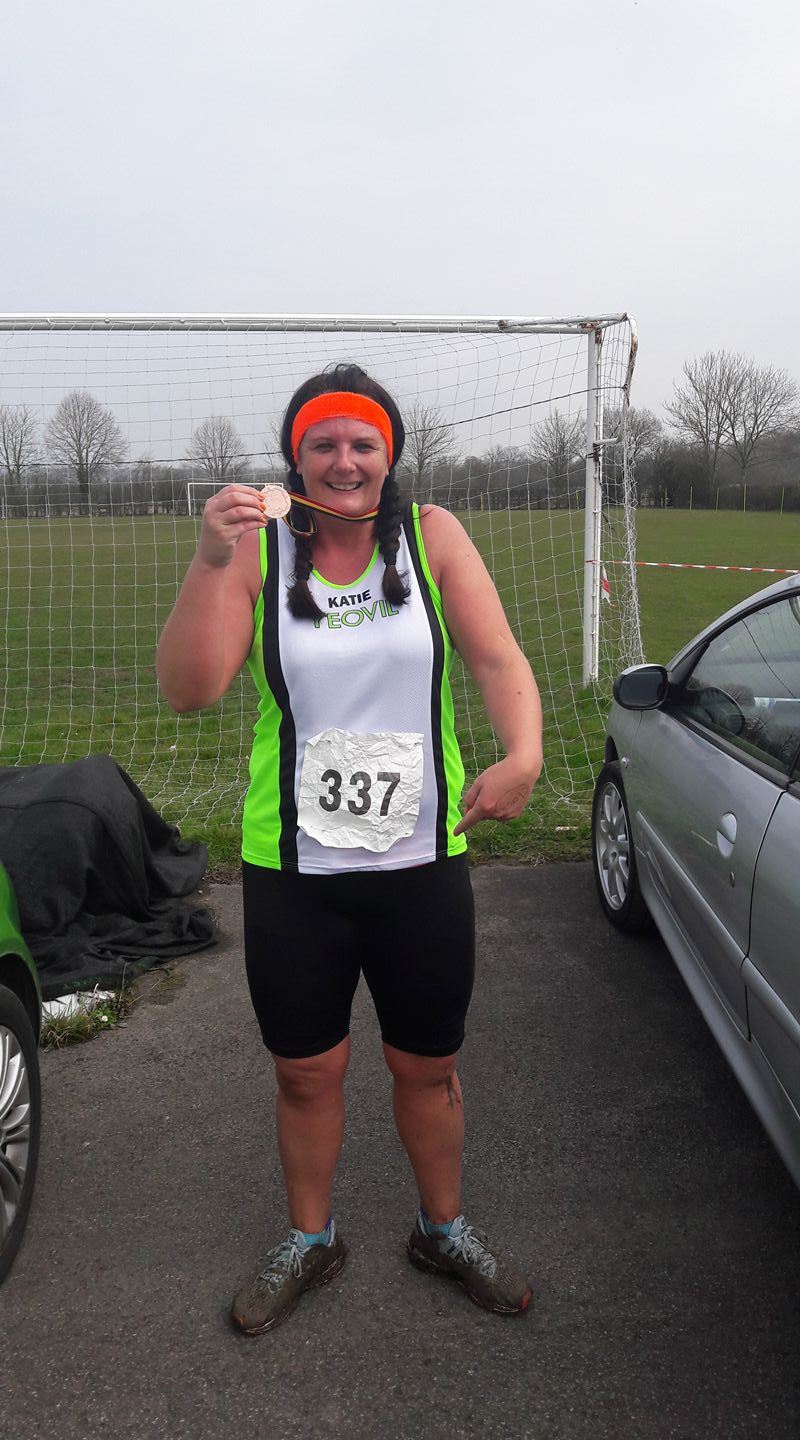 Warsaw Half
Well done to Magdalena on a PB in Warsaw, she posted: "Finally arrived at my destination
❤
thanks
Yunmi
for my pre-race fuel and good luck to all the lovely people running Yeovil Half tomorrow!!! I will be thinking of you while running on Warsaw streets xxx"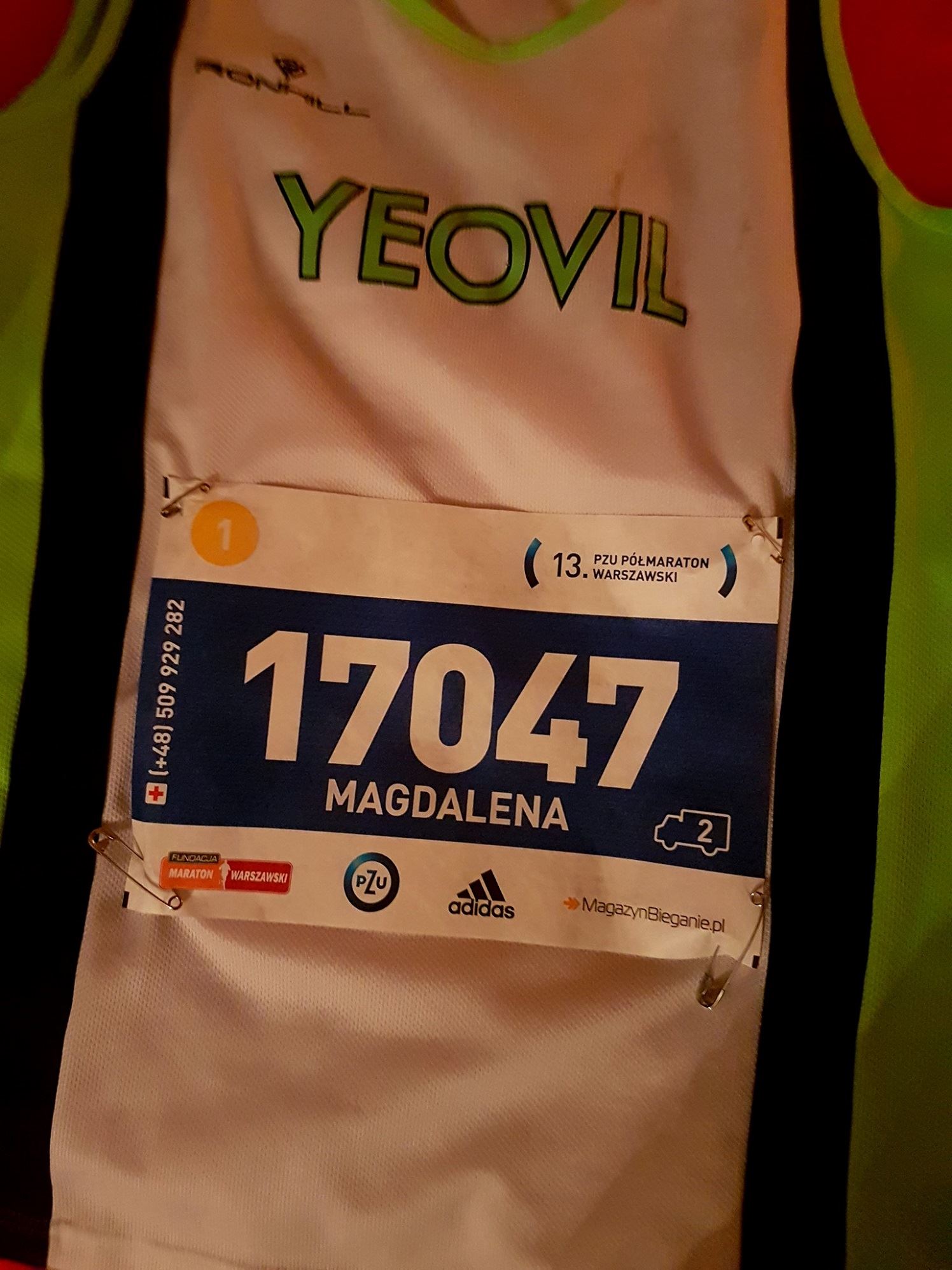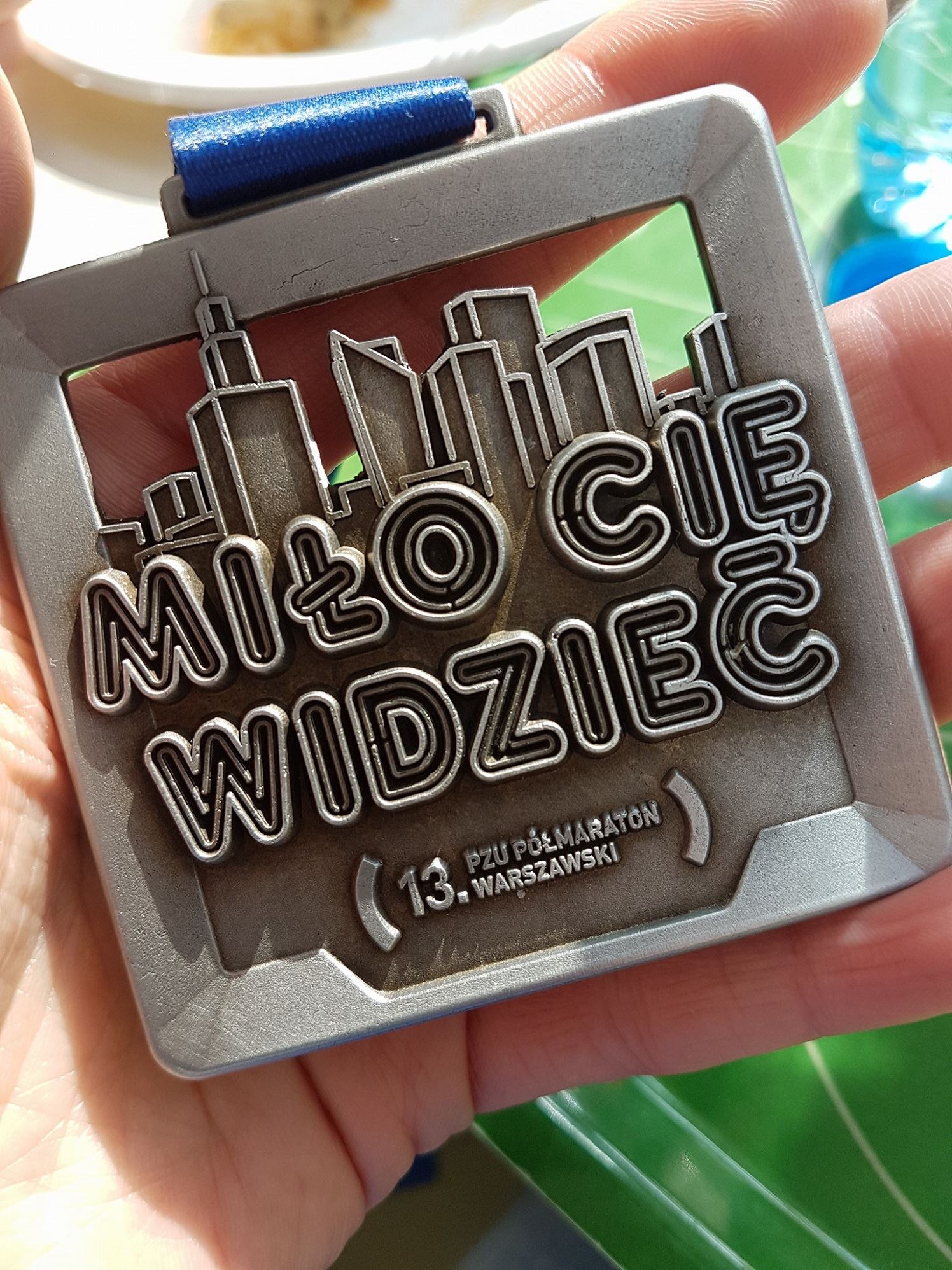 I would like to say big well done to all you fantastic people who run Yeovil Half today and kudos for all new PBs! I ran Warsaw Half Marathon and got myself new PB too! I'll post race report later when I stop buzzing
😊 miss you all xxx
Easter Bunny
I think I can say that this is now full with 500 runners so it is going to be a very busy day for the Club to make sure this is a great success. Thanks to all that have given me your names for helping and if you haven't and you can turn up then please do. If all can get there for 10 am at the latest and earlier if you can. Thanks.
Park Runs
This in from Dave Stanfield:
Deb's 50th Different Parkrun
A dry morning, a slight breeze of sea air set the scene for Deb's 50th different Parkrun at Lee-on-the-Solent. Nice friendly welcome from the volunteers and a great briefing by the Race Director warmed us up nicely.
Deb ran well, posting one of her quickest times for a while. Great event and recommended if you fancy somewhere different. No wonder Jo Henley likes running there 🙂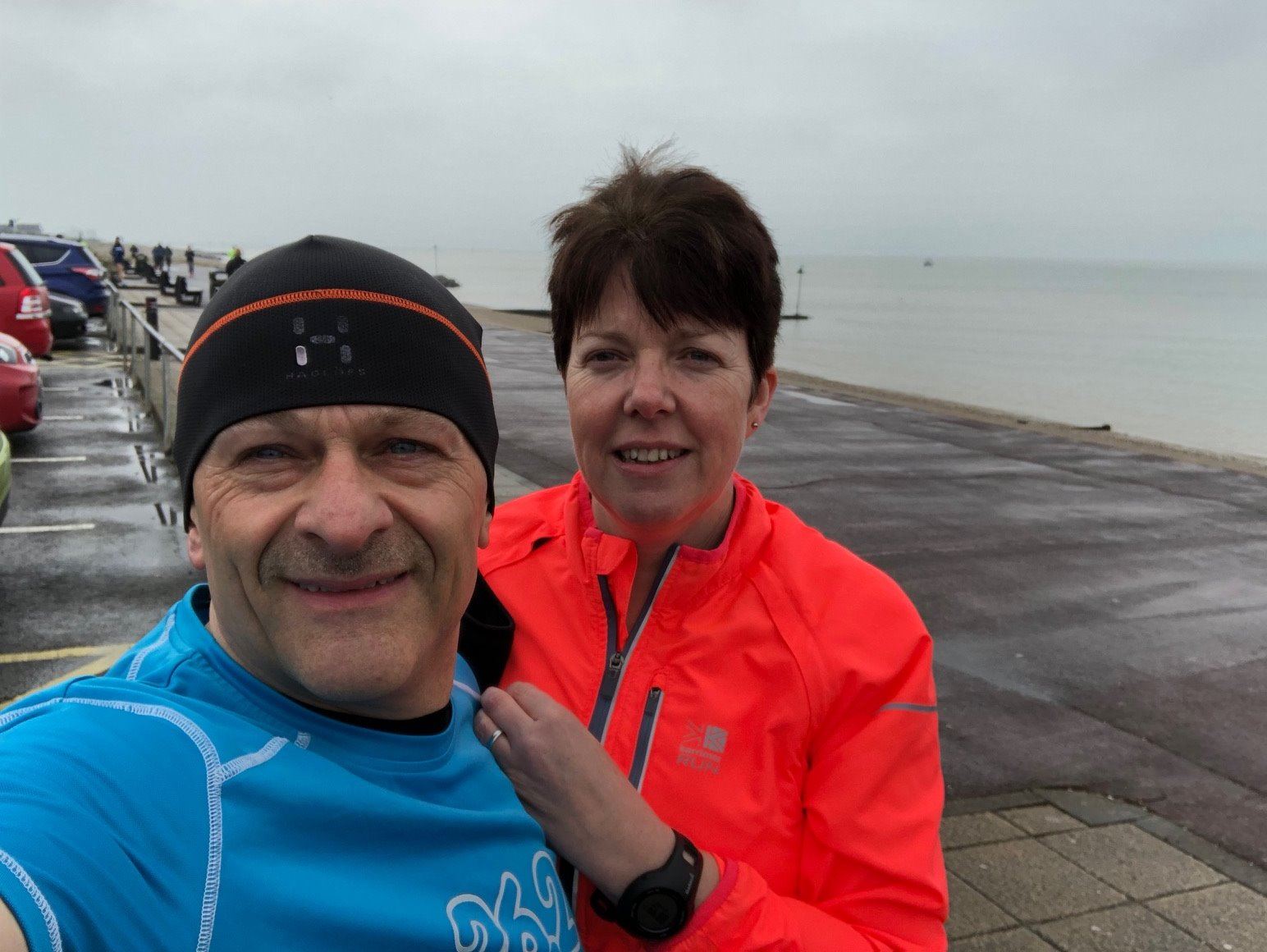 London Marathon
I have phoned to confirm booking/numbers for Prezzo, Northumberland Avenue, WC2N 5BW, on 21st April at 6.30 pm. The most important thing is that it is NOT one of the ones closing! I have 21 names:
Linda, Steve, Jo, Triss, Guy, Paula, Louise, Fez, Becky, Kev, Bryn, Sharon, Amy, Mike + 1, and the Nesbitts!
If there are any changes to these please let me know asap.
Thanks
Lesley
Marks Runs
PUB RUN – YEOVIL CATTLE MARKET / CHIP SHOP (22nd March 2018)
This was Ali's alley pub run (or Yeovil multi-terrain pub run). This was a seven mile run through the north western part of Yeovil, incorporating much off-road (parks, paths, and alley ways). From the cattle market we made our way to the Queensway footbridge via Tabernacle lane and other paths. We ran onto Cedar Grove via Sidney Gardens, eventually reaching Larkhill. Continuing north westwards through Abbey Manor Park we came to Thorne Lane. Crossing over, we entered the new housing estate. Twice, our way was blocked by tall metal fences, but we found our way back onto Thorne Lane. Using paths we cut across back to Larkhill, and used more paths to get to Johnson Park. We ran down to the old garage and used more paths to get to Coombe Street lane. Running south through Mudford Rec we passed floodlit games of Hockey, and Track Running. We ran along another path through College Green and came to Goldcroft. Next was a totally unexpected off-road run (Milford Dip area) which took us eventually to the bottom of Goldcroft, and back to the fish n chip shop. It was a great run, thanks Ali. It would be nice to repeat it in day light, just to see where we went.
Released On 25th Mar 2018