Time to Frolic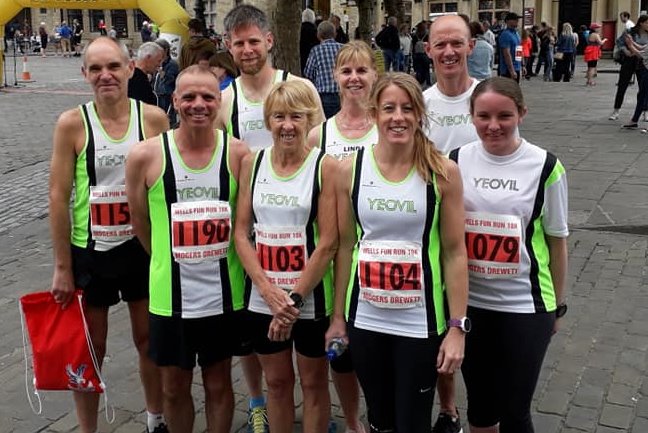 Egdon Easy
Egdon Easy 10k Saturday evening in Weymouth.
Small YTRRC Contingent. This was one of their largest entries to date with 400 runners, it's a great evening race starting at the College and heading out through Lodmoor Country park, basically 2 laps of family friendly support.
Robbie Hawkins was sporting the Green and White tonight and our first runner home in 8th place ( 37:30) followed by Trevor Strelley then Kevin Doherty with First Yeovil Town RRC Lady Helen Ackerman.. it was muggy ...and warm .. but rain held off and we all earnt a Great T Shirt.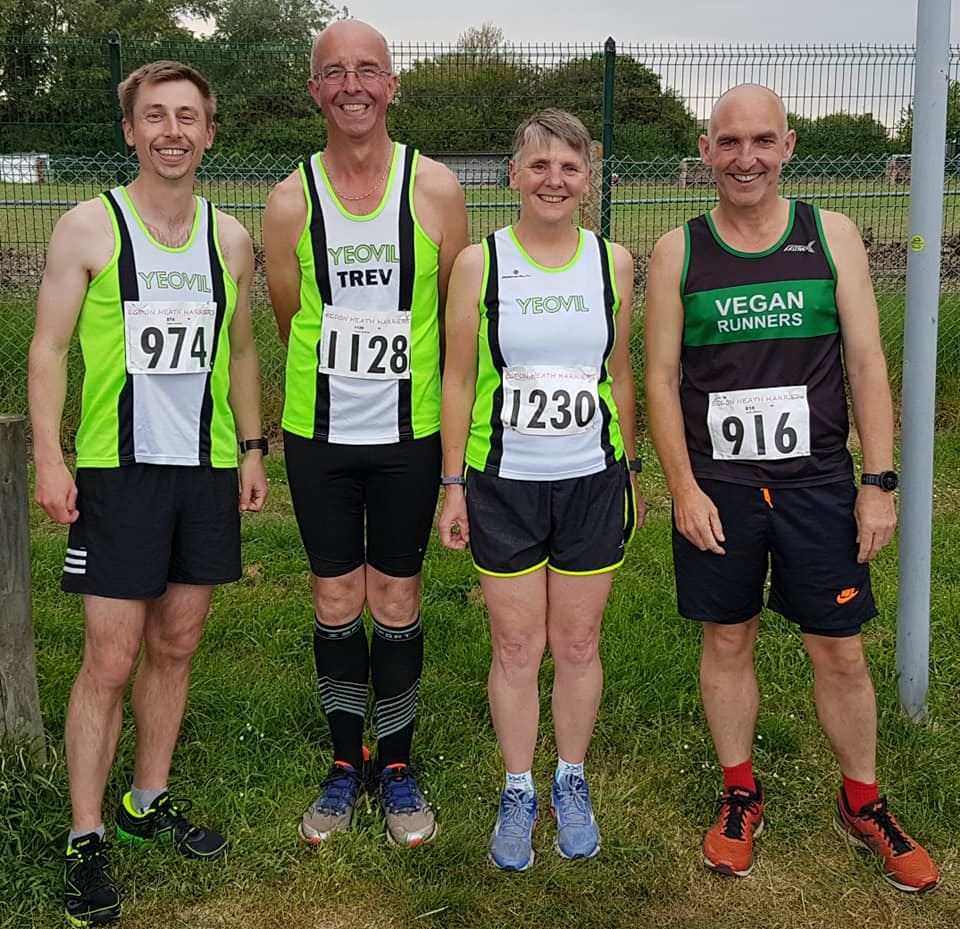 Another great weekend down in sunny Dorset for the Dorset Invader weekend, with camping, drinking and a bit of running, I say a bit actually a bloody lot of running. A few Club members got down there Friday.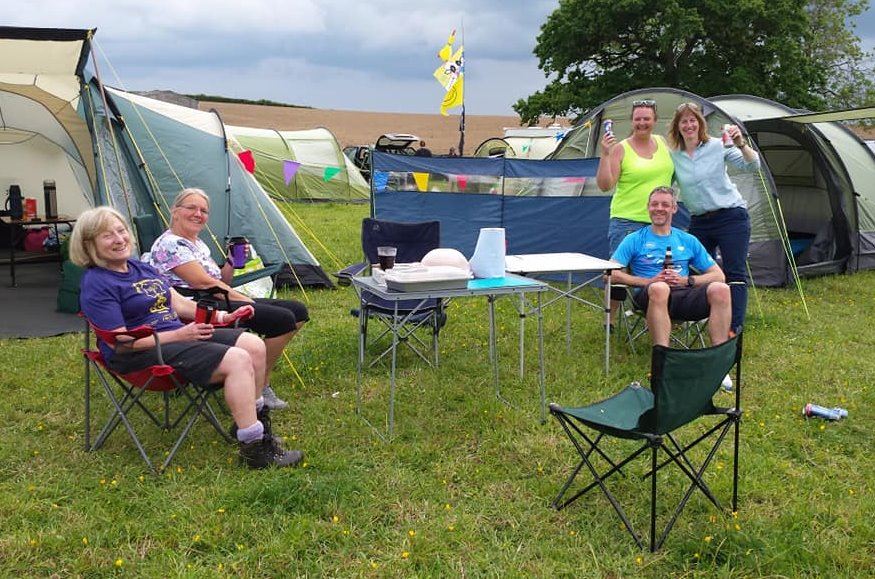 Saturday saw the Frolic and we had a few Club members taking part doing however many laps they wanted.
Sunday saw the Marathon set off at 08:30 with 6 runners, Kev is not in the picture as he was still doing his hair. Kev was first YTRRC runner over the line and Julie Burton was our first lady.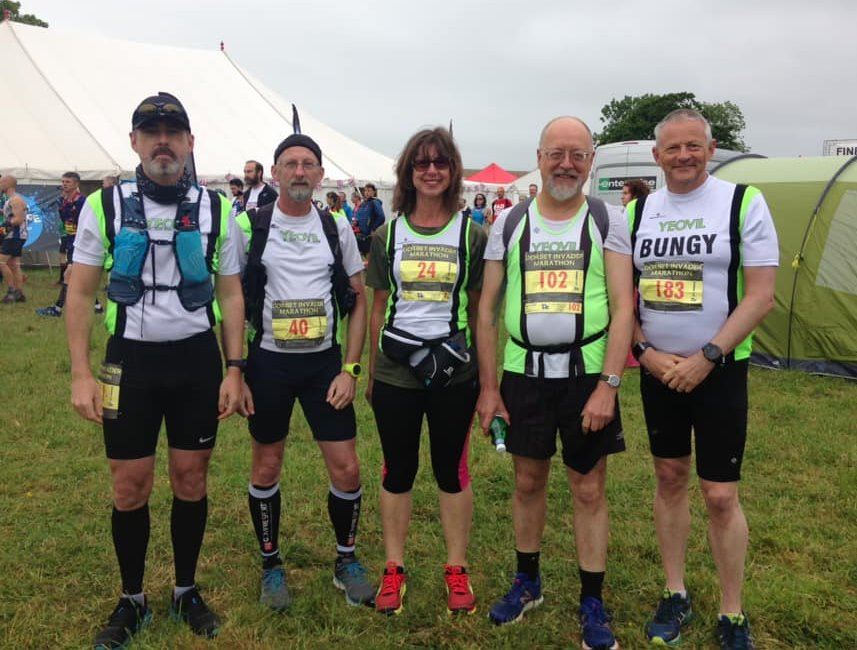 In the Half we had 5 runners with Steve Lye coming in first for the Club and Sharon Masters was our first lady.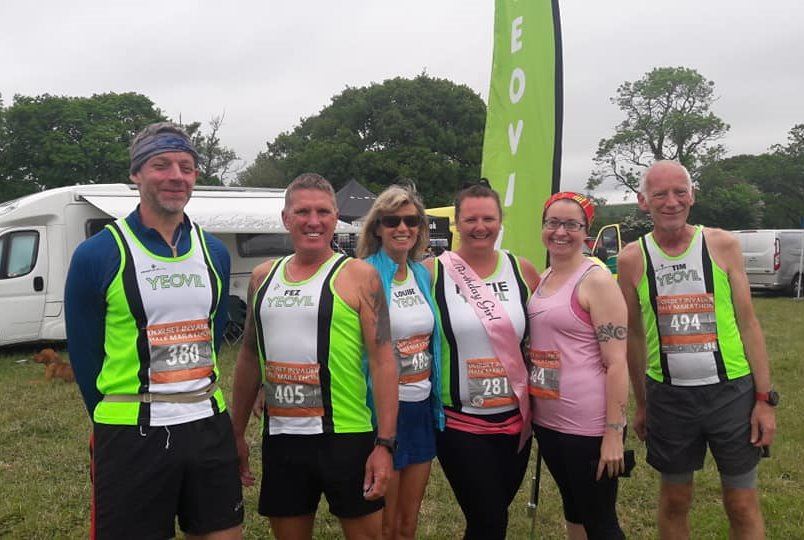 The route for both the Half and Full as it was a two lap race for the Marathon was very hilly and a hard course, I would say the hardest White Star Race that I have done, as the WSR the Marathon was over 27.5 and the Half was about 14 I think. Well done all that ran.
At the Ox Race I took 20 odd T-Shirts to drop off for a Bournemouth Runner that turns them into a Blanket, for £30 that goes to the Charity Carole is supporting, it is very good and I can pass on her email if any of you want to get one.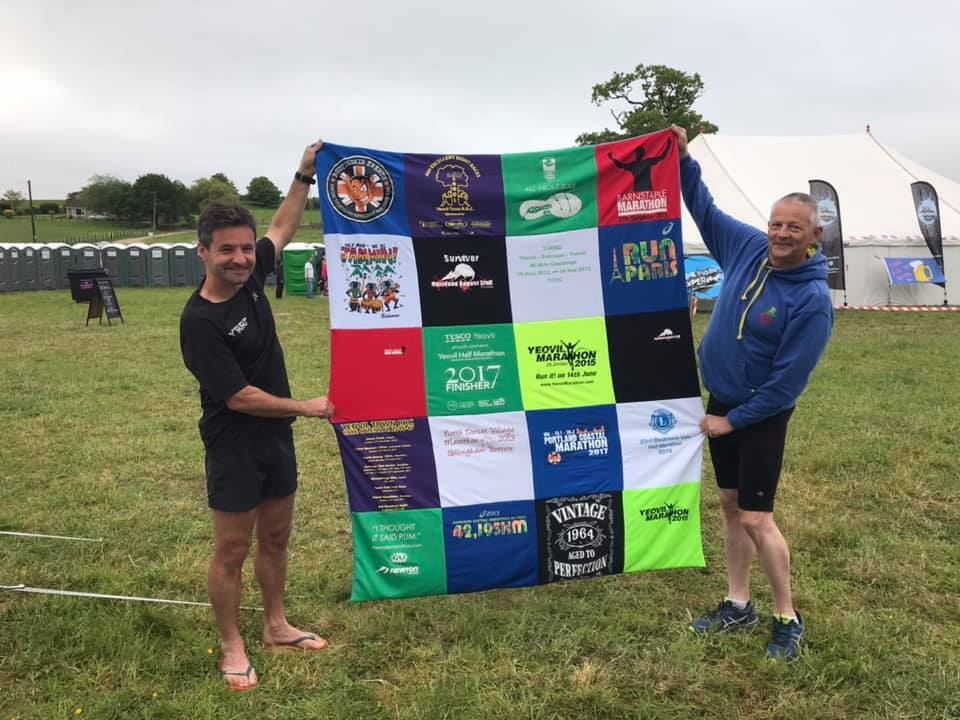 Westminster Mile
From Benjamin: Event 2 of 3 this BH weekend at the Westminster Mile and this one was definitely a race! After last years disappointment I managed to put that to bed with a determined 4:58 for my first road sub 5. Heading back to watch Chris O'Hare attempt sub 4 before I prepare to "race" Mo tomorrow.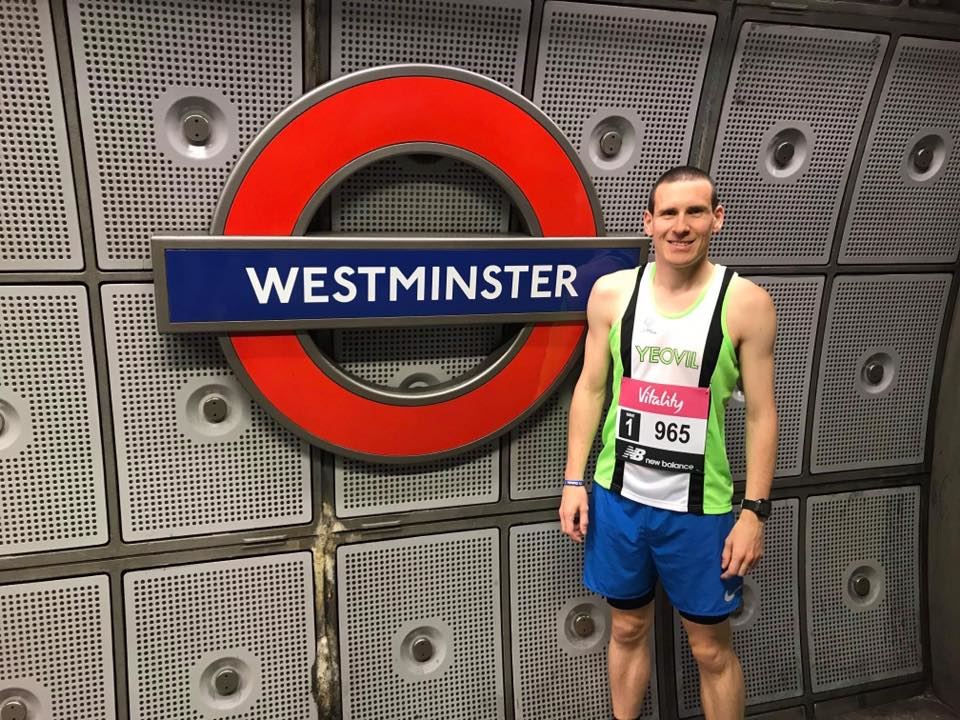 Wells 5 and 10k
From Lesley: A good turnout from YTRRC for a damp Wells 5k and 10k today. Nice course of 1 lap for the 5k and 2 laps for the 10k with a lovely not so little hill which appeared twice for the 10k. However, there was also a lovely downhill afterwards to help recover! A few 10k PBs. Nikki was 3rd lady in the 5k. Photo taken before the race. Holli also took some good photos which can be found elsewhere on here.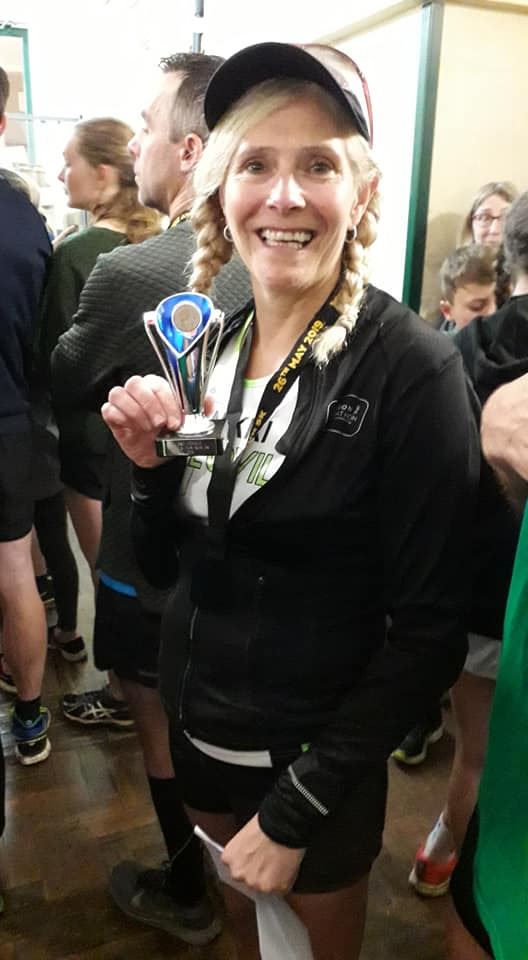 Club Championship
From Lesley: Before I get the updated Club Championship tables published on the website has anyone earned any bonus points for marshalling, run leading, Wessex Ridgeway Relay etc that I need to include? Please let me know asap.
Awards Night
The Annual Club Awards Night 2019 Save the date. Last Friday in November At the Haselbury Mill Celebrate with your friends this year's achievements.
Club Half Marathon Coach Trip in going to be the Salisbury Half marathon As voted for by the members. Message Anita for your discount code. Phil will book the coach as usual. Remember you need a half for your Hat.
Marks Runs
PUB RUN – GALHAMPTON (23RD May 2019) J.C. led the main group of 10 tonight which comprised of Tim, Brian, Gareth, Louise, myself, and four runners completely new to Pub Runs. The 6.8 mile route was mostly along country lanes, with a nice bit of off-road at the end. We started running south through the village, then turned right. We crossed the A359, ran down a steep incline, and reached a bridge over the railway line. Turning right we ran north. We ran out to Dimmer Bridge, and then ran southwards on the other side of the railway line. The lane then took us up Cockhill along Cooper's Ash Lane. At the top we joined the B3152. Looking west, Glastonbury Tor was away in the distance. We continued along small way and crossed the A359 again. From Small Way Lane we took a foot path going south down the edge of a field. Further down we entered a field of wheat, and reached the corner of Frog Lane. Continuing westwards across fields we reached Galhampton. Conditions tonight were clear, dry, and mild, and it was a relatively fast paced run. Thanks J.C. and all for a good run. Thanks to Alison for the Photo.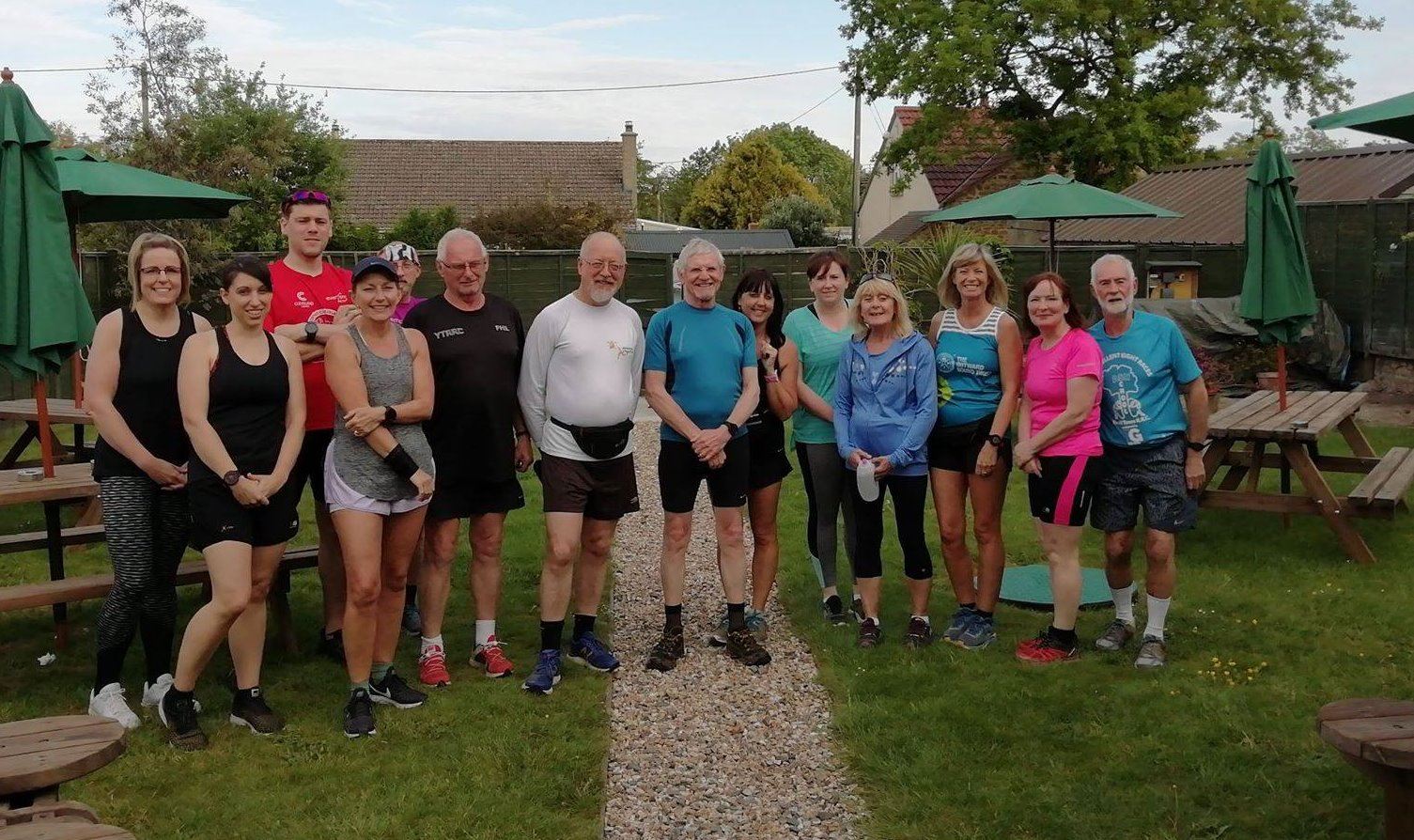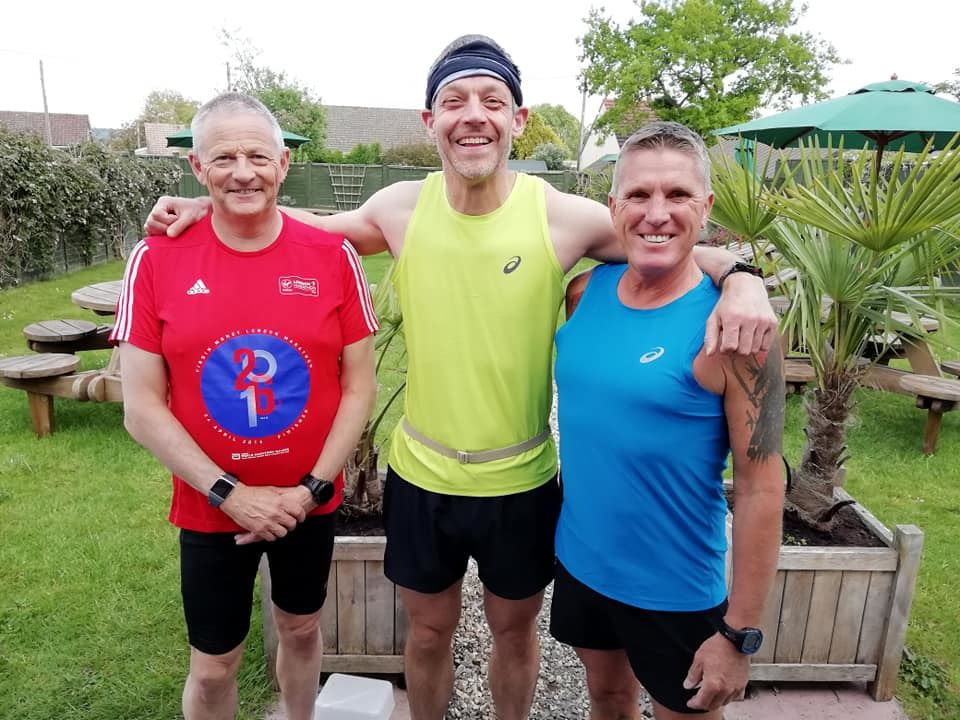 I had a great time earlier joining the YTRRC runners who had set up camp (at a farm in the far west of Dorset), and also taking part in the Dorset Invader Marathon. Camping at the site started on Friday and continues onto Monday. The Frolic took place on Saturday with several of the YTRRC runners achieving one or more laps covering up to Half Marathon, Full Marathon, and Ultra Marathon distances. I hesitate to give names through fear of missing someone out.
I ran the Marathon today with J.C. who had also run the Ultra-Marathon distance Frolic on Saturday, and with Julie. The run was much tougher than I expected and consisted of 28 miles with climbs up to Dorset's two highest Hills (Pilsdon Hill 277 m, and Lewesdon Hill even higher) both on two occasions. The total climb for the whole run was I believe between 4,000 and 5,000 feet. There were two laps of 15 miles, and 13 miles. I found it a real challenge to get round the first lap within the cut-off of four hours, and was delighted to finish just outside of 7.5 hours. After, it was a pleasure to relax and join the YTRRC camper/runners at their collection of five tents, and enjoy tea, and some of June's cake. Thanks also for the cards in relation to my 60th on Saturday, and my retirement at the end of the month.
A Half Marathon also took place today. The courses were well marked out and well supported with refreshment stops. Thanks to the organisers.
Released On 27th May 2019