Thirteen Sleeps to Go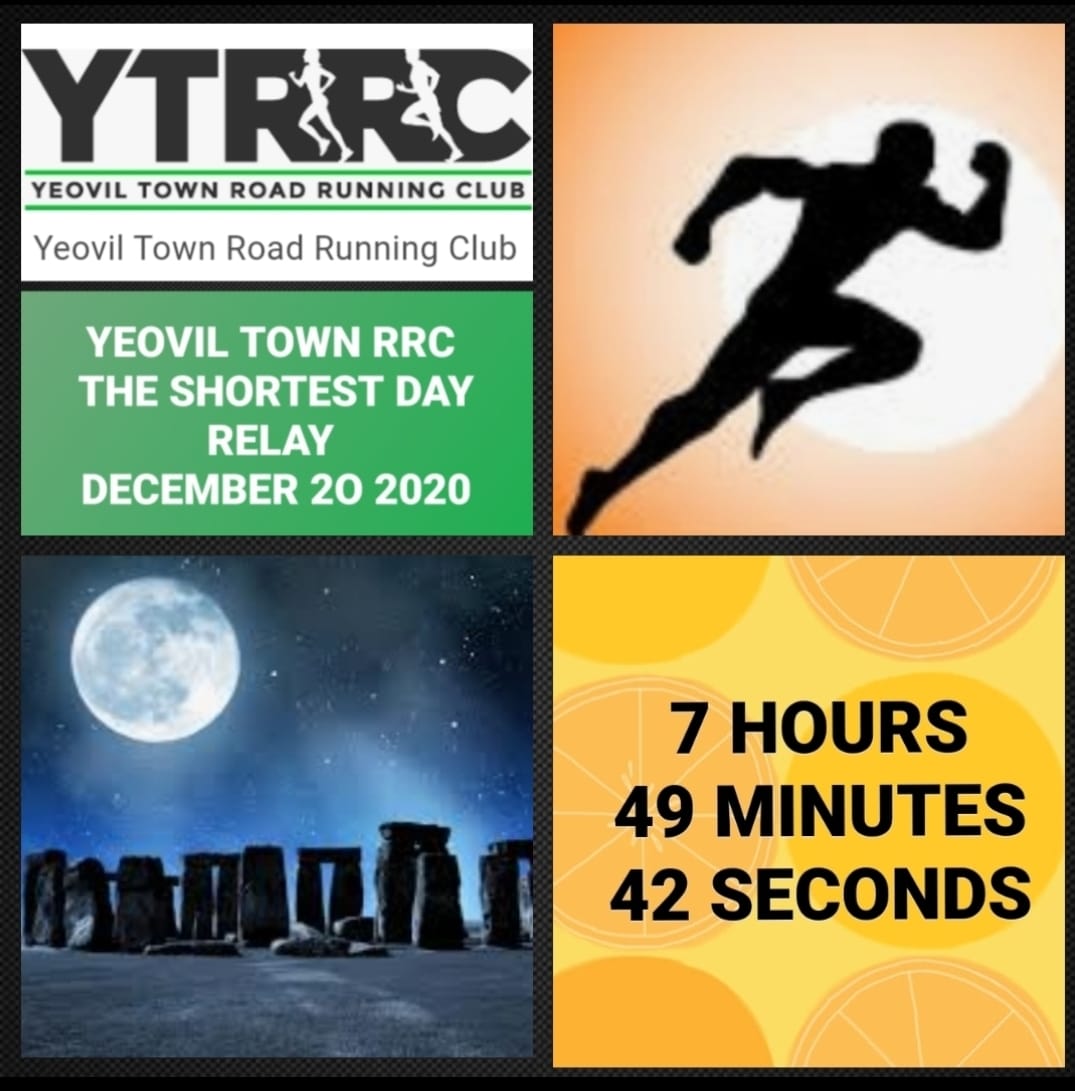 Secret Santa
From Holli: Everyone in the Secret Santa should now have details of their person. So... a recap.
1. Maximum value £5
2. Deliver by Christmas Eve with their name on, NOT YOURS!
3. Keep it quiet and avoid being seen!
Tip: if you don't know them, do a bit of Facebook stalking!
Christmas Plymtrail Marathon
From Anita: Another early start with Lynne and Tara to First and Last running, Christmas Plymtrail run. It was rather soggy and cold, but excellent organisation, marshals and friendly runners, as well as seeing the Santa Special en route.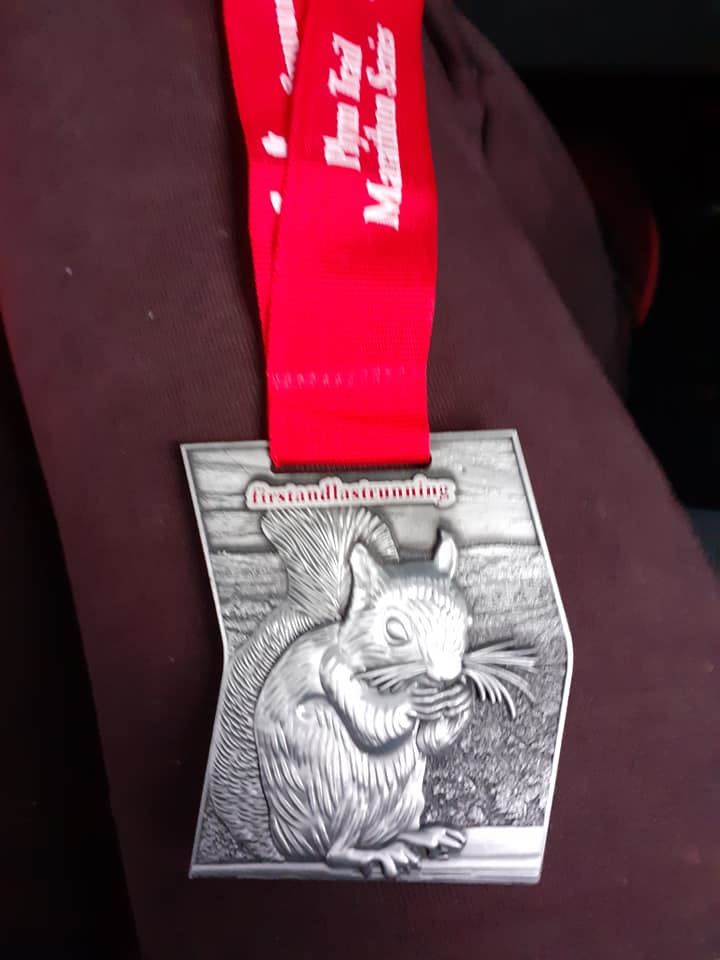 End to End
From Graham: Ran the final 8.1 miles of the End to End run this morning. Been plagued with injuries since August, but fingers crossed on the road to recovery!!! Well done to everyone who has already completed this challenge!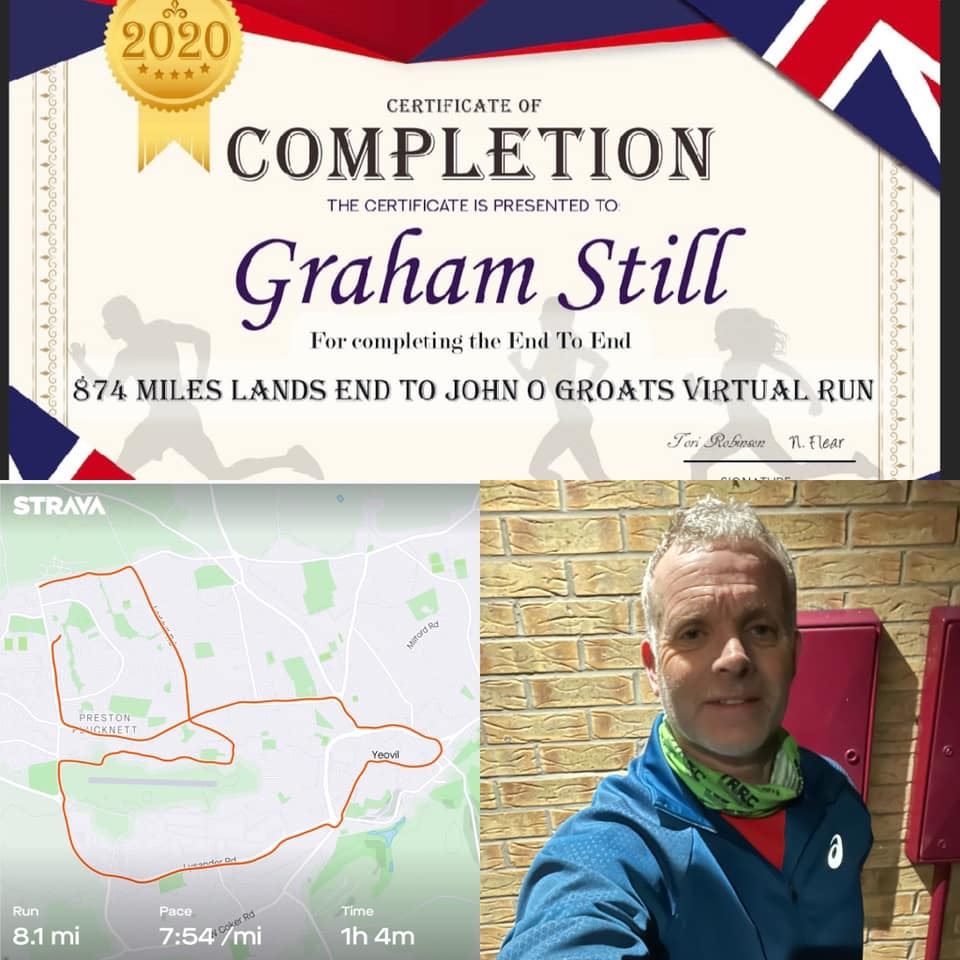 Wales Costal Path
From Nat: Well that's a jump from a few weeks ago, well away from 300 miles it was only like yesterday I reached it . Great to see afew people out and about this morning. Remember to take face mask you never know when you need it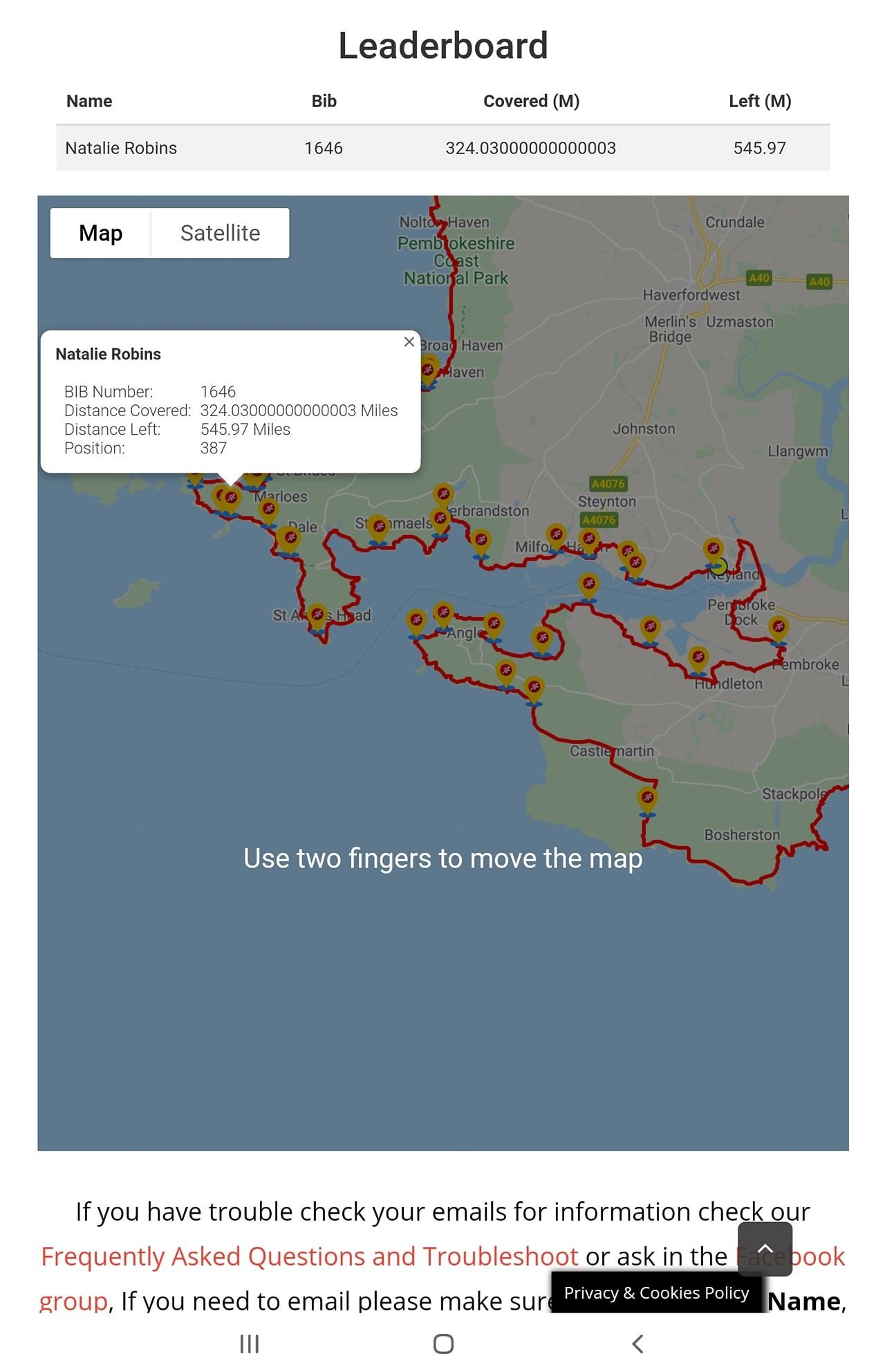 Spring Virtually
From Kev: As we are half way through Autumn winter series of 6 events I thought it would be a good time to analyse your progress , planning and training heading towards 2021 with a Half Marathon and a somewhat random Marathon thrown in ...below are the next 3 events.
10th January Leon Trotsky exile Day 5 miler
14th February Valentine Day Half Marathon
14th March Einstein Birthday Marathon .
So we drop back to a manageable 5 miles, but we are 12 weeks out from your chance to complete 26.2 miles ( hopefully some of you will be entering actual events by then ). So be mindful of gradually getting your long run up in distance and weekly volume and allow for a little taper ( this info is to assist those new club members who may not have ran a Marathon ... but are not totally new to running ) also the Valentine Day Half Marathon will be special , it will be 2027 before you get the chance to do a Sunday Valentine Half Marathon ... and if you did 10 miles recently then 13.1 miles is certainly manageable. Keep up your great training and goals, keeping focused on 2021 and Green and White back at events as a Club.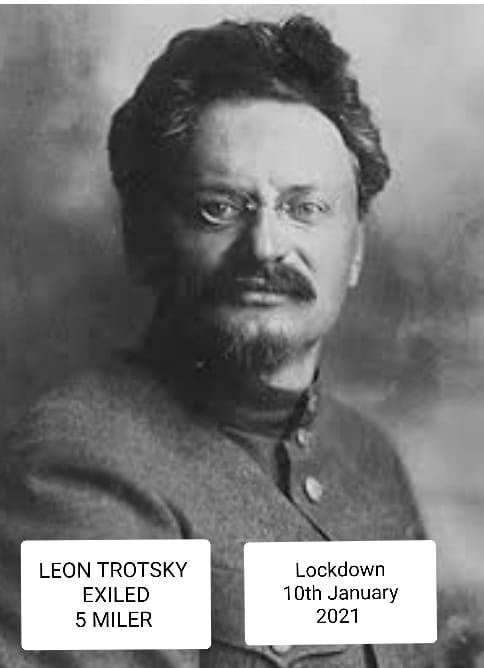 Ben Runs Again
From Steve: Once upon a time in the year 2018 B.PS (Before Playstation!) Ben used to do parkruns with me. That stopped , however the attraction of a bespoke prized Kevin Doherty laminate temporarily broke the magnetic pull of the Playstation and Ben joined me for the YTRRC Christmas fun!! (done a bit ahead of the date as Ben not with me on the actual date). Just like old times, albeit the magnetic pull of the playstation is now back online and just as strong!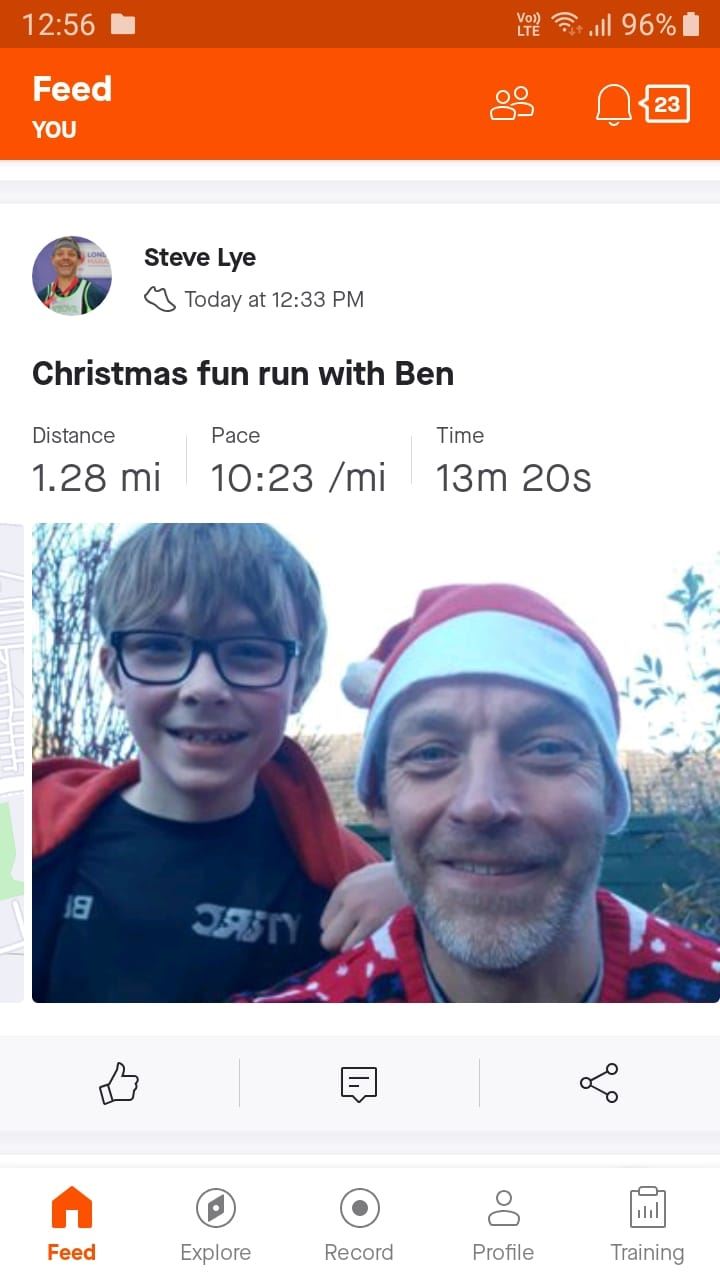 SW Cross Country
A reminder - entries for the SW Cross Country Championships at RNAS Merryfield, Ilton are now open. They will close on December 23rd or when races are full! Hopefully we will see LOTS of YTRRC members as other local clubs are usually well represented!
Entry form on Yeovil Olympiads site: https://www.yeovilolympiads.com/ https://eu.jotform.com/203272430245344
Shortest Day
From Graham: Final instructions for the Shortest Day Virtual Relay Race on the Sunday 20th December.
It has been decided NOT to use our hats as a baton, but to use a box made up to look like a Christmas present, just to add to the festive spirit! (you will be required to make your own Christmas present/box) Steve has offered to put together another video, but has a massive task ahead to edit all our film clips, so will probably not be using any of the Strava links as in previous videos. For video purposes, can you be seen to receive your present from your left, and throw to your virtual partner from your right. Kevin is using his design talents to make the medals for this event..A big thank you must go to Steve & Kevin who have been helping me behind the scenes.
A list below is of the runners start & finish times:
Lesley Nesbitt 8:04am - 8:14am
James Hutt 8:14am - 8:24am
Bungy Williams 8:24am - 8:35am
Helen Nesbitt 8:35am - 8:45am
Casper Harvey 8:45am - 8:56am
Yunmi Jang 8:56am - 9:06am
Jeff Watson 9:06am - 9:17am
Anita Farquhar Rufus 9:17am - 9:27am
Stephen Warren 9:27am - 9:37am
Lindsay Saunders 9:37am - 9:48am
Paul Thomas 9:48am - 9:58am
Frances Malin 9:58am - 10:09am
Richard Clayton 10:09am - 10:19am
Katie Stokes 10:19am - 10:30am
Gav Cheetham 10:30am - 10:40am
Taryn Monks 10:40am -10:51am
Tim Willis 10:51am -11:01am
Sharon Hardy 11:01am - 11:11am
Paul Card 11:11am - 11:22am
Angela Claire 11:22am -11:32am
Andy Farrant 11:32am - 11:43am
Magdalena Kusmierczyk 11:43am - 11:53am
Andrew Brown 11:53am - 12:04pm
Claire Shucksmith 12:04pm - 12:14pm
Adam Hawkins 12:14pm - 12:24pm
Corinne Hawkins 12:24pm - 12:35pm
Martin Alderman 12:35pm - 12:45pm
Donna Reeves 12:45pm - 12:56pm
Samantha Self 12:56pm - 1:06pm
Dominique Muir 1:06pm - 1:17pm
Holli Tilley 1:17pm - 1:27pm
Jon Foxon 1:27pm - 1:38pm
Nat Robins 1:38pm - 1:48pm
Jeanette Vincent 1:48pm - 1:58pm
Joanna Henley 1:58pm - 2:09pm
Anita Garrett 2:09pm - 2:19pm
Nichola Chesterton 2:19pm - 2:30pm
Lynne Thumpston 2:30pm - 2:40pm
Hayley Beck 2:40pm - 2:51pm
Rachael Jones 2:51pm - 3:01pm
Diane Acton 3:01pm - 3:11pm
Julie Burton 3:11pm - 3:22pm
Edward Budzynski 3:22pm - 3:32pm
Sue Mallinson 3:32pm - 3:43pm
Graham Still 3:43pm - 3:53pm
Steve Lye 3:53pm - 4:04pm
Any questions about this event, please just ask...
Club Captain
From Steve: Morning all, if you can WhatsApp your 2 videos (1 collecting the "present" and passing on the present) to me on 07398 116805 please. I know most of you but not all so can you please put your name on your WhatsApp message too so that I get the right video to the right name. I'll have nearly 100 bits of video to process so fingers crossed!!! Most all...have fun and smile for the camera!!!
Released On 13th Dec 2020