Soon be in Scotland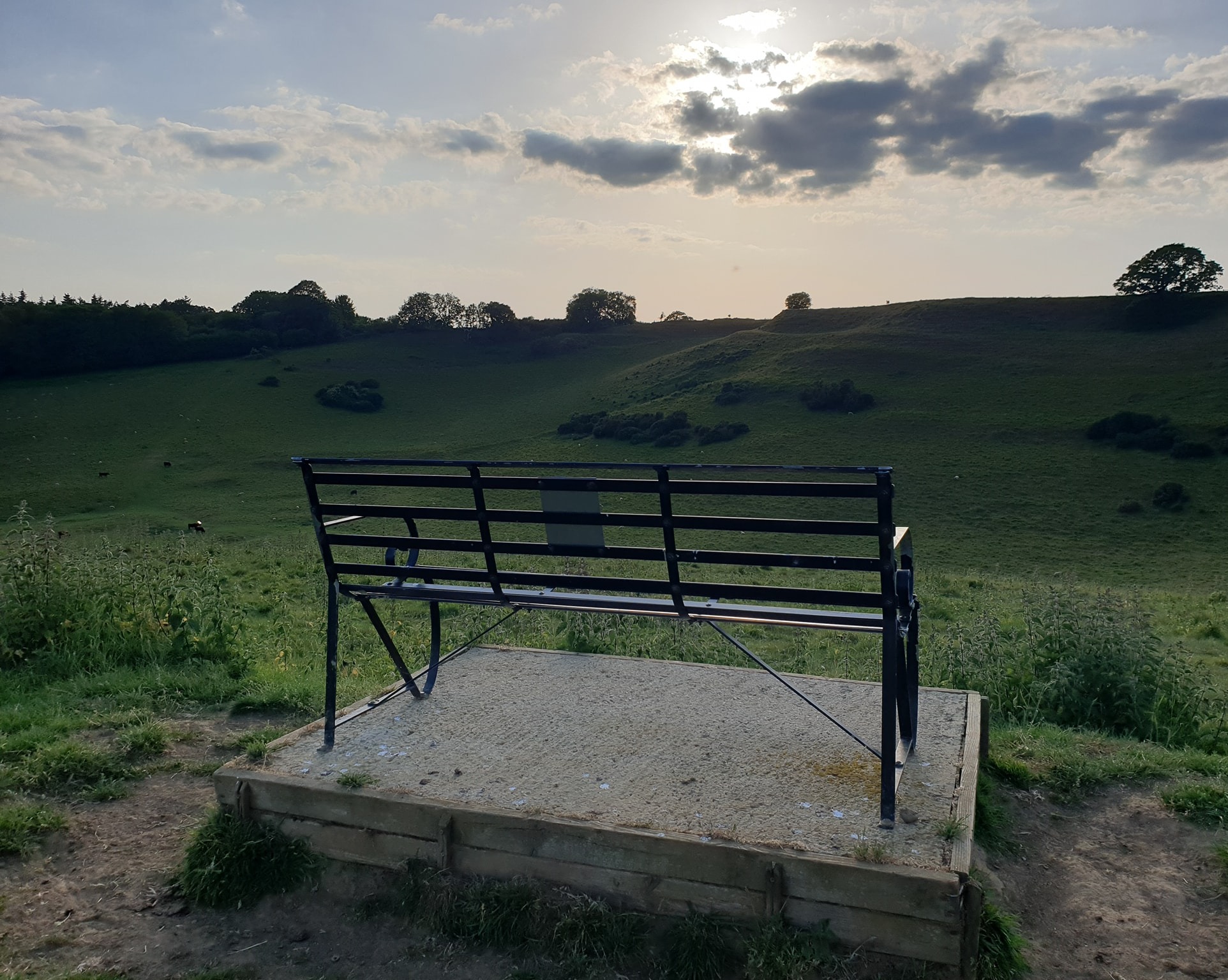 Membership
From the Chair, Sir Steven: Helllloooo everyone as you have all probably seen from Adam Hawkins post there are still a lot of people who unfortunately haven't renewed there membership yet even though the renewal date was the end of March unfortunately with all the races postponed our only income this year will be from our membership fees and at the moment there is nothing going out but when the track reopens and our other charitable donations are made totalling about 1200 pounds we are hoping that those who have not yet rejoined will do so ASAP especially as the club Facebook page and Strava are really for paid up members. We as a committee do appreciate that these are strange times with no organised runs at the moment but we are awaiting clarification from our various governing bodies and there insurance criteria as to how and when we proceed. Many thanks to everyone in this great club for all there current hard work and encouragement being given to all the girls and boys to continue running in whatever form this may be . Hope we can all meet up again soon 😊🏃‍♀️🏃🏻‍♂️🏃‍♀️🏃🏻‍♂️🌞
Check In
I managed to add the YTRRC Bench to the Places on Facebook and also it is now on Google Maps so you can Check-In, sadly being a bit windy I missed the "n" on the Facebook entry. I cannot see where to Edit the entry so have messaged Facebook and we will hopefully get this resolved.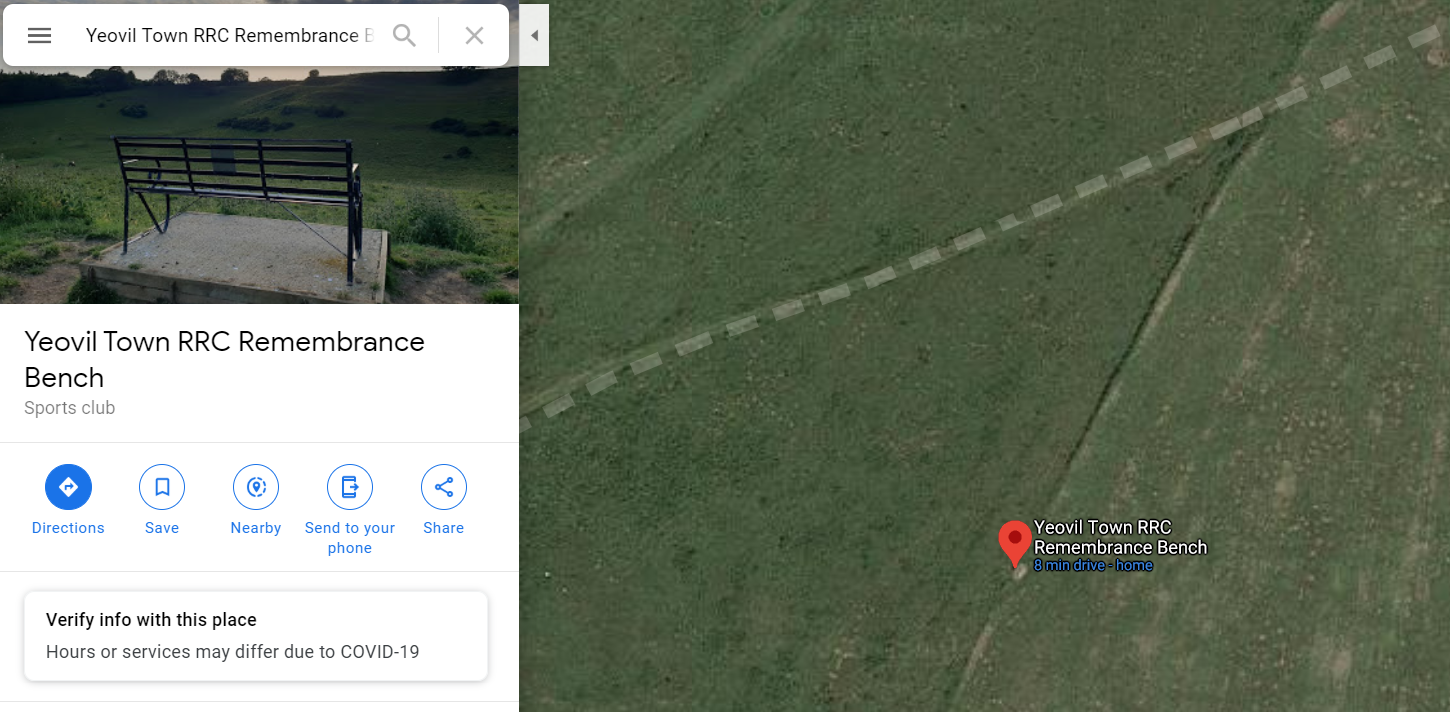 Peter Jakeman 5k ( Yeovilton) Virtual Challenge from 10th -14th June
From Kev: Who fancies another Virtual Challenge? We've done 2 x 10Ks, Some done a Yeovil HM for the Medal. Its 5k PB time !! ( I owe Casper Harvey a bottle of something as he smashed a 10k PB ).
So we are missing out on Yeovilton 5k series and well done to all those who did it last week in the " Virtual sense" .
The plan is Wednesday 10th June - Sunday 14th June ... we going to have our own private " Yeovilton 5k " pick your own route , in Yeovil Colours , get Photo if possible .. bottle of drink for best performance/PB ( not time) but treat it as a hard session or race effort ( or just run your own thing too .. no pressure .. fun ..) .. I asked Stephen Warren Lindsay Saunders and Sam Jakeman if we could honour Peter Jakeman in some small way , so going to sort some sort of Yeovilton 5k momento with Pete's photo.
Yeovil Town RRC 2020 Club Championships and Slam Hat Update
From Lesley: As you have probably seen on the May Club Minutes the Club Championships will now not be happening this year. However, the Slam Hats can still be awarded by running Virtual Races and the following Rules will apply. It may also be that a contribution towards these may need to be charged because Club funds will probably not be available due to the lack of income from our cancelled races. Updated Rules Due to Covid-19 Slam Hat Awards are revised and the following races/virtual rules apply to be eligible towards this year's Hats: (1) Any Actual/YTRRC-organised Virtual race completed between 30th November 2019 and 16th September 2020 will be allowed; (2) The following cancelled races can be run virtually (unless of course lockdown is lifted to enable the race to be held), but must be within three days of the original date of that race, eg Martock 10k scheduled for 21st June can be completed virtually between 20th & 22nd June inclusive. Examples of these are:
10th June Yeovilton 5k
21st June Martock 10k OR 21st June Southampton Half Marathon OR 21st June Giants Head Marathon
28th June Minster Miler 10k
5th July Portland 10 mile 5th July Colmers Hill 10k
8th July Yeovilton 5k
15th July Pawlett Plod 10k
2nd August Sturminster Newton Half Marathon
5th August Haselbury Trail 10k
12th August Yeovilton 5k
16th August Haldon Forest 10 mile OR 16th August Bath Marathon
23rd August Lytchett 10 mile
30th August Battle of Sedgemoor 10k
31st August Baltonsborough 5 mile 6th September Bridgwater Half Marathon
9th September Yeovilton 5k
13th September Ash 5 mile

The above list should give enough choices for all to be able to earn their required Mini or Grand Slam Hat. Anyone wishing to go the extra mile for a Super Slam must use the date of a cancelled Ultra Race of their choice.
The Absolute Closing Date for submission via the website of races completed is 16th September to allow the Ash 5 miler to be included. This earlier date is to determine the total cost of awarded Hats and whether a contribution from you all will be required.
'Longest Day of the Year Relay'
From Frances: I have 35 names to date for this. If you want to join in please let me know asap. I will sort out the format once I know exact numbers. The early slots are popular so not everyone can have their choice of time so ask that you can be flexible and may be just tell me the times you really can't do!
#RUNLEJOG2020
With a new wave starting this month we have a few more now running this epic challenge, the mileage on the Strava Club Group has certainly jumped up. I even managed a plus 100 miles this week (100.39 to be exact). Good luck this month all of you...Soon be in Scotland
From Matt at the end of the first month:
A round up of where everyone is on the Land's End, John O'Groats challenge. This is the end of week 4, and I know some members are joining us with today's new entry.
In BIB number order, as its a challenge, not a race...listed as name, BIB number, miles done (rounded to nearest mile), and current nearby location...
Bungy Williams BIB 261, 331 miles - Stoke on Trent
Dave Tilsley BIB 355, 244 miles - Cheltenham
James Hutt BIB 399, 95 miles - Dartmoor
Steve Lye BIB 414, 205 miles - Wales
John Hayden BIB 434, 119 miles - Exeter
Mel Dodge BIB 441, 163 miles - Bridgwater
Mark Pike BIB 456, 340 miles - Sandbach services (Crewe)
Luke Hicks BIB 483. 268 miles - Redditch
Catherine Thompson BIB 484, 146 miles - Wellington, Taunton
Magdalena Kusmierczyk BIB 508, 145 miles - Wellington, Taunton
Matt Driver BIB 516, 188 miles - Portishead
Anita Farquhar Rufus BIB 520, 178 miles - Clevedon
Catherine Parker-Johns BIB 546, 35 miles - Truro
Stephanie Lara BIB 574, 154 miles - North Petherton
Brian Keith Lane BIB 657, 144 miles - Wellington, Taunton
Graham Still BIB 777, 146 miles Wellington, Taunton
Daniel McFarlane BIB 783, 69 miles - Bodmin Moor
Jon Foxon BIB 875, 175 miles - Weston-Super-Mare
Well done to everyone, I note there a few people struggling...don't...there is a long time left.
I also note there are some that are absolutely smashing it...be careful and don't over do it.
Personally, I think I'm addicted and I accidentally keep running on my "rest days"!
For those of you thinking of joining us, today is the new entry start date, you'll be most welcome!
Lastly, I found 18 YTRRC runners, apologies if I've missed you, please let me know so I can add you.
See you out there (in passing, of course...and 2m away)! Cheers all.
Released On 7th Jun 2020