Nice Cycle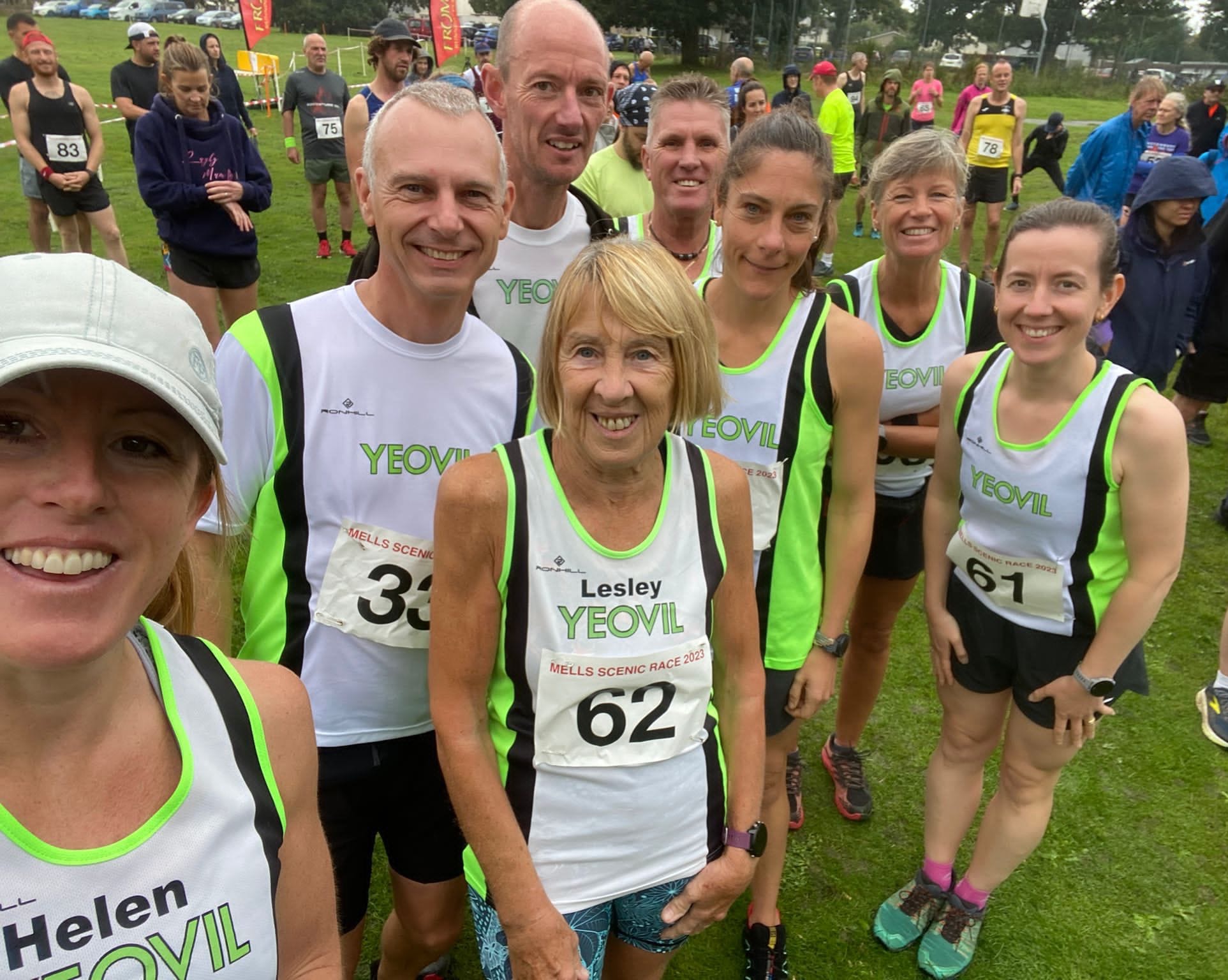 Yeovil Primary Schools Cross Country - Event 1
From Adam:
Wednesday 27th September - Yeovil Rugby Club
Any help, any time between 2.00 and 5.00 gratefully appreciated.
Around 400 children expected
Future events:
Event 2: Aldon Hill - Wednesday 18th October
Event 3: Yeovil Town Football Club - Wednesday 1st November
Mells Scenic 7
From Lesley: Ten of us took part in the Mells Scenic 7 race this morning - Helen, Debbie, Paul, Louise, Fez, Paul Card, Harriet and Harriet Munday. After a blip with satnav we arrived in plenty of time to collect our numbers and take the obligatory team photo (sorry Adam you missed it!). The rain stopped just as the race started so that was good. It's a lovely scenic route as the description says and as Joanna promised . A nice downhill start before reaching the river, a lovely muddy, slippery run along the river where you had to be very careful not to slide into the river to make it a duathlon. We carried on up through the woods, crossing the river and eventually reached and ran along, or should I say ran up, the cycle path. The rest of the route included fields and roads back into the village and a final run around the sports field to the finish. Congratulations to all of us who completed this at speedy and not so speedy paces. A particular mention to Harriet Munday who received the 3rd lady award. Thank you to Louise for the company. A nice keyring and a buff as mementos.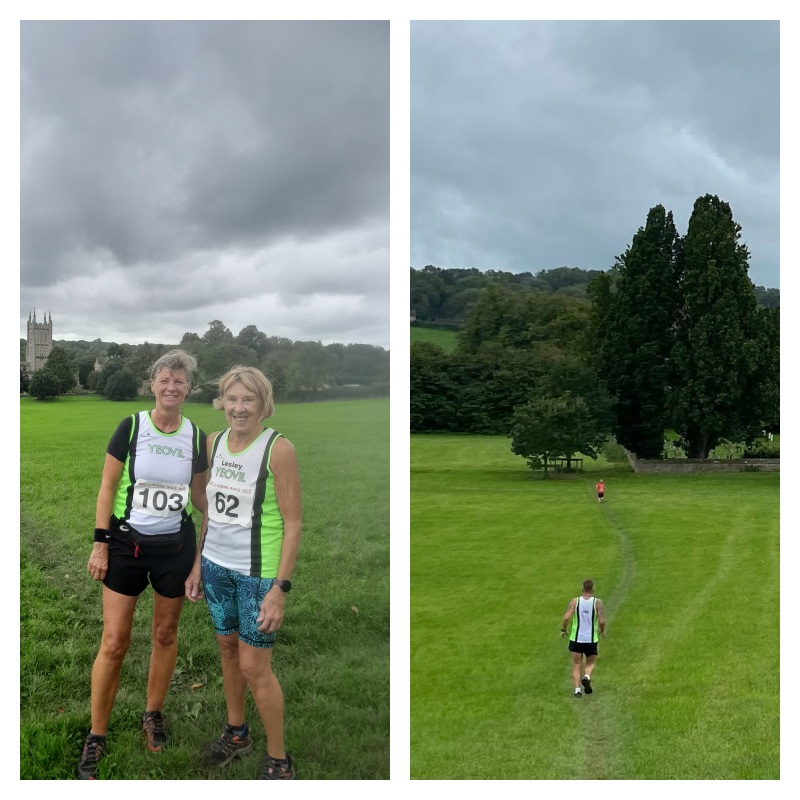 Clothing
From Graham: I've had some inquiries regarding t shirts, long sleeve shirts & 40th anniversary hoodies, prices are still the same. £5 from each shirt (yellow or black) will go to the Yeovil Hospital breast Cancer appeal. Hoodies will be sold at cost. I have samples for those wishing to try first.
T shirts £20
Long sleeve shirts £25
Standard hoodie £25
Zipped hoodie £28
Leisure Charity 10km
From Terry: And so back Ooop North, and entry into the 3-1-5 Leisure Charity 10km, run by the fantastic Lancaster Runners. A 2 x 5km out and back race along the river. Conditions perfect and really pleased with the time at 52.42, battling with another runner, all the way, dropped back over last 0.5km but I did find out I was giving away 46 years.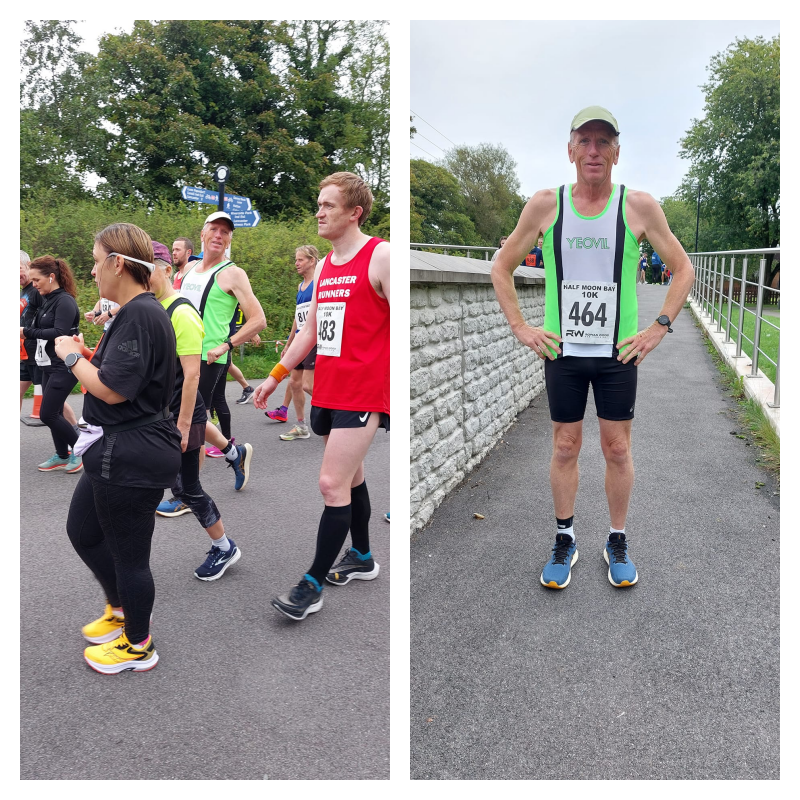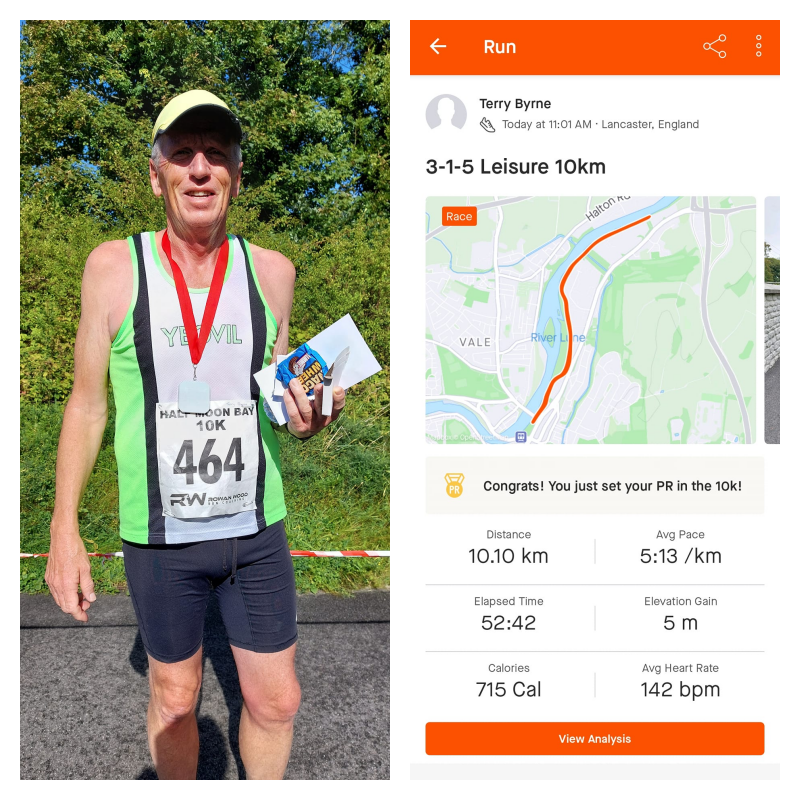 Conquest of Avalon
From Steve: Kate Gowers (really proud of you ), Daniel Stephen James McFarlane and Kelly Rowsell (very well done you two too ) completed the 30 mile Conquest of Avalon today.
Starting in Castle Cary, the route was a combination of roads and trails before ascending Glastonbury Tor in the final few miles and then dropping into Glastonbury for the finish.
The race director Dave Urwin's race brief was very entertaining and full of jokes that I may well steal! The weather stayed perfect for the runners and also for the support crew who did their best to stay hydrated and fed!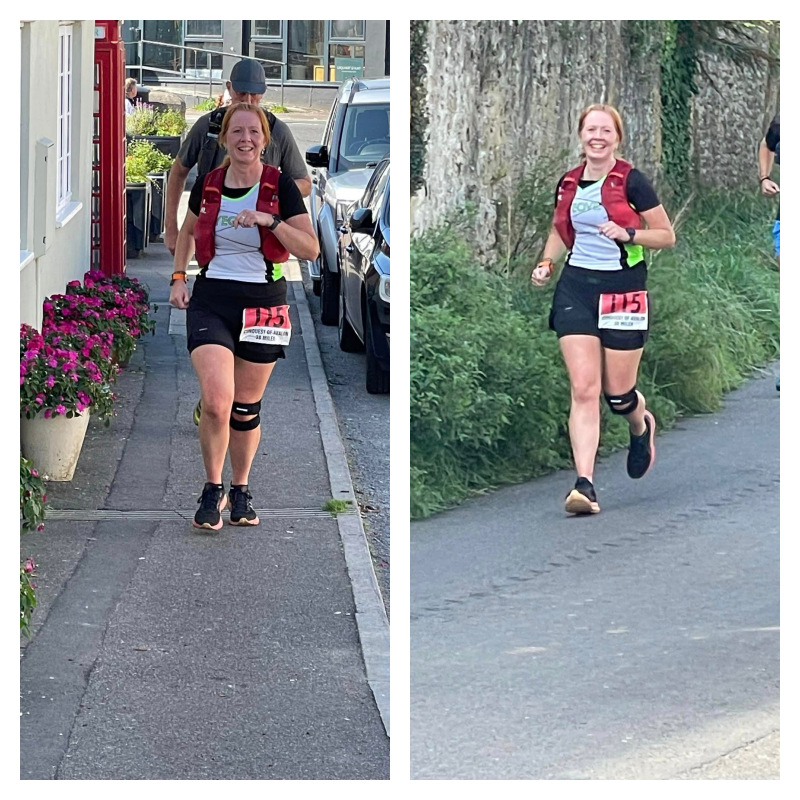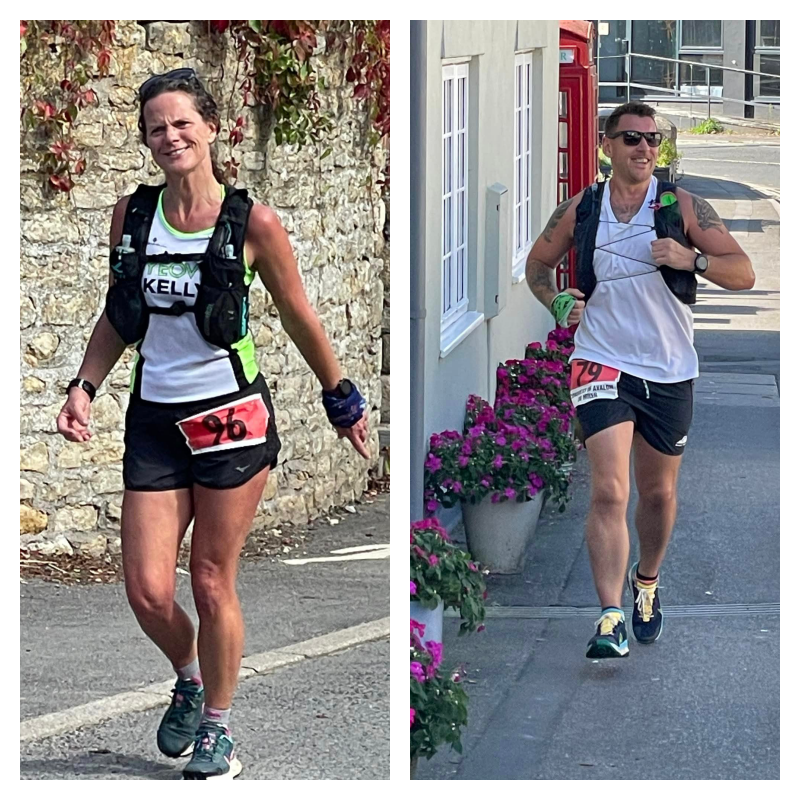 From Tristram: I did my longest run ever. Being on the 23rd in 2023 meant this was destiny to do Conquest of Avalon 50m. So started at 8.30am Saturday ham Hill and finished 00.13am Sunday
I may not be fast but I love these massive adventures and used the run walk technique . I was in such peace and calm on my own in the dark and my watch did not go flat. Only just. Big thanks to dave to let me finish after cut off.
Epic adventure. Keep dreaming big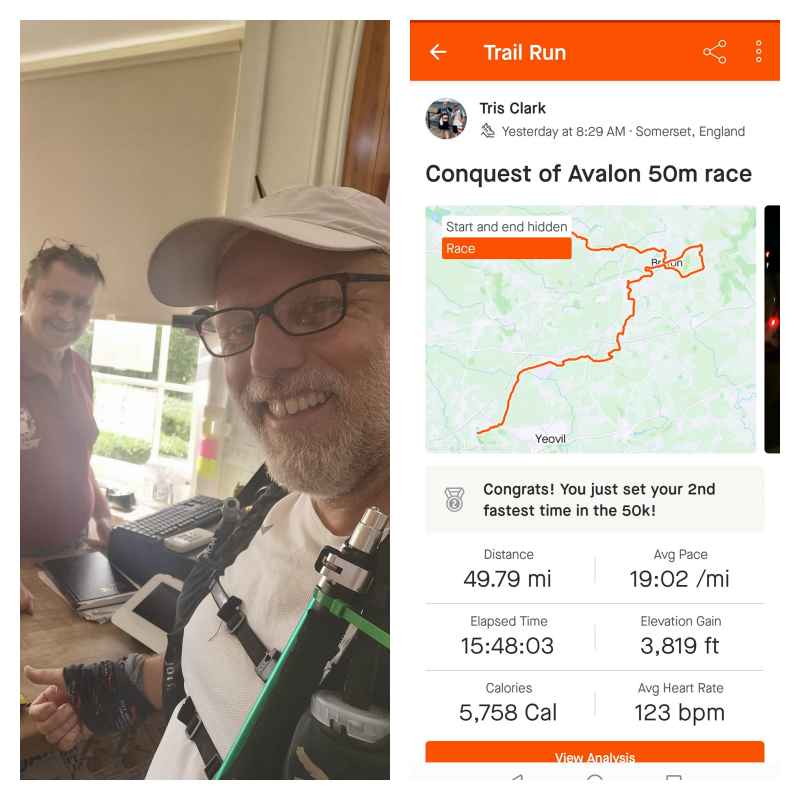 Winchester Half
From Margarita: So I set myself a challenge could I do two half marathons in two weekends. Answer - yes I can and I can smash it. After last week's successful half marathon pb, today I took the Yeovil top to Winchester. Talking to some of the people at the start this was going to be a hilly race. Starting in the city we went uphill for the first 3 miles and the hills didn't end there. It was very undulating, but the last mile was a lovely flat one through the city centre to well supported finish.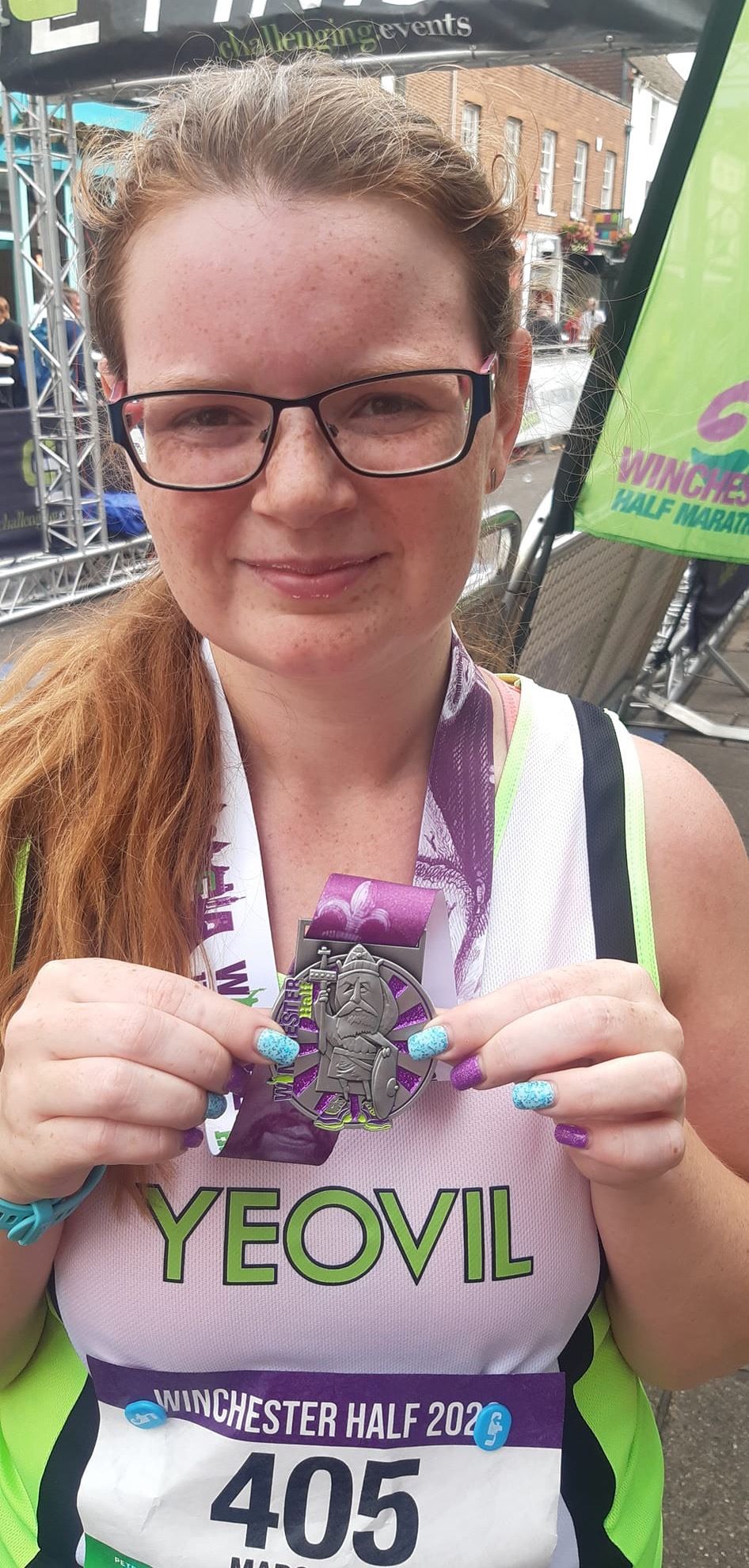 Langport Sprint Triathlon
From Jo: A few of us did something a little different today. Langport Sprint Triathlon put on by RaceNation Events. Despite the weather everyone of us really enjoyed it & all got around safely. The Marshalls at this event are brilliant but special mention to our club members who gave up their time - Angela Claire for making sure we only swam the 16 lengths. Sarah Pailing & Nat Robins who made sure we all negotiated the hair pin junction at the bottom of a fast hill. Graham Still who owned the roundabout & ensured no one got in our way & Linda Membury who sent us down the track & then ensured we didn't stray into the road on the way back on the run. Everyone did our club proud today
Sorry Anita Garrett we missed you for the photos - you shouldn't have finished so quickly
Oh & if anyone says anything about a swinging arm, just ignore them.

PUB RUN – GALHAMPTON – (21ST September 2023)
From Mark: We had eight in the not so fast group tonight (Fez, Louise, JC, Paul, Rachael, Rachael J, June, and myself). It was raining up to 6:30 but thankfully stopped as we set off on the run. Leaving the pub we set off through the village, passed the Manor House and made our way down to Yarlington Mill farm. Turning left we ran up the road towards Yarlington, but turned right. We headed out to Hill Ash farm at Woolston. Turning right we then made our way to North Cadbury, stopping along the way for photos. Turning right we continued past the pub and made our way along Sandbrook Lane. At Hearn lane we turned left, then right and ran through Galhampton back to the Pub. This is a stock route that I use often either clockwise or anti-clockwise. Thanks Phil for organising, the meal afterwards was good.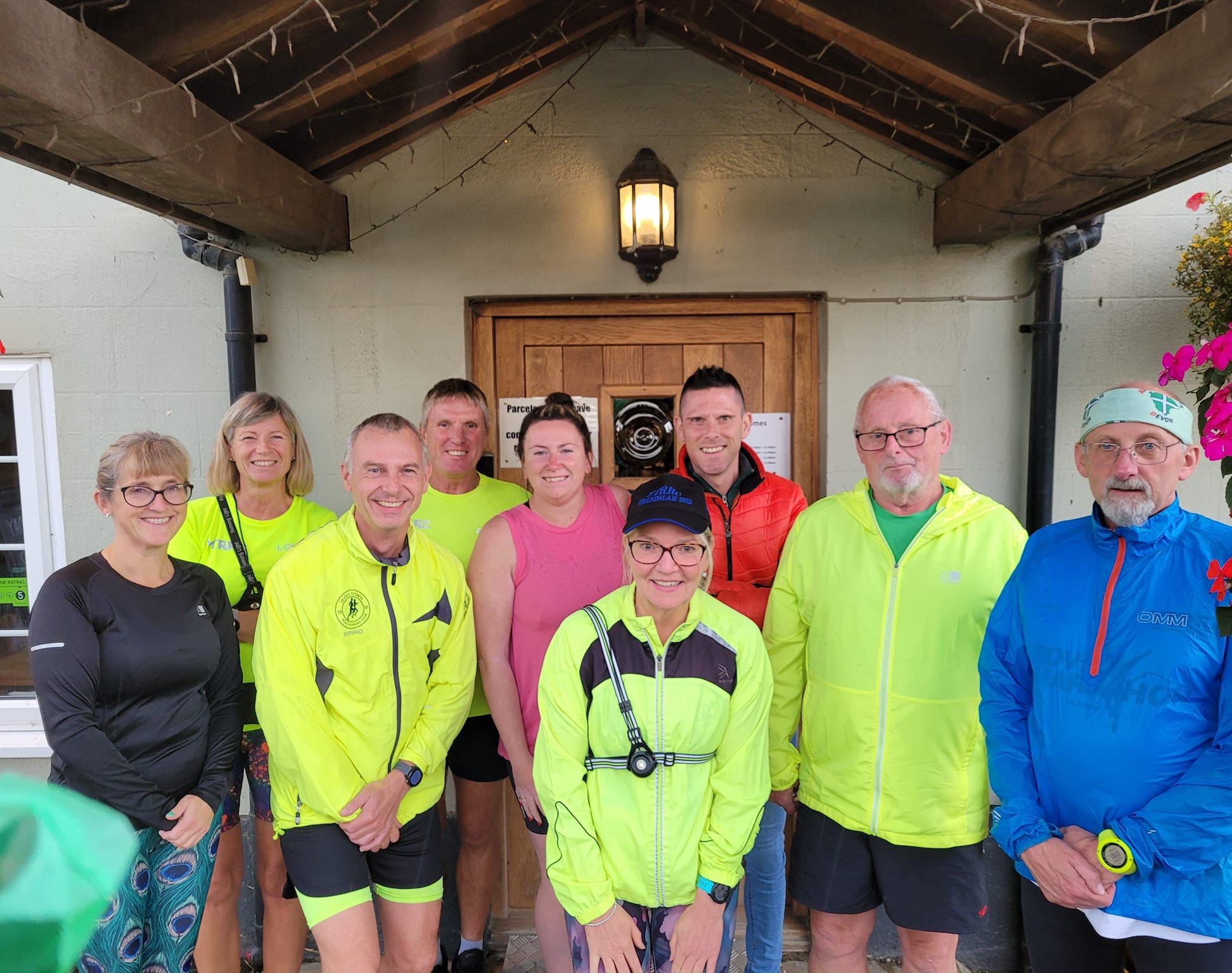 Released On 25th Sep 2023