Nearly Yeovil Half Time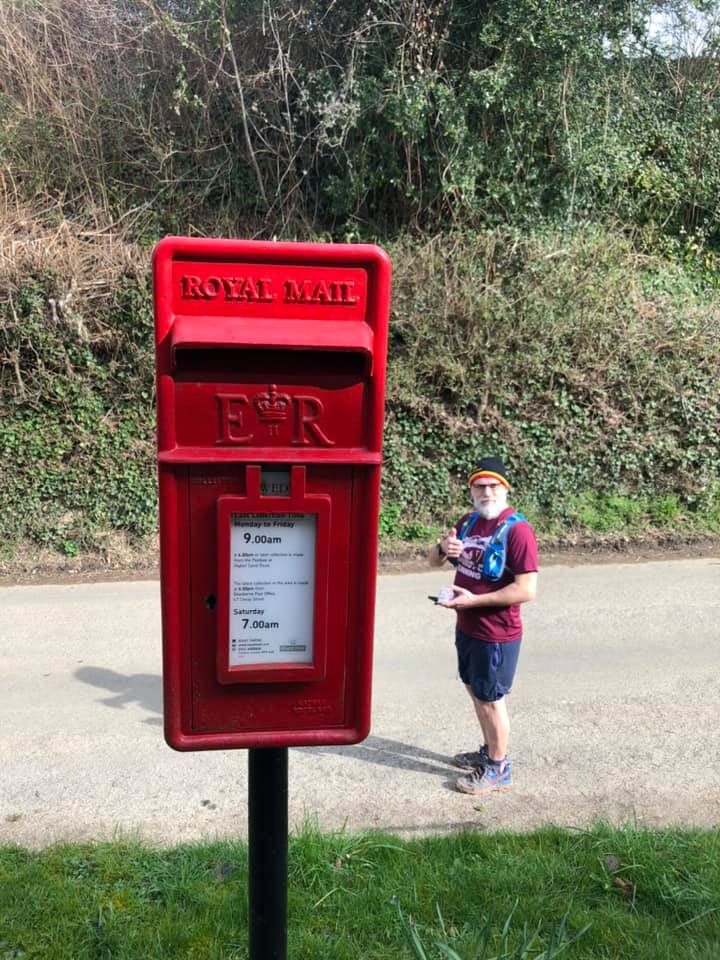 SWCP
From Matt: Firstly, congratulations are in order for Bungy Williams who completed the South West Coast Path (630 miles) this week! What a fantastic effort as this represents (I think) an average of 57 miles for eleven weeks, which is phenomenal! Meanwhile, we lesser mortals continue to enjoy the challenge in a more leisurely manner, non more so than Tristram Clark who has completed 74.19 miles and is approaching Bideford. Sara Driver has made it to Peppercombe at 91.75, and Angela Claire is on 93.63 still enjoying Clovelly! Kat Hurford is at Morwenstow on 114.9 miles and Lauren Jessica has sped through Bude to reach 122.82 miles. Shaun Powell , on 138.41 is at Boscastle, then there's a bit of a gap to Matt Driver (you know...the handsome one), at Trevose Head on 173.15 miles. Nat Robins is visiting the Giant at Bedruthan Steps, on 180.15, while Natasha Turner is at Porth Beach, perhaps enjoying a lemonade at the Mermaid Inn after reaching 185.42. Having passed through Newquay, Nick Cox is battling through the Holywell Dunes on 194.2, not far behind Nichola Chesterton on 195.07 and Richard Clayton on 195.43, both of whom are at the far end of Holywell Bay. Martin Aldermanis into the next hundred on 211.47, visiting the Basset Arms in Portreath, while Mark Copping has reached Hayle at 222.93 miles!
Across the river at Lelant was where we left Donna Reeves last week. From Lelant, the SWCP follows a strange, for this coast, Northerly direction, up to St Ives. Much loved by artists, it's a but touristy, so we'll hot-foot it around Clodgy Point and back to a Westerly direction once more.
A very rocky cliff edge on one side and a grassy heathland atop, the SWCP is exposed and windy as it weaves in and out, up and down, to Zennor Beach, which is nothing more than a tiny cove. At 234.90, Rachael Gosney may visit the Giant's Rock at Zennor. As a "Logan Stone", its a large flat rock that moves like a see-saw when touched. I don't know if Rachael is game, but perhaps she would rock it nine times, as I'd like to test the local myth that this would turn her (or any woman) into a witch! Beware Claire Shucksmith , as at 235.36 miles she's already passed and may already be changed!!! Could someone please check? More rugged cliffs follow, including the Iron Age fort of Bosigran Castle, plenty of cairns and pre-history settlements abound in this area. The SWCP then reaches Woon Gumpus Common (!) at Pendeen. This is now Tin-Mining country so at 242.90, Mel Cox can visit the Beam Engine and Tin Mine, before heading past a whole range of mines and shafts, including those sited at the next Iron Age fort, at Kenidjack. Cape Cornwall is rounded before we catch up with Donna Reeves at the wonderfully named village of Nanquidno at 248.60. The rock and shale beach at Nanquidno will be forgotten when reaching the glorious Whitesand Bay, near Sennen Cove, Cornwall's most Westerly hot-spot. Depending upon when you run by, with the tide out you can enjoy the wide golden sands, or when the tide's in, marvel at the huge blue rollers crashing in from the Atlantic!
Kate Gowers is just a little further at Mayon on 251.48, where the final remains of the shipwrecked RMS Mulheim has lain since 2003! Near Lands End (can't wait to do that personally) is Dr. Syntax's Head (see picture). A rock outcrop, Dr Syntax was a fictional school-teacher between 1810 and 1820. Well you learn something new every day! Lands End done, Anita Garrett can't be bothered with the good Doctor, although apparently he was always looking for a prospective wife, She has gone round the end of Cornwall and is traversing the cliffs at Pordenack Point.
Past the beautiful beach at Nanjizal, the SWCPgoes around the Gwennap Head which is the first "toe" of the end of Britain, before turning East to the open-air Minack Theatre at Porthcurno. Only a few tiny beaches, but lots of rocky coves follow as the Path skims the cliff-tops to reach the town of Mousehole - pronounced "Mowsel" - which has the tiny St Clement's Isle just offshore. Penlee Quarry is a little bizarre as the Path runs between the crashing sea on the right, and the flooded quarry on the left, then its through the town of Newlyn and into Penzance. Unfortunately, it appears that Sharon Hardy s visiting the local Morrisons supermarket on my map, but at 270.18 miles, she's doing great despite that location!
Along the seafront at Marazion Marshes, Adam Hawkins can do some bird-watching. At 270.69, along with Sharon, he'll be in sight of the grand St Michaels Mount, only accessible at low tide. Not wasting time, Sandra Levett has sped past the Mount, around the bay, through Marazion village, Peranuthoe was a mere blur, and Acton Castle (a rather palatial 1775 country house) got no more than a glance. Piskies Cove sounds interesting, but Sandra has opted to pause this evening, along with our description, at prussia Cove, on 279.10. The local home of the Carter family, the cove was infamous in the 18th century due to the smuggling habits of Harry Carter, who running a very lucrative smuggling operation, was nicknamed the "King of Prussia"!
Beyond this point are:
Linda Membury - 281.69
Sue Mallinson - 283.3
Marie Lockwood - 291.33
Louise Ward - 295.51
then in the 300's:
June Moule - 331.06
Casper Harvey - 365.25
Paul Thomas - 373.54
And in the 400's:
Lesley Nesbitt - 406.55
Tim Willis - 429.94
Andrew Holloway - 479.92
And then of course Bungy Williams who has finished!
Don't forget all that lovely weather we can expect since we're now in Spring. The Easter break will give you a chance to get out more. Clocks changing soon mean longer evenings for running. YTRRC runs soon re-starting. And lastly, don't forget those new shoes you wanted - Matt says it'll be ok, you can have them!
Have fun you all!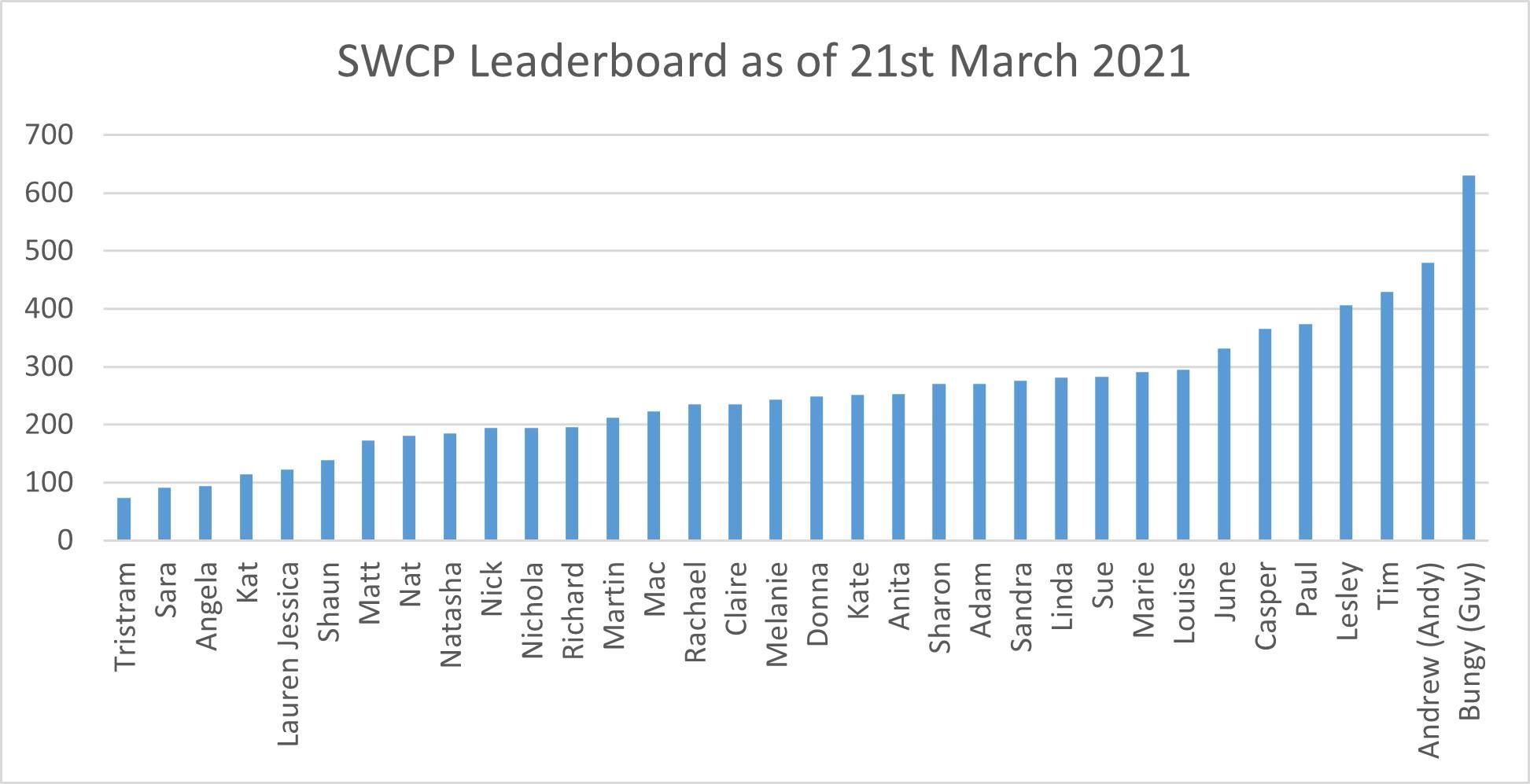 Somerset Running
From Sue: Friday morning play date with Frances Malin, out to christen her new trail shoes, they're a bit bright but we've sorted that out (before /after pictures). I thought she should do a short run to test them, apparently that was a short run , my family maybe right, she's just humouring me, it was long enough for me.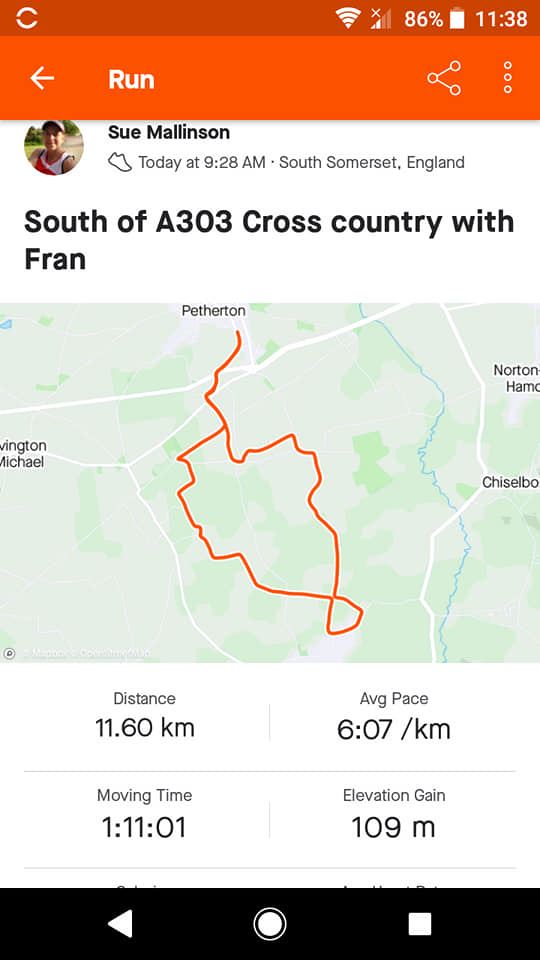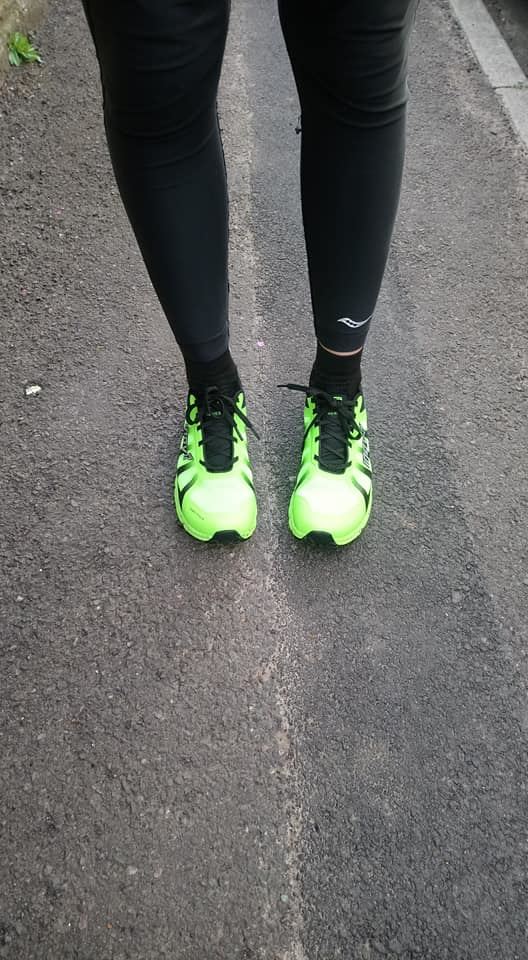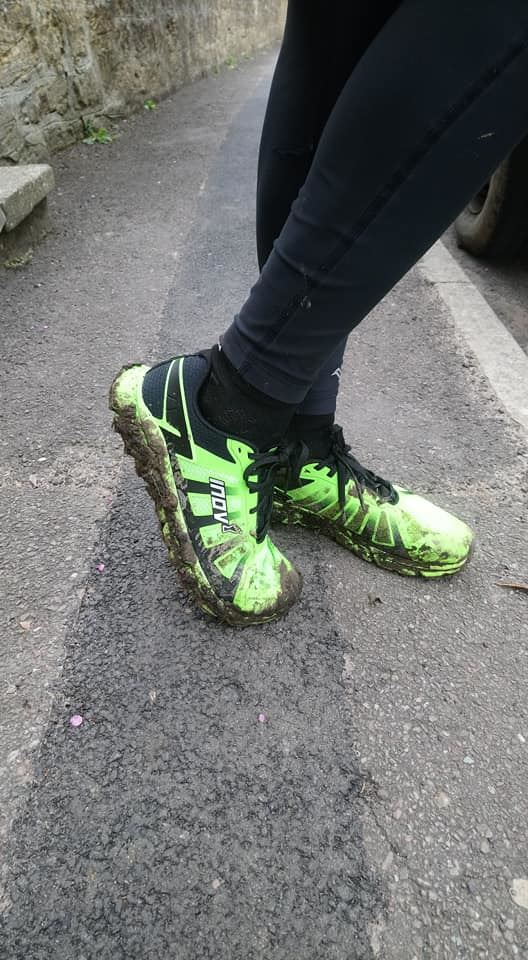 The Hills are Back
From Nathen:
Hill Training - open to all runners of all abilities.
My plan for hills to return. 1st possible Wednesday or Thursday with non awful weather after groups of 6 become possible I'm going to head to the spot at Ham Hill Country Park I plan to use. It's an out of the way spot near the secret garden in the Pitt Wood field. I'll be looking to see how many people are in the area as I want it to be quiet. Also at whether it can accommodate us as need a wide area somewhere quiet. Will be run in a covid safe way, so social distancing at all times. Etc, my plan is to set runners off in pairs on a wide area and have a section people can walk back down afterwards. We'll probably use distance markers rather than time. Runners will be responsible for their own warmup and warm down.
If all goes ok we'll try a reduced group of around 6 runners the following week. Before gradually building up to 12 or so.
Booking will be required. If you could indicate interest. If this is run as a club session I can't have non club runners there. I have quite a lot of non club running friends so before I make that decision about potentially excluding them want to know likely numbers of people attending. Also whether I would get more people on a Mon, Wed or Thurs. I'm not sure if we'll use the club booking page as I'm meant to collect medical info and emergency contact info, I believe it's good practice to have in normal times but even more so now and the run together booking system might be a way to solve that headache if the club one doesn't.
12 will be the max as that's all a coach or run leader can over see at a time I believe. And during covid times a coach is not meant to jump between multiple groups at the same time.
I realise not everyone may know the way to the training area so Tim has offered to run 5 people from a meeting point near parking to the training spot. I'll be walking there slowly as waiting to find out how safe it is to do anything beyond light exercise.
Originally was thinking Wyndham hill but that only gets quiet enough after dark and sunset will be quite late once the clocks go forward.
From me: If Nathen is happy then I will do an Event for this and post when it is live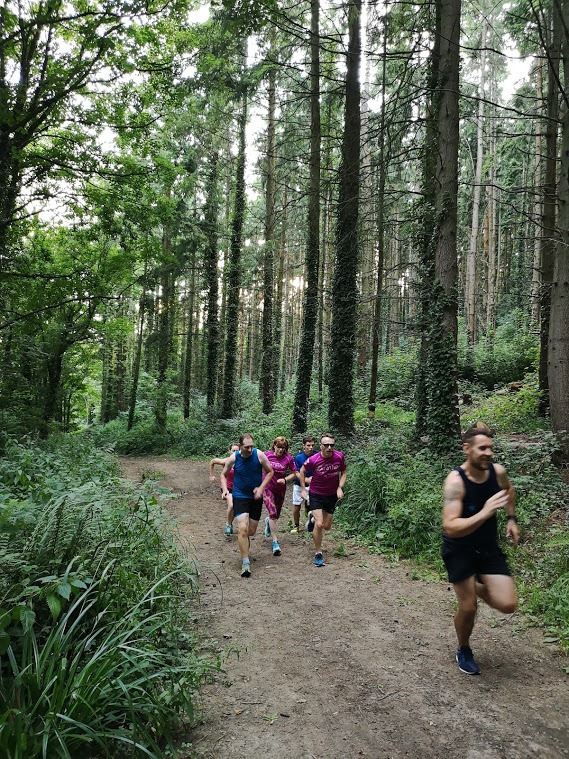 Virtual Running
From Kev: It started with #lockdown2020 & Yeovil Town RRC April Easter Bunny 10k our First " Virtual event on April 13th 2020. It's clear 2021 is not going to be returning to normality anytime soon ( at least in terms of Amateur sports/ mass participation). So we up for another 6 events 2021...
5th April Bank holiday Easter Bunny 10k
8th May VE Day 5k
13th June National Rose Day 10 miler
18th July Mandela Birthday ultra week
31 years since his release run 31 miles +
Thanks for Ultra idea
David Mears
30th August NOT Baltonsborough 5 mile
12th September NOT The Great North Run Half Marathon .
It's a loose framework /idea ... Who's up for these ?
From Lesley: Look what has arrived this week. My USA Virtual Challenge Stage 2 medal and t-shirt arrived in the post on Friday and my 400 miles of the SWCP popped up in my email today after my 10 mile run with Helen this morning, where it was nice to see Helen (Akerman) and Mandy en route and also Adam up on his scaffolding busily painting.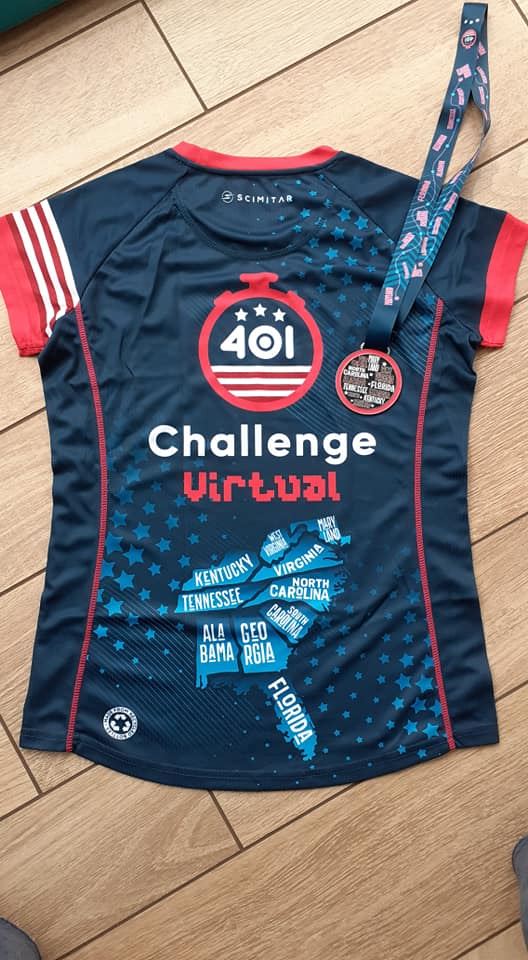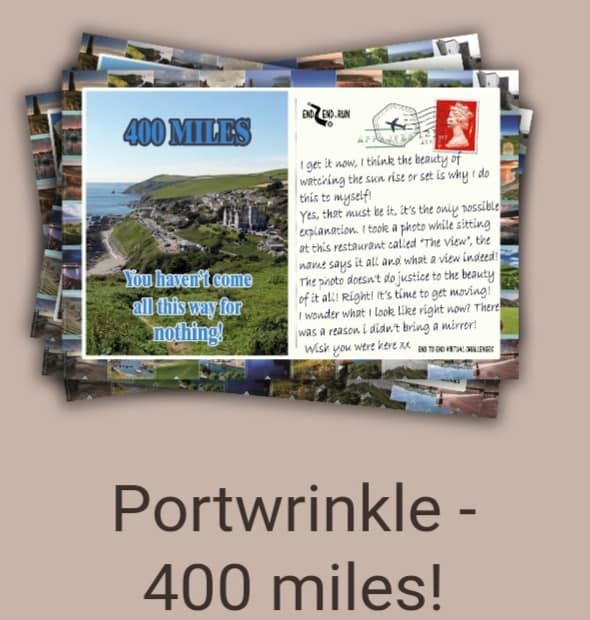 SWCP
Well on Friday I managed to squeeze in a 12 miler and finish the 630 miles, so 78 day's and an average of 8.1 miles a day. Good luck to the others and keep the miles going.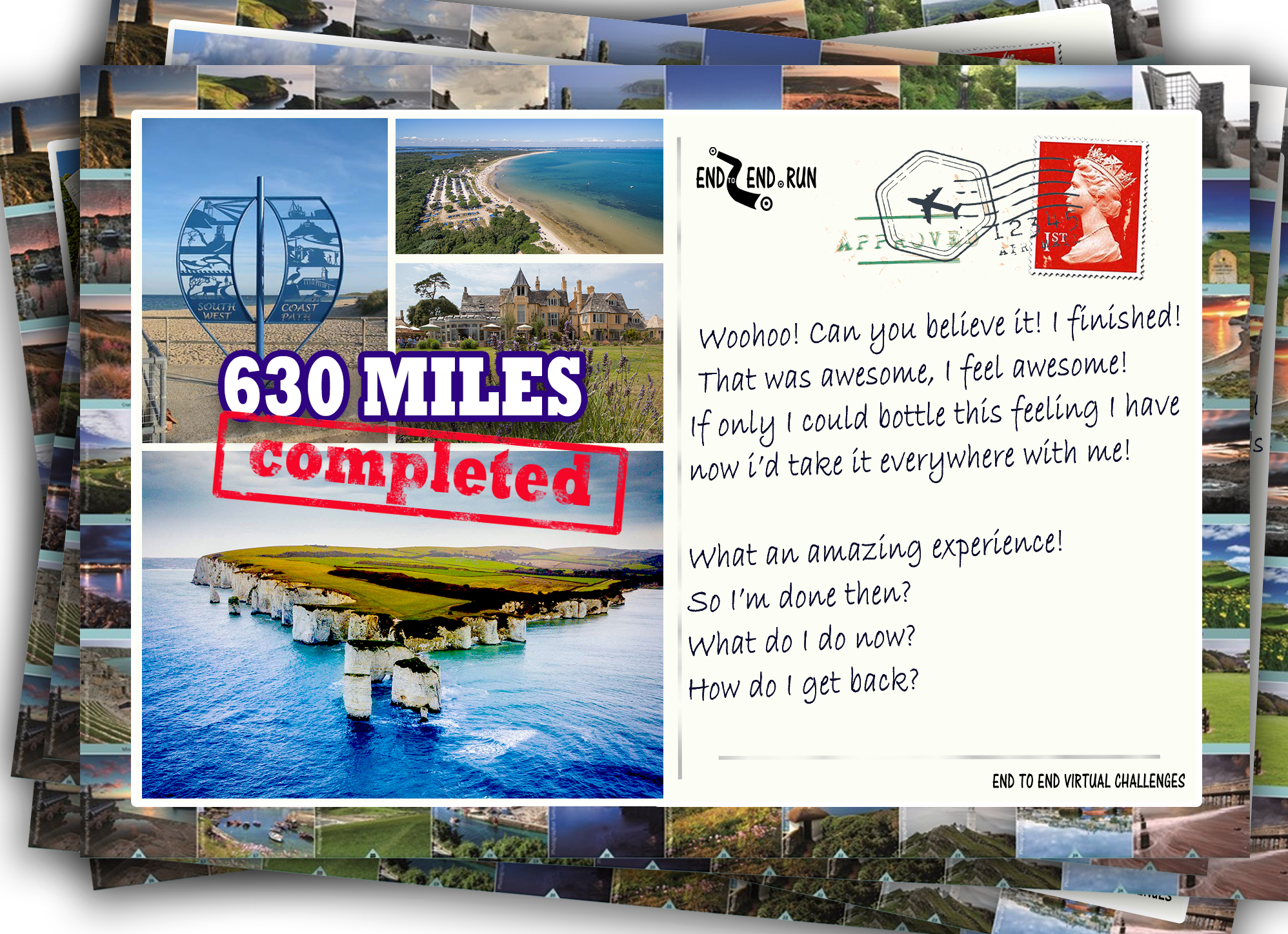 SWCP Midweek Update
From Donna: Very brief, mid week brief:
Bungy Williams 610.10 nearly there in a day or two.
Andrew Holloway 433.15
Tim Willis 405.69
Lesley Nesbitt 387.15
Paul Thomas 369.81
Casper 343.16
June Moule 308.88
Louise Ward 281.76
Marie Lockwood 278.15
Sue Mallinson 273.49
Linda Membury 264.85
Sandra Levett 264.10
Adam Hawkins 253.70
Sharon Hardy 253.42
Donna Reeves 238.42
Anita Garrett 234.63
Rachael Gosney 228.83
Mel Cox 222.70
Kate Gowers 222.37
Claire Shucksmith 221.32
Mac 216.86
Martin Alderman 195.90
Nichola Chesterton 189.23
Richard Clayton 186.39
Nat Robins 181.31
Natasha Turner 179.18
Nick Cox 169.70
Matt Driver 169.15
Lauren Jessica 122.82
Shaun Powell 122.35
Kat Hurford 104.70
Angela Claire 93.63
Sara Driver 79.65
Tristram 65.12
Released On 21st Mar 2021