Loch Ness Monster moves to Bristol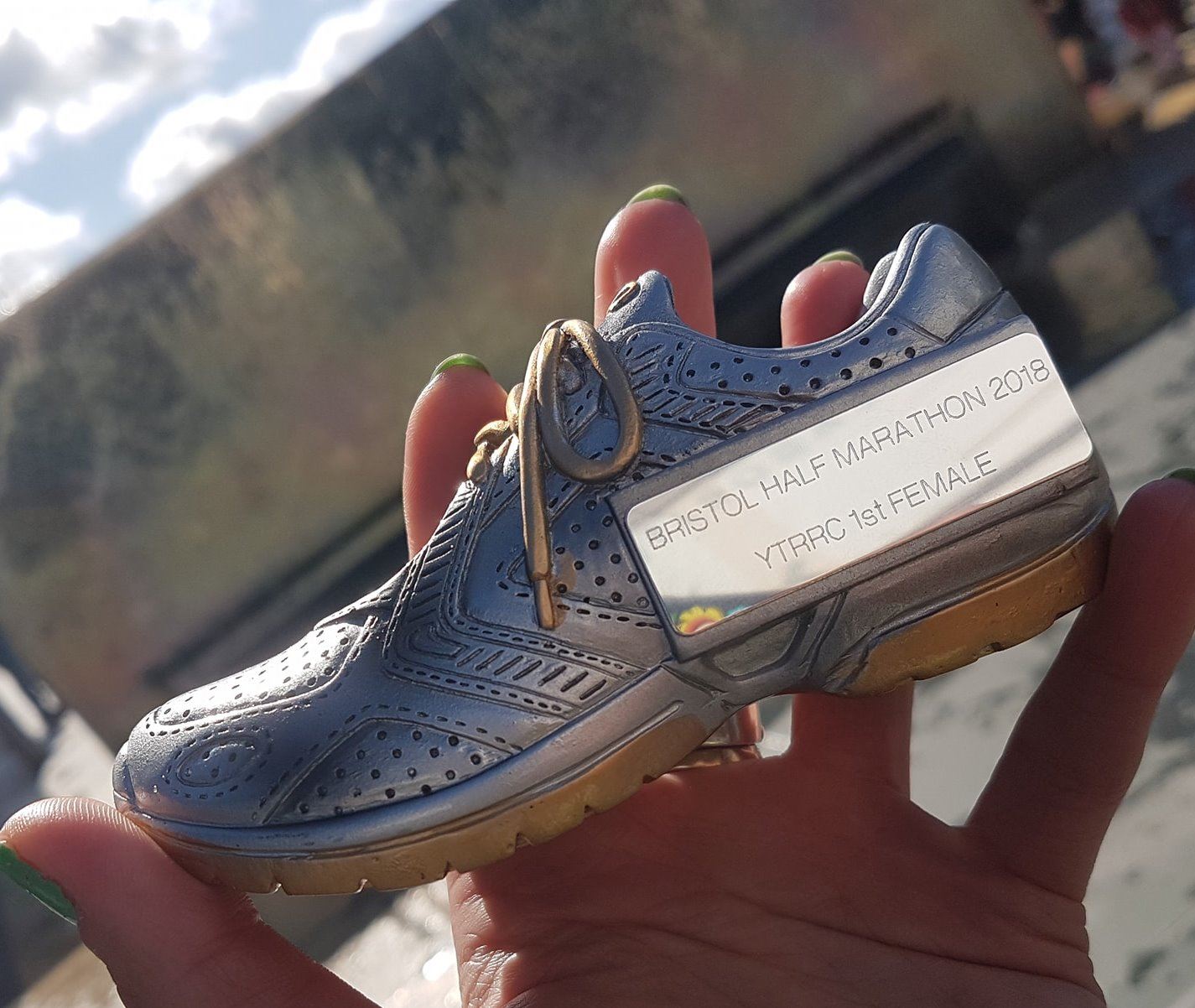 Loch Ness Marathon
Last weekend we had Lynne, Linda, Alan and I along with Steve M as the phot and Paul Allen all taking part in the Loch Ness Marathon. The Saturday saw the expo to collect numbers at the Finish and Event Village, this was 26.2 miles from the Start. Sunday saw an early start as we got on Coaches to get us to the middle of nowhere and the start. We were lucky with the weather at the start as it was high up but with no rain with little wind but still rather nippy.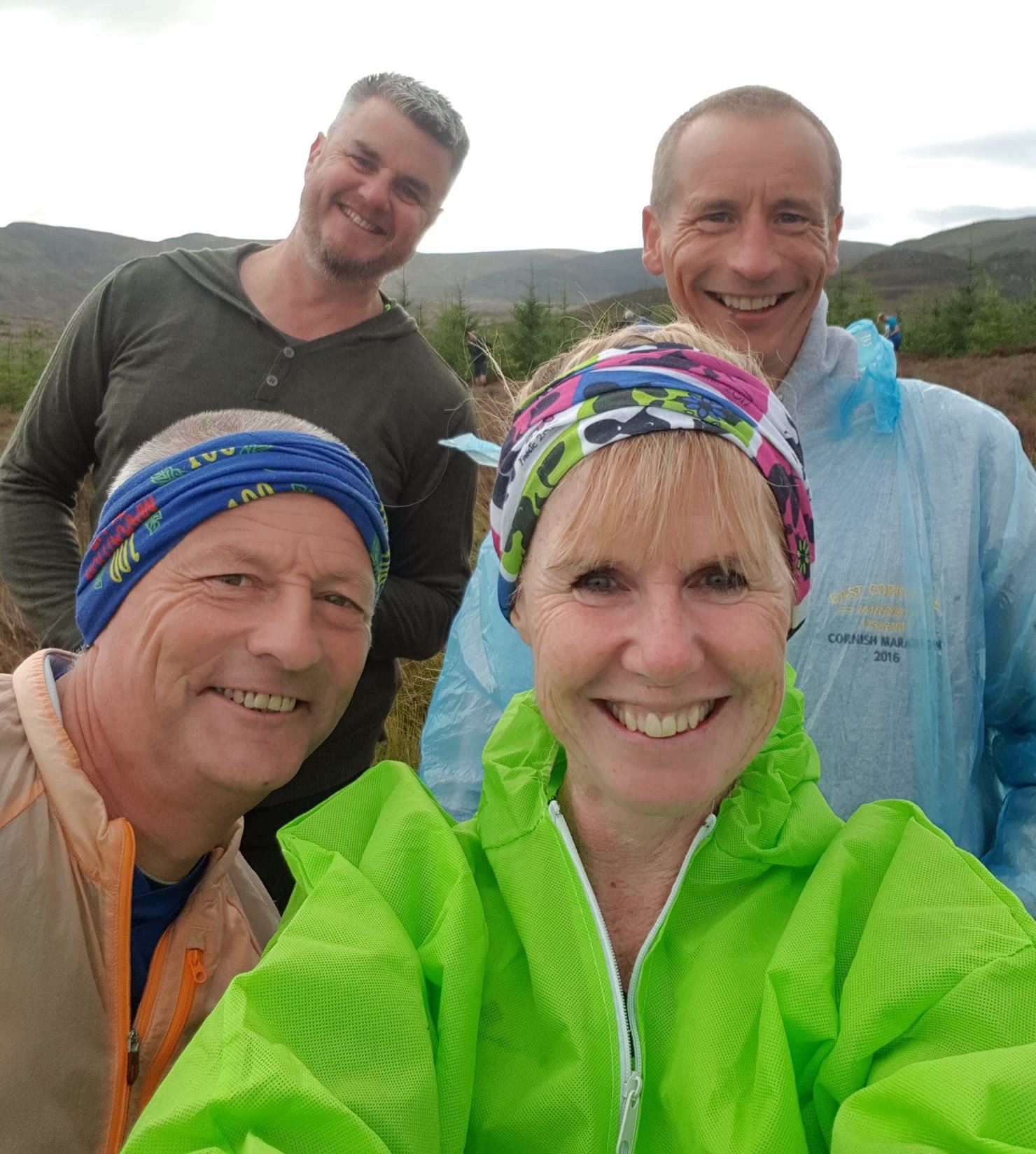 Whilst waiting for the off the Band of our Scotish friends played the Bagpipes and marched through us, very impressive.
The Race started and Adam Holland, winner of the Yeovil Marathon took the front and would stay there till the later stages of the Race. The start was downhill with views of Loch Ness and very pictutess. The route was well supported and very undulating with the man hill at about mile 19 and then the last few around Inverness and across the River Ness, pass The Nessy Monster and over the finish line and a Medal, Finishers T-Shirt and a Tin of Soup.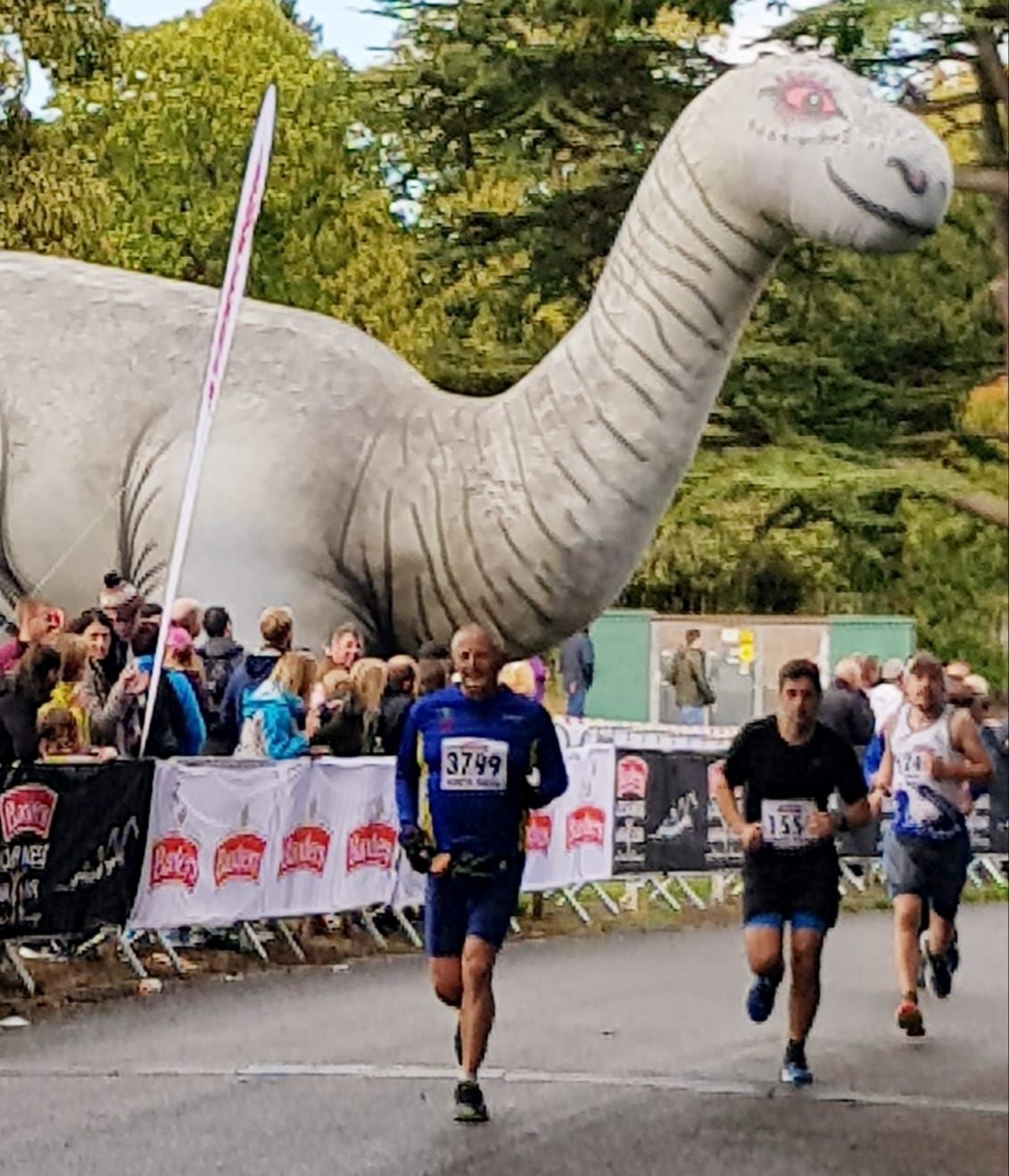 As I crossed the line I saw Steve and he took a picture of all the YTRRC runners, sadly Linda felt a bit ill towards the end and at the finish line was taken to the First Aid Tent as two Crash teams moved in on her with Wine and soon she was back on her feet, Linda was also the first lady for the Club.
At the event village, there was a great party atmosphere with some Jock music and dancing.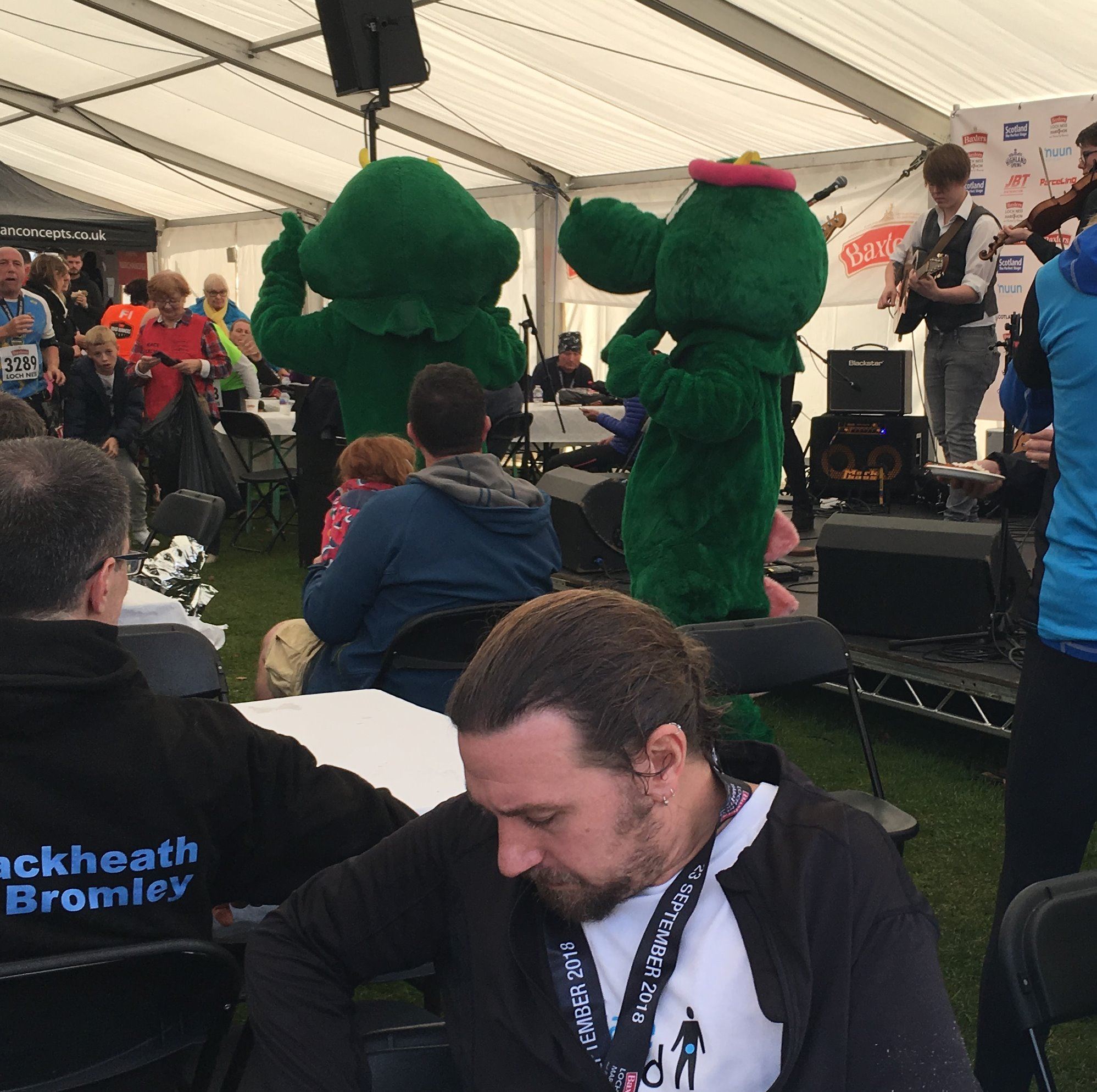 Alan was on his first Marathon and had a great run and we had to stop him signing up for next year's Loch Ness. Hopefully, I will see him at Barnstaple Marathon on Sunday. He was last seen heading for the Hot Tub.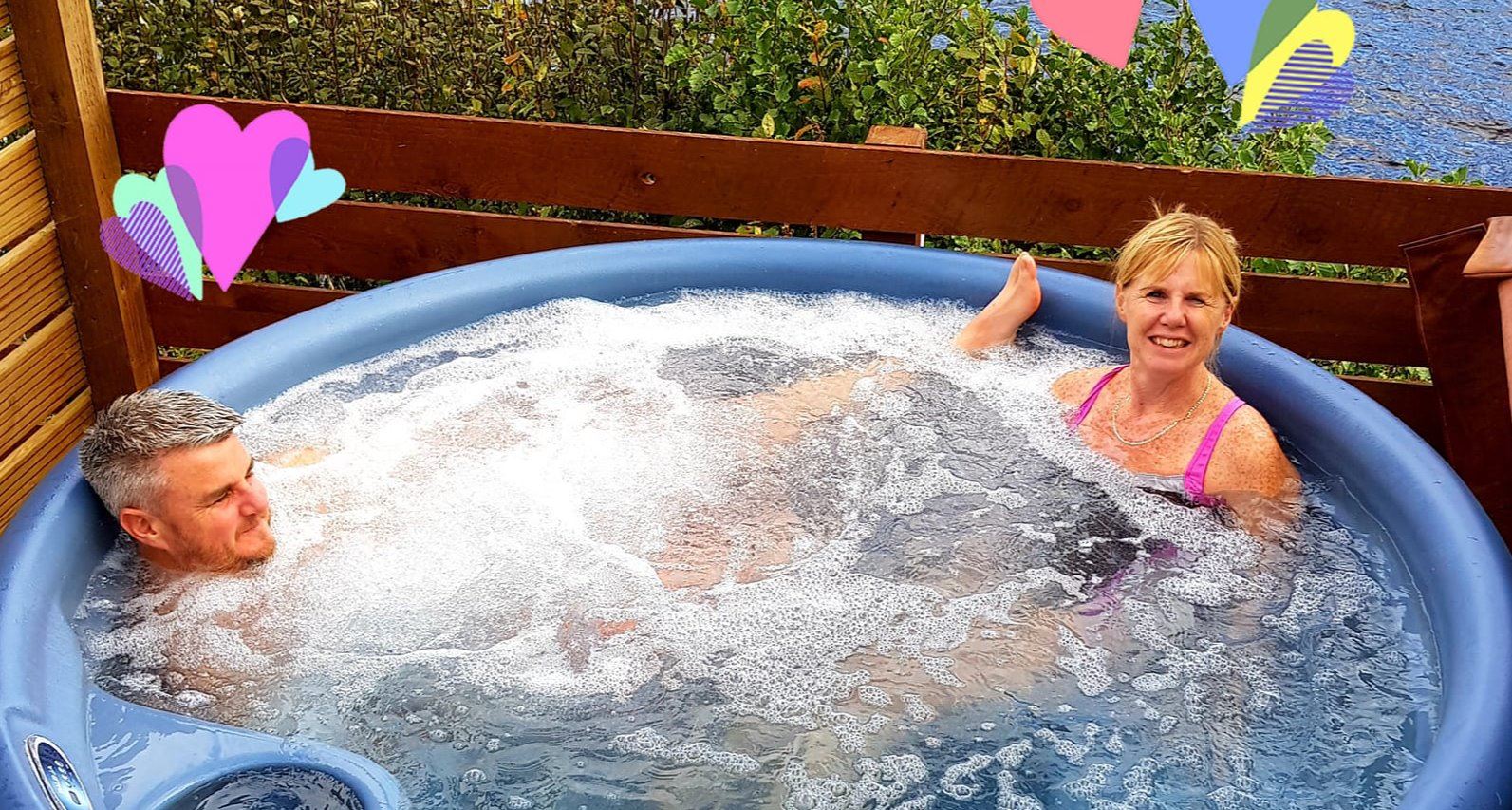 All in all a great Race and well worth the trip, there were 6 Lanport runners as well that made the trip. Adam Holland finished second with a PB of 2:23 and he was a tad pleased. Whilst I am now up to 194 and on target for number 200 at Lanzarote in December, Lynne is well on course for her big day in February and the Club trip to Serville.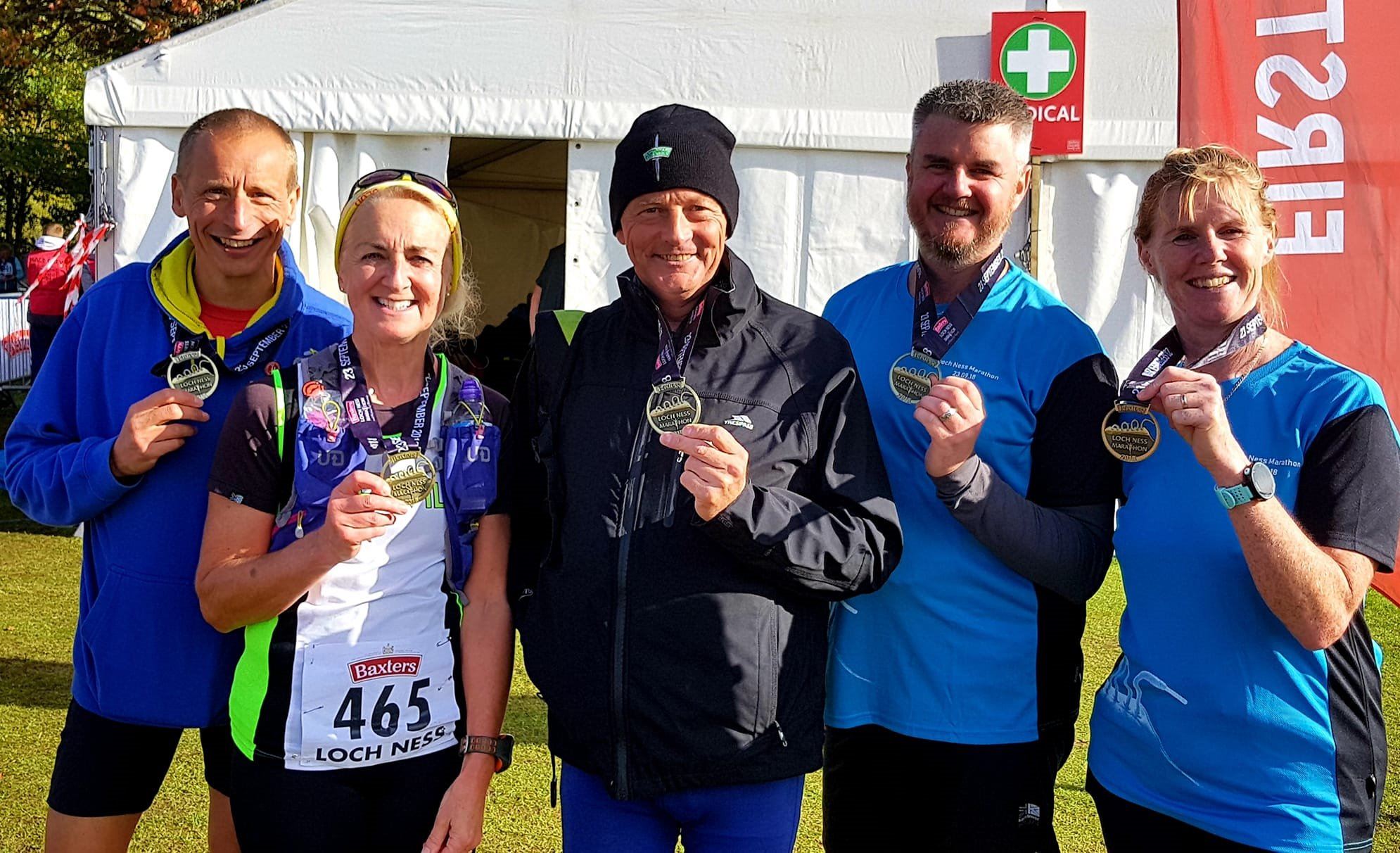 Bristol Half
Anita as ever planned and organised the annual Pilgrimage North .. 😁.
With the weather being forecast as " wet windy " and " Danger to life" ... runners were prepared to get wet. Except for Matthew who overdone it yesterday so pulled out. still got up to bring Kat in though ... Nice man👍. ( Richard Dodge ran yesterday and is tough)
Few others were non-starters due to " wimp syndrome" 😊... I mean Injury.
These big events do create a Buzz and feel exciting to be at ... the weather definitely reduce spectator numbers.
Everyone was organised, bags dropped and race ready .. I looked after Nat Robins coat 🤔.
As runners went to start pens ... warm up commenced and the race started ...a lot of people missed Bungy giving them a " come on Yeovil " as in 2017😚.
The weather was actually very kind .. light rain occasionally... little windy.
Me Katie & Kat watched at various points.
And it was great cheering on our fellow Club runners.
Tim Howes ran fantastically to be disappointed with 1:30:06 .. first YTRRC male. Well done 👍.
Magdalena Kusmierczyk was first YTRRC lady in 1:47:43 Well done 👍🏅.
Other worthy efforts were Daniel Stephen James McFarlane running his first Half .. Brilliant 1:42:45 ... faster times ahead for him👍. James " Rihanna" Day ... under my umbrella Ella Ella.. 😁 did really well off little training with 1:41:14 .. and James Hutt is a dark horse .. new PB at 1:43:50 he can certainly be looking at sub 1:40 next year.. Well done to everyone ... You all did great.. with your own goals and achievements.. 👍
Winner Matt Clowes Cardiff..1:05:10
Winning Lady Clara Evans 1:16:20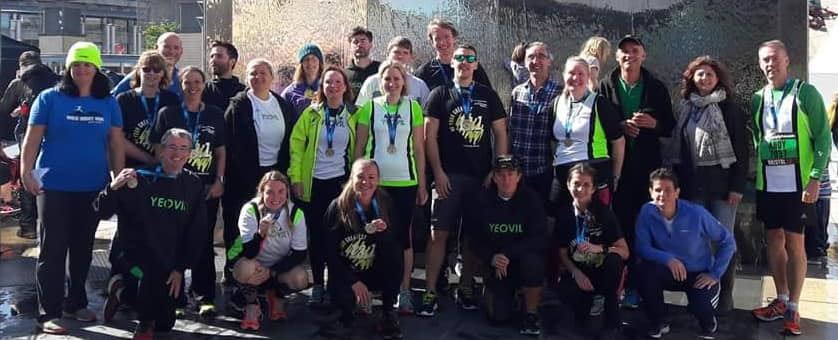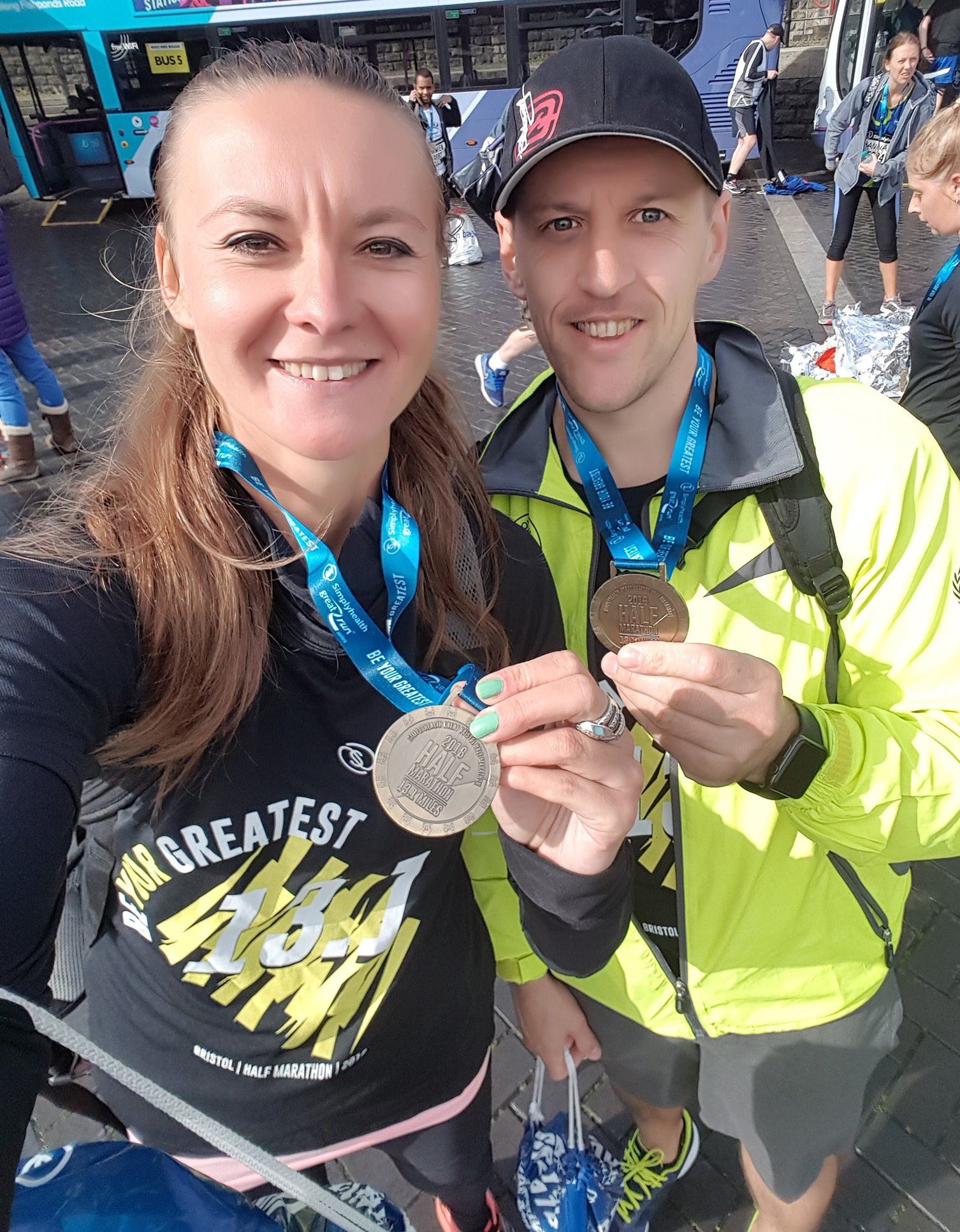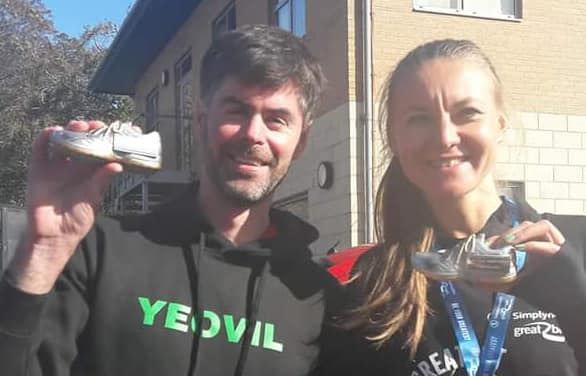 Wessex Cross Country
From Tim Hawkins:
Hello everyone
Firstly I am sorry for the delay in sending this information out, all issues have now been resolved and the arrangements are well underway.
If you wish to register for this year's cross country league then entries are now open online.
The two pages you need are:
For payment of club fees: https://poolerunningevents.co.uk/events/wessex-league-cross-country-league-payments/
For team declarations and individual entries: https://poolerunningevents.co.uk/events/wessex-cross-country-league-team-and-individual-registration/
Further information is available on the Team Dorset website.
Any questions/problems please email or provide me with a contact number and I will call you.
Kind regards
Lindsay
Team Dorset Athletics Network
Well Done Ladies
From Mel: Sorry for the delay - brain fog !!
We took a staggering £154.41 at the Yeovilton 5K. That makes a fabulous grand total for 2018 from the Easter Bunny & the 5K's of £1038.39
2016 - £764.00
2017 - £861.44
We have saved over £50 by using mugs!
A big big THANK YOU to all who donated cakes etc, donated for the goodies, & those who helped Denise & me on the day.
Xx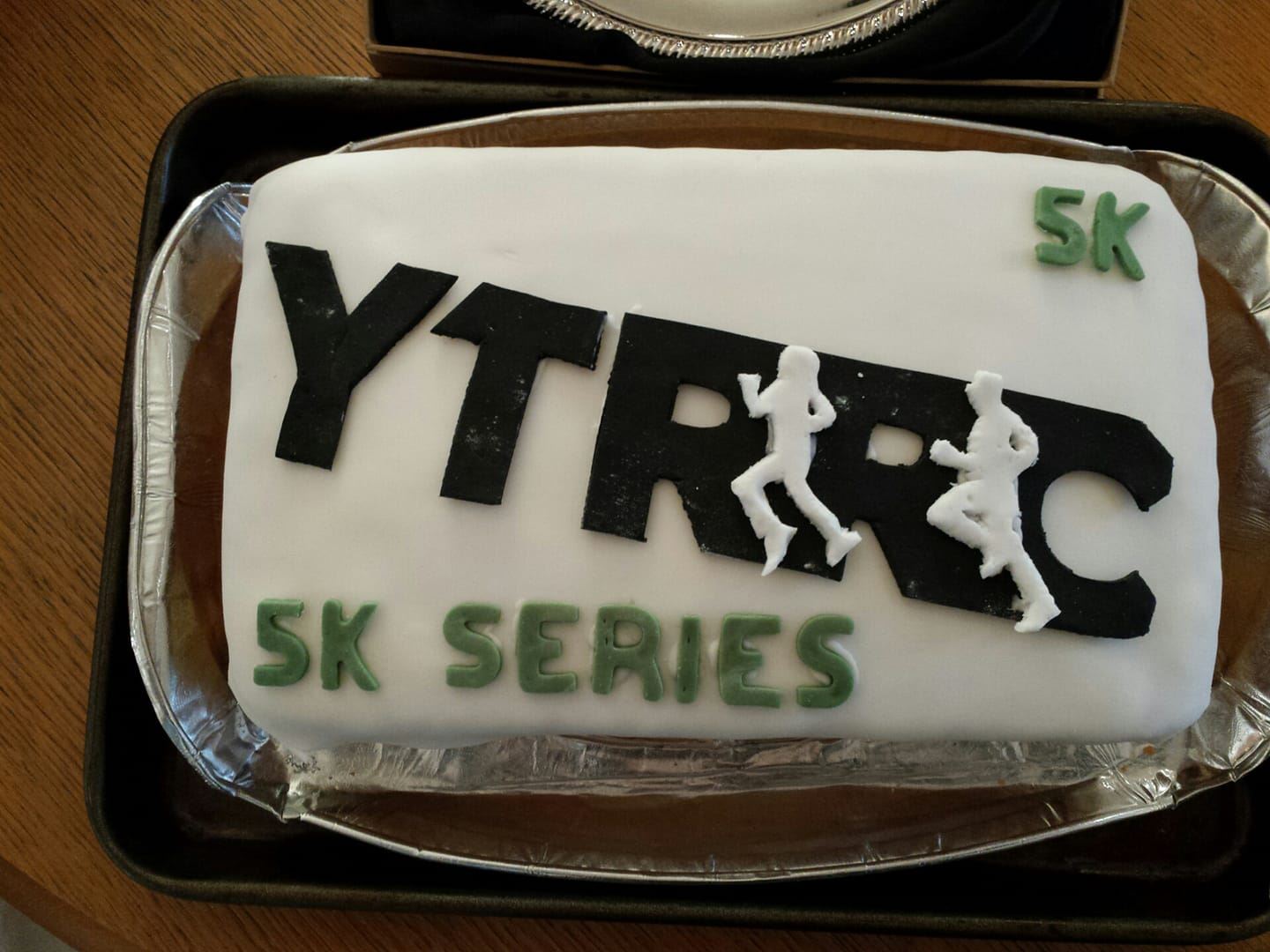 Camelot Challenge
From Mark: As this event is right on my doorstep, I decided to enter for the first time. It didn't disappoint. Great to see a good turnout of Yeovil runners as well. In drizzle that steadily increased in magnitude throughout the run, we ran from the Gryphon School up to South Cadbury and back in a loop. The majority of the running was off-road with two huge climbs. On the way up you climb up Cadbury Castle, and on the way back you climb up to the Beacon on Corton Hill which marks 9 miles. I feel really great just now.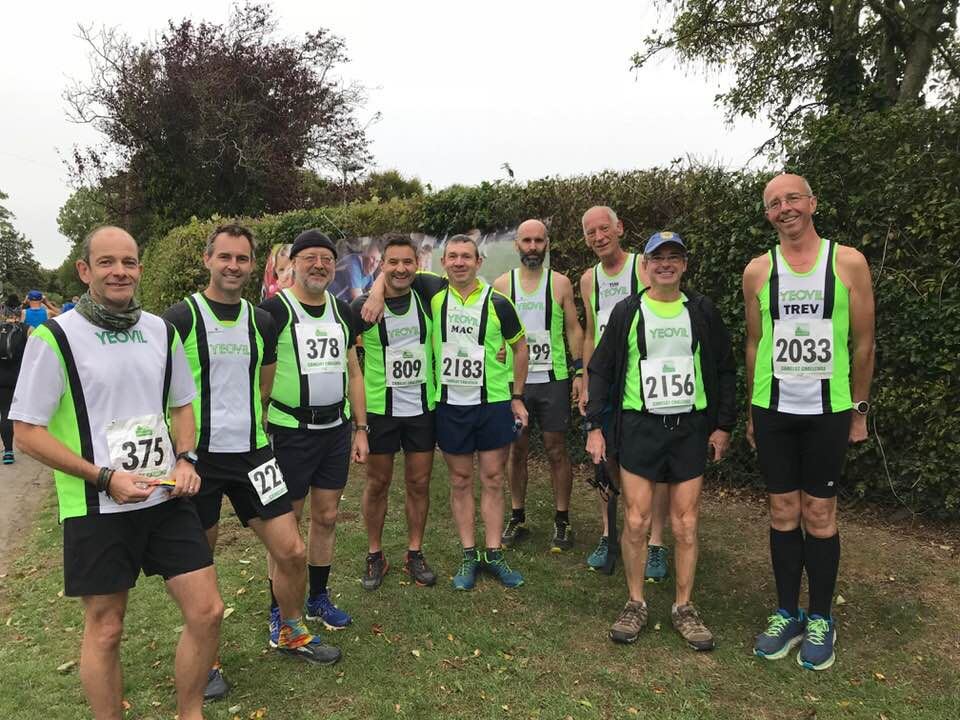 Mells Scenic 7
From Lesley: Whilst everyone else was running in the rain at Bristol half and a few searching for the monster in Scotland, myself, Lyndsay, Tim and Leyton (who missed the photo-shoot) had a mostly dry time racing along river banks, up and down through woods and maize fields with a bit of road thrown in for good measure at Mells Scenic 7. It is a nice hilly race with excellent organisation and very helpful marshals making sure no-one went the wrong way. No results yet but Leyton was 1st home for the club, followed by Tim, me, then Lyndsay. Well done all.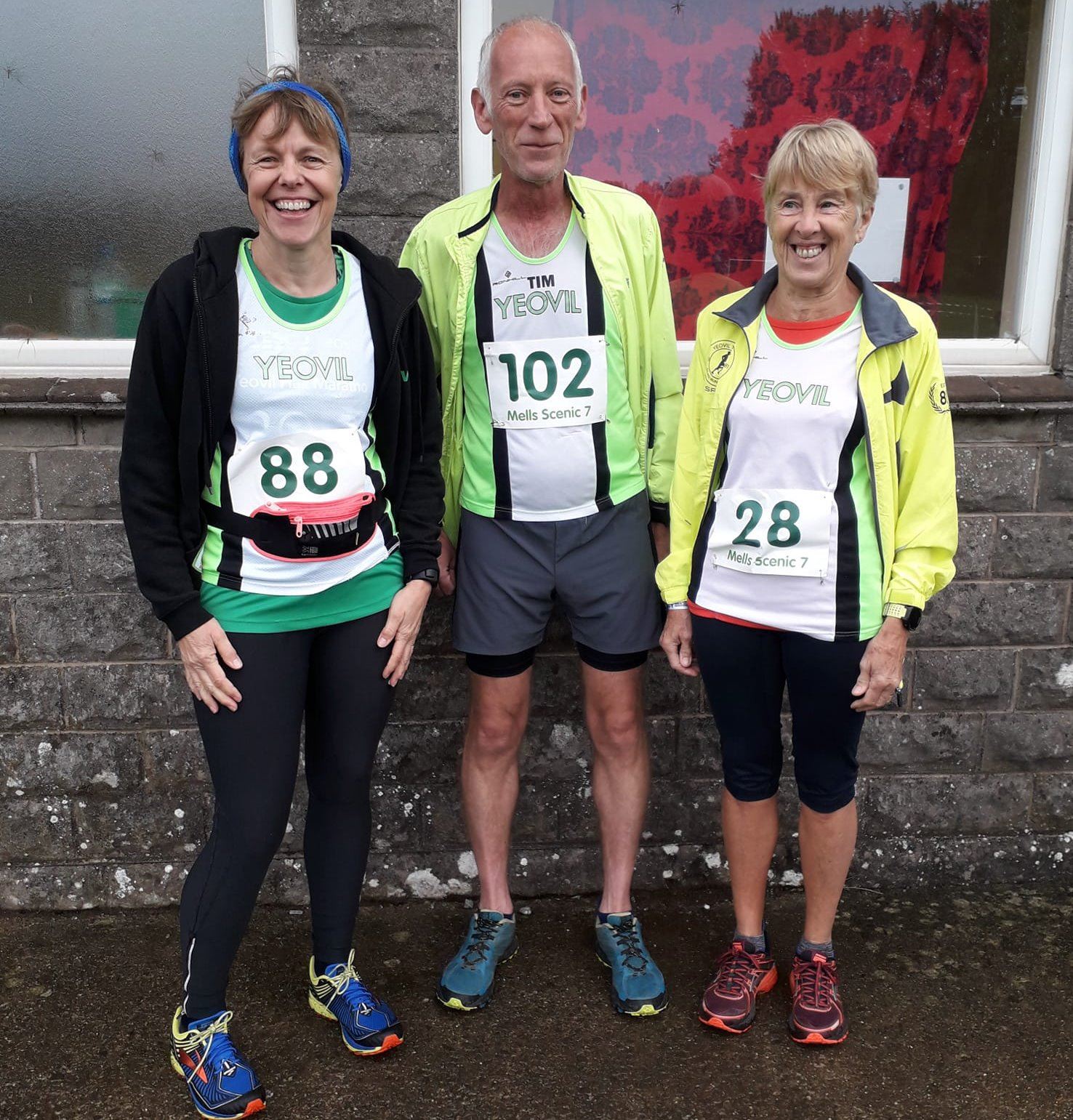 Marks Runs
PUB RUN – CURRY RIVEL (20th September 2018)
I led a small group of eight of us tonight (Rob, Stephen, J.C. Kirsty, June, Alison, Georgina, and myself), round a clockwise six mile route. Others attending tonight were Phil, Pete, and Katie. Being cloudy, it was a race against time to get round before darkness fell. Head torches will be needed next time. From the pub we ran up past the church. Two right turns took us back to the main road at the eastern end of the village. We ran towards Langport and crossed over running down to Drayton. At Whitecross we turned right and ran along the lane reaching the B3168. Here we split into long and not so long, just as the rain started to fall. The longer group turned left then right going past Park Farm. We carried on into the gloom until reaching a road junction. Keeping left we ran on up to the main road at the western end of the village. The final leg was a cruise down the main road back to the King William. Thanks Phil for organising, and all. It finally feels like the end of summer.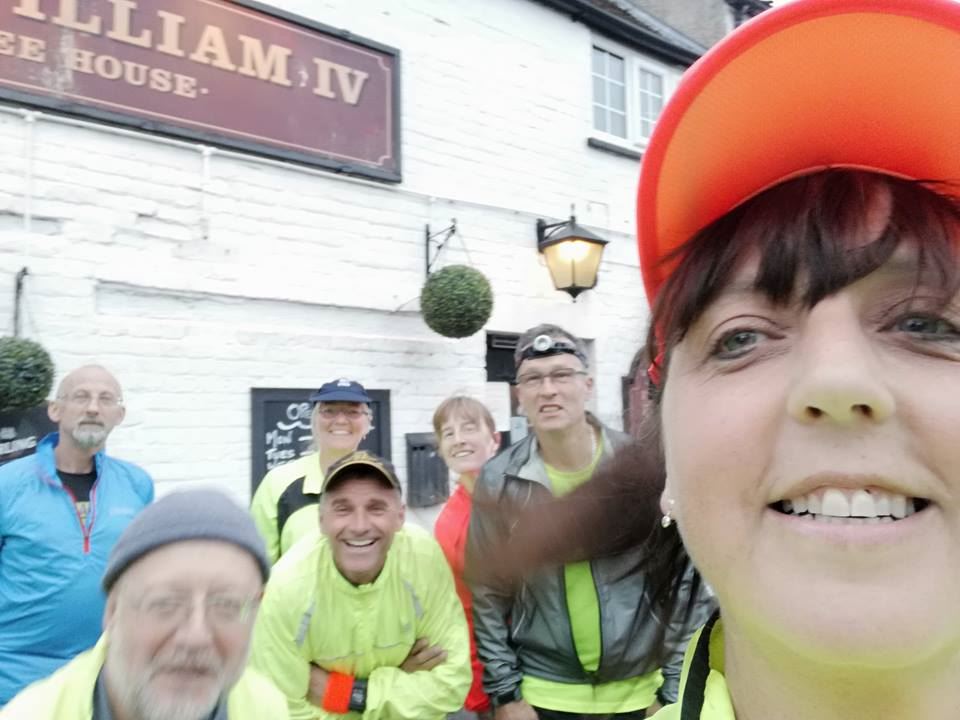 Released On 25th Sep 2018