Larmer Weekend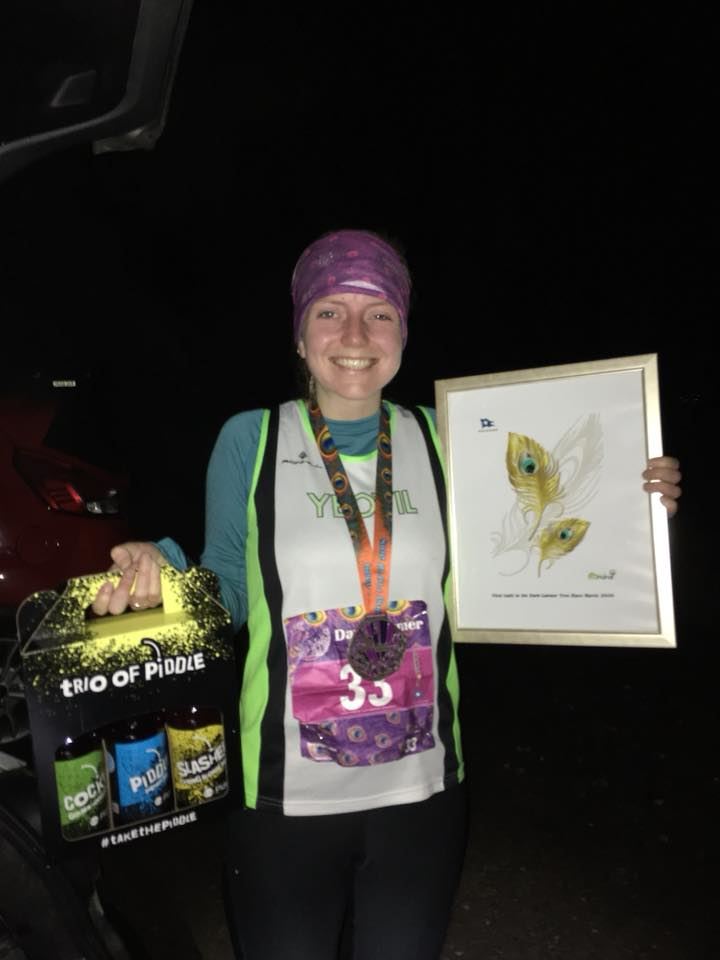 John
The funeral was on Friday and the Club had 30 members at the Church and the place was full with loads outside as well. The service went well with Johns family spinning a few dits on Spud. Matt, John's son did a great job and is a credit to John. A very sad occasion but John had a great send-off and will not be forgotten. Lindsay is ordering some wrist and headbands for Club members to wear at the Yeovil Half and if you would like to wear these please see Lindsay for the cost as she has paid for them.
The Larmer Weekend
Results
White Star Running had the 5th Running of the Larmer Weekend with races for all, with Saturday a 10 miler as part of the Imperial Series and we had three runners in this. Anita, Lesley and Terry. Lesley won the Vet 60 Series so a very well done to her.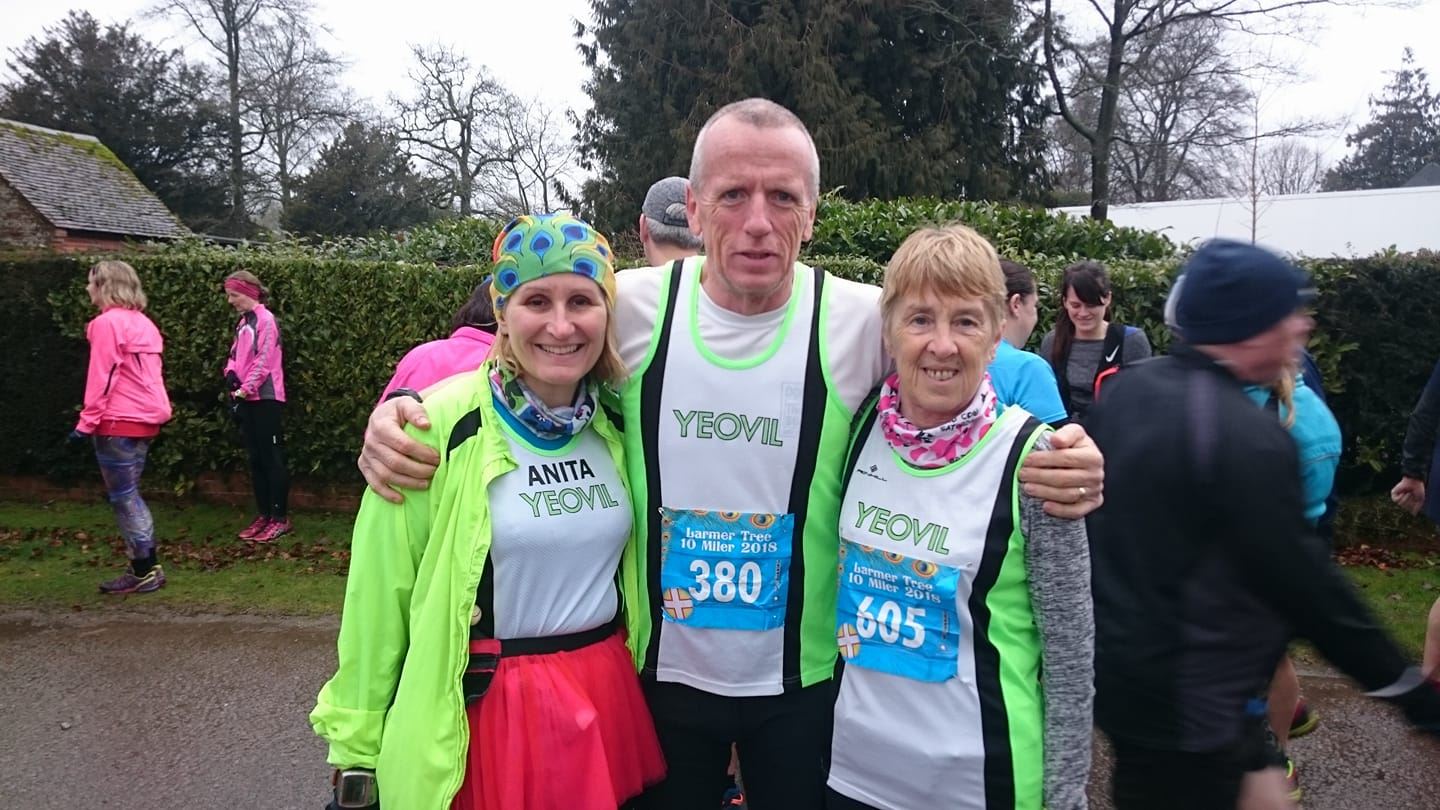 This was followed by the Dark Larmer with four runners from the Club, a great effort by Steph saw her win First Female which to me is no surprise for the amount of hard work and training that Steph has put in. So it is nice to see the results working.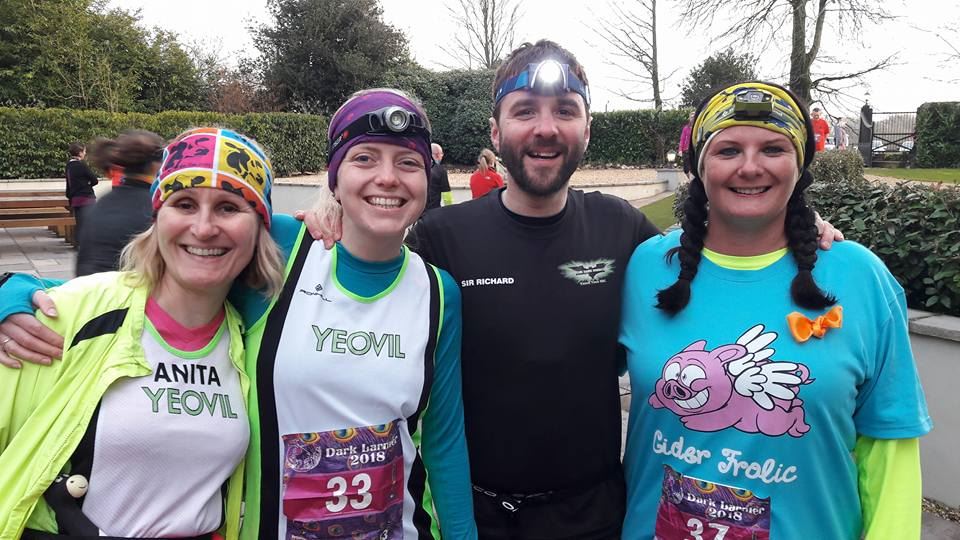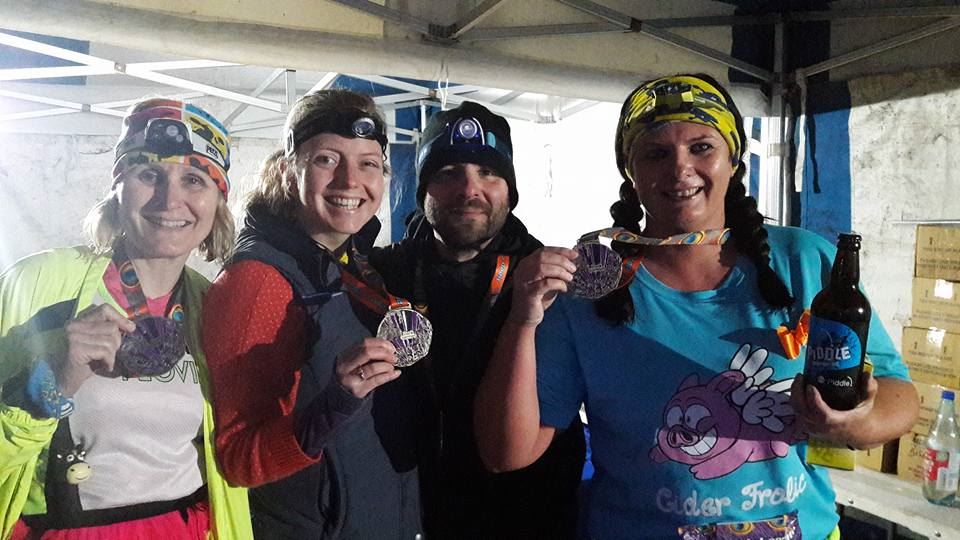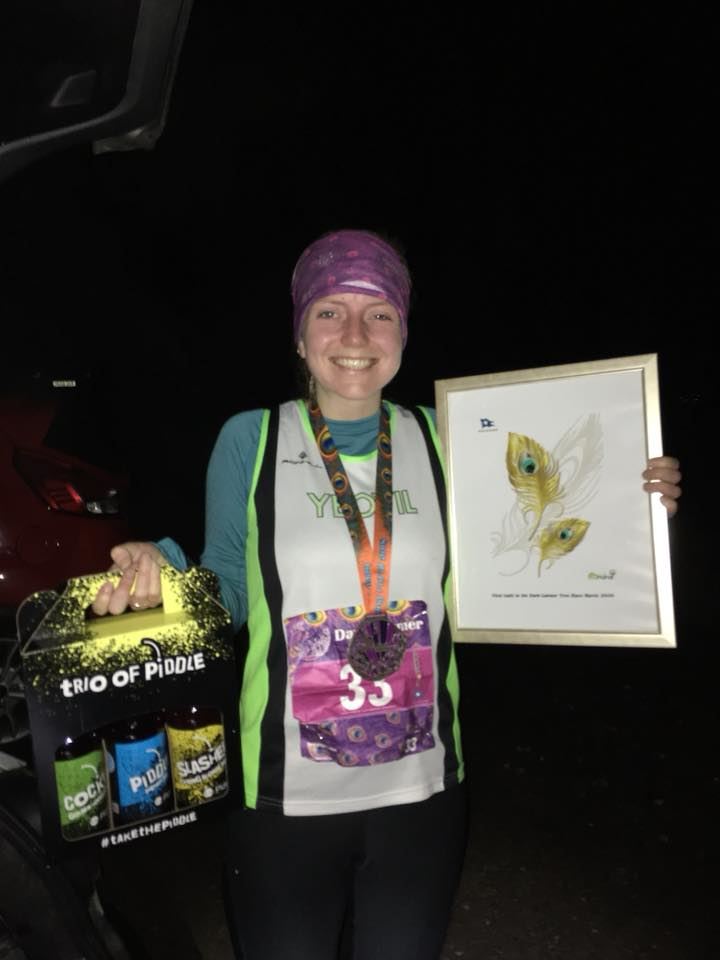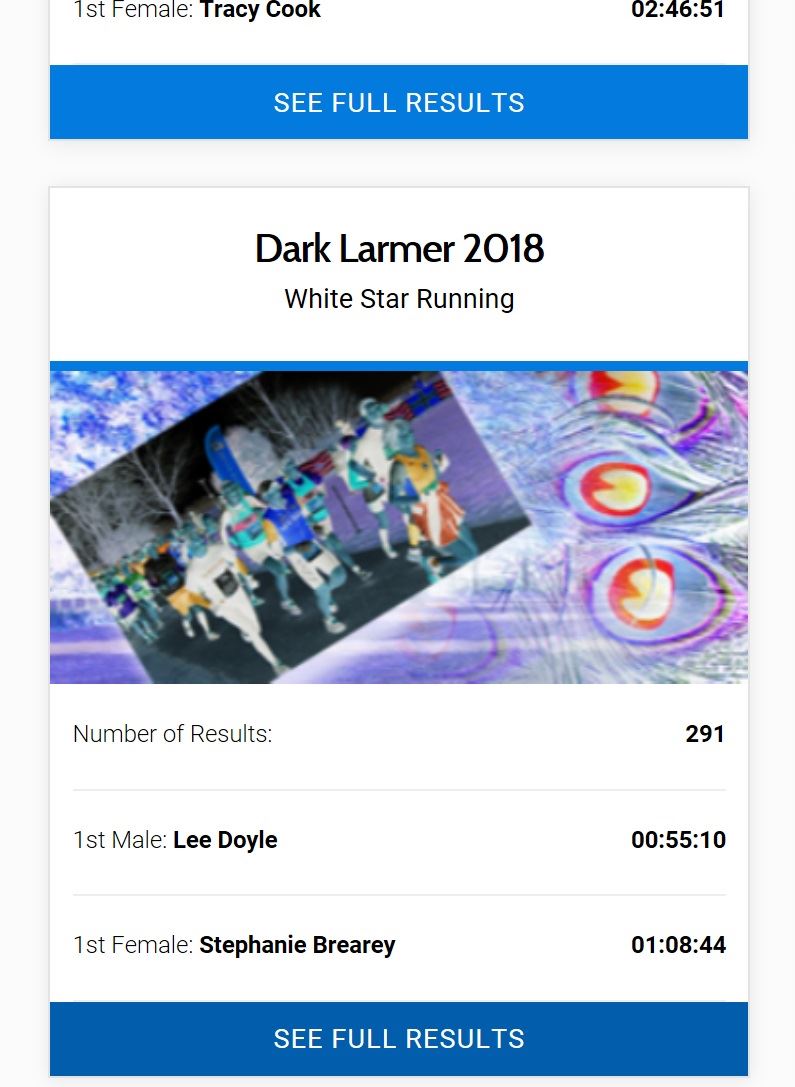 (Shameful bragging will follow). First lady at tonight's Dark Larmer race. Absolutely chuffed. Hoorah! It was super tough with all the mud - how lovely it will be for all of your marathoners tomorrow. Enjoy.
Sunday saw the 20 miler and the Marathon, the 20 miler had 5 runners Lesley, Louise, Linda, Jo and Sharon. Lesley and Louise were joint first for the Club. The marathon had 7 runners with Paul A, Kev Britle, JC, Jon Crane, Chris W, Lynne T and me. First Club runner over the line was Kev and me with Lynne taking the first lady. For all the race's this was a very hilly and muddy course and very hard on the legs. The free food after was great and managed to get the car out ok as well.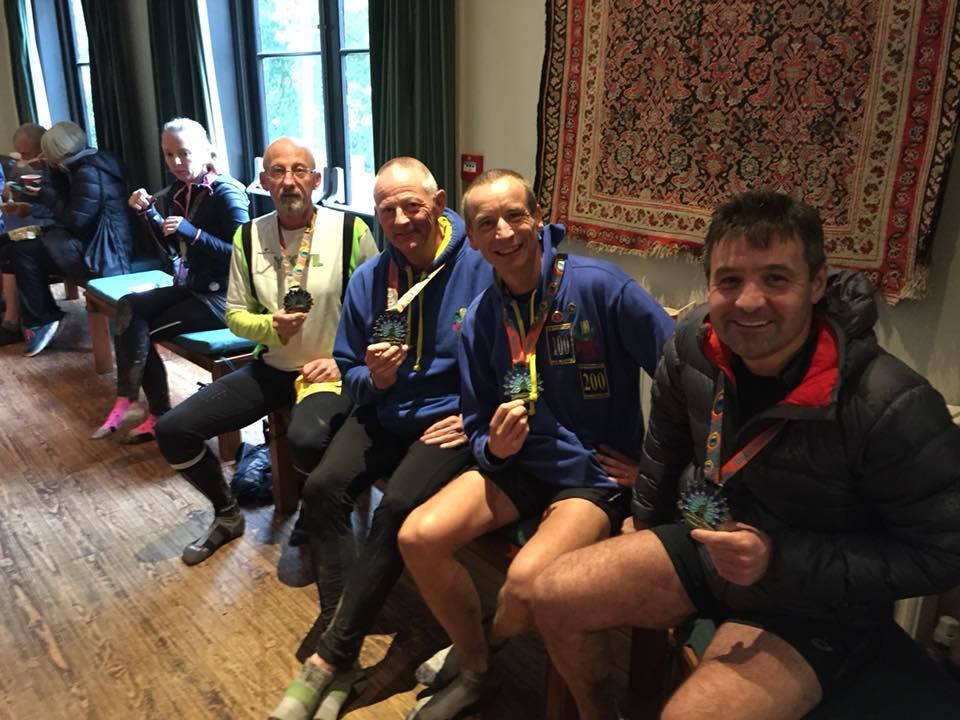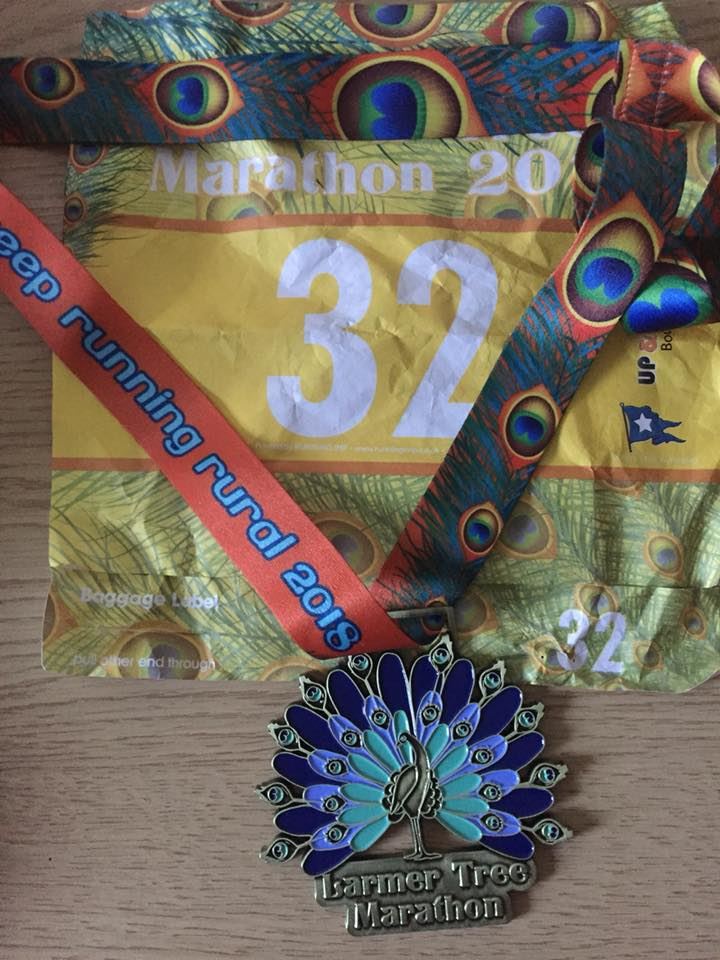 The Surrey Half
Just the one YTRRC runner at the Surrey Half, Rob Thompson who posted: Just finished the Surrey Half around Woking. 4500 runners, closed roads, perfect conditions and a pretty flat course. I can recommend it as a good run. I did it last year and it was what got me back into running and made me join YTRRC. Not got an official time yet but my watch says 1.43.54 which is a PB by 39 seconds. Very happy. *1.43.55.6 chip time.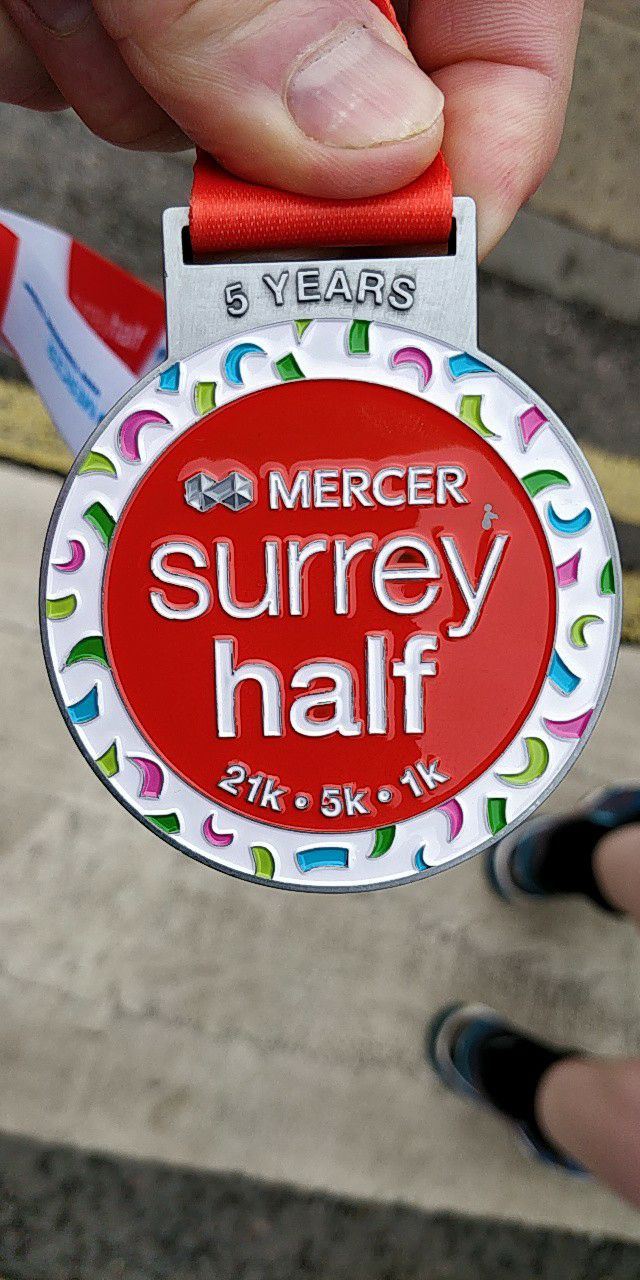 The Big Cheese
We had two runners in the Big Cheese a 15 miler, Jp and Georgina, well done both of you.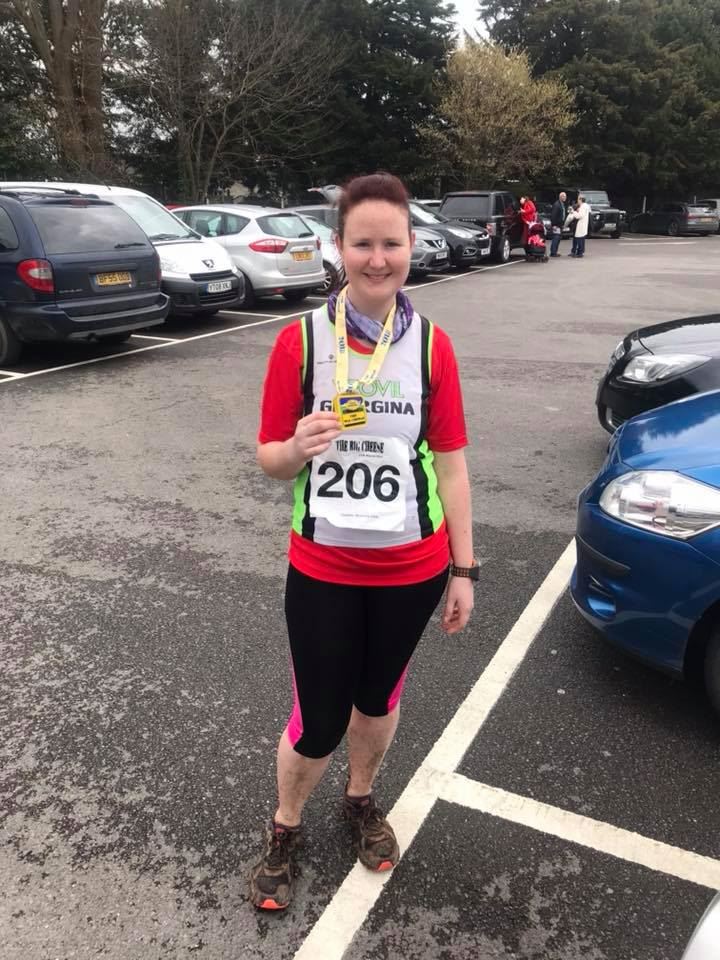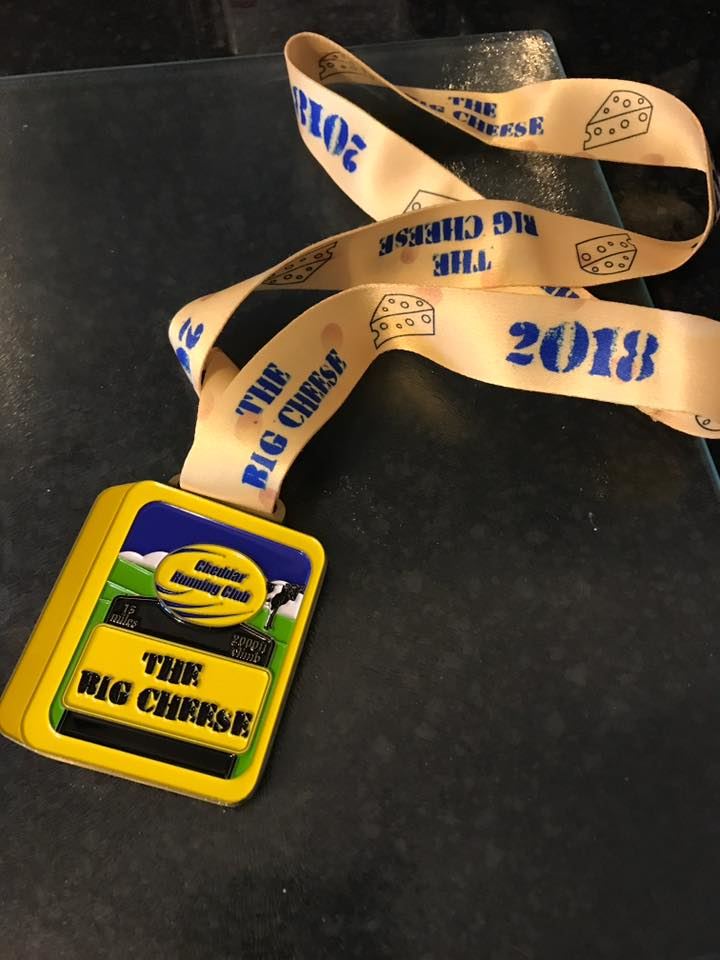 Cheswick Half
Carl Chapple Hedges ran te Cheswick Half today and posted: Ran the Chiswick Half Marathon today...disappointed it was only 12.6 miles & felt the route was rather unorganised with a lack of marshalls & lots of runners taking wrong turnings
😣 But a lovely scenic run down by the river Thames with plenty of boat races to watch along the way....nice weather for it and happy with my 1.39s.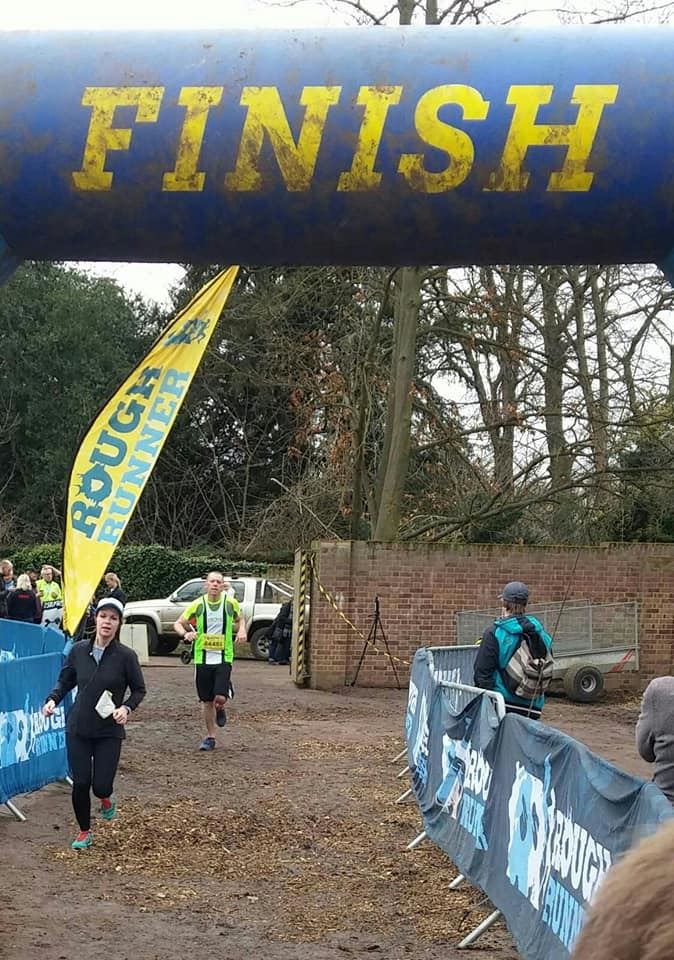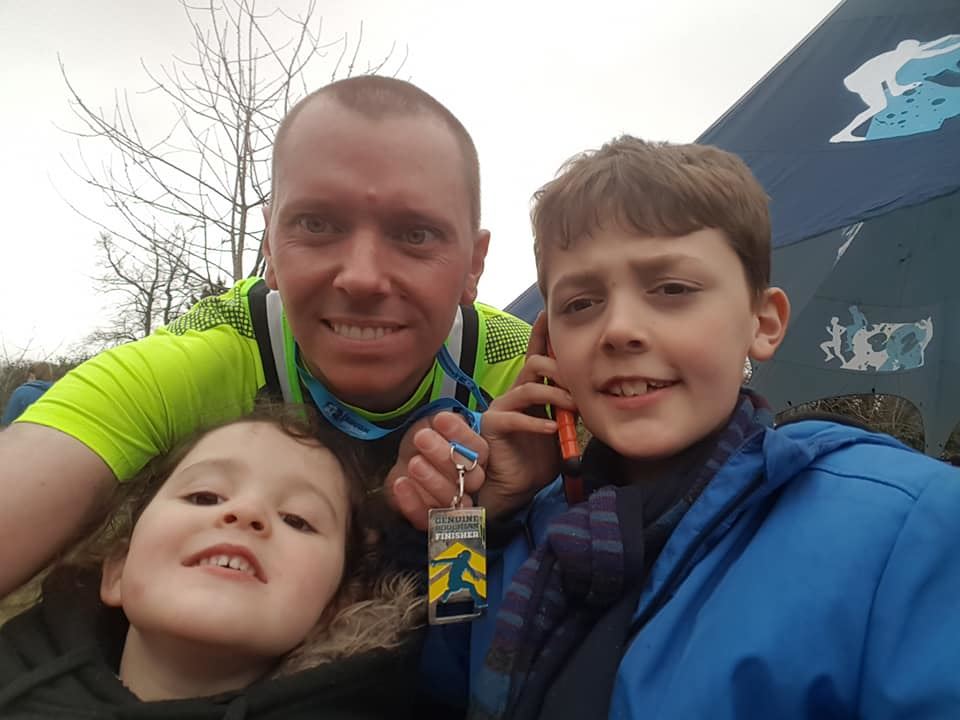 Bideford Half
Rebecca Burton completed the Bideford Half Marathon as part of her training for the London Marathon, she posted: Managed 17.5 miles including doing the Bideford Half as part of London training today. Sorry no Yeovil vest and was practising in the charity vest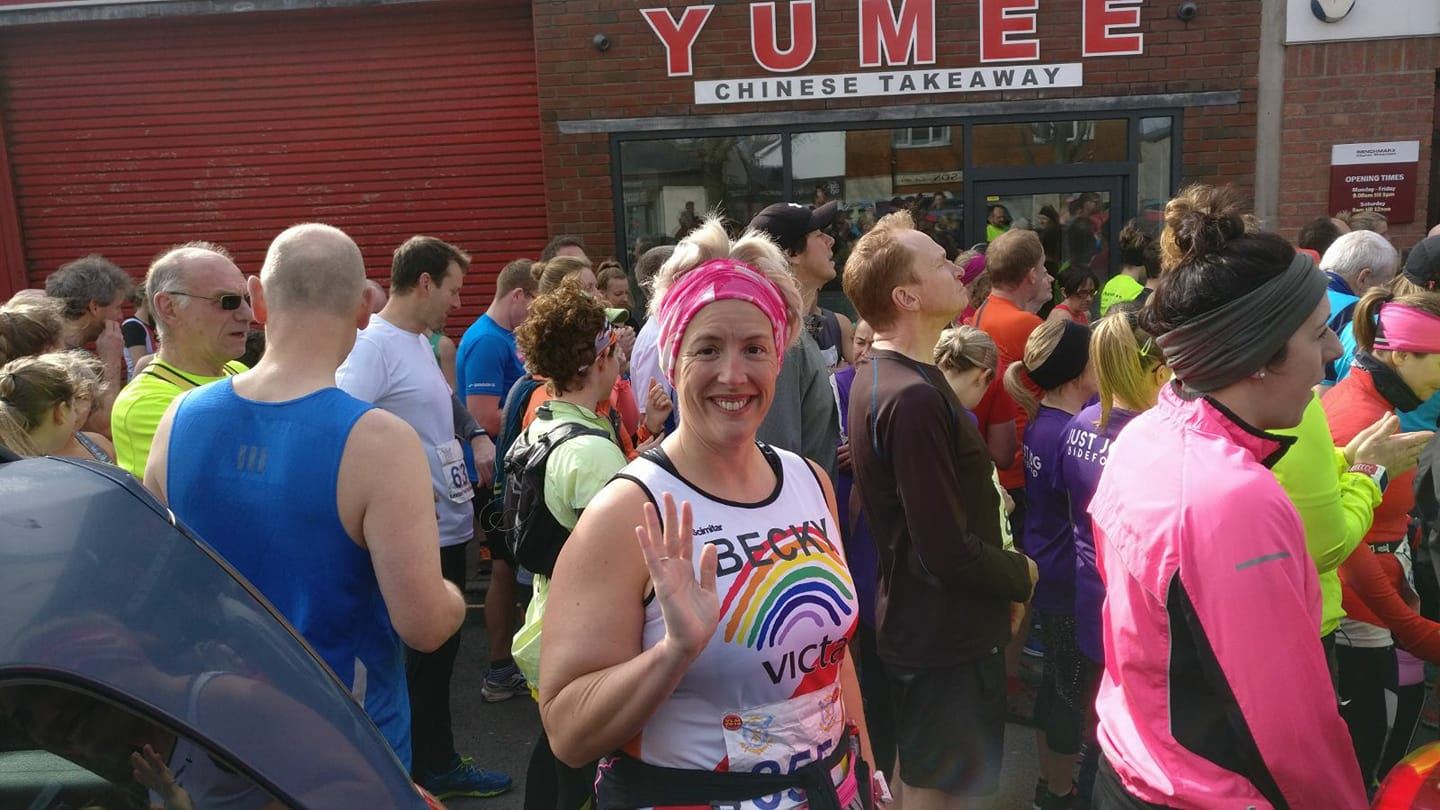 Wizards Aquathlon
From Katie: YTRRC does Wizards Aquathlon. A few club runners turn out this morning. Prity chuffed wih my race. Great swim and run all. Well done
🙂 thanks to steph and Debs for your support
😘 think its time to start mothers day lol.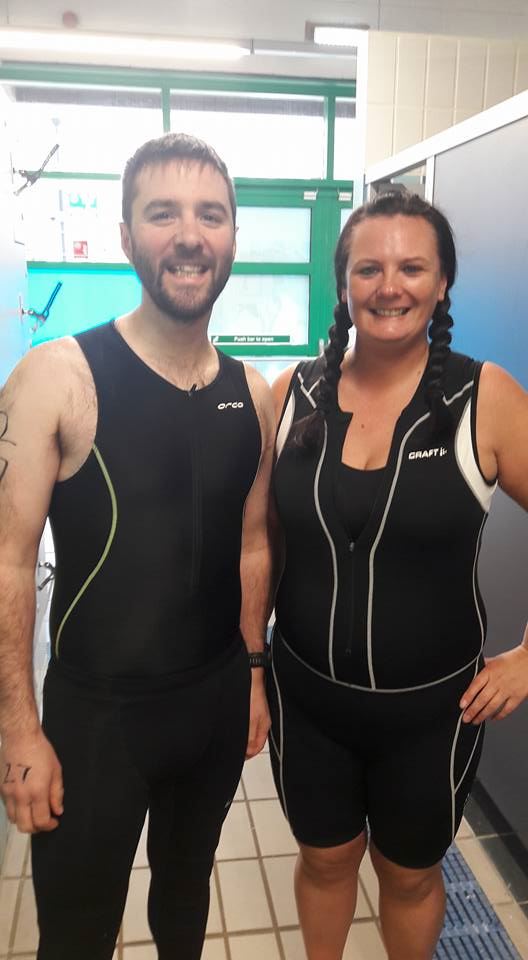 The Headcase Cancer Trust
From Lindsay: Received this letter today. Well done to you lovely bunch of people xxxx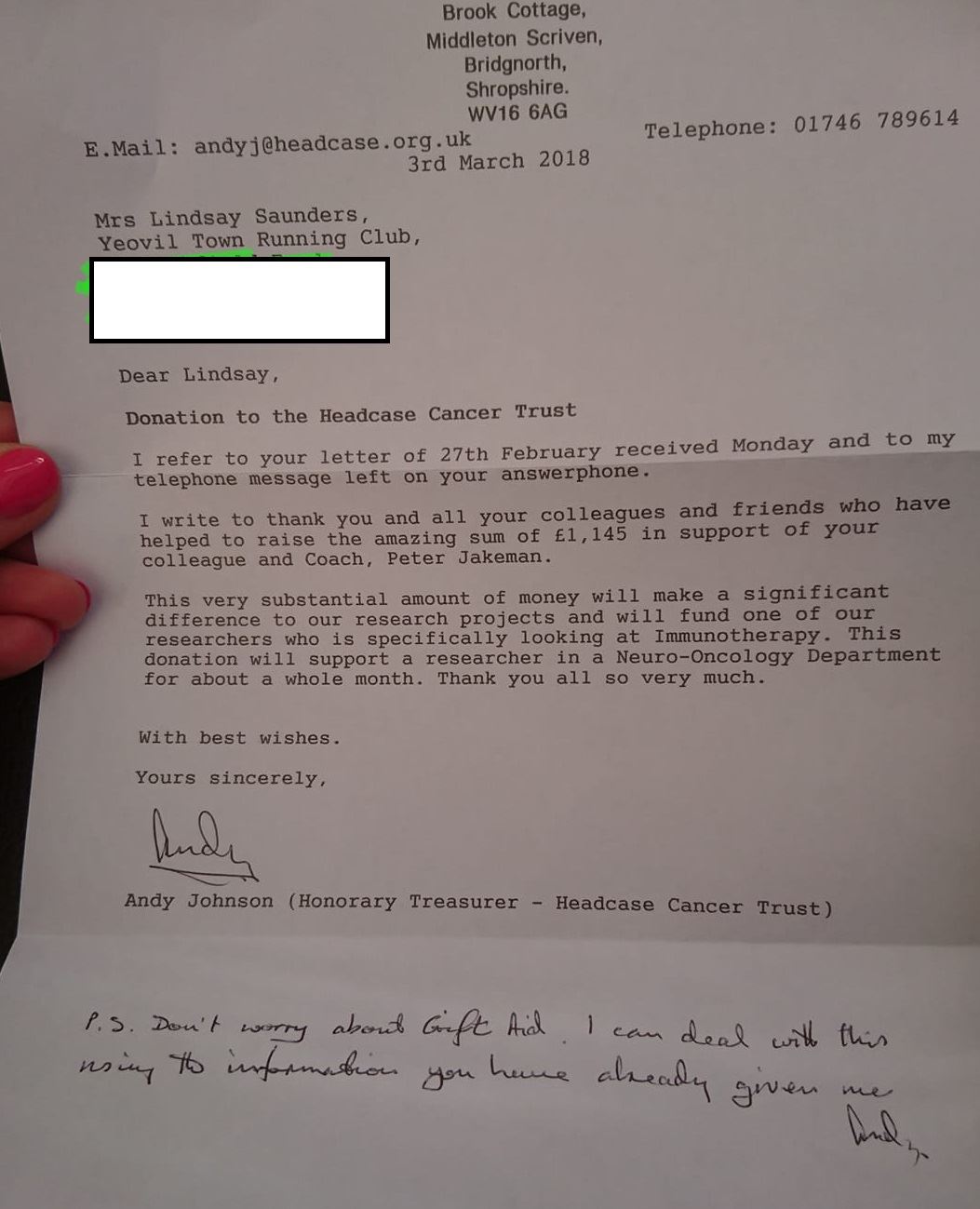 Park Run News
A few visits Saturday with both venues in Yeovil still off.
Shepton Mallet had 5 YTRRC runners.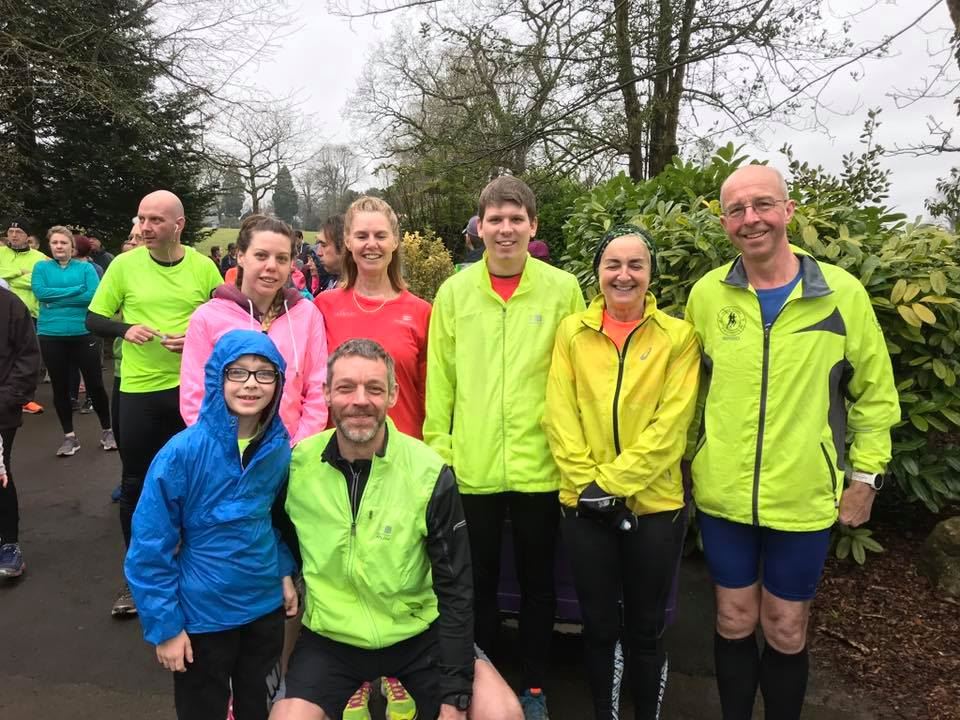 Trowbridge had a visit from Dave Stenner who posted Early morning drive up to Trowbridge to participant at the Southwick Parkrun.
Almost 3 laps anti-clockwise on a rough stone path with lots of standing water with a fast downhill finish time 21. 53.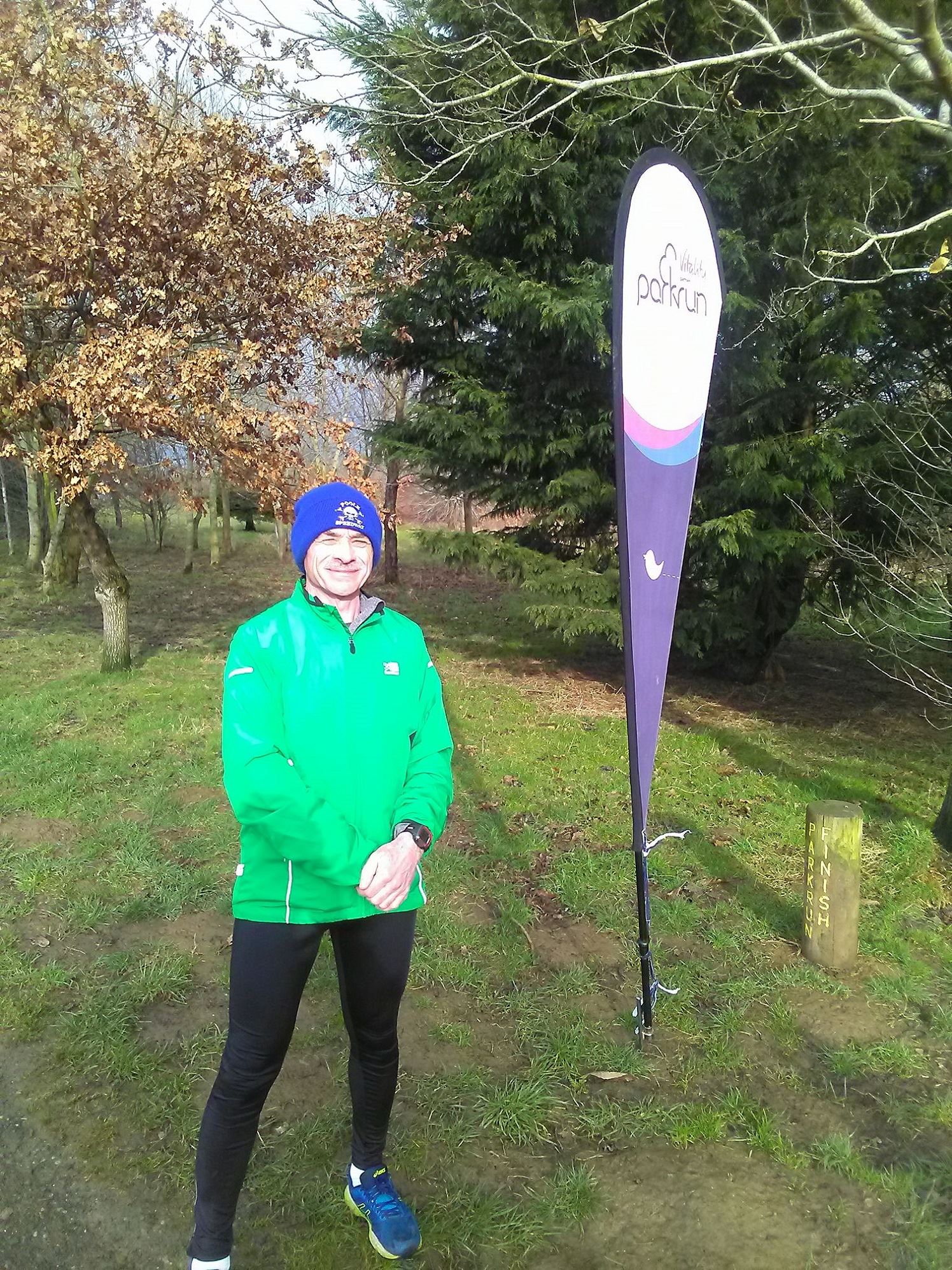 Weymouth had three runners.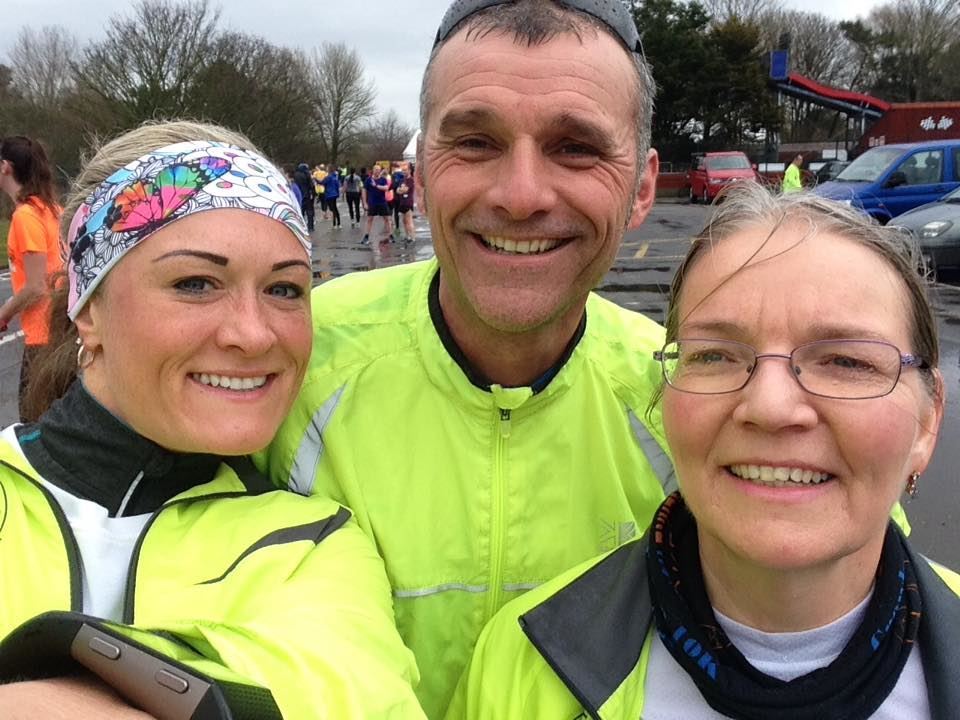 Bristol Half
From Anita: BRISTOL HALF MARATHON 2018
This has been a regular club event/coach day trip for a number of years now. This year the date is Sunday 23rd September.
The discounted price will be £32 (instead of individual entry of £40) if we have 20+ club runners. If you are interested in doing this again then I am happy to organise it as before.
Marks Runs
PUB RUN – STOFORD (8th March 2018)
J.C. led the biggest of the three groups tonight. We ran off down Hooper's lane. As we approached the A37 a loud crunch was heard up ahead. We regrouped just opposite the scene of a collision. A classic Mercedes was parked there with it's front pushed in. No one was injured. We continued very carefully for a short distance down the main road, then turned off and continued running towards the reservoir. We turned right and ran past the pub and church, and reached East Coker. We did a short loop passing the mill, then ran past Tellis Cross and continued towards Yeovil. At the edge of Yeovil, we turned right and ran down the dark lane heading towards the Red House. Crossing the A37 we ran down the narrow hollow into Barwick. We ran up Rexe's Hollow. At the end we turned right and ran the last leg past the station and back into Stoford. It was fast paced, and good exercise. Reports of a beast lurking in the bushes, came from one of the other running groups. Thanks J.C. and all.
Released On 11th Mar 2018