It's only London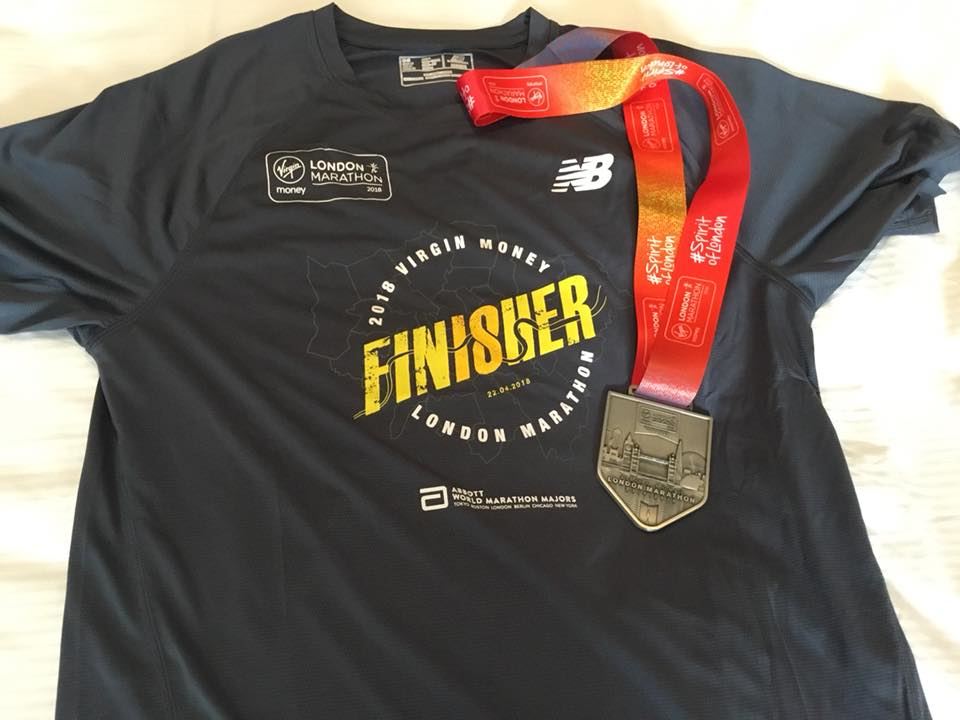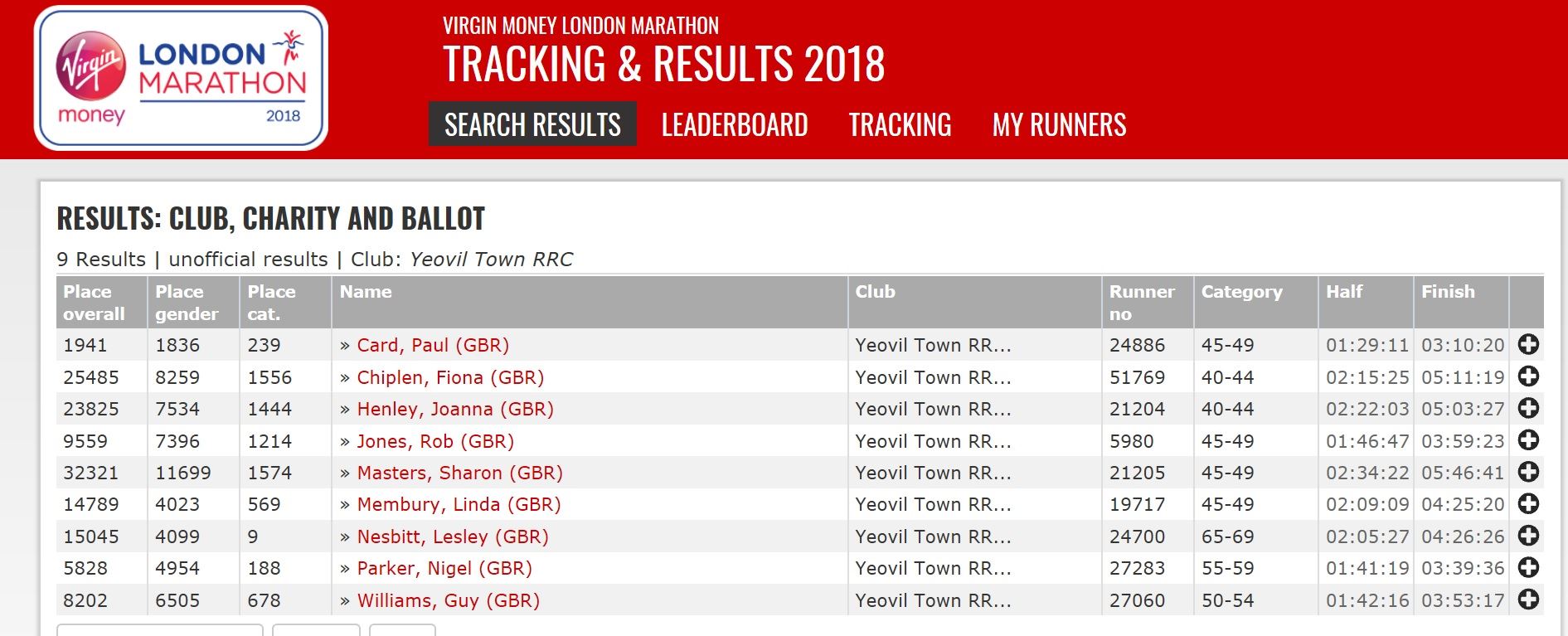 This year the Club had 10 running for YTRRC and Bryn running for the Royal Navy, as we have now done for a couple of Years we all went for a meal on Saturday night organised by Lesley. It was a great night with good food and wine....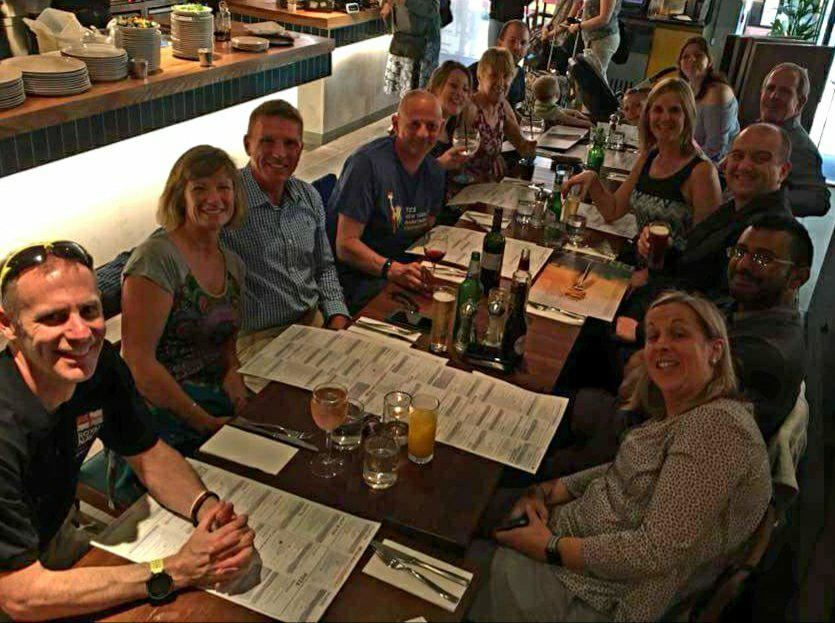 Jo took the Red wine route....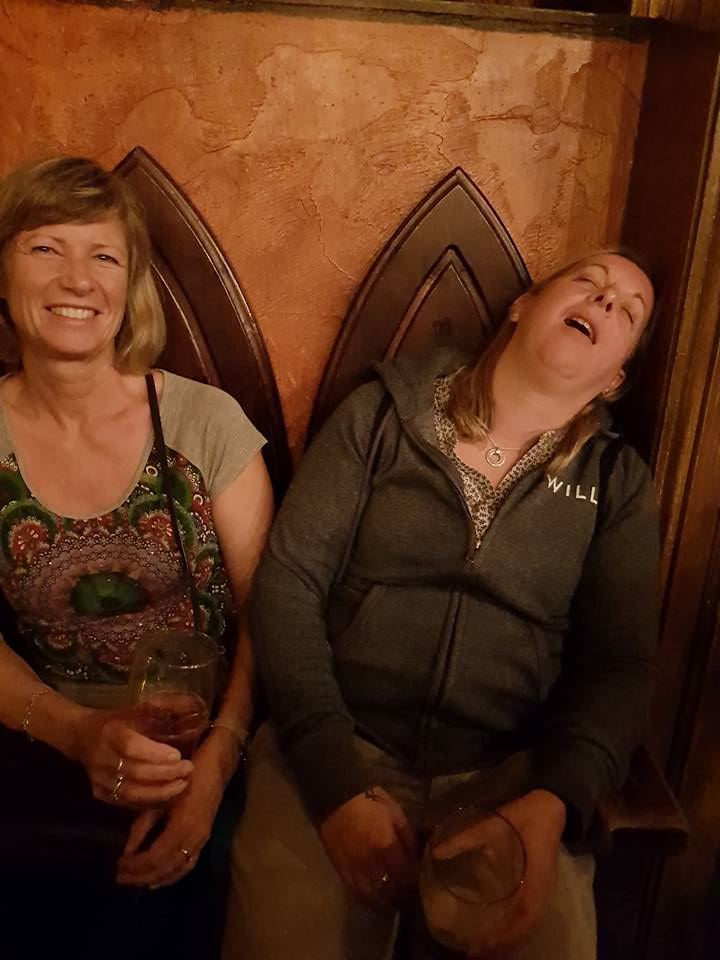 We then went to our various accommodation and in the middle of the night an email and text from the VMLM team warning of a hot day ahead and to hold off PB's and fancy dress. Well, we got up and as soon as we were outside at 7:30 am you could feel the heat. The tube and trains were packed, you couldn't move, we got to our starts and the normal queues for the toilets that just gets longer and longer.
Then at 10, the Queen set us off, with loads of people tracking us and the support team out on the streets of Louise, Helen, Steve and Triss. The London Team put on loads of extra water and the heat did get worse, even the water was very warm and not nice to drink. PB's went out of the window and there were people dropping all over the route and sadly one experience runner died. Our thoughts are with his family. Someone I knew took a photograph of me, not sure what mile it was. I never noticed at first but the lady on the floor was there for 10 mins before I got there and was then stretchered off, it was just not worth pushing for a good time.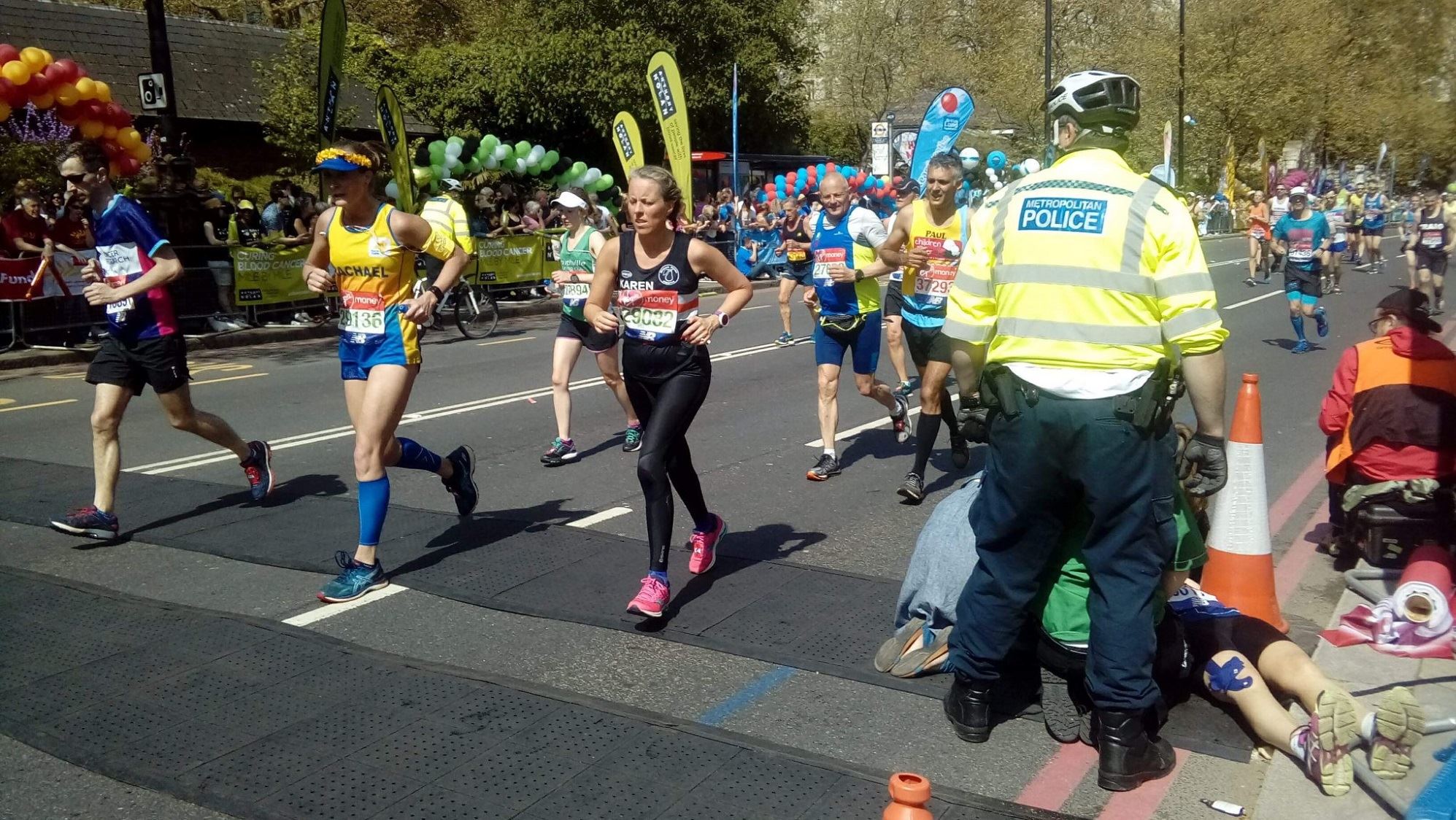 Bryn was the first over the line with Paul Card not far behind and our first lady was Linda with a pb for London. All in all a great weekend and all did well to finish, not sure of the drop out rate but I saw a lot sadly being carried off.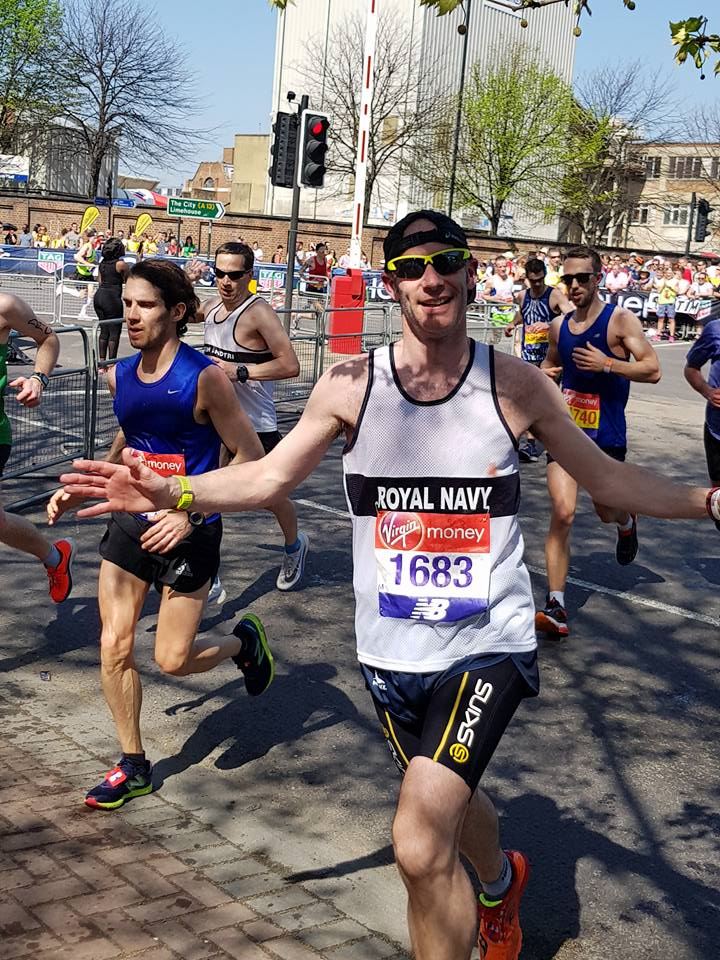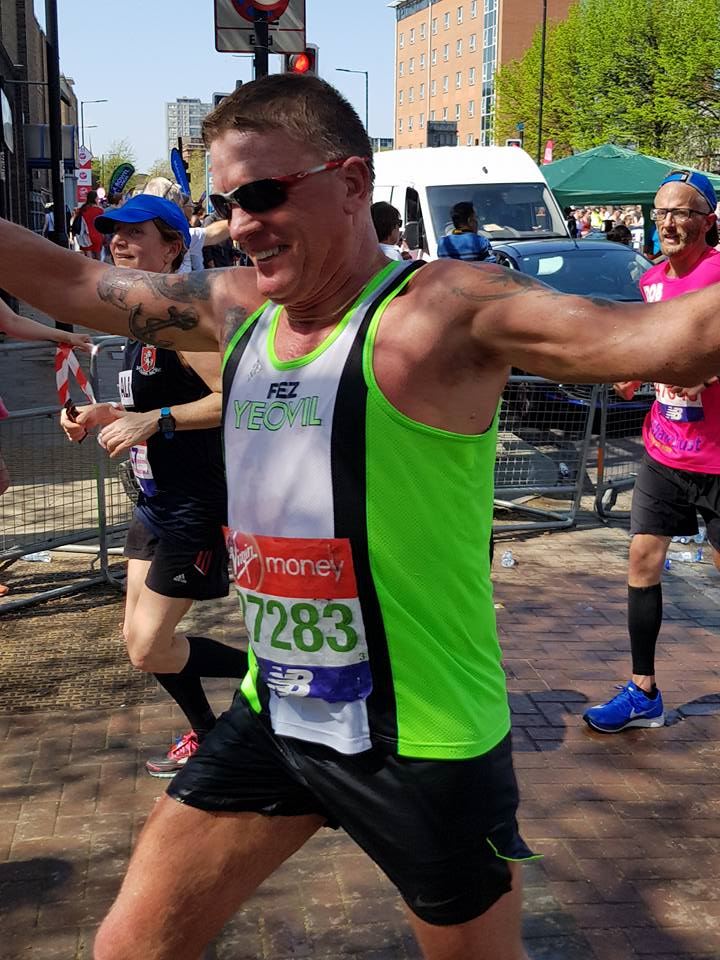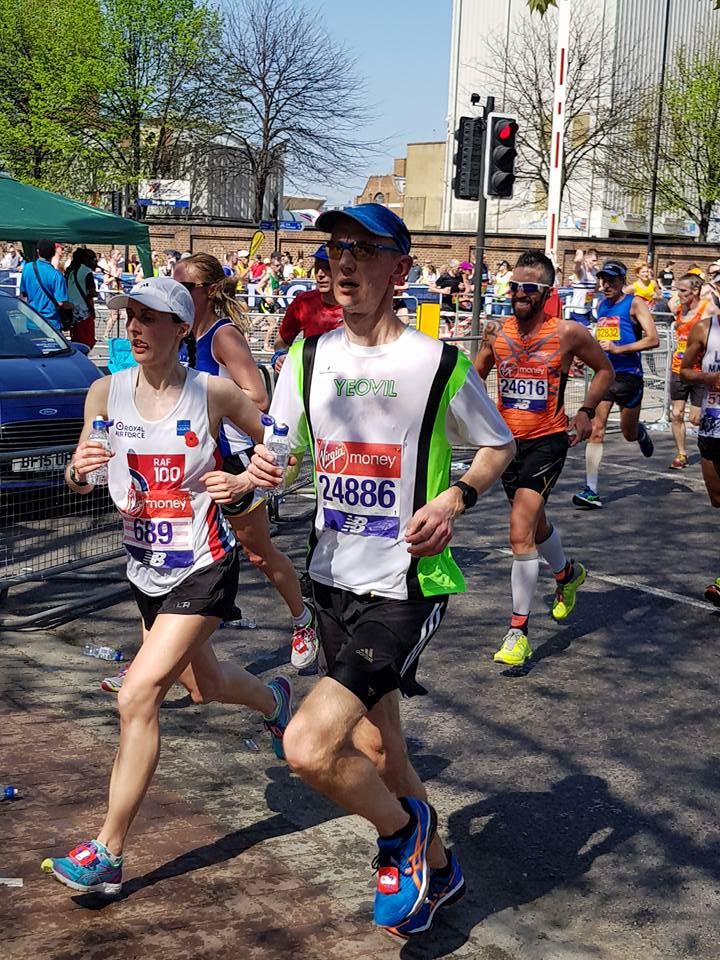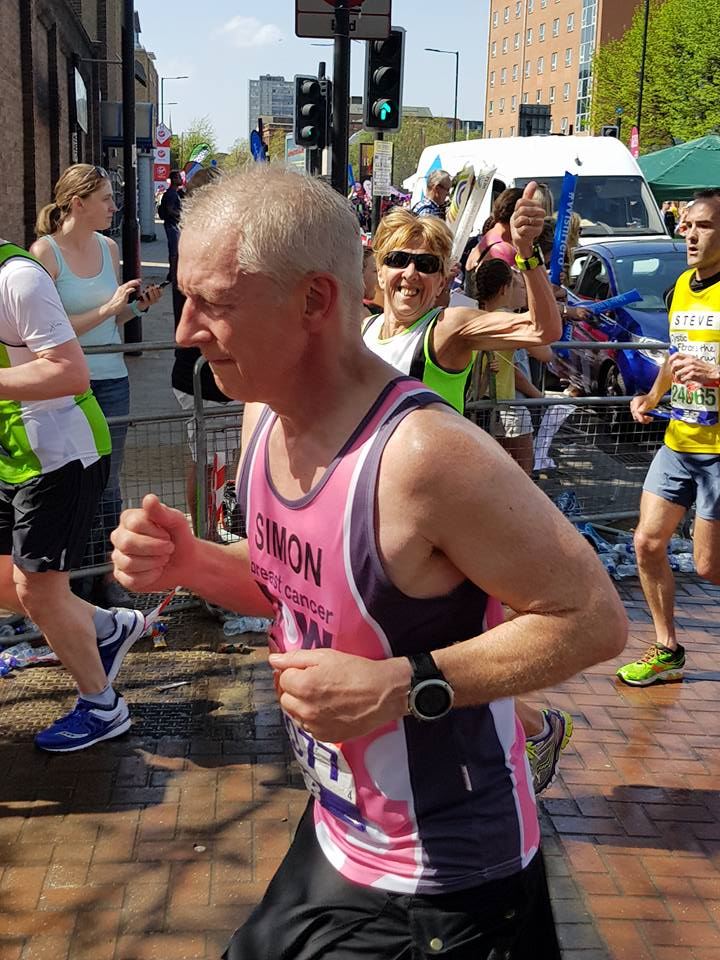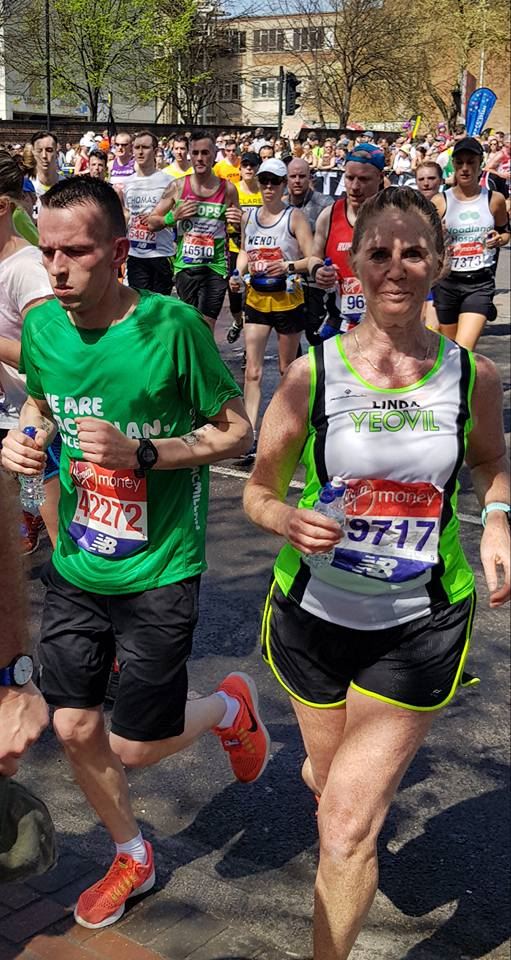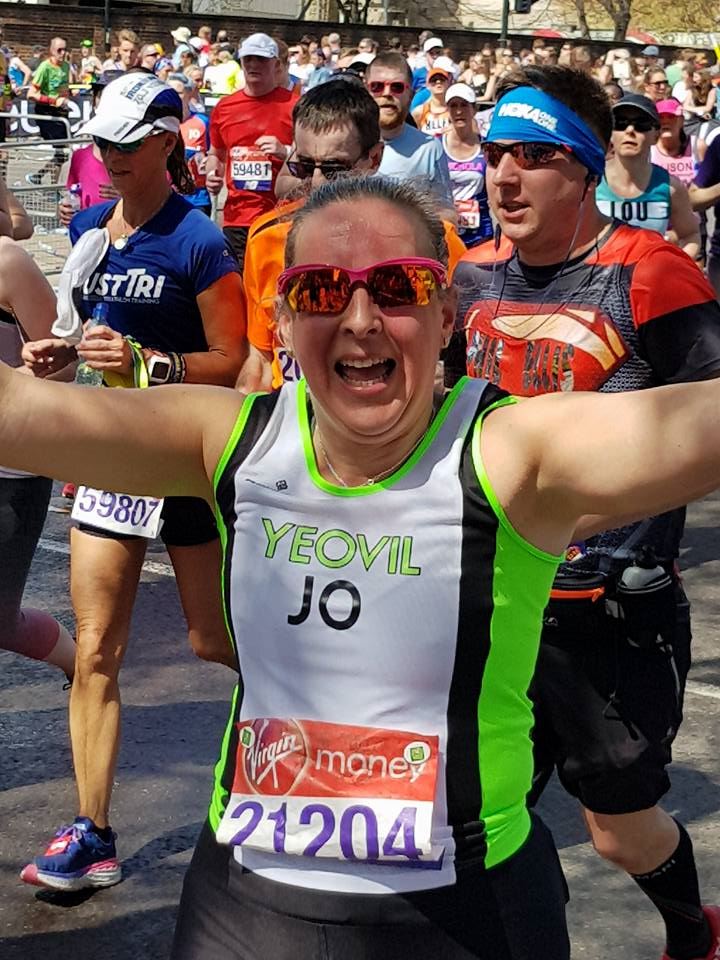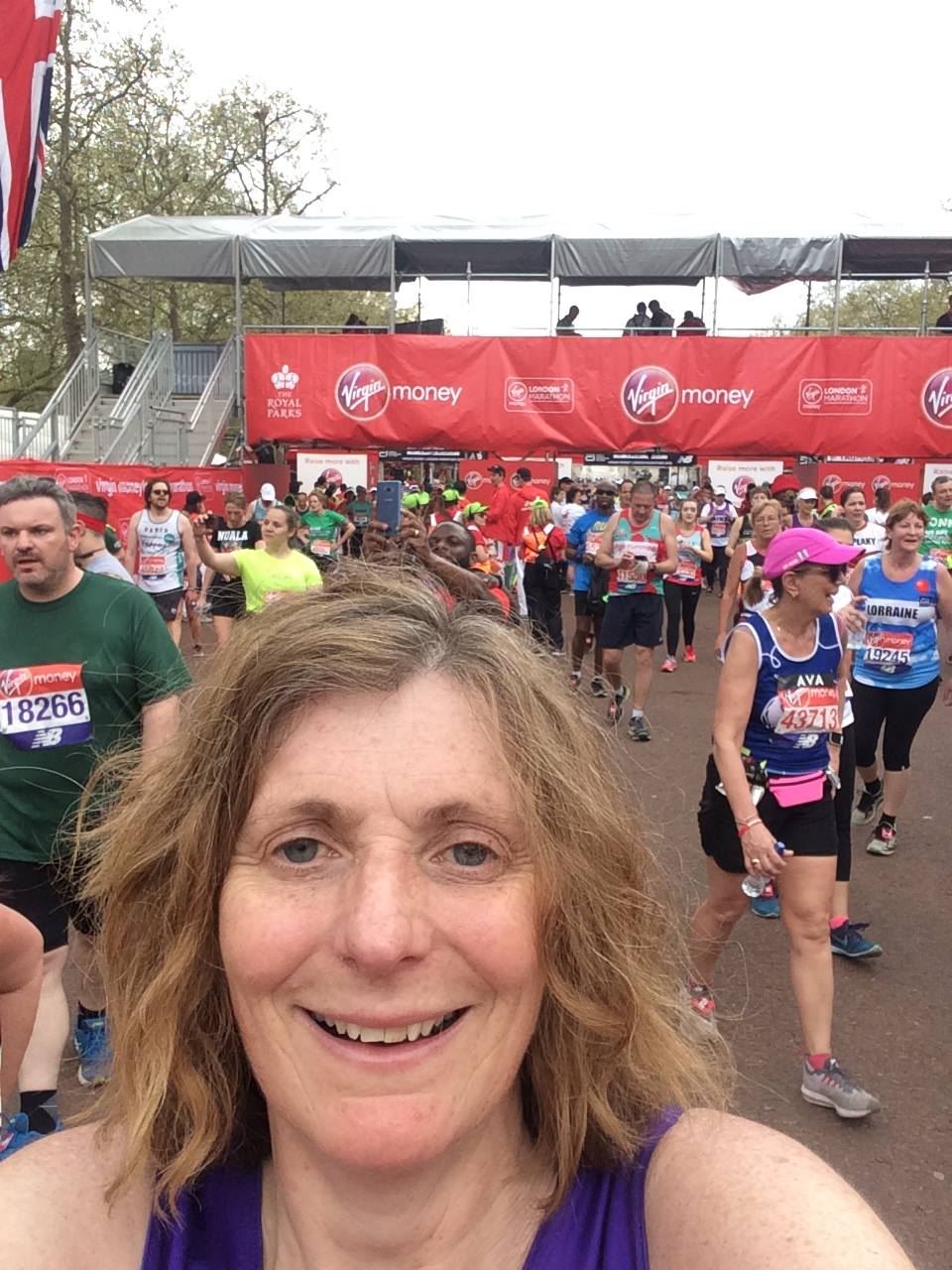 From Clare Middleton: Got round - wasn't pretty, but it did it! Huge thanks to YTRR for your support in all those cold winter months. Might not make Tuesday but I've already booked Yeovil Half and shall run it in my Yeovil vest, wearing it with pride.
Also running for a Charity was Becky.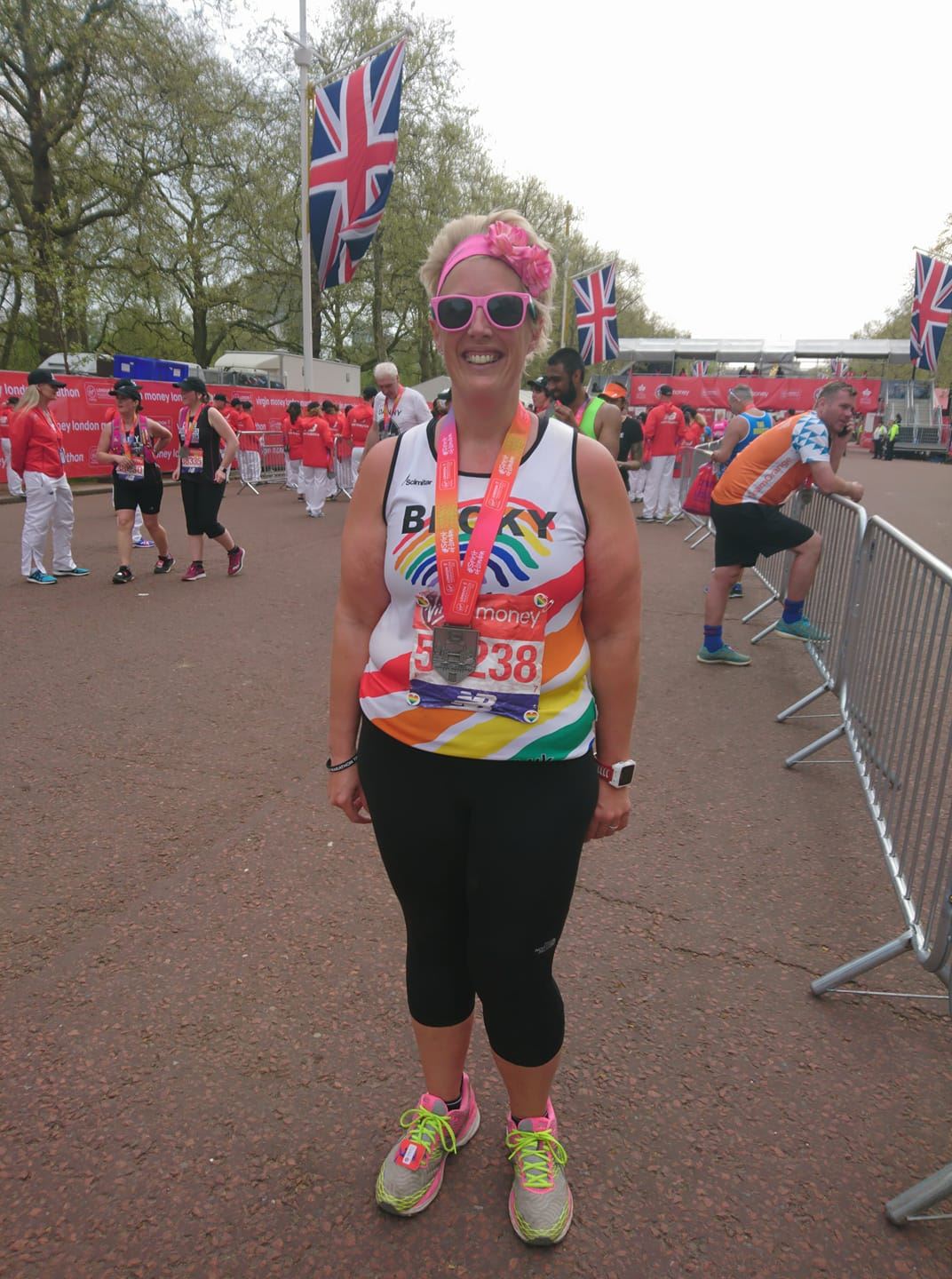 I just wanted to say thank you to family and friends for getting me through today, for help with fundraising, Alison Griffiths for making run every week lol, my work colleagues for putting up with me, my family Kev Burton, Charlie Baigent for, Abi Spear for coming today, all the wonderful people that helped me exceed my fundraising target. Caroline Storey for my clips for my number today and Lynn Webb and Nigel Hutton for my gifts and surprising me today and all my messages today that I could read on my watch especially Ceri Trottxxxx I am aching well lol
School Cross Counrty
Wednesday 25th - Final schools' cross country - Somerset Inter-Area
Yeovil/Mudford Rec - 5.00pm
Any help gratefully receive any time between 3.00pm and 6.00pm
Pub Run this Thursday
From: Adam Hawkins: Pub Run this Thursday 26th April - King William IV -Curry Rivel.
Food orders by Monday evening 10.00pm to guarantee food!
- Facebook, message, email, text [07887 944823]
Starters Pate, Breaded Mushrooms or Prawn Cocktail all £3.75
Main
Steaks £15.95 or £25 for two
– Black rock grill – rump, sirloin or ribeye
[Please say which one]
– Hot Seafood Rock [Salmon steak, scallops, prawns]
2 Sausages, 2 Eggs Chips £7.05
Ham Eggs Chips £7.05
Omelette [3 egg] chips and salad £7.25 + 50p
per filling
Battered Cod, Chips and peas £8.05
Plaice, Chips and peas £7.05
Scampi, Chips and Peas £7.95
Tagliatelle Carbonara £6.50
Sweet and Sour Pork and Rice £6.50
Homemade Chilli and Rice £7.95
Curries £6.50
- with rice and poppadum's etc £8.05
Homemade Chicken Curry,
Mutton Curry
Green Curry
Beef Madras
Southampton Half and Full
Rob Thompson: The main races of the day were on the South coast. A full and half marathon around Southampton along with a 10k. Apparently there was also something going on in London but obviously nothing big enough to affect numbers in Southampton. Kev Brettle and Lynne Thumpston were going for the full. Magdelena, Trevor Strelley and myself the half. I also saw another YTRRC girl running. Sorry I don't know your name! The start seemed a bit disorganised with all the pacers seemingly down by the start line and all the directions to the start putting you miles back, but that could have been partly my fault. It took me 4 minutes to get over the line and a few km to get into a rythym. It was very hot and way hillier than I expected. Under the circumstances I was happy with a 1.48, Mags ran a 1.52 with an injury from a shoe rubbing in her Achilles affecting her from about 8 miles, and judging by the 1.55 pacers stopping through the heat and a lot of ambulances passing by we were happy. I can't really add any other times or info'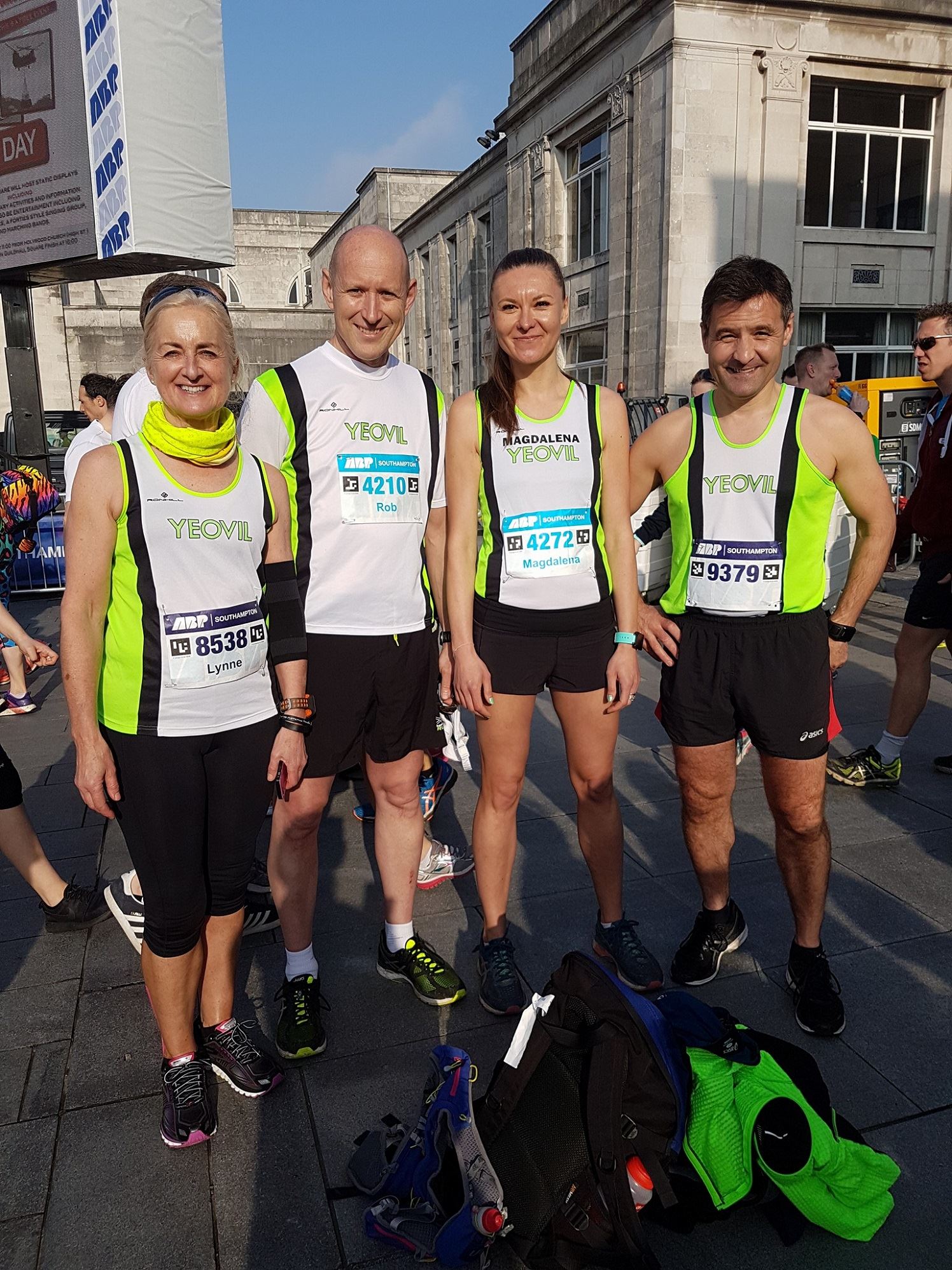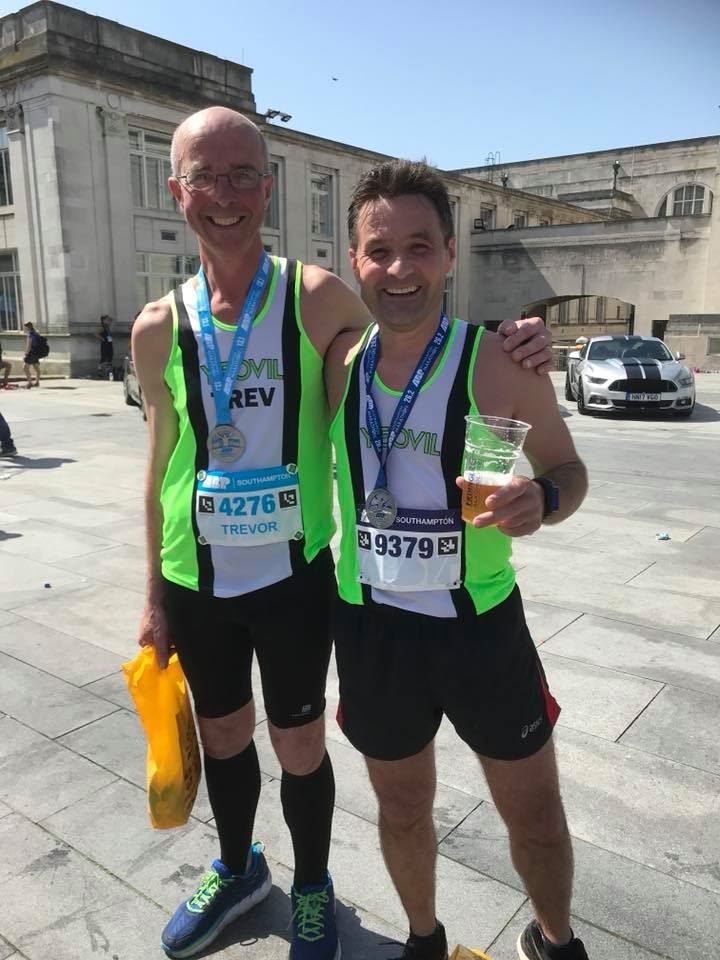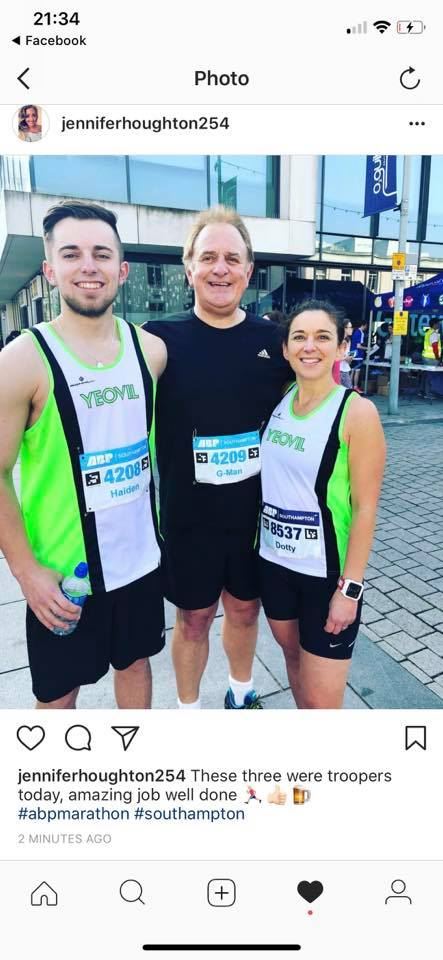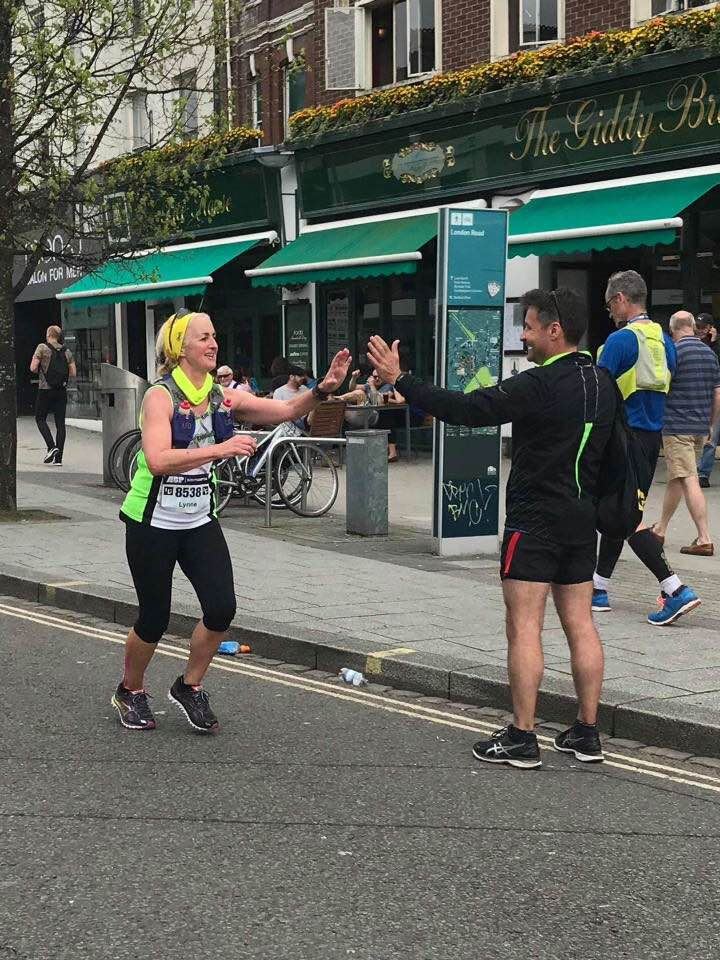 From Lynne: That's why I love this club, support from Kev and Anita today, fantastic, Kev high 5'ing me on last bit in and Anita taking photos and supporting us all on the way round. Hugs for Caroline, meeting friends on the way round , Jayne Woodhouse, Neil Williams, missing friends, Caroline Williams. All in a days marathon!
Nohtaram ehT
Like last year we had some club members run the London Marathon backwards starting about 3 am. Well done bet it's a great laugh.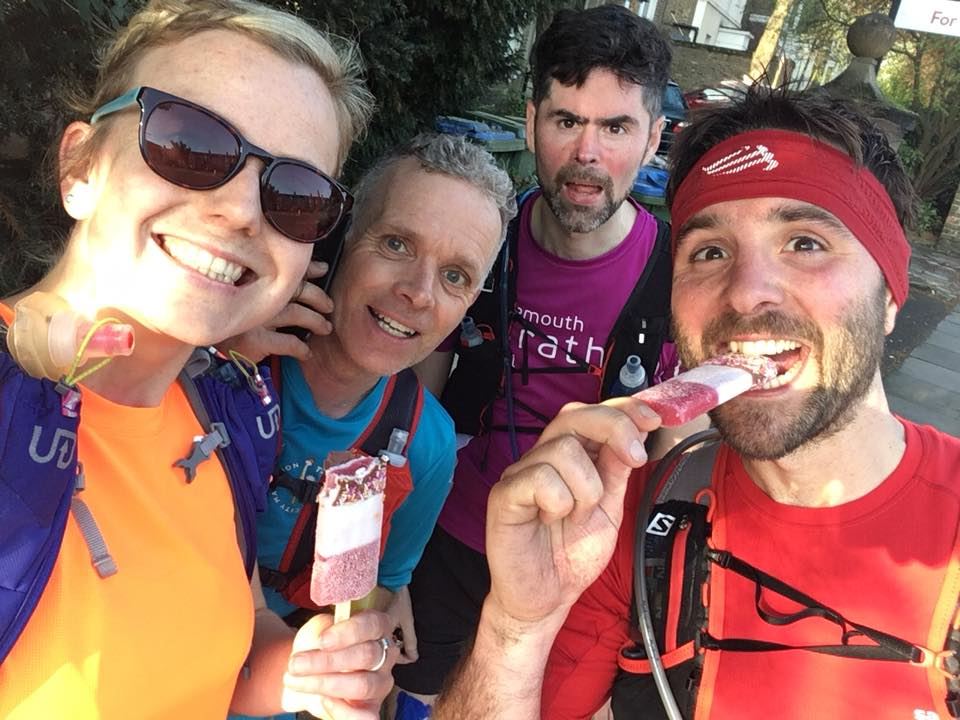 East Soar 10k
From Els Fontana
Racing on a Saturday is a bit weird!
I took part in the Trail Events East Soar head to head 10km today in Devon. Confusing weather as it was thunder storms and rain when I arrived followed by glorious hot clear skies just after the 10.30am start (feeling a bit red now !) This was 100% trail across very undulating terrain along the dramatic coastline, it wasn't 10km either in true trail running spirit it was nearer 7miles Needless to say it wasn't a PB but I personally loved this one and worth the trek down.
Marks Runs
PUB RUN – SHERBORNE (19th April 2018)
I had the pleasure again of leading tonight's pub run which was organised by Louise. From the White Hart this time, I had it in mind to repeat the mostly trail run of 3 weeks ago but in the reverse direction with different start and finish points. With two dry sunny days, most of the deep wet mud had dried up, and it was a lot easier under foot. The run tonight was characterised by bright warm sunshine, and a very strong smell of sulphur compounds everywhere including the centre of Sherborne. Basically we could not get away from that smell all night. We ran up the lane past the kennels, crossed the B3148, and ran down the track. We had photos from Alison at the end of the track, then turned right. We ran to the top of Trent Path lane, turned right and crossed the B3148 again. We ran along Coombe Lane and down Sandford Orcas Road. The views over Sherborne from the top of Coombe Lane were great. We turned left and ran up and along Quarr Lane (Track), and into the quarry at the bottom. The last 1.5 miles or more was through Sherborne streets, with a run past the Abbey and Hospital. The total distance was about 6.5 miles. The pub food was good.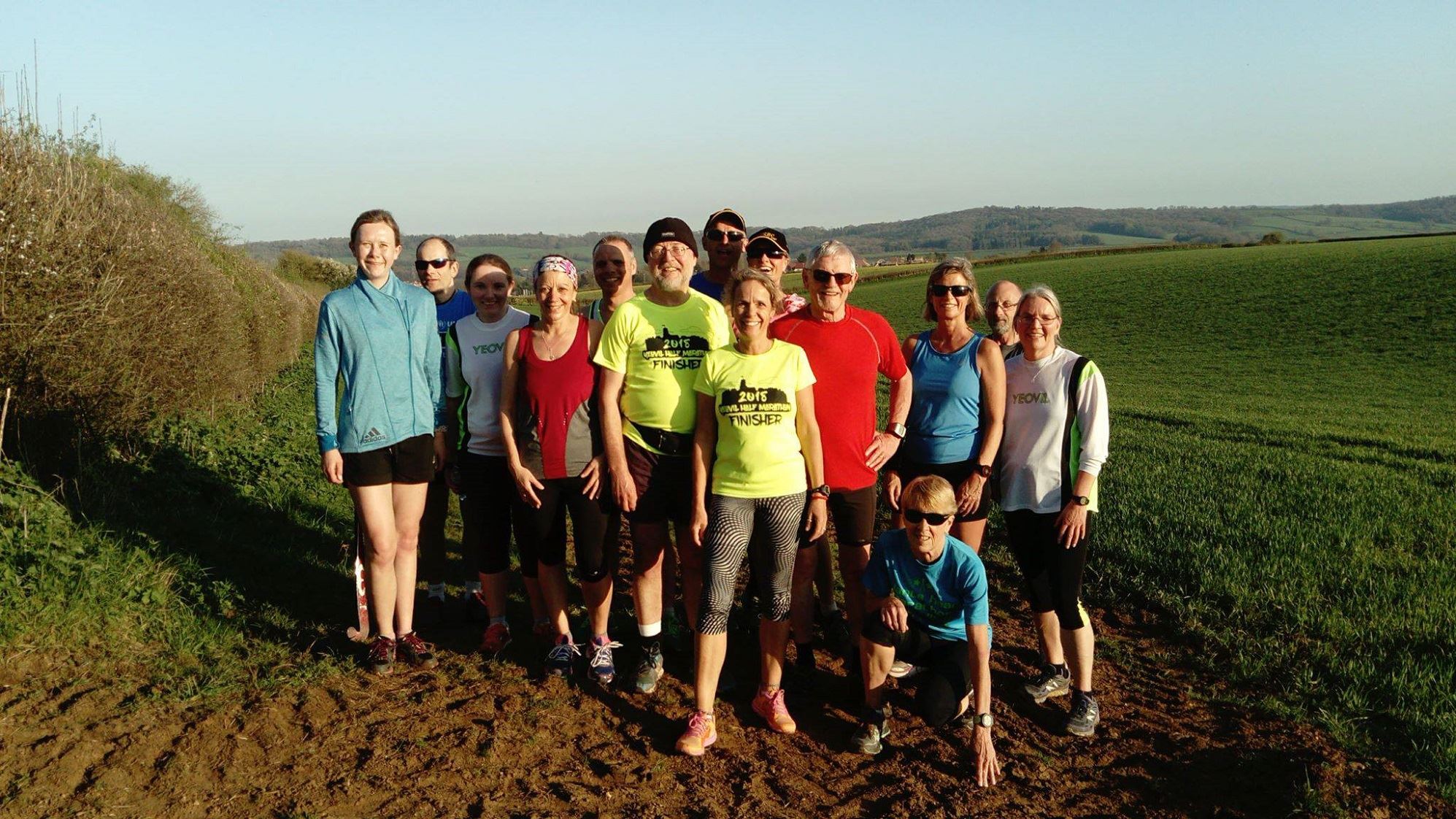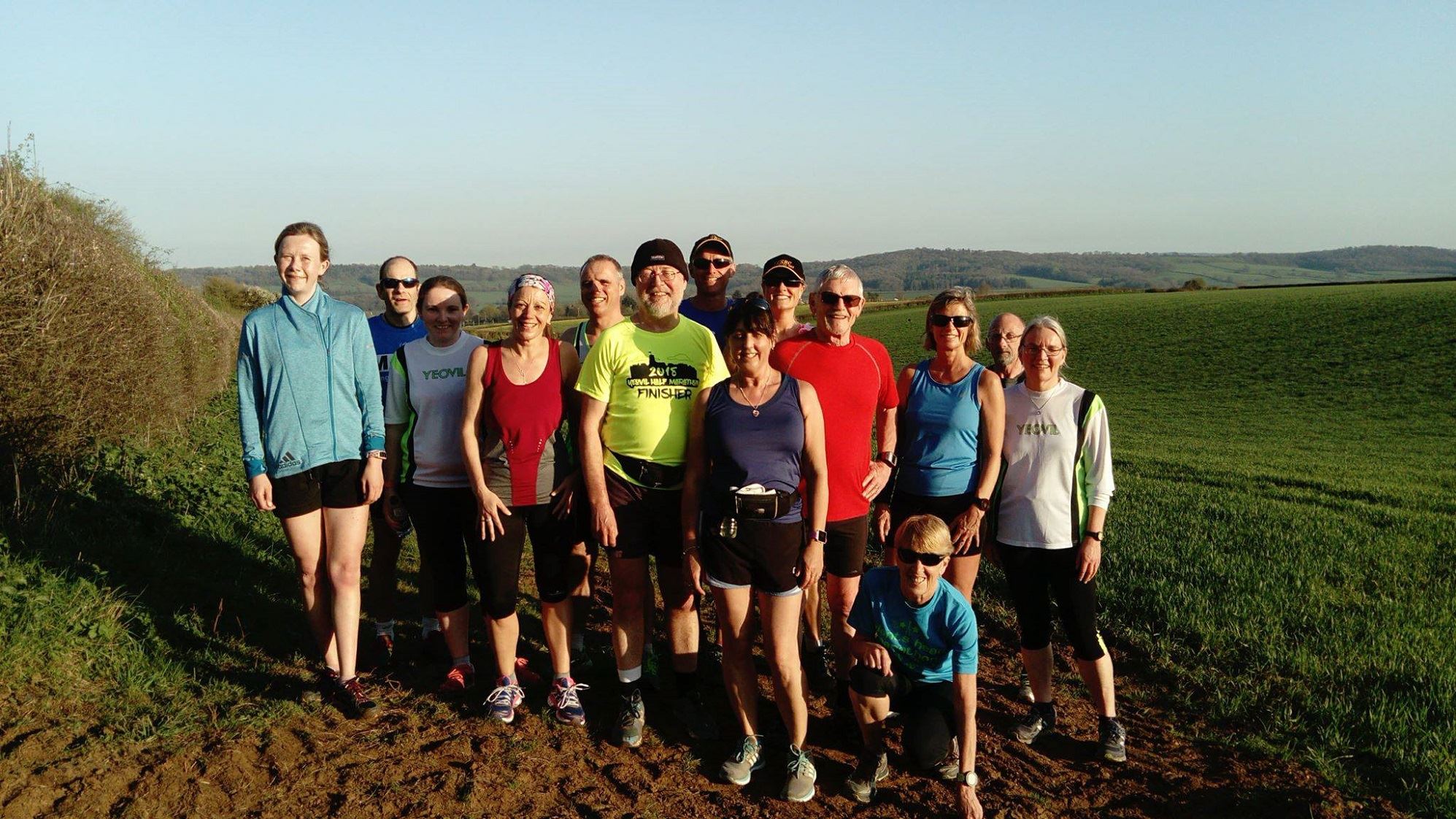 Released On 23rd Apr 2018