It's a Sticky Stickler
Hash
Lesley did a Hash in Barbados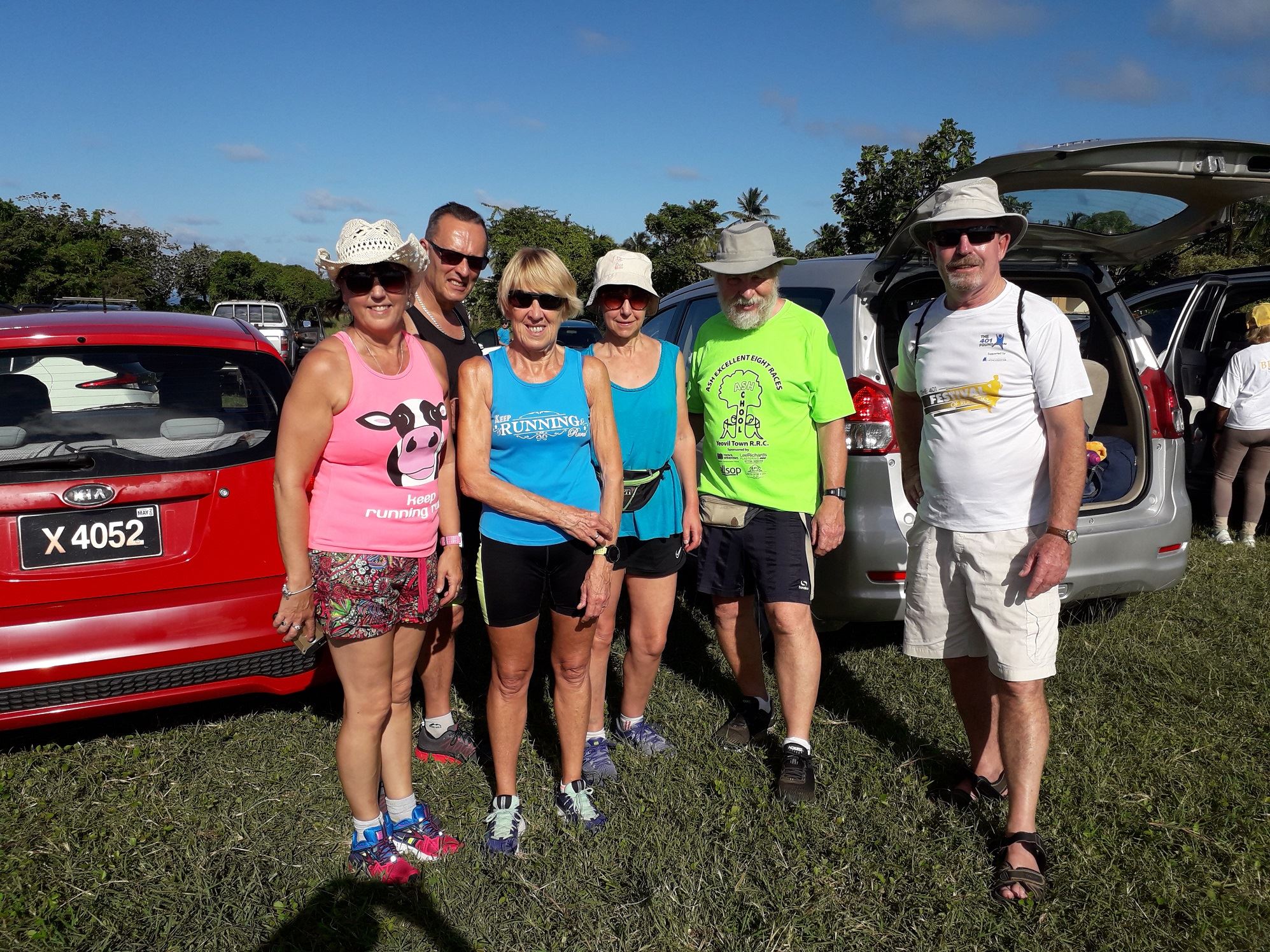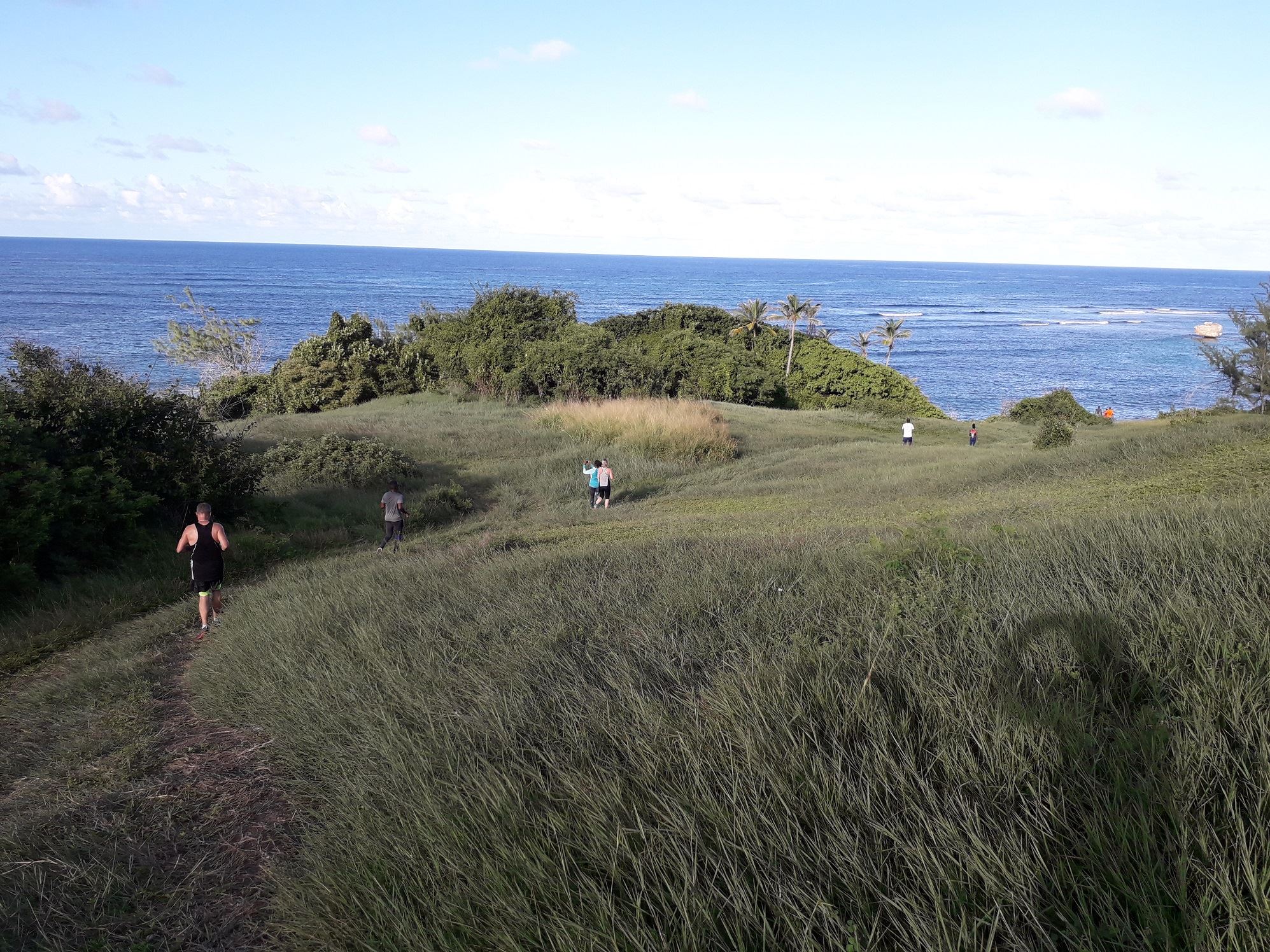 Marathon Mike
Baltimore Marathon
We took a two and half hour flight to Baltimore, a city on the eastern seaboard of USA about 40 miles NE of Washington DC. The city was founded in 1729 and acted as a major gateway for immigrants, hosted a war against the British in 1814 and so there is a lot of local history of its maritime past. It now has around 600,000 inhabitants with 2.8 million living in the metropolitan area.
The restaurants here are big on locally caught seafood, especially crabs and other shellfish. The course was one of the nicest I've run, although it was hilly, not of the short steep variety, but long drawn-out steady
inclines of a couple of miles or so. The exception was a few miles of flat streets around the large harbor area which contained many historic naval vessels, The National Aquarium, The Maryland Science Centre and numerous museums and art galleries. The Saturday race started at 8:00 am, late for this country, and consisted of two separate loops contained wholly within the city, taking in the harbor area twice and finishing there with an after race party with free beer and wine. The run went through the Maryland Zoo, the penguins were out and waving to us, a beautiful university campus, many diverse neighbourhoods, Federal Hill with the old Civil War fort, and through Fells Point, a chic waterfront district. There was a lap of Lake Montebello in the second half which offered some respite from the hills for a couple of miles. There was also a half marathon which followed the second half of the marathon route but didn't start until an hour and half later. Hence there were always plenty of runners around which is good for us back-markers
where it sometimes gets lonely in the late stages of some events. Crowd support was good around the whole course; it was a sunny morning with ideal temperatures, about 10 at the start and 20 at the end. Managed to get 3 rd in age group albeit in an ugly time, just not used to hills which took their toll in the last few miles. 1750 finishers in the full, about 15,000 in the half.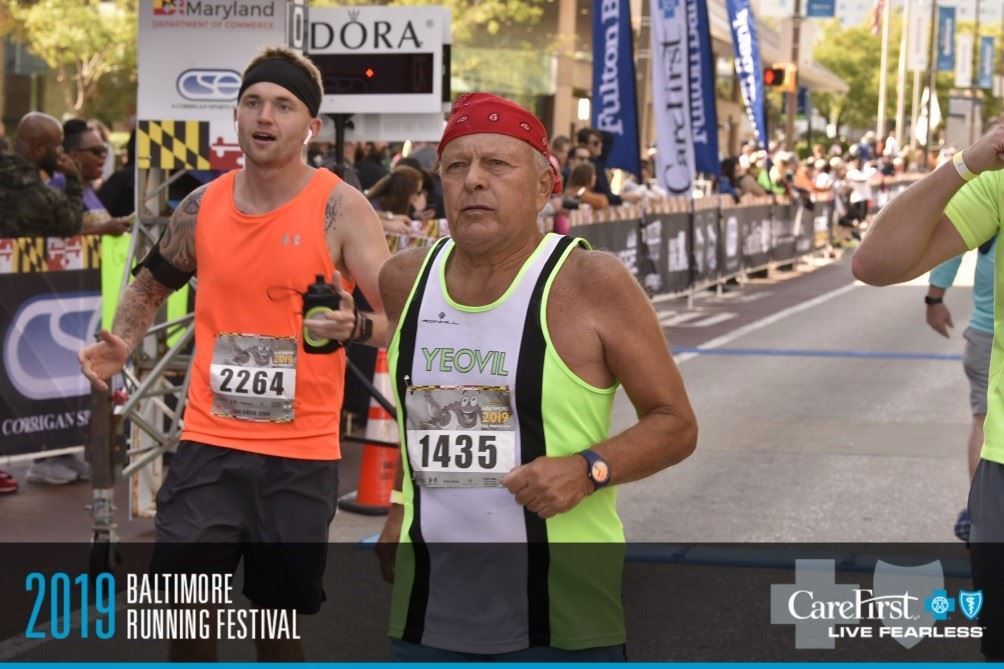 The medal was awesome a crab with a hinged shell that opens up to show a view of the baseball arena.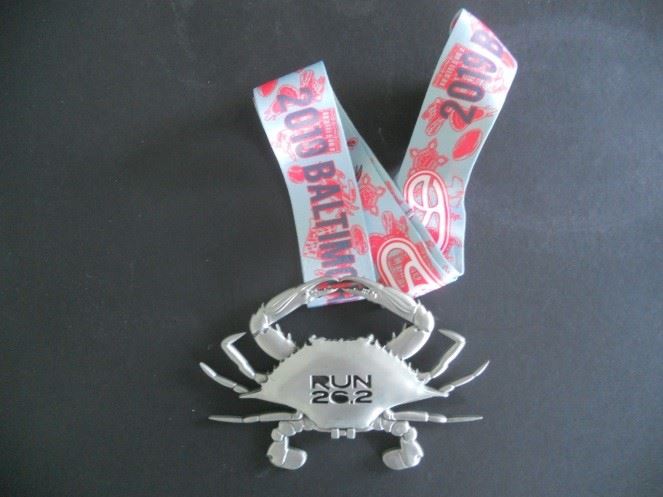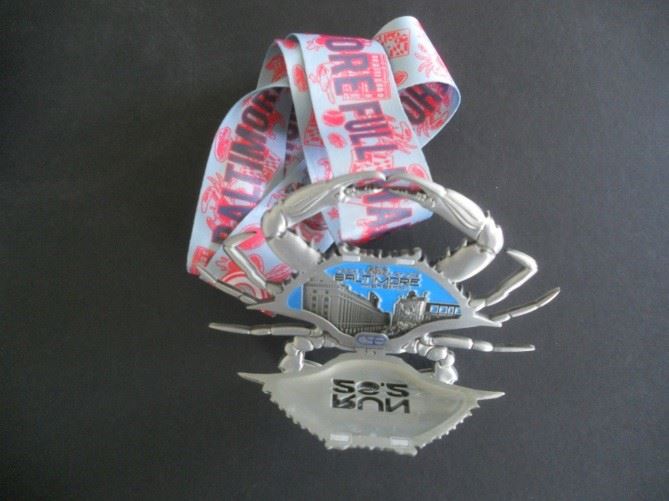 We had taken a train to DC the previous day and spent a good few hours walking the tourist trail including the presidential monuments and museums on the Great Mall, the Capitol Building and the White House. We didn't get to see Donald and tell him what a good job we all think he's doing!
From Kev D: What a fantastic local day out at the Stickler 10 miler today with a few die-hard " hat collectors " needing the 10 miler. Parking was going to be an issue at this venue and new procedures looked troublesome ... but actually worked really well. A cold but sunny day with the ground wet and soggy from recent downpours...
I headed off up to mile 2 to get some photos and this was where the drama unfolded .. poorly marked/ unmarshalled point left about 20 of the leading runners going the wrong way for a few hundred metres before retracing their steps and they were not happy ... having to then fight back to positions already held.
Steve Lye was our leading man after this which he held to the finish ( 1:22) Frances Malin was our leading lady ( 1:27:12) and Stickler Virgin .. she did really well finishing 1st V50 and she gives great advice on Manspread and Air Travel Etiquette 😁 ( and brilliant active example). Well done to all Yeovil Town RRC runners who ran today all did fantastic... it's a really tough course .... several did this for the first time and others have done it numerous times . Thanks to Anita Garrett who organised a lovely get together in the local pub for food. It was really good and appreciated by all.
Thanks Bungy and Richard for more support and photos too.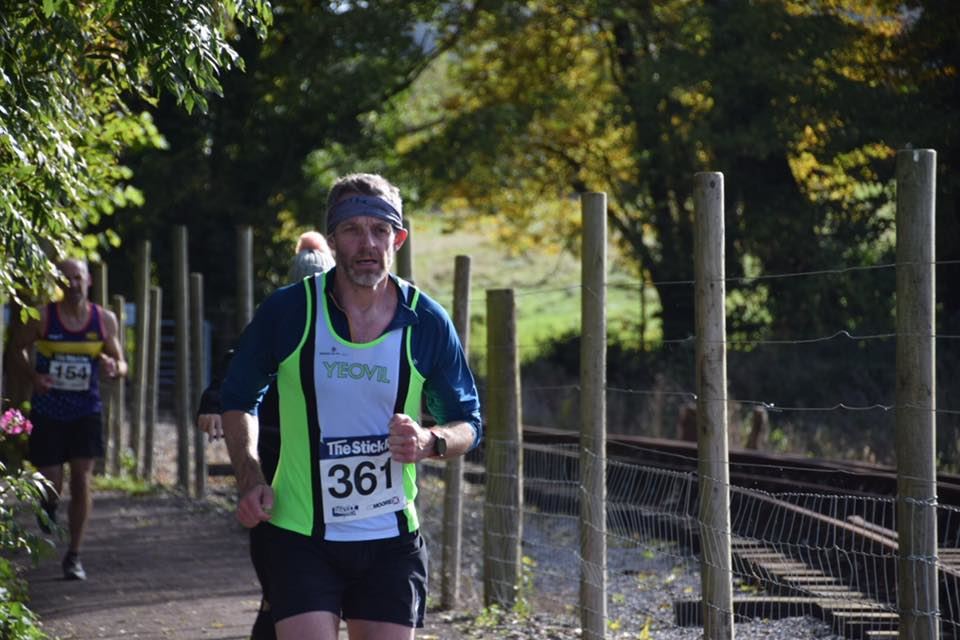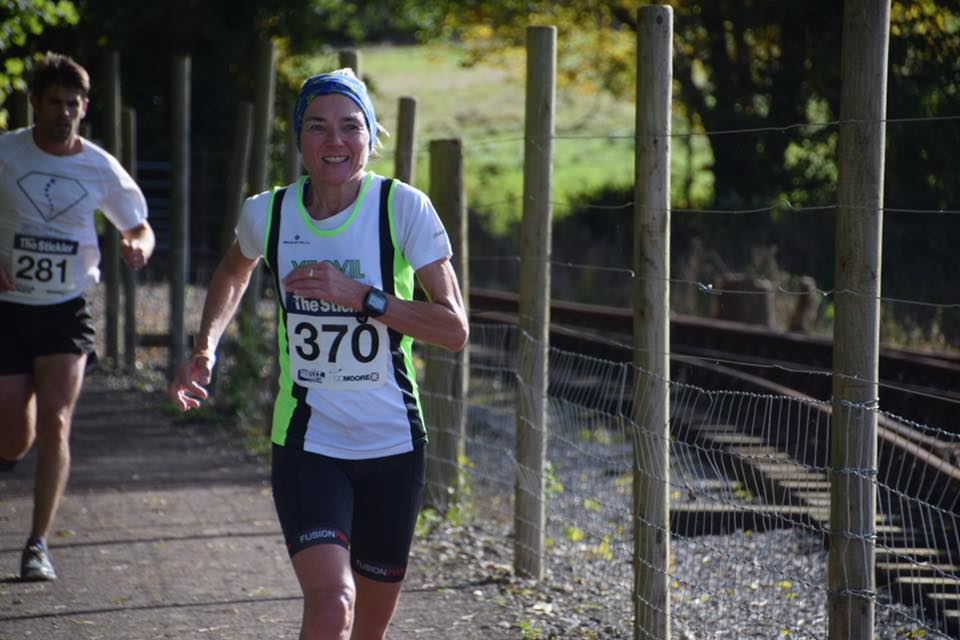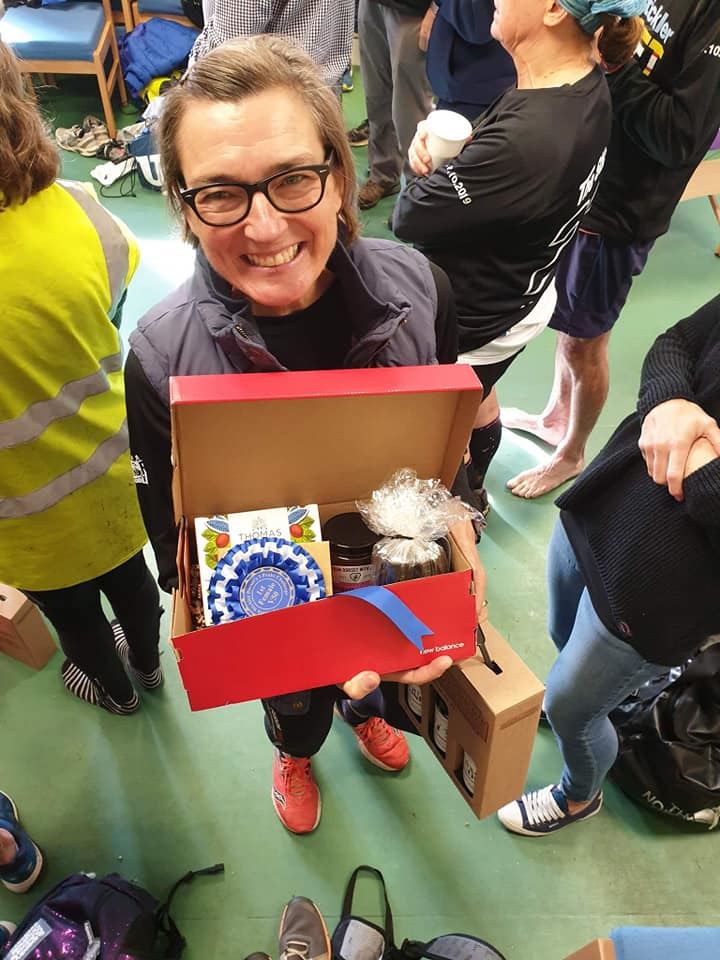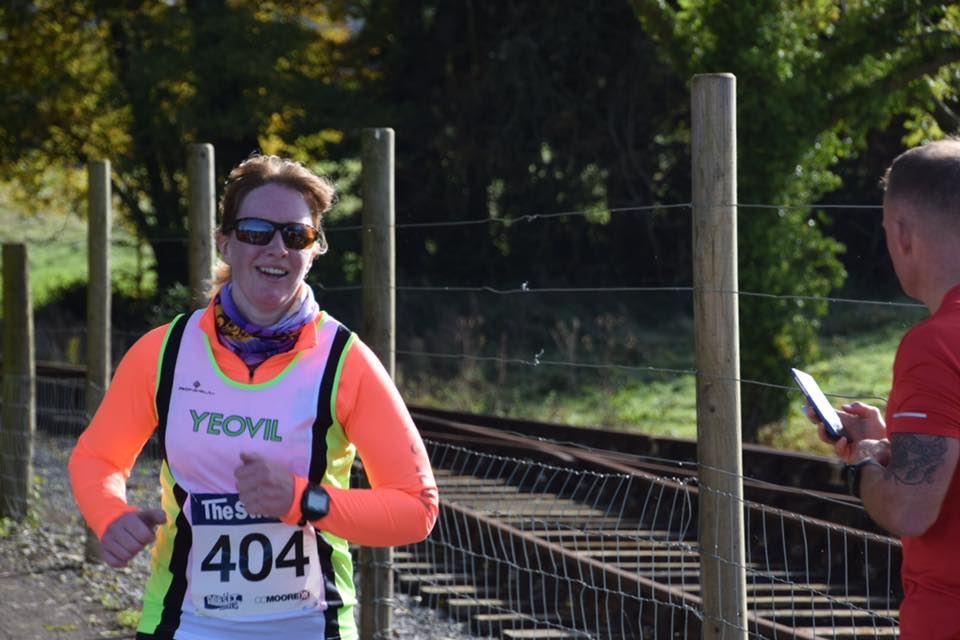 From Matt: The Stickler is an event to put the fear of God into any poor runner who dares enter, and with organising roles YTRRC had Anita Garrett at the helm. Three massive peaks to climb, plus a few smaller hillocks (not pillocks) along the way. A 2 o'clock start was deemed late enough to account for the passing of British Summer Time and for a quick ten-mile race to have gotten out of the way. Dress code was varied, although Frances Malin did appear to have arrived having won the local gymkhana! All credit to the girl, why not add that to triathlon!
From the gun, Matt and Robin took the lead opting for that 70's favourite, a prawn cocktail, while others were soon on their heels with some manky courgette soup (I mean…). Helen Nesbitt was nearly in tears with the slow start and had only Tim Willis to console her with a quick walk round the car-park (?) (not romantic, I hasten to add…)
Almost missing it altogether, Kirsty Norman appeared at the last moment just as Steve Lye was about to step in and take her place. Meanwhile, there was a small cuffuffle at the back as an Americano appeared beyond the realms of fantasy, whereas Sharon and Claire could definitely have a black coffee with a small dash of milk!
Once that first milestone was out of the way, the second obstacle was placed before us. With Hallowe'en so close, it was no surprise to see the Devil's food being served up (cauliflower cheese, it's got vomit written all over it!) which nearly called a halt to Matt's attempt altogether. He's made of stronger stuff and was clearly pleased to find pork does come with Yorkshire pud. Kevin Doherty enjoyed his vegan gravy – each to their own is what I say…
The feed station appeared low staffed and struggled to keep up with demand, while some weird scotch lady demanded more veg, but soon a quiet calm descended upon the throng as the main objective was shown due focus and determination.
However, the excitement never far away, the last obstacle loomed on the horizon. Some of the back-markers took their opportunity of having pre-ordered and then a hushed tranquillity prevailed over the entrants as the Land Owner spoke… "Who else wants desserts?" came the call. Interesting much like a recent vote, the result was about 48% to 52%, but within moments we had all settled on a deal where some got Crumble and others got Cheesecake…the members in the public bar weren't asked for an extension, and Ireland was not an issue. Cream got an unnecessary amount of debate, far outweighing Custard, whereas Chocolate sauce wasn't even mentioned!
At last the finish line appeared and we all had to sadly go our separate ways…thanks to Anita for organising, Kev, Richard Dodge and Bungy Williams for the phots, Mac (Mark Copping) for driving me, my Mum and Dad for having me, and everyone else who knows me.
Ps…It was a close all on the way home as Matt nearly needed to be hospitalised, but he "stood up" (not man-up anymore), and coped with the hiccups with them finally going at 5:28pm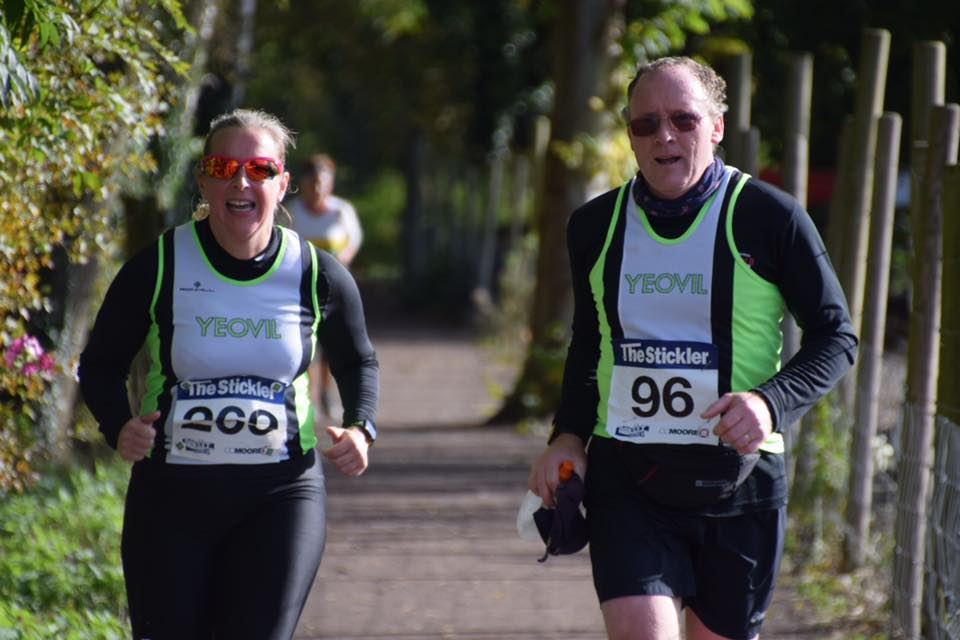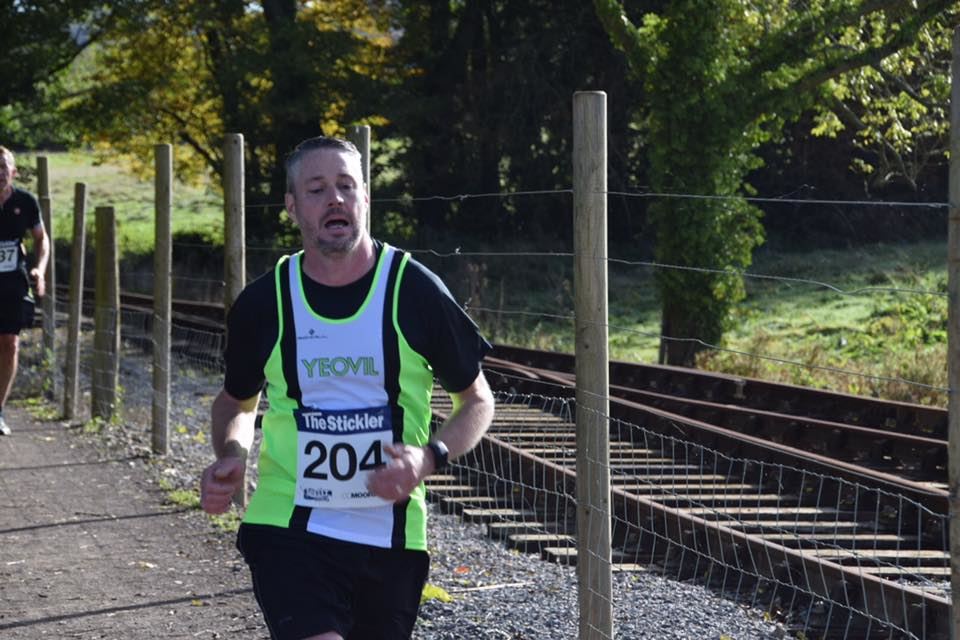 Southend Pier Marathon
Well done to Mark Pike on yet another great run. From Holli: Mark has earned a new marathon PB of 3:13 today at the Southend Pier Marathon!
Well done from us all!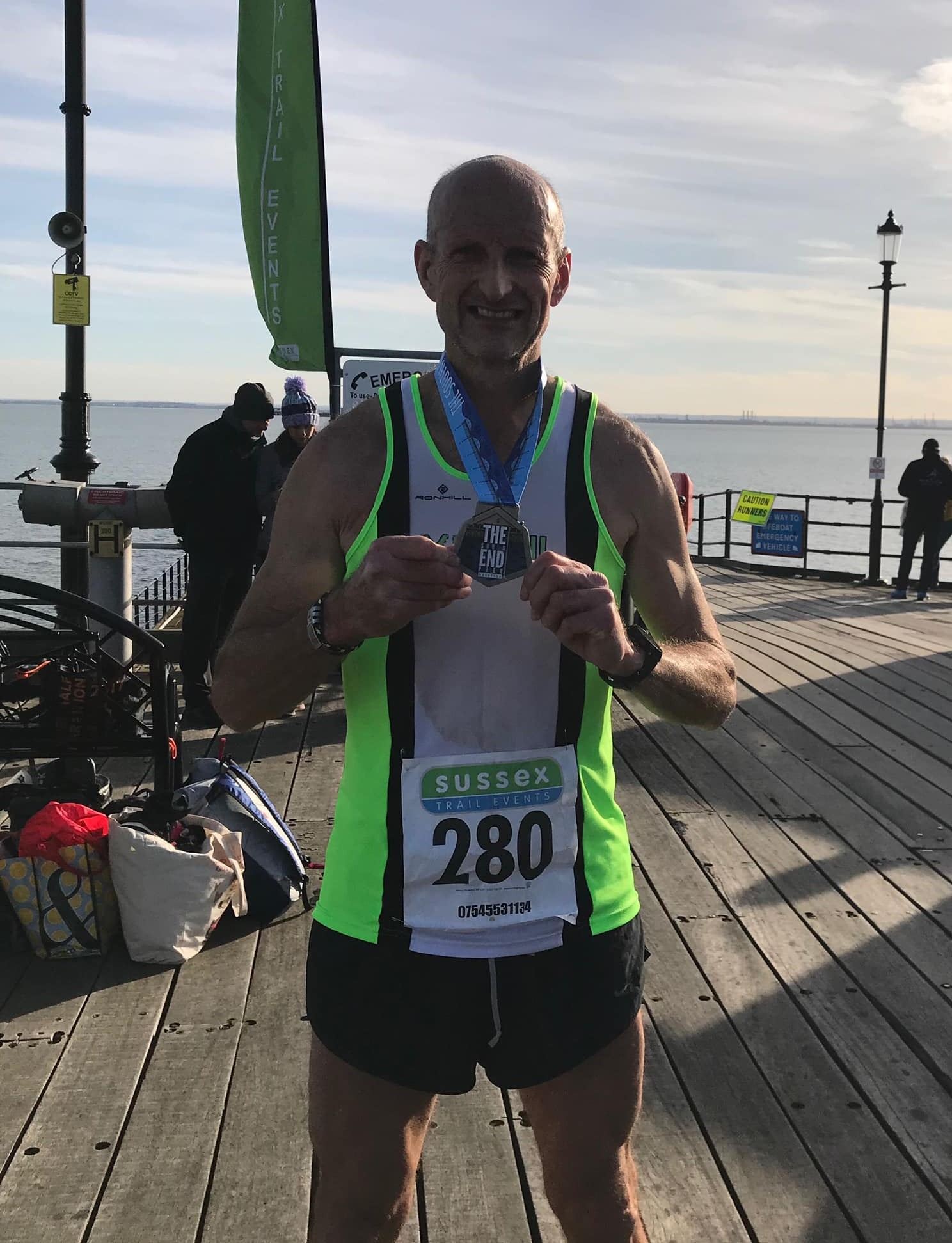 Herepath Half
From Linda: Horrendous, Hilly Herepath Half Report....I hated it!!! There I said it. The first 5 miles were so hilly, muddy and you could not avoid the mud. You just had to walk/ run through it. The fields were wet and muddy, the forest was wet and muddy. If it wasnt muddy it was too slippery to run down the hills. On a more positive note, the views were amazing. Marshals were absolute stars, loved the momento. My Burnham Harriers boys kept me going. Other runners were supportive. Cakes were lush. My energy was sapped on the last field where I must have carried about 5lbs of mud. Had this race been dry underfoot I may have liked this better. My time was 2 hrs 40, it was tough. However, I would prefer this than the Stickler any day. I was the first YTRRC member, and only! Off now to clean my trainers...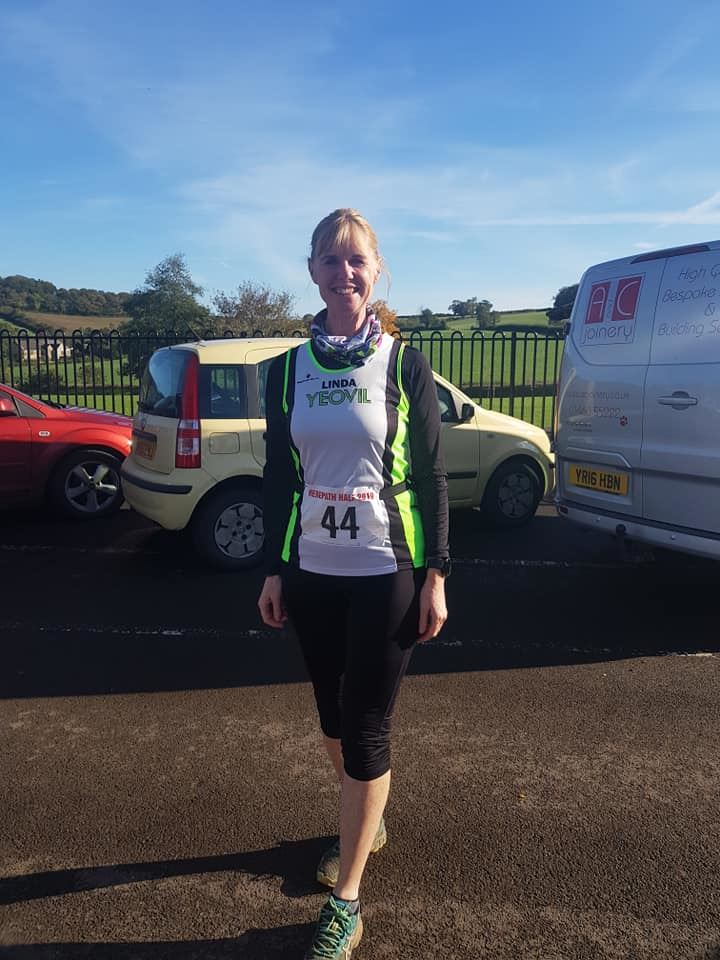 Shepton Mallet 10km
Well done to the YTRRC runners that ran the Shepton 10k.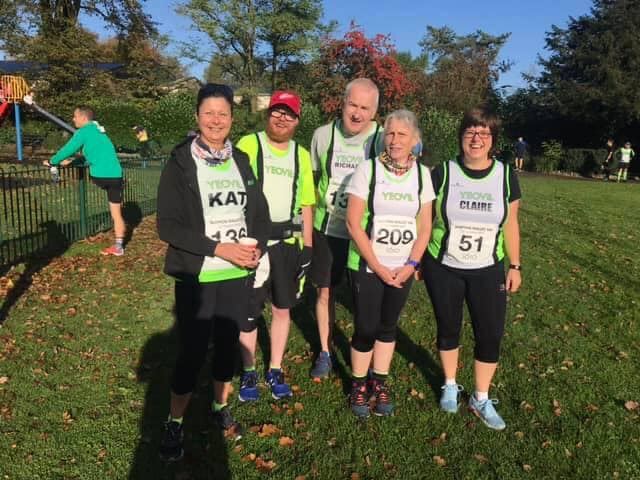 Club Championship
From Lesley:
Hashing in Barbados
No Park Run here in Barbados but we joined in an incredibly tough hash with the Barbados Hash House group, running down to the beach, along the seafront thru woods and up a massive steep hill in 30 degrees. Good job there was an ice-cream van and rum when we got back. It was very hot but really friendly large group - great atmosphere 🥃.

Championships
Last race done so anyone not sent me their best Yeovilton or Street 5k; best half and best marathon please send them to me.

Hats
I have now had lots of hat qualifiers, which I am gradually getting thru - I'll put an up-to-date list on FB in a few days to make sure I haven't missed anyone.
Club Championship 2020
Next club championship race is next Sunday, 3rd November, it's a Wessex XC race at Lytchett School, Lytchett Minster. I'm sure there will be car share available. If you haven't entered already unfortunately it's too late for this one but you can enter the next one on 15th Dec. Entries have to done via Adam Hawkins, please.
Amsterdam Marathon
A report from Holli.
A group of us headed to Amsterdam for the marathon which started and finished in the Olympic Stadium. After meeting at the expo and collecting our bibs, we made our way to our house. It was stunning, although, for some, we knew the very steep and twisty stairs post Marathon might be an issue! We walked for ages trying to find food. But all we could find was mega pricey restaurants or kebab shops. We ended up with Dominos 😂
Come race day, we had to set off in the darkness to catch various modes of transport. The atmosphere in the stadium was amazing. And we were off...
Sadly, the race was cut short for two of our group due to injuries and Graham and Ross had to pull out. Maggie and Cas were first Yeovil members across the line followed by Jon and myself. I'm not sure on Louise and Rob's info. 🤷‍♀️ After a change and warm-up, we headed to the Red Light District where Graham was our tour guide 😂 Let's not ask questions here! 🤪
Of course, it would be rude to not show an interest in local culture so we then set off back to our house with some celebration/commiseration post-run Brownies... which Maggie will agree, were rather nice!
Well done everyone! It may not have turned out completely as planned for us all, but that's just a few hours out of a cracking weekend. Until next time...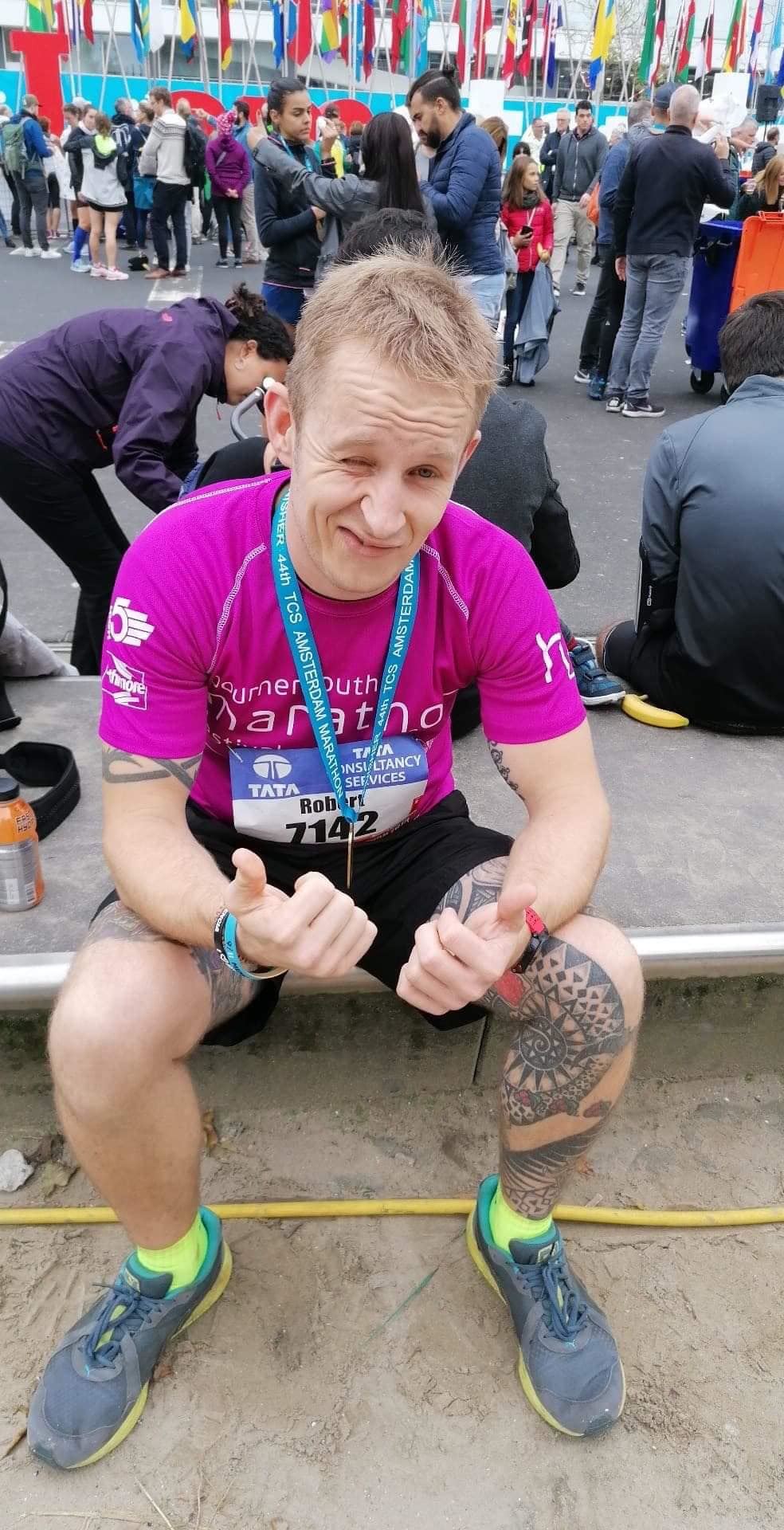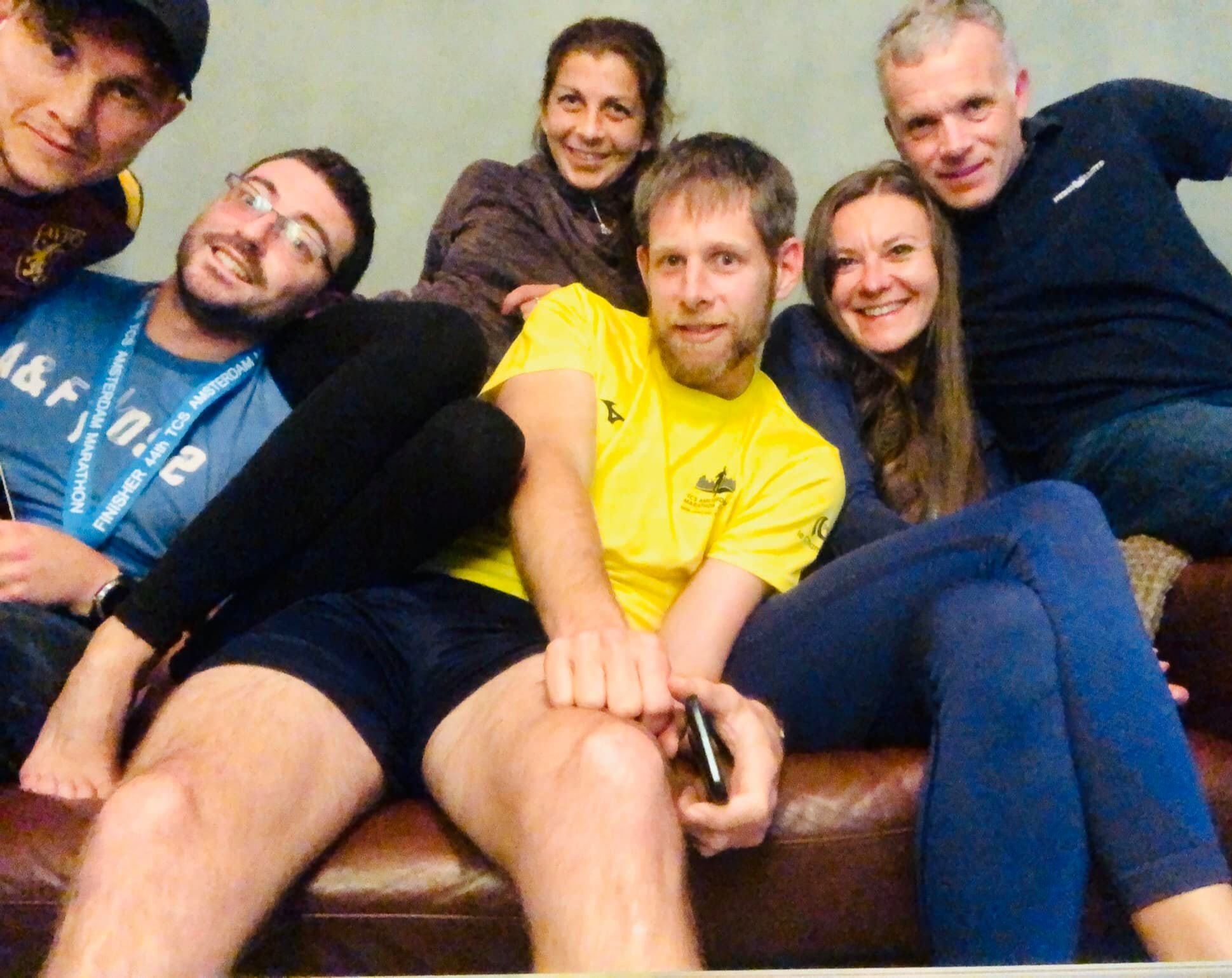 Marks Runs
PUB RUN – MARTOCK (24th October 2019)
I had the privilege of leading the main group tonight which comprised Julie, Mel, Louise, Simon, Nikki, Kirsty, and myself. Planning on the hoof, I decided just to run a clockwise loop of around 6.5 miles, which we had used previously a few times before. From the eastern side of Martock we ran towards Bower Hinton, passing the church, and taking the right turn to the Parrett works. Before the climb into South Petherton, there is a right turn that takes you up to East Lambrook. We ran up the narrow lane to East Lambrook and turned right at the end. We passed Gawbridge Mill and continued towards Coat. To the left could be seen a small tower of red lights in the distance which is the TV transmitter on the Mendip Hills above Wells. At Coat we turned right and ran back towards Martock. At the end of the road, we turned right and ran along narrow pavements through the main part of the village. Turning left, we ran the last leg going eastwards back to the pub. That's all, and to Phil for organising the pub. Thanks to Kirsty for the photo.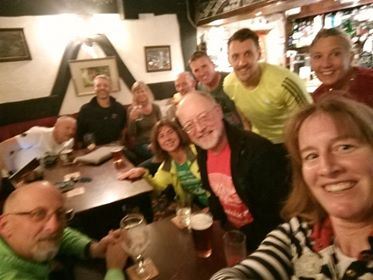 Released On 27th Oct 2019