Its a New Forrest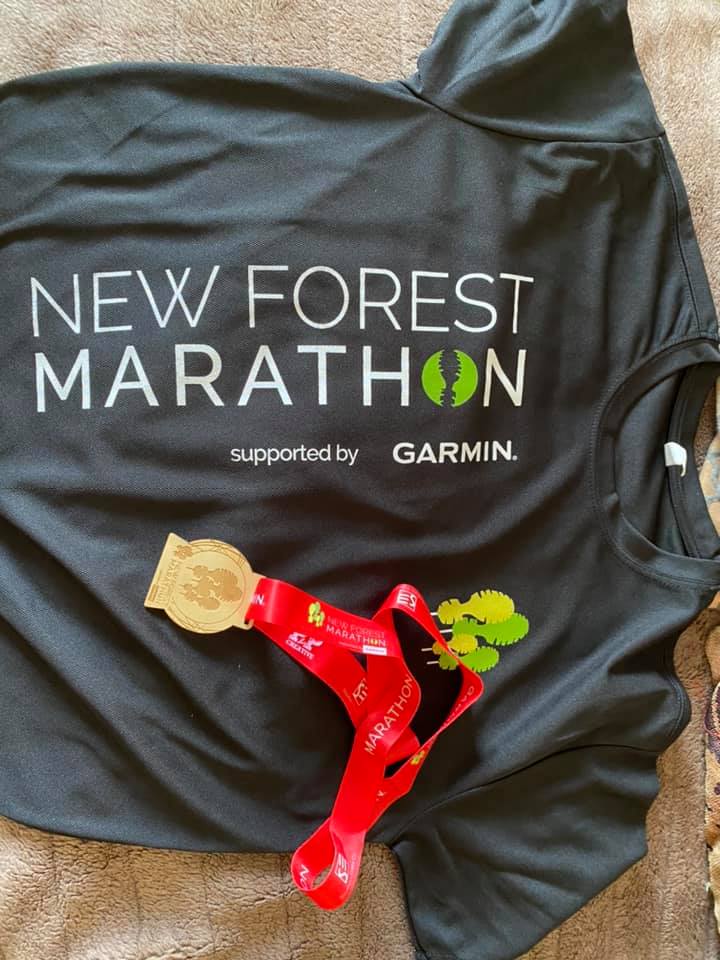 Tues Club Run
YTFC are playing at Home so we are moving to Goldenstones
From Phil: The pre-season friendly versus Bath City, originally scheduled for Saturday 19th September at Twerton Park behind closed doors, will now take place at Huish Park on Tuesday 22nd September, kick-off 7.45 p.m.
This being the case as usual meet at Goldenstones Car Park and meet on the grass area behind the cafe practicing social distancing
Well I am glad to say that I manged my first Marathon since lock down in the New Forrest, the event was on and off but finally on and Saturday saw the 10k and Marathon. The Race organisers did a great job in making this a safe race with staggered times starting at 10:00 and 5 min intervals with about 20 runners on each time slot. You went down a funnel keeping 2 m apart and the a traffic light system to set each runner off so again keeping social distance apart. The course was wide enough for passing as well, the aid stations were stocked with cups of Jelly Babies and bottles water with the tops off, bins were placed 200m down the trail to throw your litter in, sadly some still feel the need to just throw it away any where, I hope some were grassed up and disqualified.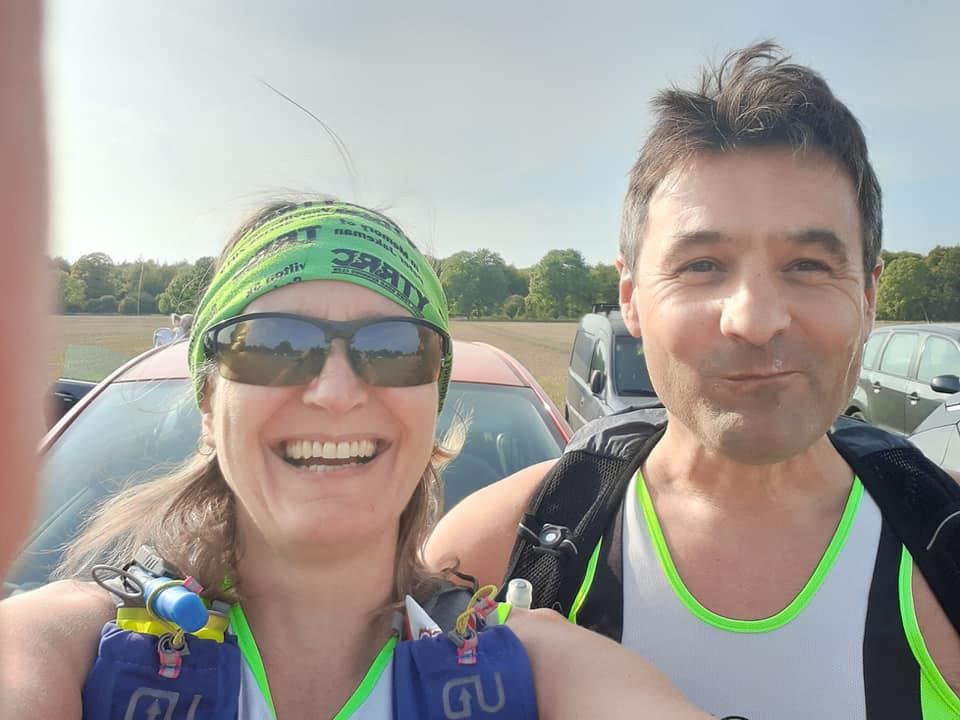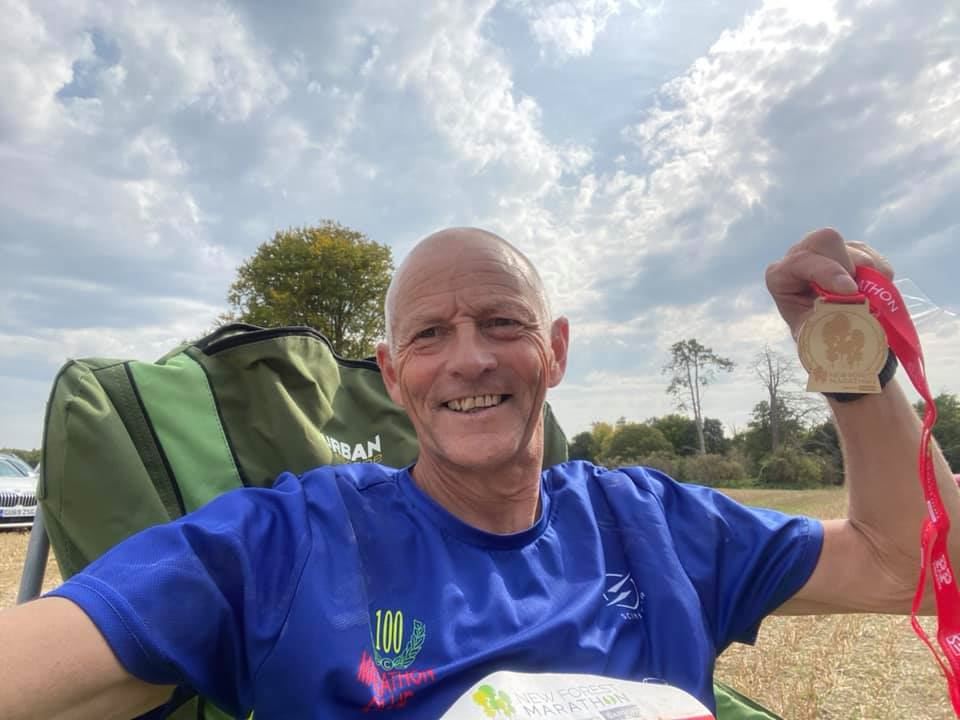 So what happened, well Kev was our first Male in 03:29:23 followed by me with 03:32:24 and Dave 3:33:47, so 4 mins separating us, then came Luke and Jon. The only thing with a staggered start was not seeing any one from the Club. As for the Ladies Sam Self had a great run and was first lady with a time of 4:14:59 then came Anita 5:21:36 and then Holli in 5:25:36. We all got a Wooden Medal and a Black T-Shirt, oh yes and a Banana.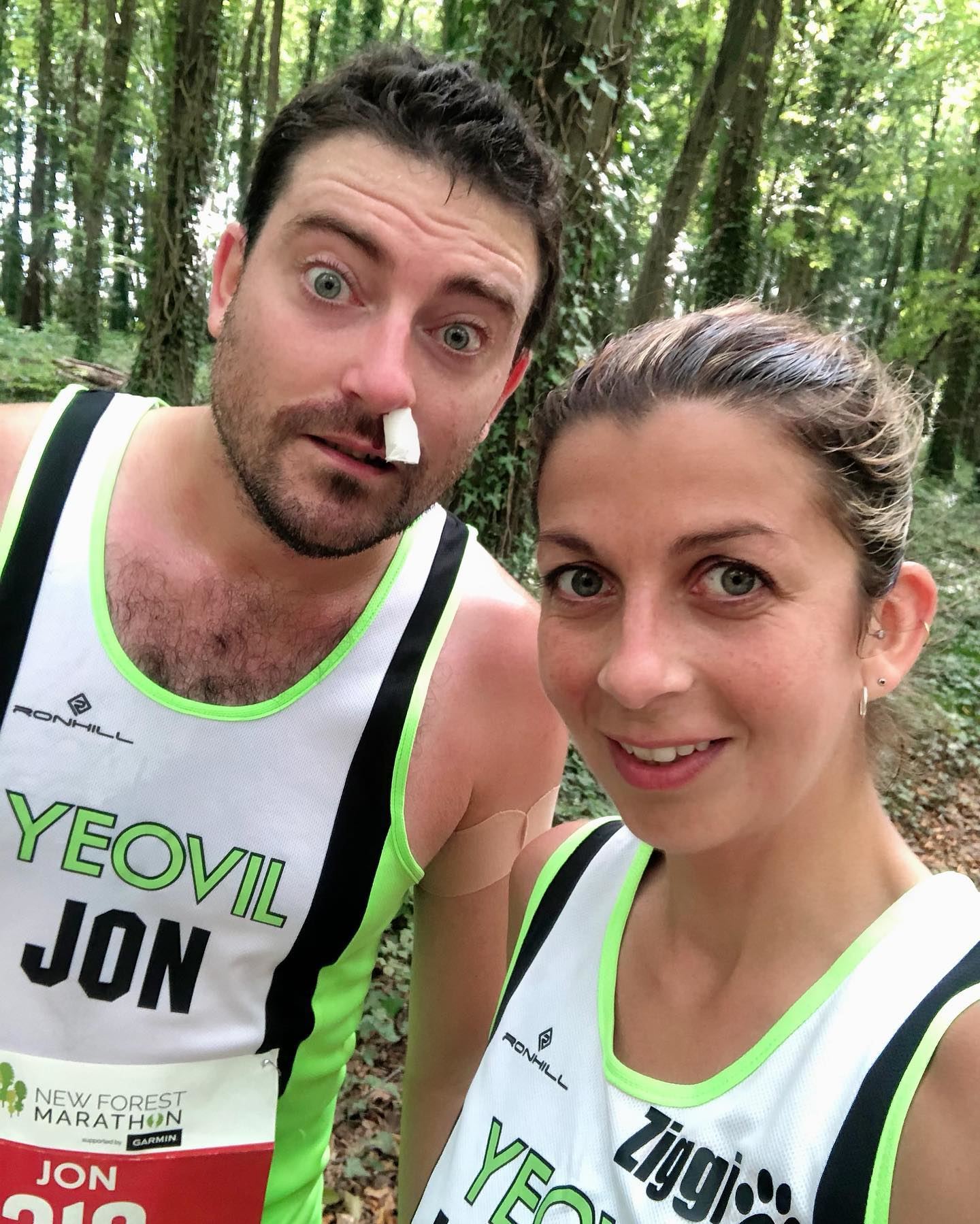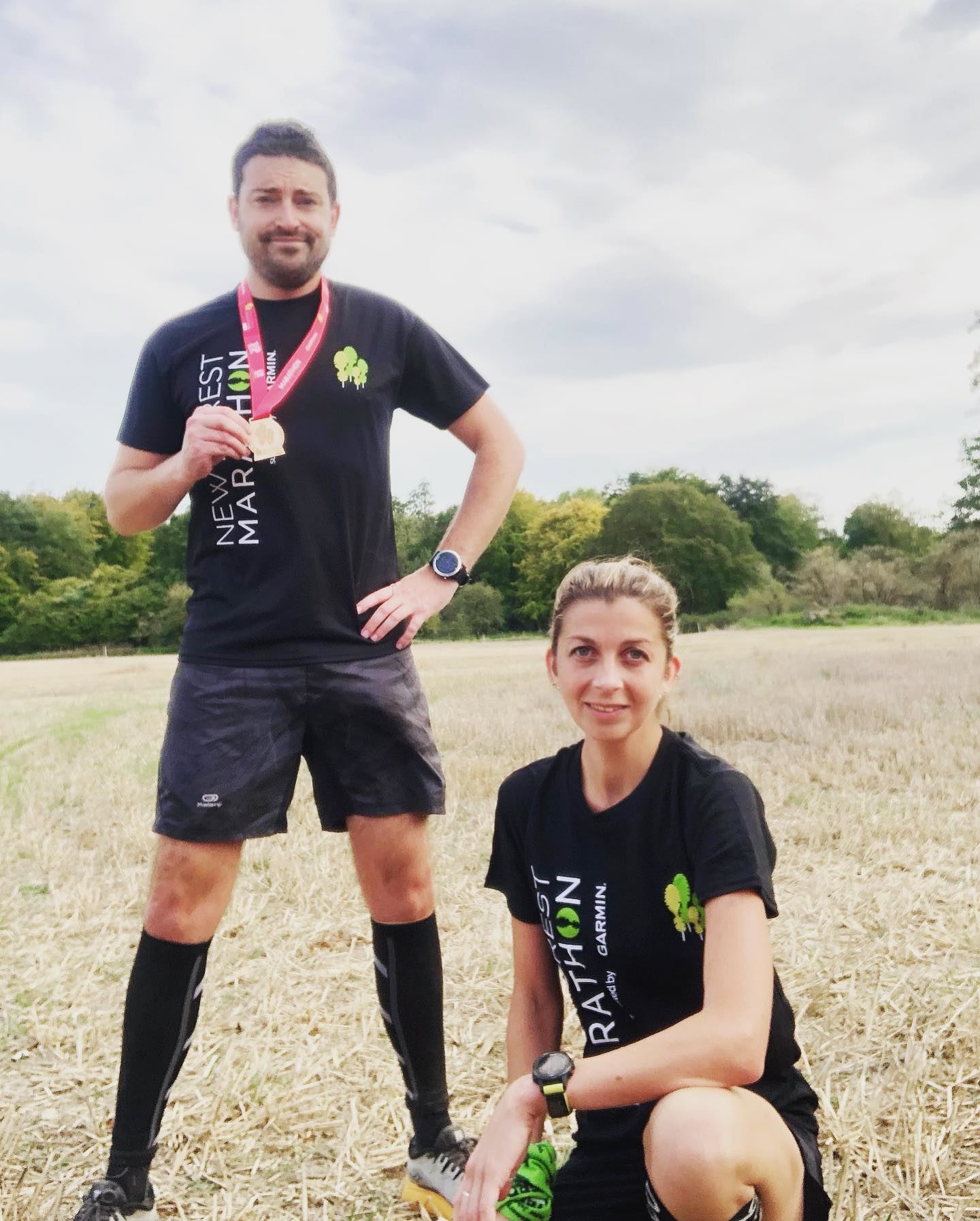 Well done all and sorry if I have missed anyone.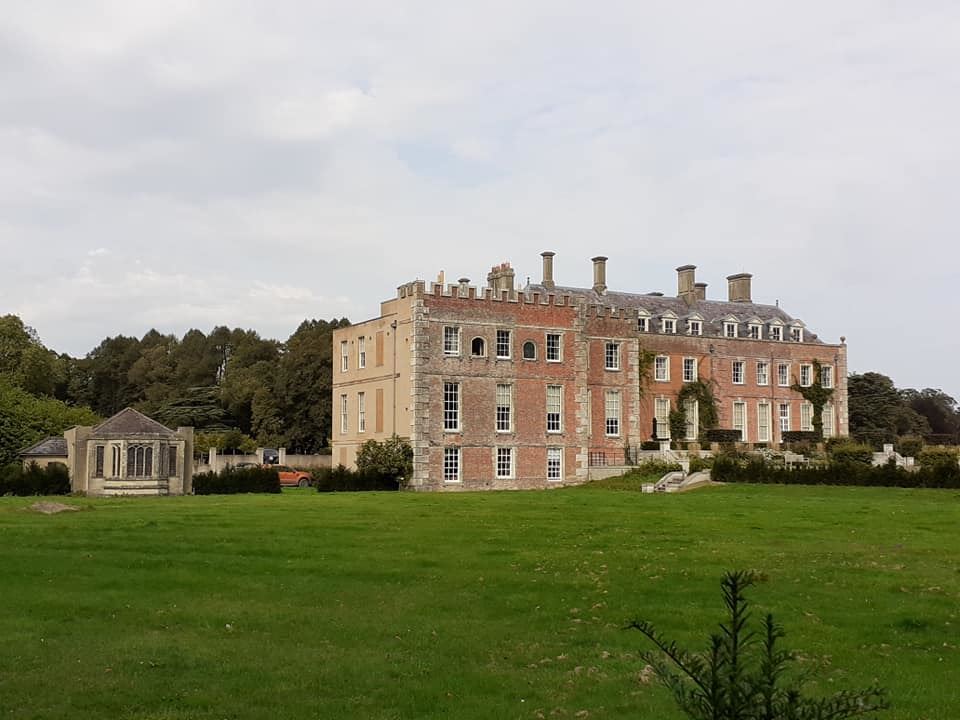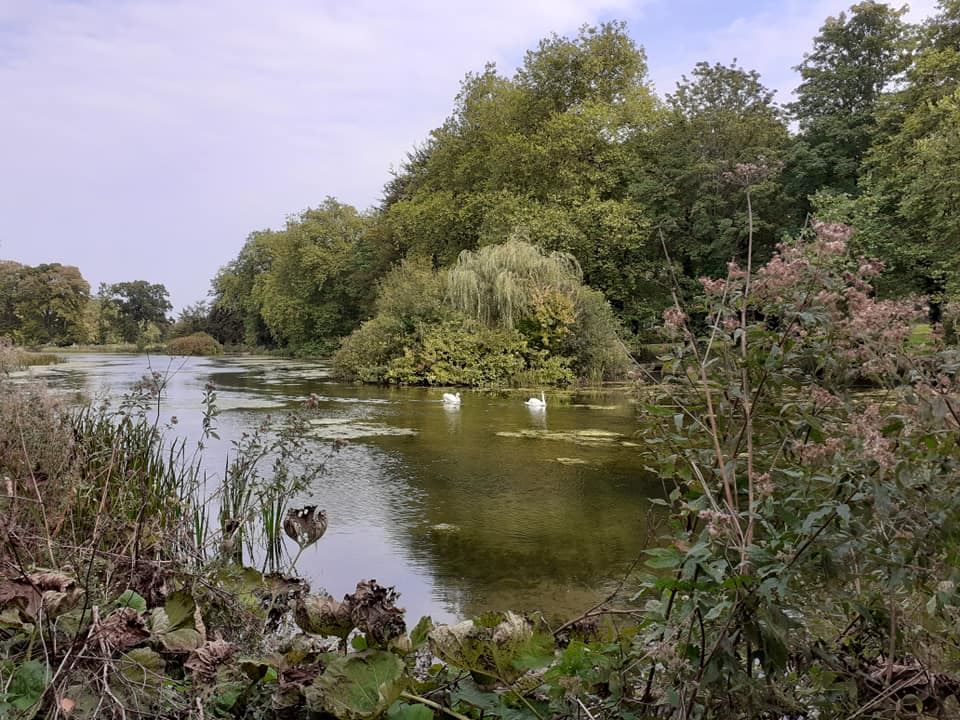 A lovely Route
Allys Alleys 10k
From Alison: Allys Alleys 10k - Well done to everyone today as we ran our 10k after doing our training sessions 3 x a week for 12 weeks. It was a beautiful day and we were joined at a social distance by Rachael Jones , Mel Dodge and Dave Myers. Also a big thank you to Beryl Chung and
Kerry Barnwell for being our support crew. And not forgetting Millie for helping.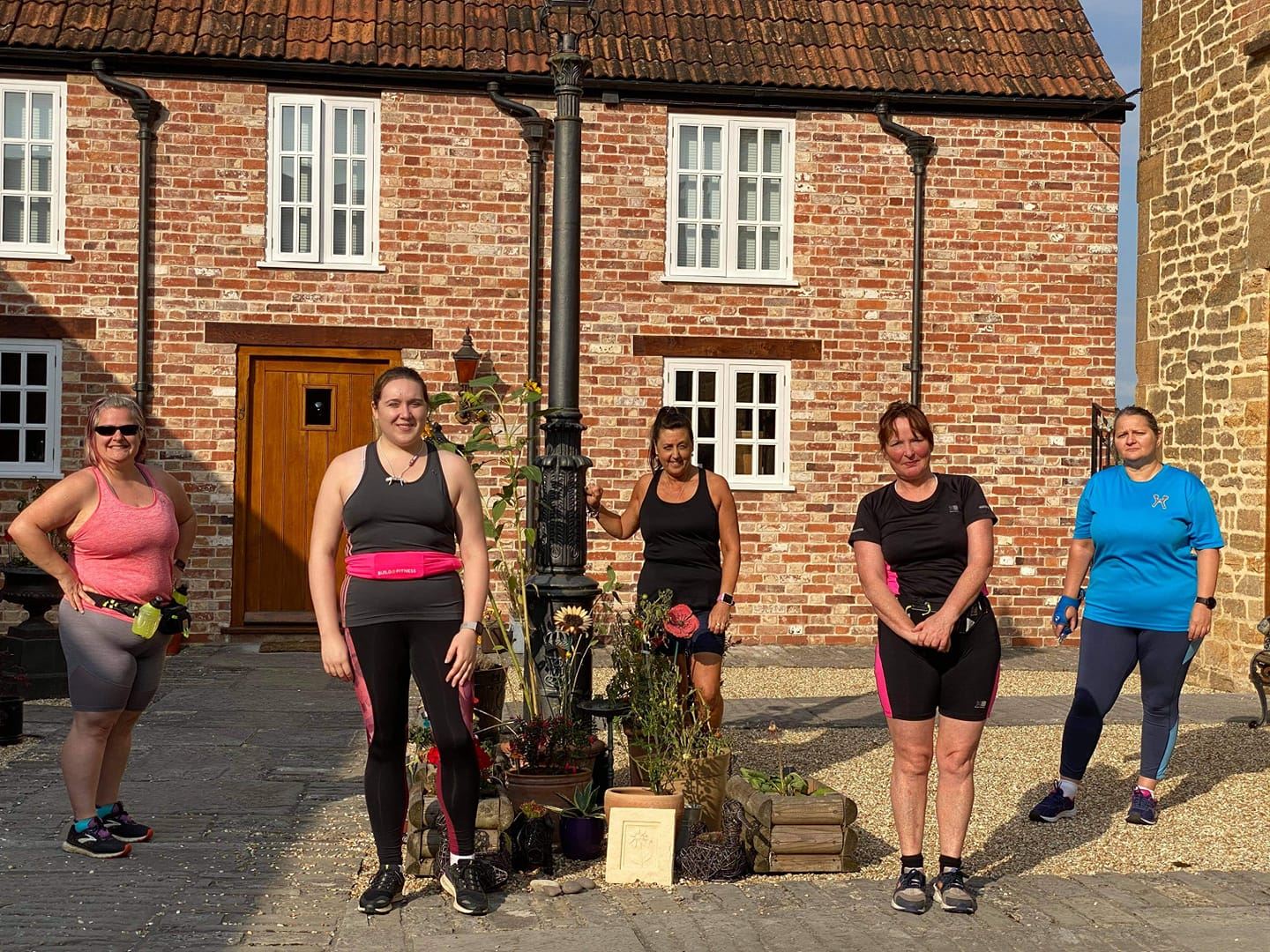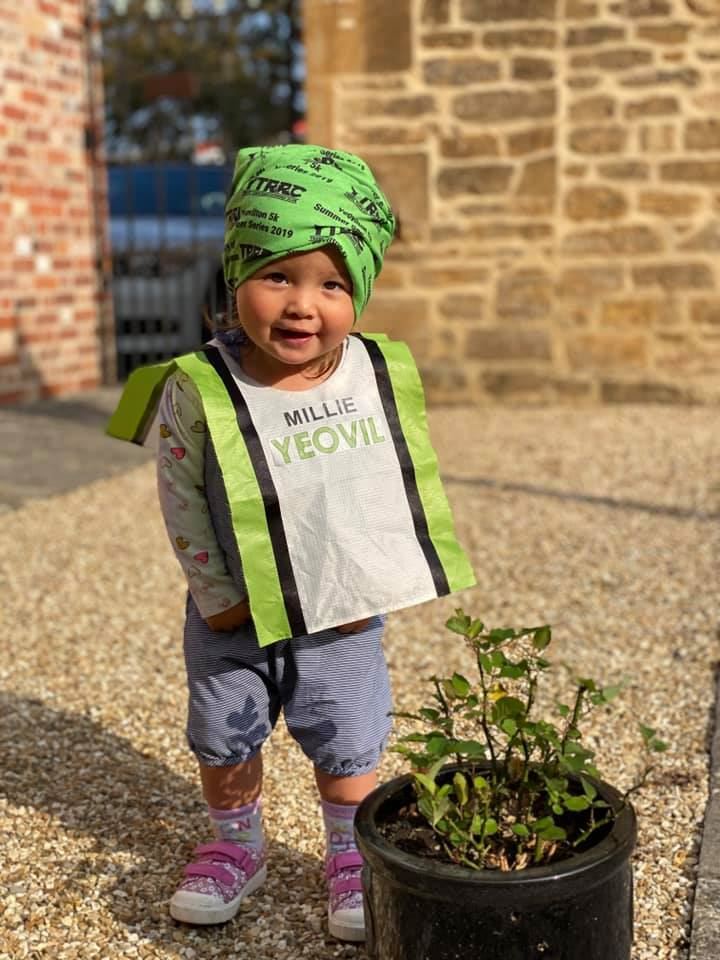 Lands end to John o Groats
The Club had two finisher this week, Tina Beard and Dave Tilsley, well done both and great running.
From Tina: Lands end to John o groats finished today 111 days, 874 miles, one broken shoulder , now healed, so I've run more of it than expected. I finished with 3.7 miles at Montacute park, my virtual John o groats, the place where my love of group running began in 2013.Lesley kept me company, and brought cake.Now for a day or two of rest. Next stop , Virtual London marathon 4th October.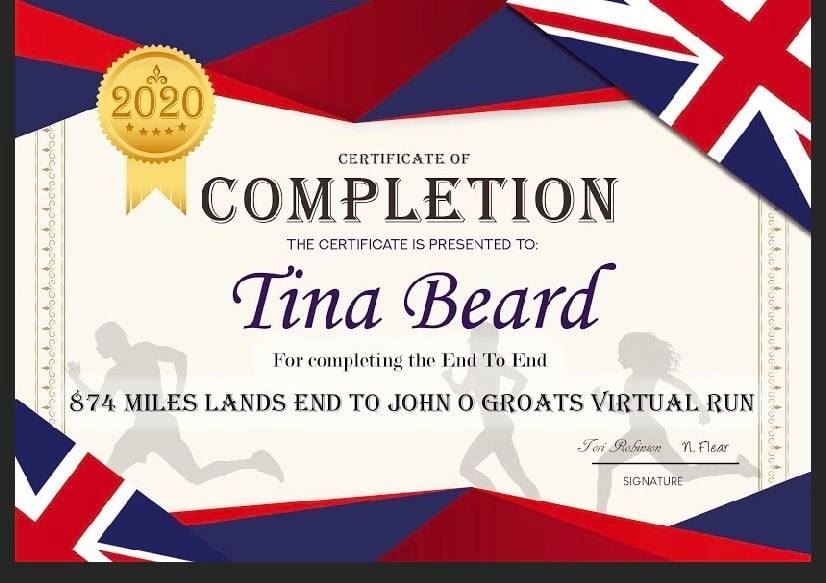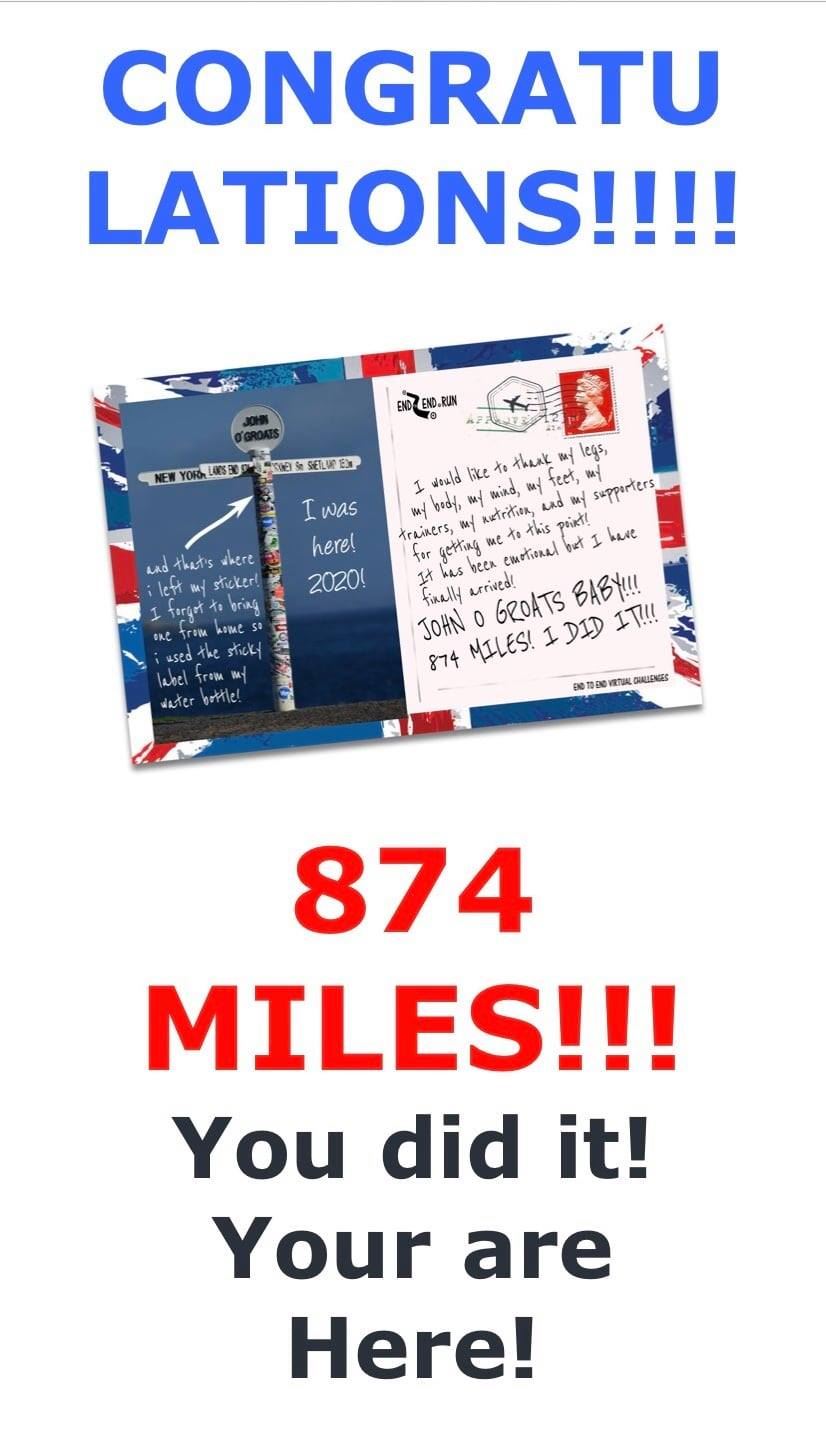 From Dave: Bungy Williams yes I have finally made it to John O Groats! you can stop asking me now every time I see you . The New Forest Marathon was a great way to finish the challenge. An awesome route, lovely trails and completely runnable all the way, which is pretty rare for a trail marathon. My LEJOG figures are a bit different from the likes of Mark, Bungy and Steve who cracked it out in super quick time. I started the challenge with the lofty idea of finishing within 3 months but it very soon became evident that my body just cannot cope with running every day. About 2 months into it I developed a niggle in my left knee which pretty much ground me to a halt for a few weeks. I did start to question my decision to only record runs. Anyway, I ditched the HOKAs and went back to my trusty Altras, and at the same time I invested in a Theragun (massage torture device) and I was able to slowly get the challenge back on track. So my figures:
Duration: 138 days
Runs: 75
Non running days: 63
Average run distance: 11.67 miles
It was a great challenge and it definitely motivated me to get out at times when I could easily have not bothered. Next up, the Clarendon Marathon.
Matt's Report:
Mark Pike, Bungy Williams, Luke Hicks, Steve Lye and Anita Farquhar Rufus, now welcome Tina Beard as our second lady finisher. Having started a month later this is an amazing achievement and done whilst enduring a broken shoulder too!Like London buses, two come along at once, so
Dave Tilsley is our latest finisher having also completed the 874 miles. Perhaps they will enjoy congratulating each other at the JOG Stacks Coffee house and bistro! Amazing stuff guys!
Meanwhile...
Jon Foxon is at "The Babe Cave" (I bet he is!), at Milton of Leys on 743 miles, while Matt Driver is only a little further back on 733, but he's at the Tomatin Whiskey Distillery, so may struggle for the next few stretch!
Magdalena Kusmierczyk is near the Bamboozeleum (what?) near Carrbridge on 723 (apparently its a centre for illusions).
Mel Dodge at 667 miles, is coming up to Loch Tummel and will use Tummel Bridge to cross...It's a shame they haven't got a tunnel at Tummel!Meanwhile
Brian Lane is cruising up General Wade's Military Road approaching the Cairngorms on 657 miles.
Graham Still is limping bravely on past Loch Lubhair on 631, although he may be secretly logging miles we don't know about yet...
Richard Clayton has surged with marathon training up to 629 and is now at Inverardran, while
Casper Harvey is on 614 and winding along lake-side at Loch Lomond.
Catherine Thompson isn't far behind on 591 and enjoying the sights of Dumbarton.A little South,
Yunmi Jang is on 548 on the M74, but apparently in the middle of nowhere!
Daniel Stephen James McFarlane is also on the M74 but at 546 miles and appearing to be savouring the sights of Cairn Lodge Services.
Catherine Parker-Johns remains on 407 with some inconsistent logging making it difficult to track her, but I know she's making progress. As is
James Hutt who has made it to the confines of Lancaster University at 406 miles.
For those who started LeJog #1, don't forget the finish date is early November, so some need to up their game, or at least remember to log their mileage evidence. For me, this event has been a major distraction from other stresses so I hope you aren't too stressed about mileage but enjoying the challenge!
Not long til Christmas!
Club Hats
From Lesley: The closing date for submission for Hats has passed. People I have are:
Paul Card
Mel Dodge
Anita Garrett
Anita Rufus
Donna Reeves
Richard Clayton
June Moule
Trevor Strelley
Gav Cheetham
Marie Lockwood
Guy William's
Steve Lye
Taryn Monks
Andy Farrant
Lesley Nesbitt
Helen Nesbitt
Sam Lloyd
Holly Tilley
Jon Foxon
Elizabeth Morton
Andy Brown
Steve Warren
Lindsay Saunders
Nat Robin's
James Hutt
Tim Willis
Jeanette Vincent
Yumni Jang
Rob Adams
Jo Henley
Sandra Levett
Mel Cox
Total 32. Please let me know if I've forgotten anyone. Well done everyone
Released On 20th Sep 2020