Its a Chase
Crafty Fox
Saturday saw the Crafty Fox weekend with the Full Marathon on the Saturday and Half on Sunday, the Full had Kev, Dan, JC and me with Kev coming in first and also winning the Wyvern Series prize. As for me, it was my first Did Not Finish (DNF) in 210 marathons. At about the 10 1/2 mile point, I just felt really weak and decided to kneel down for a bit then tried to run a bit, felt weaker and then knew I had to lie down, even then I thought only one more lap to go but then thought sod it I will just make it to the Love Station. All the runners asked if I was Ok and I just said yes but one stayed with me and another one got to the Love Station and got help. At that stage, I never thought this was a heart attack, no pains just weak. The Wagon came to me down the narrow track and then I managed to get into the back. It then had to go to the end of the track to turn round and then head back to the Love Station. There the Race Medics turned up and I was transferred to their Ambulance and then off to Race HQ. The carried out an ECG and then told me it was an Attack, they gave me Morphine and then the wait for the Ambulance to turn up. The NHS Ambulance took another ECG and this goes by a link to Bournemouth Royal Hospital who looked at the results and was then told to get there pretty quick. I was in very good hands and the medic staff that WSR use is the best. Once at BRH I was taken to the Theater and a tube up my Archery in my arm to my heart and a Dye added to find the block, I am watching this on a 50" telly next to the bed by the way. A stint was put in and then back to the ward still in my running shorts and Race Number on. BHR is the best Cardiac Hospital in the country and the staff were unbelievable.
Two days in the hospital and then home, four weeks with no driving or work and will have to see about the running. It was probably the best place to have this due to the runners, marshalls and not sat at home thinking it will go away. Just glad I am here and able to do this Blog. Thanks for all your kind words and will get to some pub runs. Ta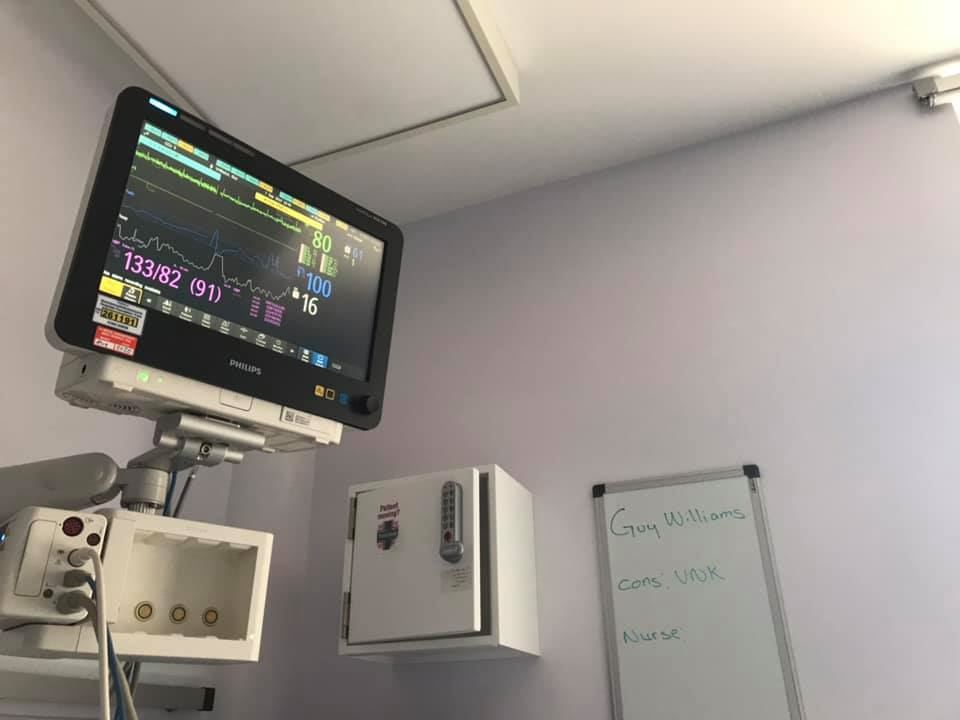 Ash Races
Fearsome 5 and Excellent 8 races at Ash today. This is a great event .. long established and well supported by YTRRC and local villages and School and thanks to Adam Hawkins and All his many helpers.. it's a Brilliant event. Yeovil Town didn't manage to defend the 8 mile title this year it went Wells Harriers. Was some great running both 5 & 8 mile races today . Paul Bonner ( 3 minuted faster than last year !) Steve Lye and Jeff Watson were first 3 YTRRC Runners home . With Helen Nesbitt Melanie Denham Lesley Nesbitt Linda Membury taking a fantastic team Award .. congratulations... Both Lesley and Helen won respective AG ... well done ..
The Fearsome 5 was great and had decent YTRRC support too for those not quite up to 8 miles or fancied something less demanding. The races set off together and have quiet undulating lanes and off-road trails and bridleways.. beautiful Countryside and wonderful weather too... and I believe some new YTRRC members enjoyed first races with Green and Whites. Well done all.
From Adam: Many thanks, today to everyone who helped with and/or ran in the Ash Excellent Eight Races today - it seemed to go well with, I believe record numbers. Special thanks of course to Phil for bringing/loading the trailer etc., Ali for being stuck on the computer all morning, everyone who marshalled and helped on the finishing line and our wonderful sweepers, June, Lynne and Richard.
Well done to the YTRRC ladies team for defending their trophy - Helen N, Mel Denham, Lesley and Linda. Helen and Lesley also won age category prizes.
Cross-country
Hi All, Its that time of year again, cross country season. The committee invites all club first claim members to take part in the upcoming Wessex league.
This is a series of 4 races which the club pays for a team entry for all to take part in. You can run as many or as few as you wish, they form
part of the 2020 club championship, so the more you run the more points you get. There are bonus points available, 20 extra for running 3 or 30 extra points for running all 4. As we as a club host the 3rd race all
Marshalls will receive 20 club championship points and they will count to all bonuses available.
Wessex league dates.
29th September. Canford heath
3rd November. Lychett school
24th November. Leweston school Tbc
15th December. Canford school
race distances
5k approx ladies
8k approx men
All other details can be found on the team Dorset website, under the link competition. All I need is the names of interested members before the close of play on the 12 September.
I will then ask Adam to submit your entries. Any questions you have I will try to answer.
Happy running
Tim
Summer 5k Series Last One
From Tim: Hi All. Last Yeovilton 5k Series race of 2019 next Wed. I know some of us want to run this one in memory of Peter Jakeman so any extra guys from the club who didn't know him or don't want to run, we would love you to come along and help Marshall if possible. If you want to run it please can you enter online at www.fullonsport.com as we will need you to be a paid entry for insurance purposes. Also if you can do this before the night it will save a mass rush on entries on the night so we can get the race underway on time. Please let me know if you can Marshall or help in any way and also I'm sure Denise Byrd and Mel Dodge would appreciate any donations of cakes, savories or biscuits for their refreshments stall. Thanks all and here's to a great and successful last race of the Series xx
Linz
Park Runs
Letchworth Parkrun. Sharon Hardy and I stayed in Letchworth Hertfordshire for the weekend to go to my sister's wedding in Stotfold on the Saturday afternoon so whats best in the morning than a couple of miles jog over to the Grange Rec to run around a slightly undulating course with a great bunch of fellow runners. We had a great welcome from all. The marshals and helpers very encouraging with their bells and cheering. Well done Sharon Hardy who was in the top 100 and achieved best in age.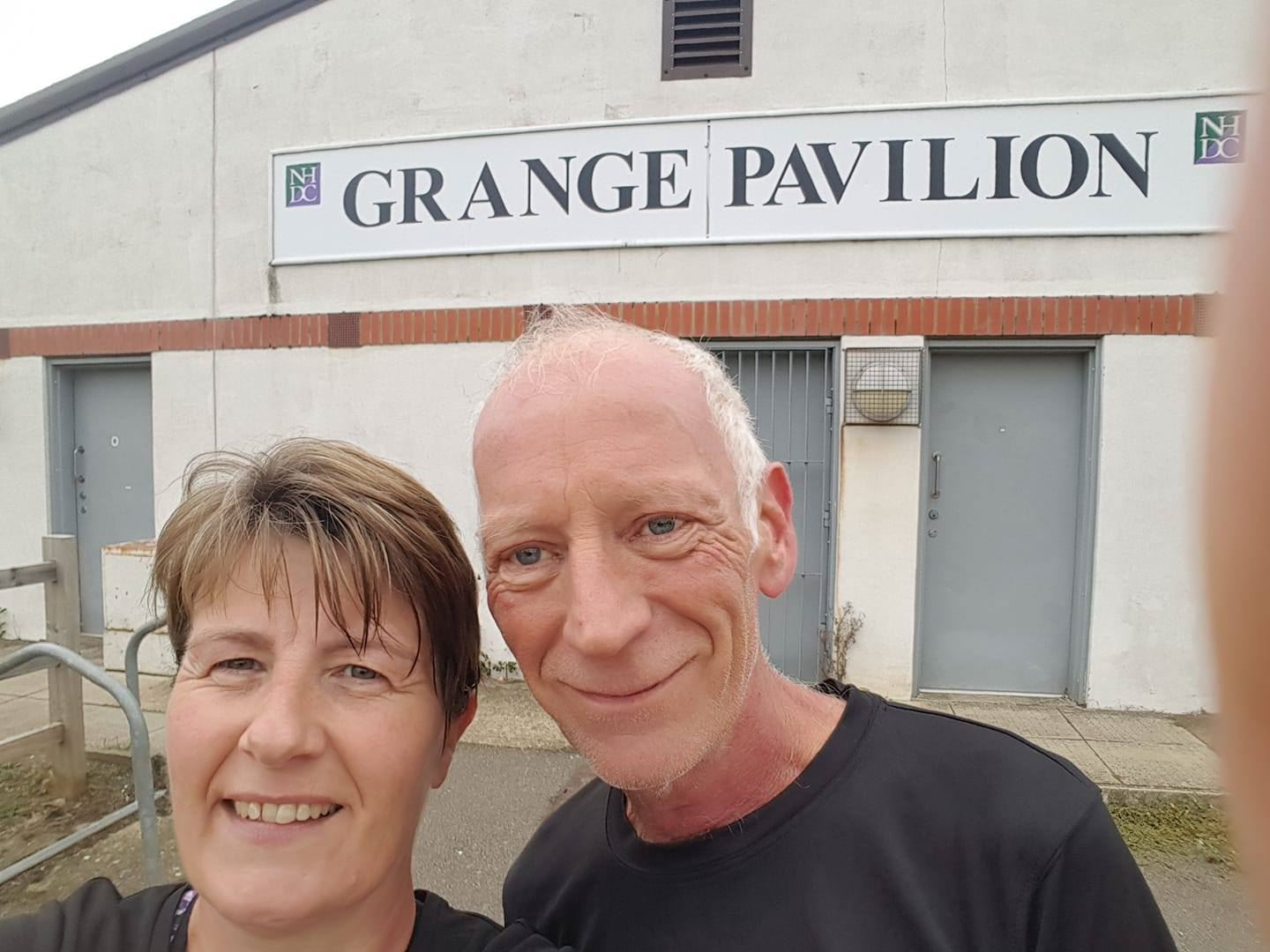 Marks Runs
PUB RUN – THORNFORD 5th September 2019)
I had the pleasure of leading the main group of 10 tonight, and planning a route on the hoof. I made it a clockwise loop beginning mostly with fields, and tracks, and ending with country lanes. From the Pub we headed north along the road, passed the church, and then turned left. The lane becomes a track which crosses the river Yeo and enters fields. We ran across the fields where J.C. was brought down by a small poodle. We reached the large Barn at Wyke. After crossing the railway line we continued through fields of maize, then open fields with wooded hilly views to the south. In bright sunshine, we reached Lenthay Common and continued to the track. From here the edge of Sherborne is yards away. We ran south down the track and crossed the railway line again. We followed the path passing Honeycombe farm and ran uphill to the road. At quite a quick pace we continued along the lane with the sun hanging just above the horizon up ahead. We reached Thornford and continued back to the pub. The distance was around 5.3 miles. Thanks all, and to Phil for organising the Pub. Thanks to Alison for the photo.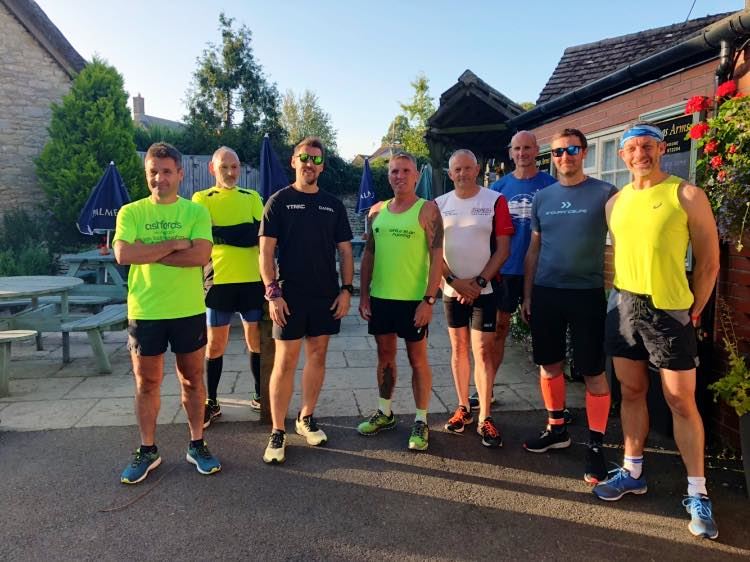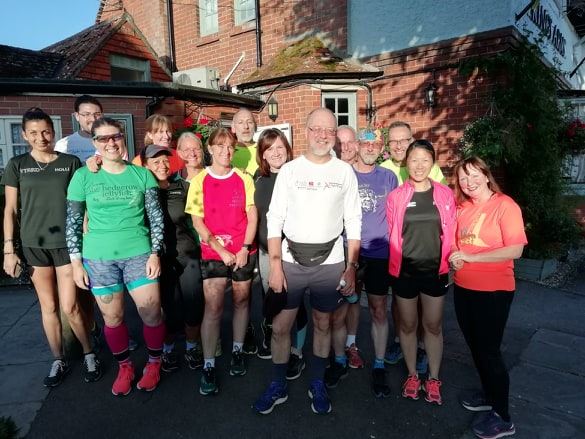 Released On 10th Sep 2019