Ham to Cider
The Cider Frolic Challenge
Today saw the Half Marathon with a great result for the Club with Nathan coming in first place and Paul Card 2nd place, Fez was in 17th place and we should or might have come first team if Fez entered as Yeovil Town RRC and not Yeovil Town Road Running Club. See here. Sharon Masters was our first lady over the line so well done all. The Full results csan be seen here.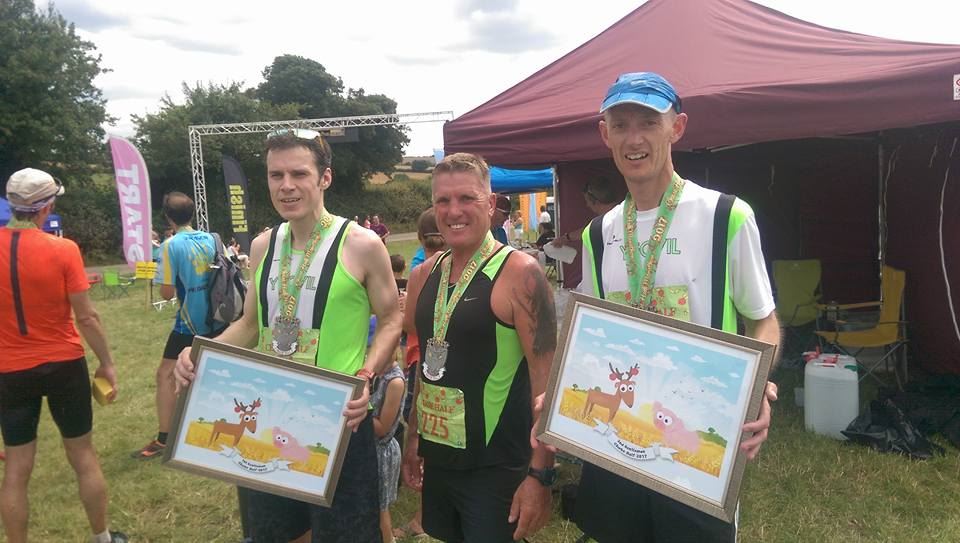 Nathan Posted:
Chase Half (possibly better known as the cider half) Some great running from 200 odd people somewhere in Dorset?? on a farm, with a undulating and very exposed course with very little cloud cover. In short the club did good and well done to everyone who got around. Was really impressed with how big the smiles were from Richard and Sharon when they finished. Managed to grab a few photos of the odd club member and odd friend of a fair few in the club. Also well done to everyone who ran the day before when it was apparently even hotted and more exposed and some crazy and impressive people did marathons and ultras and others went for the fancy dress!
Saturday (yesterday) saw the White Star Running Event called the "Cider Frolic". This was a 12-hour event with the choice of running as a Solo or in a team. The rules were simple, as a Solo, you had to complete one lap to get the medal or 7 for a marathon or keep going till you have had enough or the 12 hours were up. In the team, each team member had to complete at least one lap each to get the medal. Each lap was about 3.7 miles depending what your Garmin said.
We had Louise Ward (10 laps), Bungy Williams aka me (7 laps), Paul Allen (7laps), Luke Hicks (7 laps), Helen and Lesley Nesbitt (7 laps) and Lynne Thrumpston (7 laps). The results for Solo's can be seen here. Well done to Louise for the most laps, I think you need a drink.
As for the teams, we had the "Smell Like Team Spirit".
Liz Diamond posted: "The 12-hour Cider Frolic is over. The team was amazing, we did 3 laps each for a total of 45 miles. Well done ladies, same time next year? " The results for the Teams can be seen here.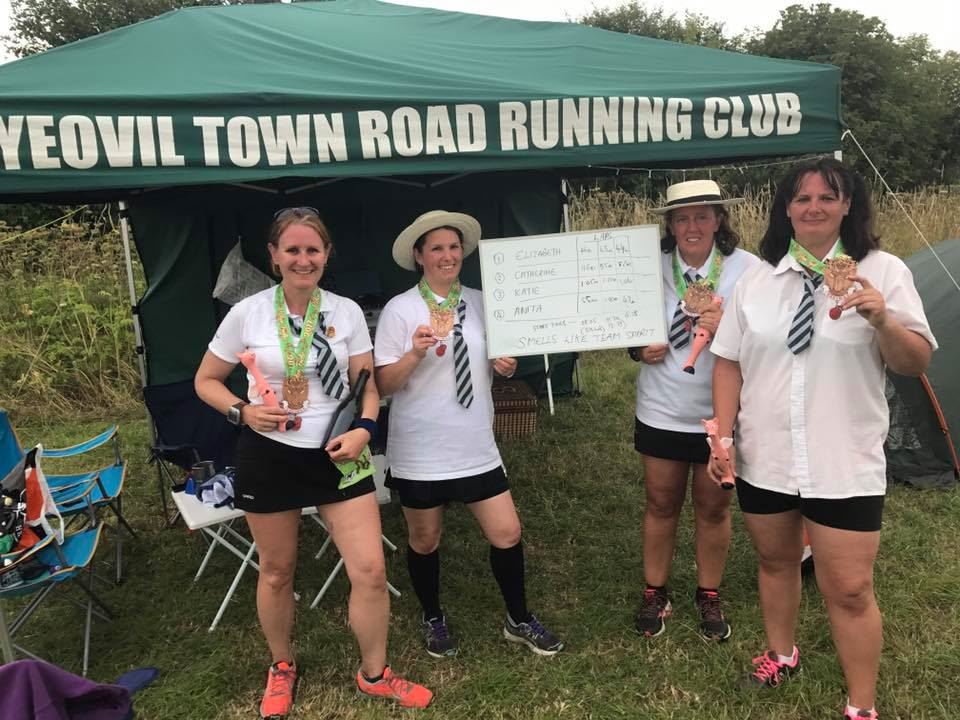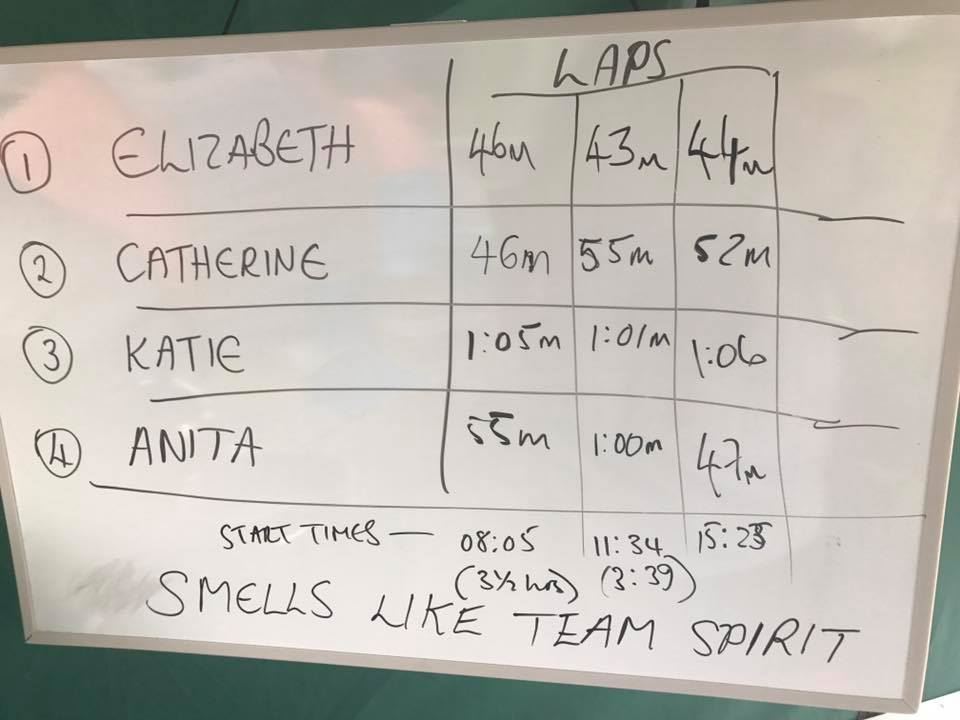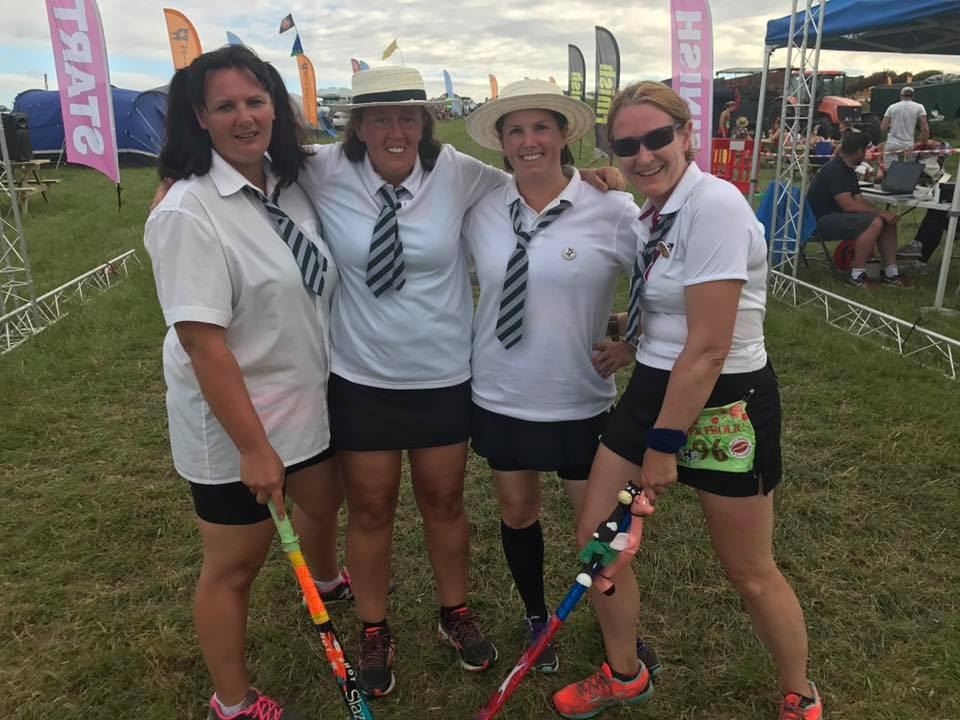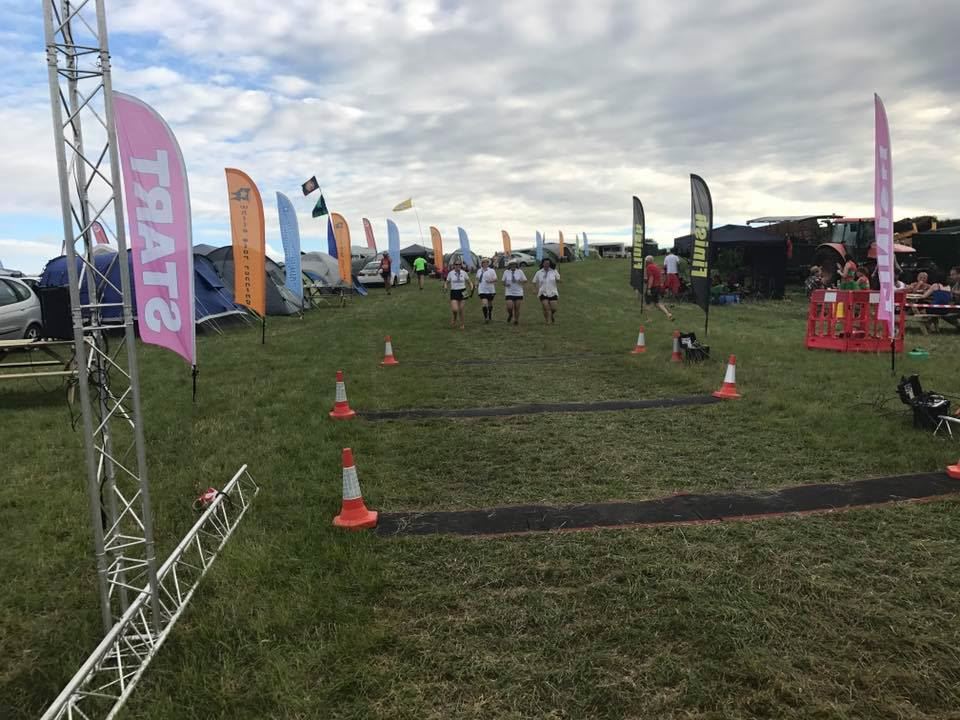 The results for the 4 person teams can be seen here.
From Louise: "Cider Frolic. Another great White Star Running Event. Lots of green and whites taking part. A team of 4 ladies dressed as schoolgirls who I think may be still out there! I think I was the only fool to do Ultra Distance which was 8 laps, though glad I did it now. Quite a few doing 7 lap marathon Distance. Well done everyone, it was hard in the heat and it was sunnier than expected. Thanks to everyone from the club for the encouraging words and Fez for booking me in for a massage which made up for him going off kayaking!
"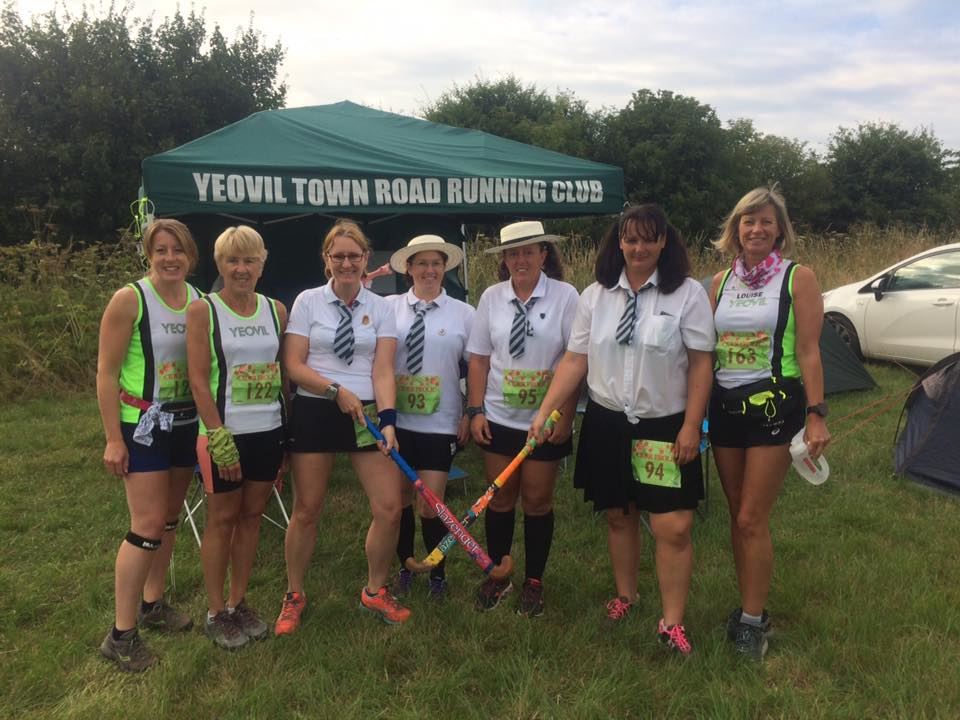 Hard Track Work
Meanwhile down at the track........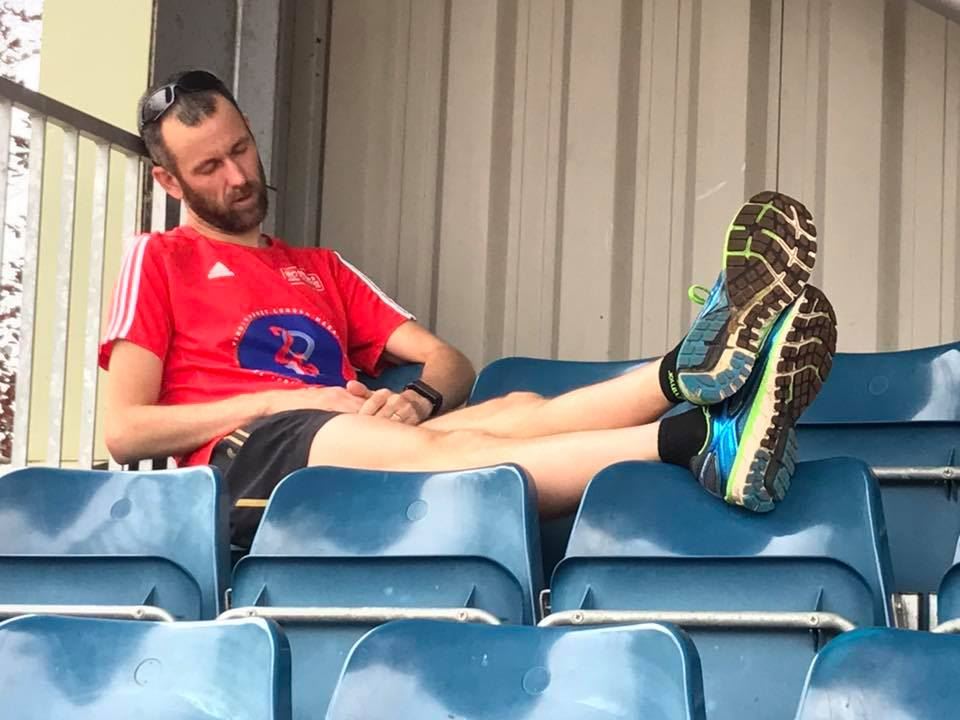 Ham to Lyme
The annual Ham to Lyme was also on Saturday, with a few Green and Whites running the 32 miles from Ham Hill to Lyme. We had Gorgina Brice, Richard Dodge, Richard and Tim Howes and JC. The results will be out later next week.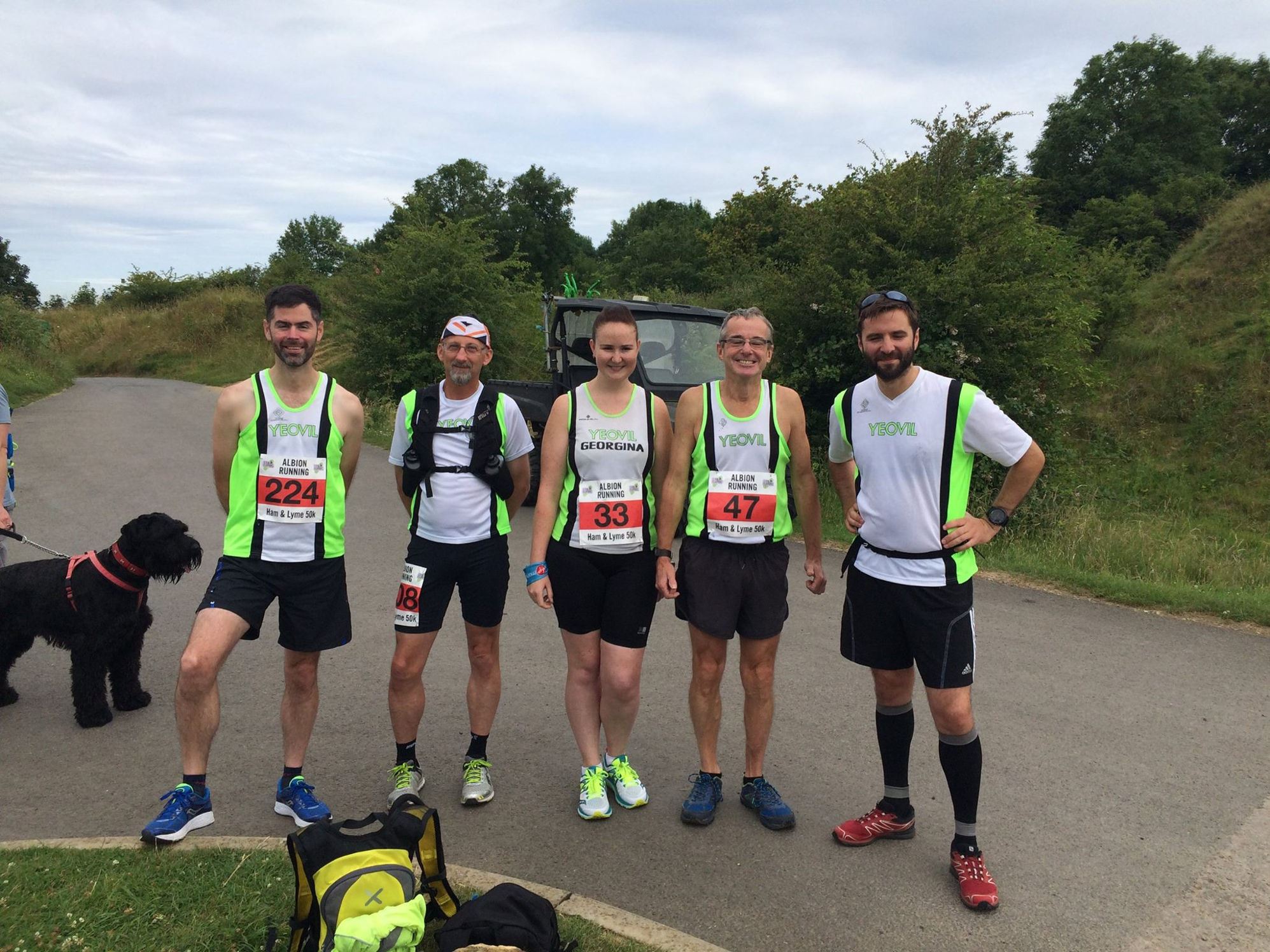 Georgina Brice posted: "Ham to Lyme done in and around 7:47 ish. It was tough going with the hills and the heat, but glad I did it
😊 Nice to see Phil and Denise in the first few miles for support!!"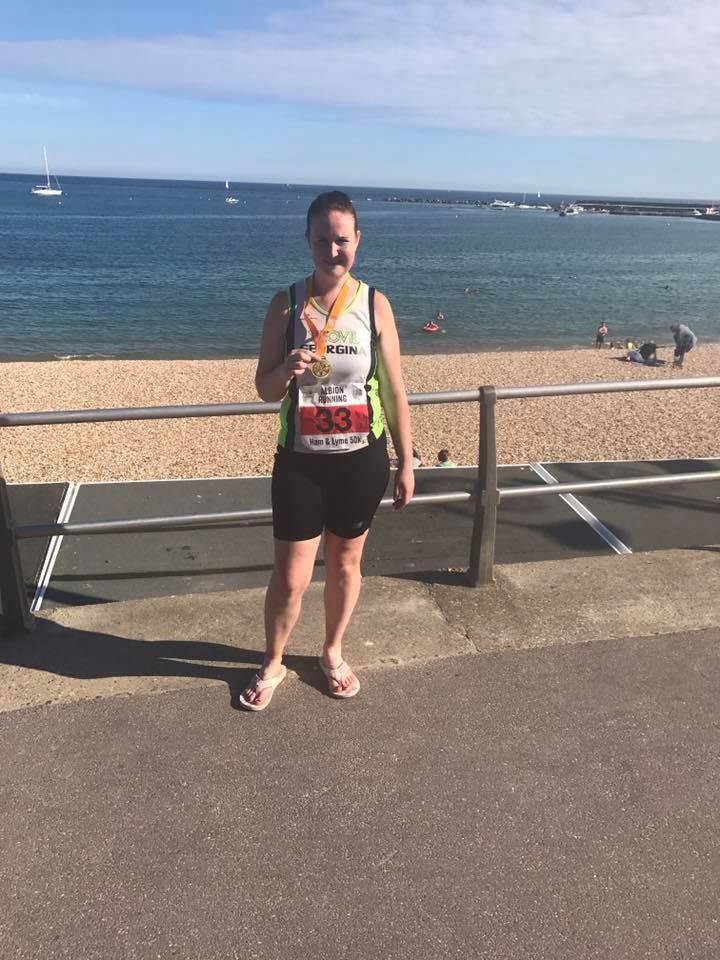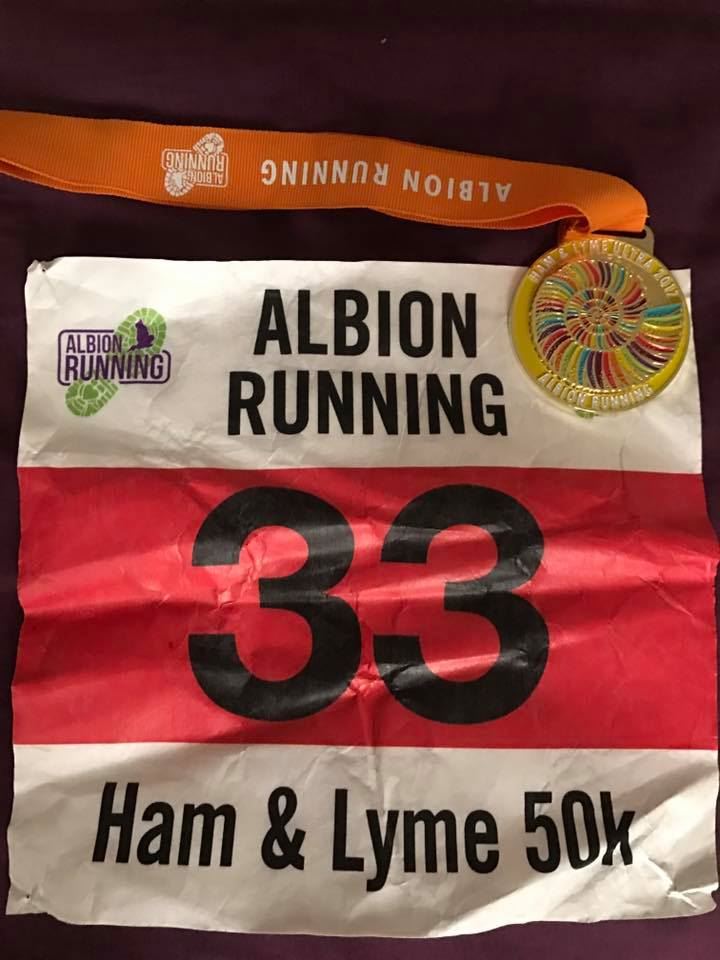 New Forrest Half
We had Steve Lee and Terry Bryne at the New Forrest Half today, Steve said: "Too hot for running! I travelled to the new Forest today for a ten Mile run. Nice course complete with new Forest ponies, but far too hot for me and a bit slow. Saw 1 other YTRRC but don't know his name. Nice brass souvenir."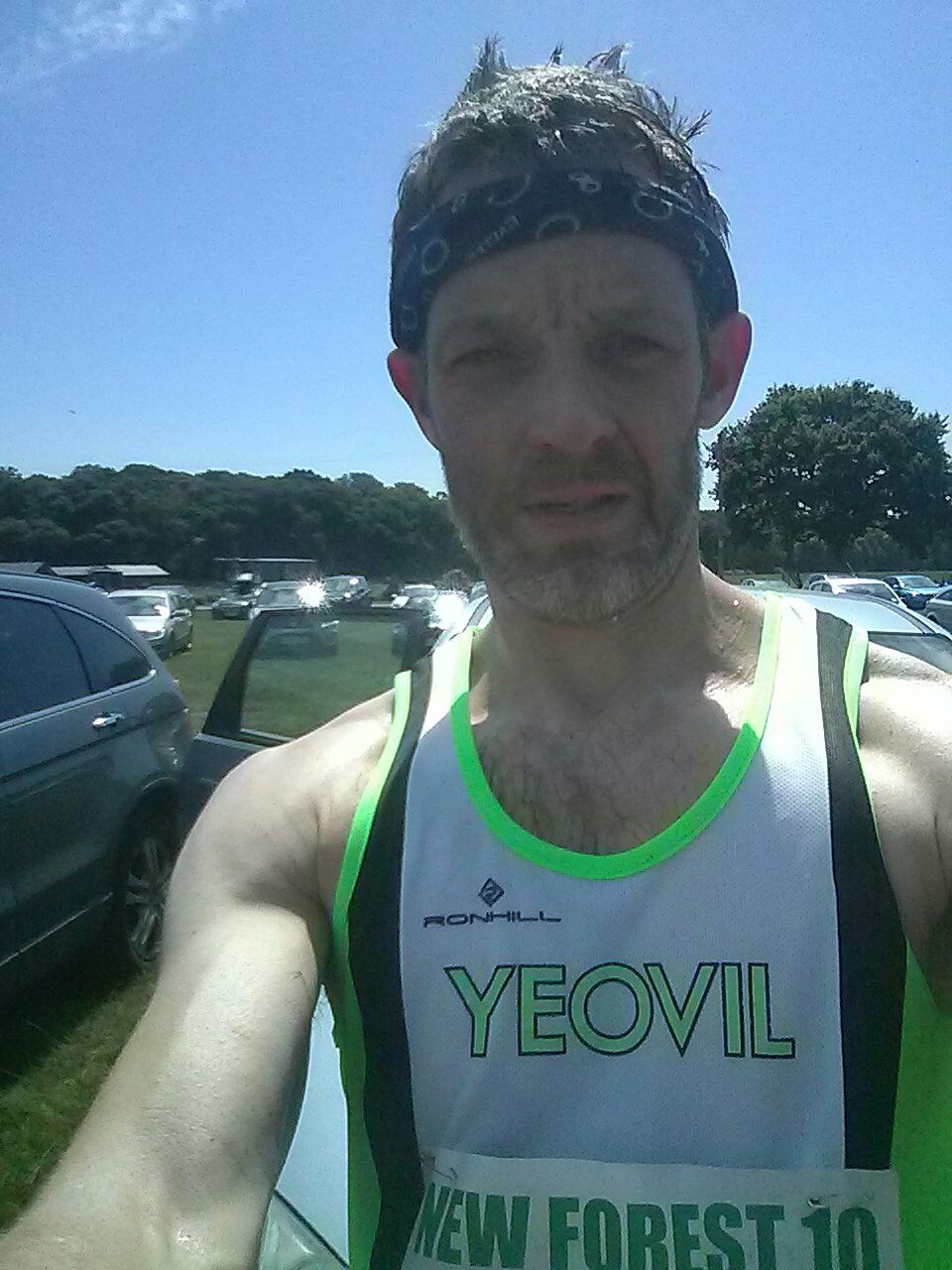 Brecon Beacons Fan Dance
Darren Atyeo was down in Brecon and posted:
"Just back from the Brecon Beacons fan dance race first vet and 3rd overall really happy. Very tough and very hot". Well done mate great running.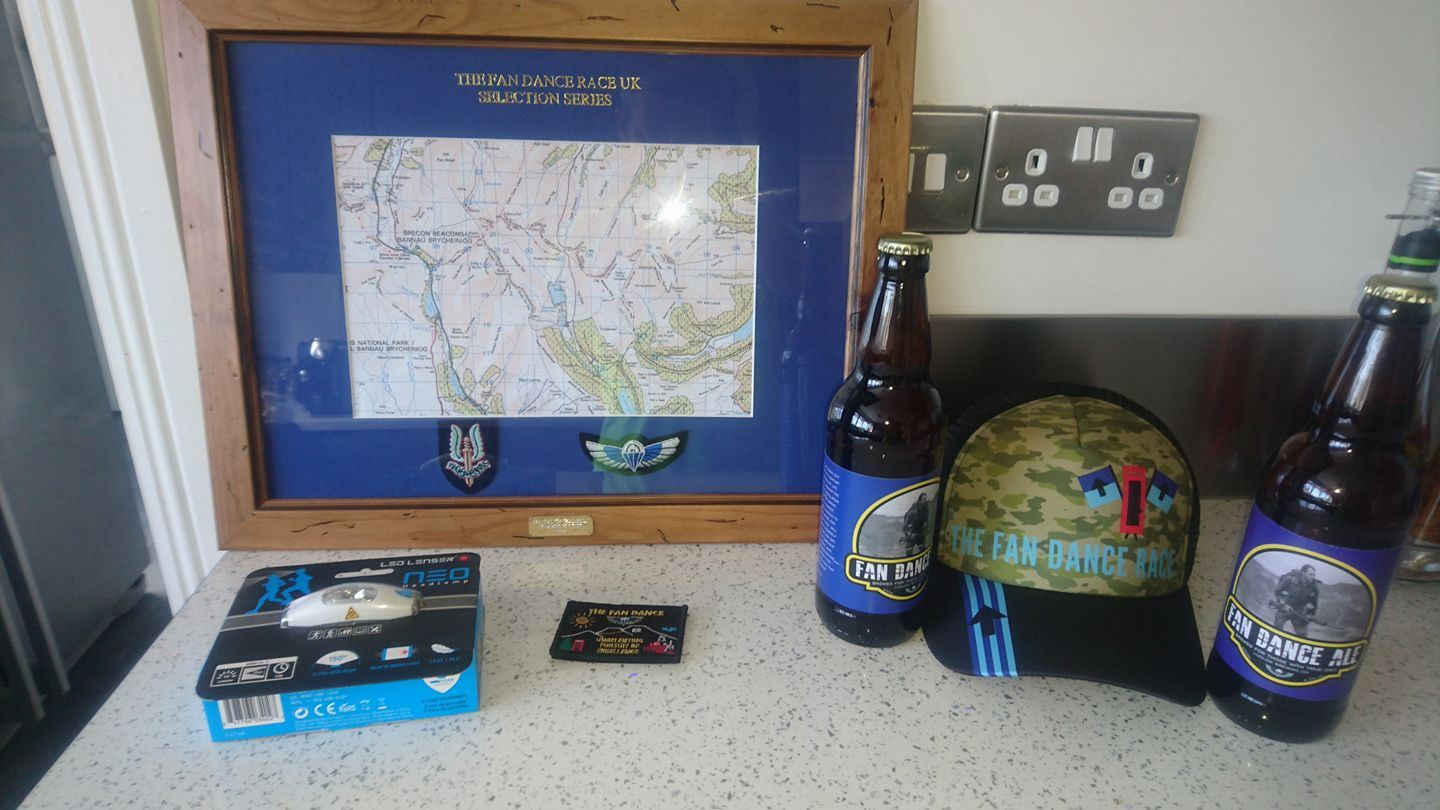 SOCIAL EVENT - Saturday 15th July
From Anita:
Club Archery Have a Go - 10am- noon (ish) Perfect for after a Park run, might even do some bacon butties afterwards (weather dependent!)
£15 pp 15 places only - guests welcome. Qualified coach, all equipment supplied. Between Crewkerne & Chard. See Anita for more details.
BRISTOL HALF MARATHON club trip - AKA herding kittens.
You should all have received your email from the race peeps by now. Although I am missing a few email addresses .. Tim & Richard I need yours before you can be given your token/code.
I have a list of those who have yet to sign up, Denise, John-Paul, Kat, Matthew, Joanna, Joanna, Adam, Louise, Michael & Stephanie. So, if you have not had the email let me know and I will contact the company.
Marathon Mike
An old Railroad Track in the Corn Belt
The weekend found us in the Chicago area for a 5 mile lap on one of our favourite old club runs, a single track, undulating rough trail in the woods, and a dinner reunion afterwards with old pals from the Arlington Trotters. It was a very nostalgic evening with lots of stories of past race adventures. The trip was also an opportunity to tick off another state as there was a marathon fairly close by, so next day we drove 150 miles to Dubuque which is a small city just over the Mississippi river in the state of Iowa. The state lies in the heart of the Corn Belt and produces a third of the nation's pork as well as a large share of its corn, soybeans and eggs. It's the biggest producer of ethanol (from the corn) an industry which expanded rapidly in the years of the $100/barrel oil prices to partially replace petrol. Iowa is also home to John Deere Tractors and there are several manufacturing plants scattered around the state.
Run4Troops is a small- town event, organised by runners for runners and raises money for local troops and their families in the Dubuque area. The organisation and the volunteers were very enthusiastic and supportive to every runner. Everyone we met from the area was friendly and welcoming. At least one army team in full kit and backpacks ran the relay. They passed me!
We picked up packets from Race HQ on Friday afternoon which included a voucher for a pre-race dinner at a local restaurant, and enjoyed good quality pasta meal and just ONE glass of red. The run was a point to point so the next morning we caught the shuttle at 5:30 from Race HQ to the start in a small town called Dyersville, which for film buffs is where Field of Dreams was made. The complete event had a military feel about it, a touch of patriotism which would be nice to see a bit more often in the UK. The whole course is on the Heritage Trail set in deep rugged woodlands from Dyersville to Dubuque and follows the corridor of the Chicago Great Western Railroad built in the 1880s to link Chicago, Minneapolis, Omaha, and Kansas City. It is a good running surface of crushed and compacted limestone and very flat with just a few long gently sloping grades.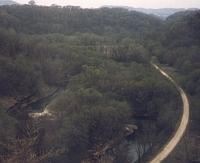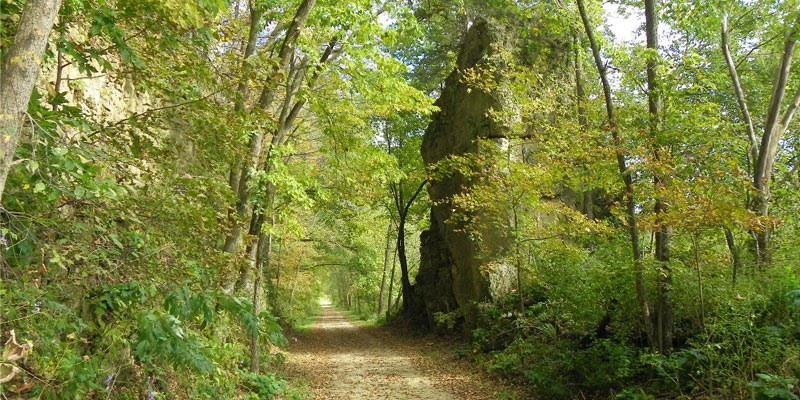 A local sang the national anthem, and then the race was started at 7:30 alongside an army tank by the firing of an old civil war cannon. A bit further on we passed a guy in a kilt playing bagpipes; it reminded me of the guy at the Grizzly. There were about 200 in the marathon and 1,000 in the relay, the latter started 30 minutes later to avoid crowding the trail.
The first 6 miles were on a gentle uphill slope in the sun across open cornfields which stretched for miles either side so we were already hot quite early. Fortunately there were no more up-hills and the remainder was mainly under heavy tree cover.
Side attraction in a cornfield!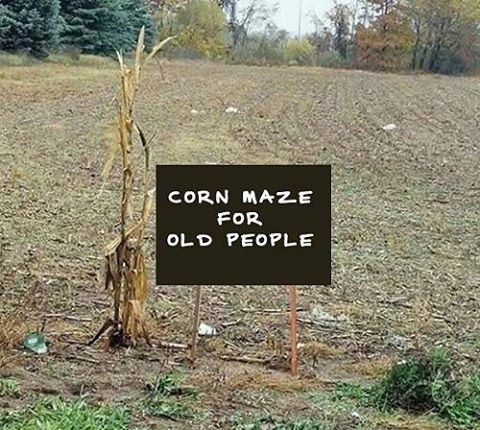 The trail was beautiful, passing through the deeply carved valley of the Little Maquoketa River, past a handful of small farming communities and old lead-mining and mill towns, with numerous river outlooks, sheer limestone cliffs, old railroad trestles and artifacts. Water and electrolytes were available at the 15 road crossings, and 3 jeeps continuously patrolled the course with fluids and medical aid due to its remoteness.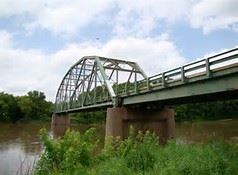 There was the usual after race party at the end with ample drink, music and food, including pizza straight from the mobile oven.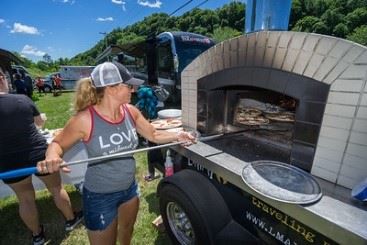 Overall it was a very enjoyable event in a lovely area, with friendly people and great small-town hospitality
Marks Runs
PUB RUN – SHERBORNE (6TH July 2017)
Sherborne means "Clear Water". From the pub (Teddy Rowe) we ran the gentle climb up Horsecastles Lane and crossed over at the traffic lights. For more than a mile we continued climbing up Trent Path Lane in almost a straight line until we reached the top (Checcombe lane track). Going down the opposite side takes you to Trent, but we turned right. This run tonight was sunny and warm. The track took us to the Marston road which we crossed. Another track took us past Coombe farm. We climbed more and descended. The track met the Sandford Orcas Road near the golf club. We turned right and ran back towards the town. Half a mile down the lane, we turned left onto a shady path. Another climb and the path took us to the old quarry which is now a park with some cliff faces. The final leg through Sherborne took us along Vernalls Road, Simons Road, Wootton Grove, North Road, Newland, and Long Street. A path took us past the front of the Abbey. We continued along Horsecastles back to the pub. The distance was 5.86 miles.
Released On 9th Jul 2017