Good Day at Farnborough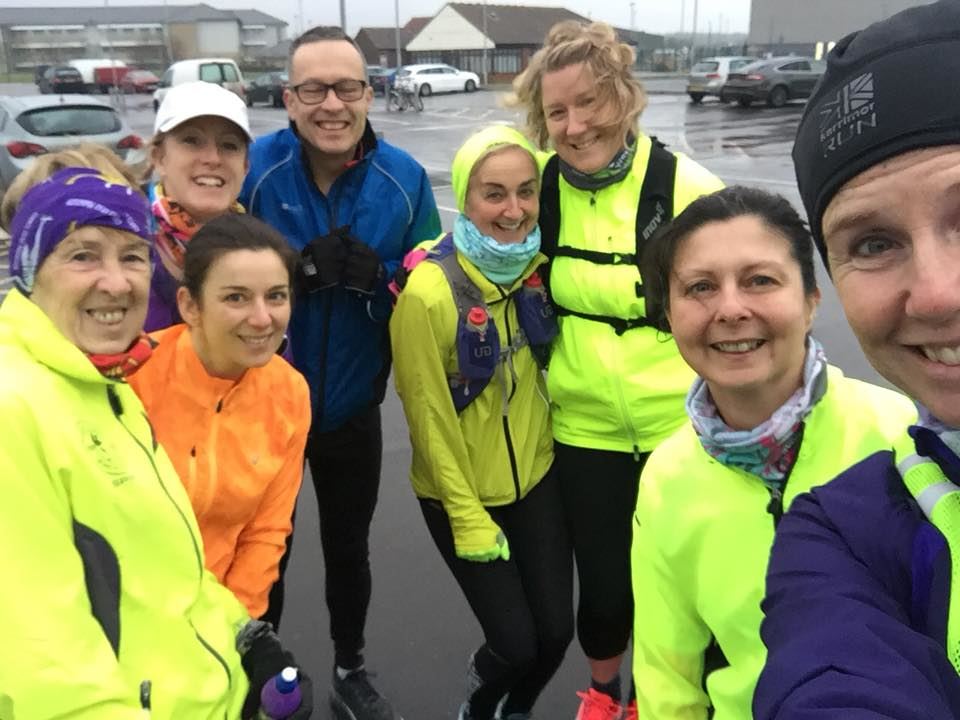 Farnborough Half Marathon
Today saw a few brave the rain and head off to Farnborough for the half marathon.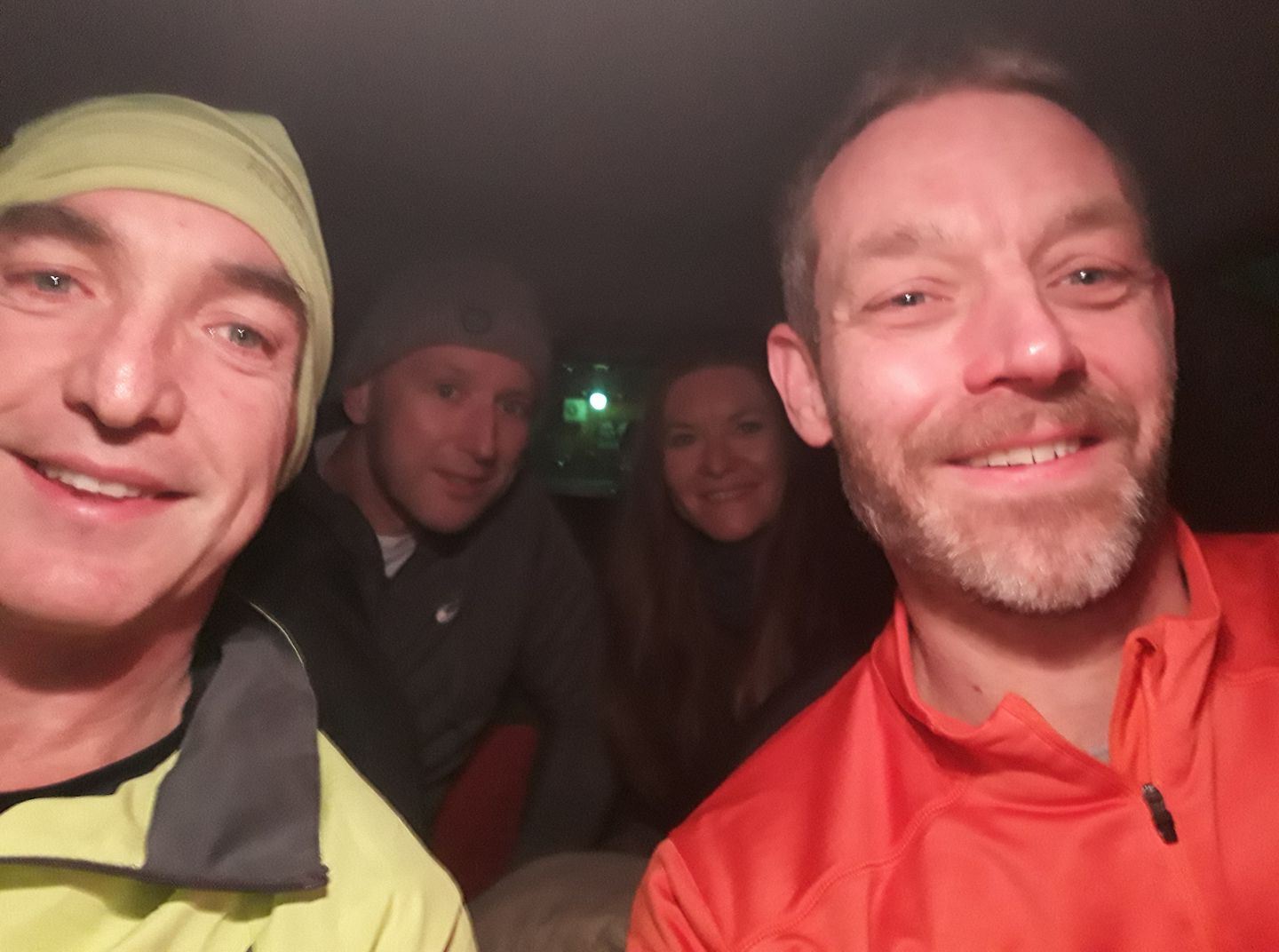 We planned a little excursion into Hampshire this morning Kevin Doherty Steve Lye Magdalena and Rob Thompson planning to meet Joanna Henley at event ... part of her London preparation. ..she was alone today without renowned fitness Guru Triss Samuel
😀. It was great to see Nicki Giuver and Simon Rowbottom too as Nicki plugs away at 50 at 50
Half marathon Challenge. It was absolutely Freezing and as we lined up it started to lightly rain.... we were off ... heading out of the business Park and probably with 1 mile it started to snow quite heavily more sleet really ... but along with a cold wind it proved challenging. .. this continued for 30 minutes ..this mostly flat route with a few inclines was enjoyed by all of us ( I think).
Some great performances today .. Steve Lye who had been unwell in the week only decided yesterday ( after a sub 20 min parkrun ) that he was fit to race... rewarded with a fantastic 1:27:17 PB. better by almost 2 mins excellent. Kevin Doherty was pleased with 1:35:27 to start the year off. Simon Rowbottom did 1:42:40 with Nicki Giuver in hot pursuit with 1:46:33... we come to our other Car Club crew member magdalena. .. wow she knocked a massive 5 mins from previous PB storming in at 1:46:41 ( needs to eat more Guiness Crisp). Rob Thompson who been out off action for a month or 2 agreed he needed a kick up the proverbial... he did fantastic with first race for ages and from limited training. . So an excellent 1:49:30 deservedly pleased with that. Jo Henley finished in 2:04:25 She was disappointed as she has better in her... I blame Triss Samuel for leading her astray
😀
😀
It's miles in legs Jo for London
👍
Winner was Max Costley 1:12:122
1st Lady was Phillipa Williams 1:18:39
Great road trip with the crew thanks for chat and banter ... it was great to get a few things of our chest. ... Phil
Sunday in the Rain
A few braved the Sunday run from RNAS Yeovilton this morning.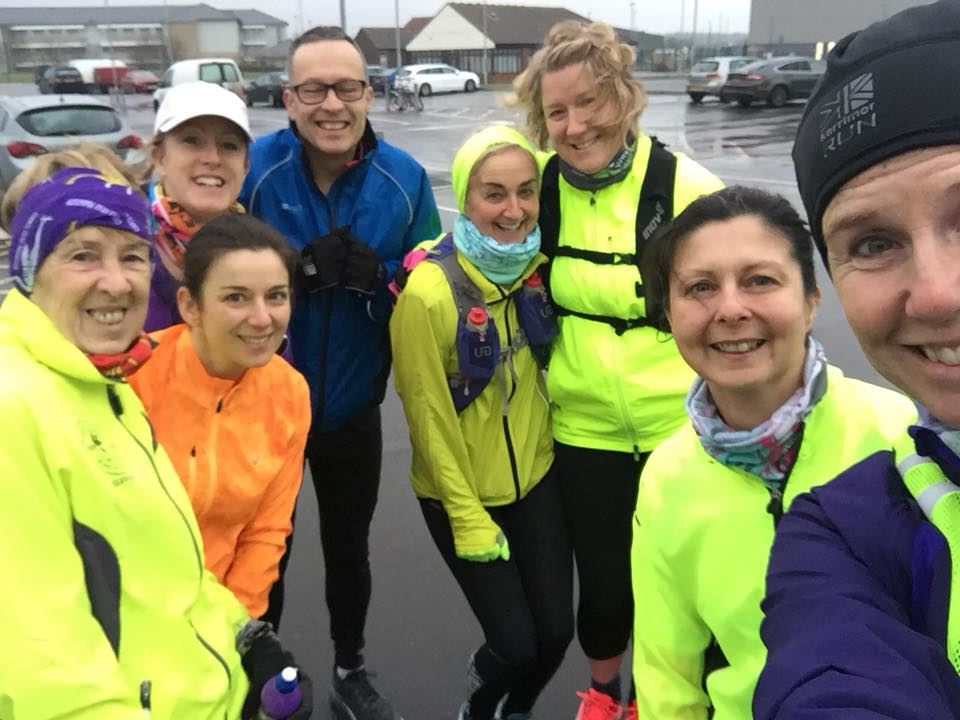 Pun Run Thursday 25th Jan
Menu for King William IV – Curry Rivel - Thursday 25th January
Starters
Pate, Breaded Mushrooms or Prawn Cocktail all £3.75
Main
Steaks £15.95 or £25 for two
– Black rock grill – rump, sirloin or ribeye [Please say which one]
– Hot Seafood Rock [Salmon steak, scallops, prawns]
2 Sausages, 2 Eggs Chips £7.05
Ham Eggs Chips £7.05
Omelette [3 egg] chips and salad £7.25 + 50p per filling
Battered Cod, Chips and peas £8.05
Plaice, Chips and peas £7.05
Scampi, Chips and Peas £7.95
Tagliatelli Carbonara £6.50
Sweet and Sour Pork and Rice £6.50
Homemade Chilli and Rice £7.95
Curries £6.50
with rice and poppadums etc £8.05
Homemade Chicken Curry,
Mutton Curry
Tai Green Curry
Beef Madras

Please let me know what you would like by Monday 22nd January
Email – adam.hawkins1@btinternet.com or text 07887 944823
Please note there are no SWEETS
Plym Trail Marathon
Saturday saw Paul Allen and I travel down to Clearbrook just outside Plymouth and on the edge of Dartmoor just up the road from 42 Commando Royal Marines, a place I have been hammered a few times and an area I use to run around a lot when I was 17-25 years old. The race starts in the Village Hall and then up a slight hill around a cone and then back down the hill and along the Old Railway Line now known as Drakes Trail Cycle Path. Drake used to sail the odd ship out of Plymouth in Phil's days.
The route is mostly flat and all on a good surface with some stunning views as you cross two ViaDucts and run along the Vally. Low key event with a Half as well and worth a trip. My rips managed to hold out and was pleased to just finish as this was my first long run since Thursdays Pub Run...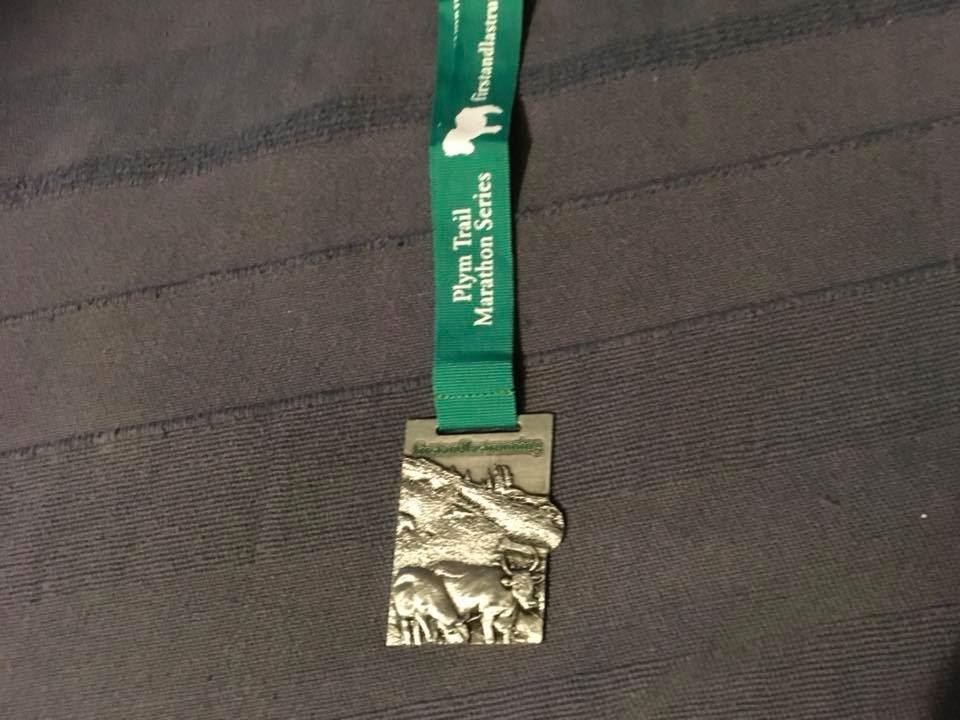 Buff Winter Trail Marathon
Buff Winter Trail Wales completed! Official time 2:13:14. Happy with that considering the weather, lots of snow, oh and the few hills they threw in! Well organised as usual and the hot mug of hot soup was well received at the finish.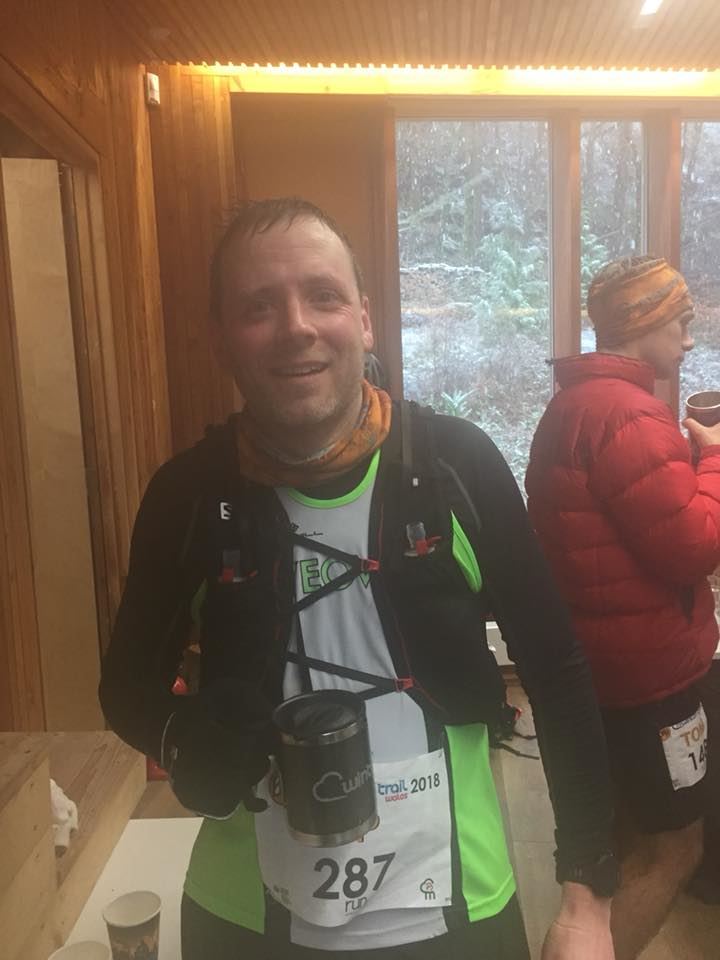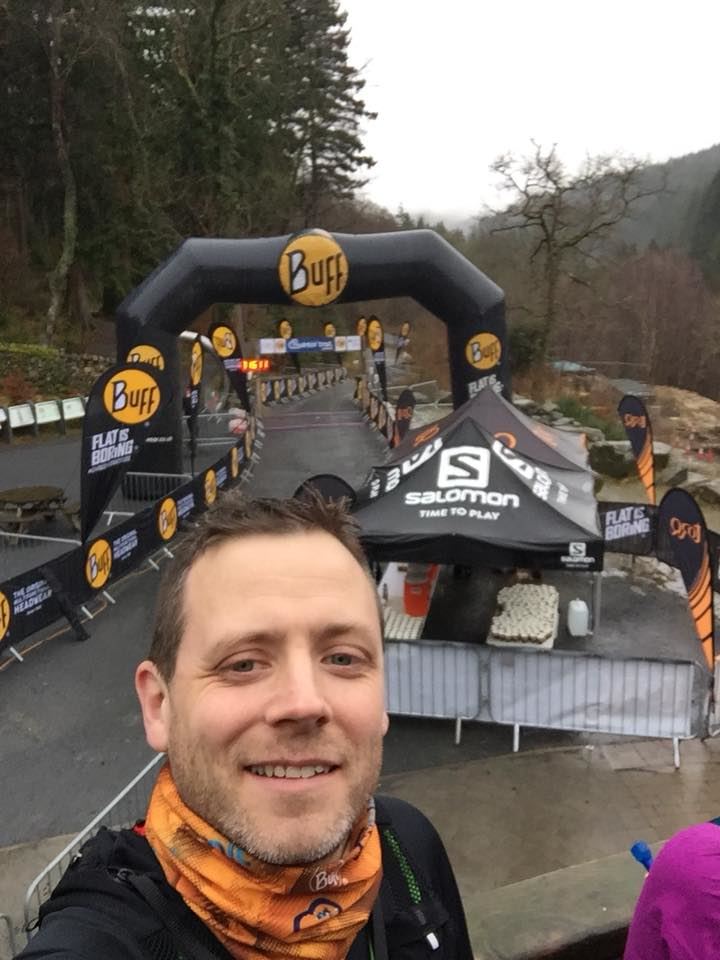 Emergency General Meeting
It is proposed that we add non-affiliated membership for discussion at the EGM that is on the Wednesday 7th Feb (before the Committee Meeting at St John's). The proposal can be seen here.
Club Championship
From Lesley: Please note that the Wambrook Waddle is on 20th May, not 13th May as original published on the list of Championship Races. Also don't forget the next Championship Race is Weston Prom 5 miler on Thursday 25th Jan.
Marks Runs
PUB RUN – KEINTON MANDEVILLE (18th January 2018)
While I sat in the car, waiting in the car park, the sky was deep blue with black clouds. Then just before we set off, the sky was clear. Orion was far to the south and the plough was far to the north. James led the bigger group on this, his pub run. We turned left, crossed over, then turned right to run south through the village. The lane took us in a south westerly direction. To the left we passed rows of bright lights with unknown purpose. A steep hump back bridge crossed the railway line where a mass of lights from the Naval Camp showed up in the distance 2.5 miles ahead. We continued to run into Charlton Adam and looped past the war memorial. We turned right and ran back up towards the church then continued back the way we came down. A cold wind blowing from the north, crossed our path as we ran up the lane. Then as we reached the village, light rain started. It was a quick pub run of five miles. Thanks James and all.
Released On 21st Jan 2018