A Year in Lock Down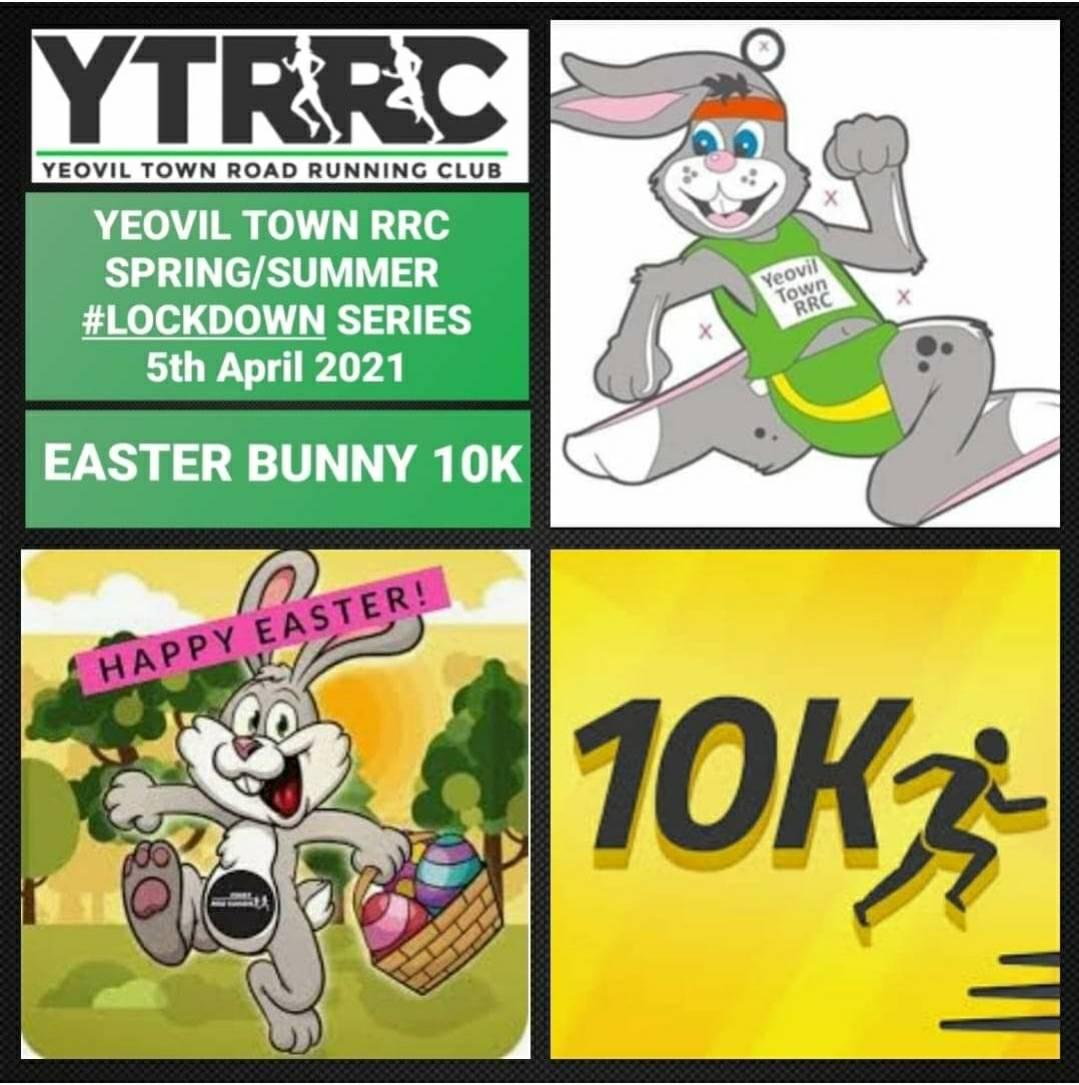 Were Back
Hard to believe that it has now been over a Year since this crap started but hopefully on Tuesday we meet up for the first Club Run of the Year. Please remember the Social Distance and try to stay within your group. See you on Tuesday.
Matt
We all had a shock this week when Matt posted he had been diagnosed with Prostate Cancer.
Matt has started a Just Giving Page and this is his story:
I'm writing this on a computer that sits below a broom handle strung with over 130 race medals. Assuming Covid allows, my next big race will be the Cardiff Half Marathon on Sunday 3rd October 2021, but it could be my hardest challenge yet.
I've recently been diagnosed with Prostate Cancer and while it is generally a treatable cancer, we don't yet know the level of success I can hope to expect. This charity has already been a useful source of information and comfort, so it seems fitting to try to support them, as they support me. They provide information online and in booklet form, as well as funding research, and campaigning for screening tests. It's a pretty scary time for me, and it would mean a lot if you could donate/sponsor me, and give me the inspiration to find the positivity to fight this battle - sounds corny I know!
Men! Go to prostatecanceruk.org and check out those symptoms for yourself - don't leave it too late - do it now!
Some of the posts from Club members, no names just the post:
Matt sorry to hear this and must be a shock for you and your family, I have a couple of family members with this who have had it for many years and have lived a normal life and have many otherwise healthy years ahead of them
What a horrible shock for you and your family Matt. Best wishes with the treatment and I sincerely hope to see you fit and well again soon. X
Sorry to hear this Matt, wishing to all the best in your treatment and recovery and training for Cardiff half
Luckily it is very treatable now. Wishing you all the best for a speedy recovery. I'll wear my prostate cancer vest with more vigour and hope.
Really sorry to hear this Matt. What a shock! Hope you have a speedy recovery. Take care xx
Good luck with your treatment Matt, always good to have something to aim for. Sending much love and best wishes. Xx
Sorry to read this Matt, hope the treatment goes well. Like Jon says, it's very treatable now and I have family members or friends that have had treatment and with much success. If you need anything at all, please just say
There was loads more and from all at the Club Matt hope it all goes well and we are all thinking of you.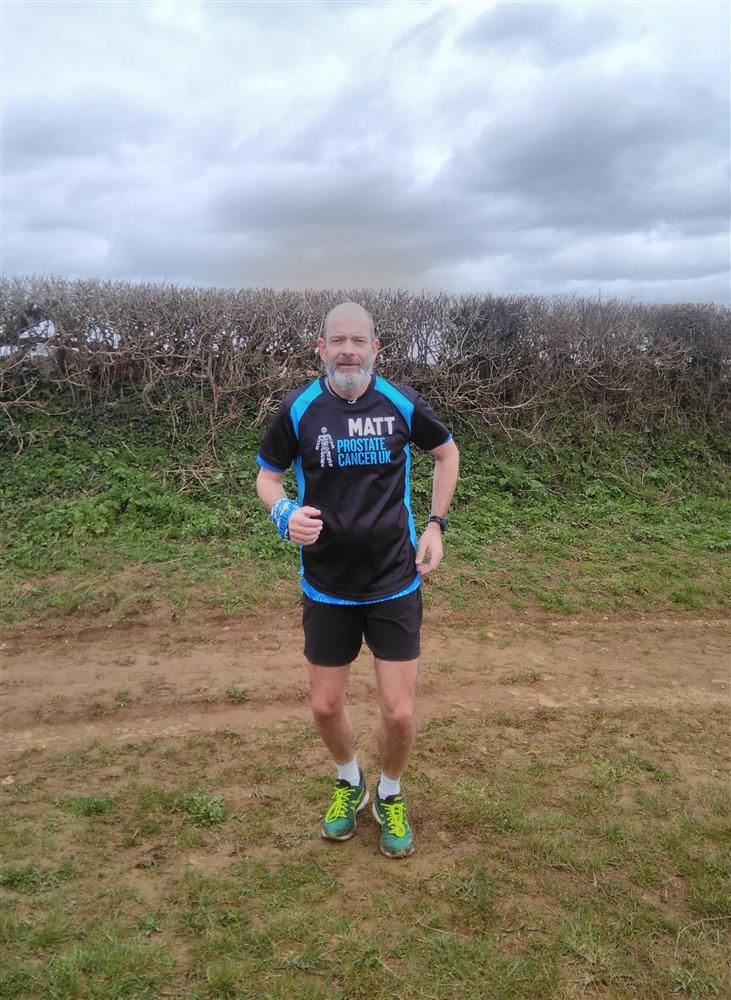 Somerset Running
From Sue: Sunday morning cross country with Frances Malin , across the fields in search of Bower Hinton, which I showed Fran a few weeks ago but apparently it had disappeared when she tried to find it on her own. You'll be pleased to hear it's still there, an enjoyable run and Fran was still on top form even having run 20miles yesterday, thanks for the company.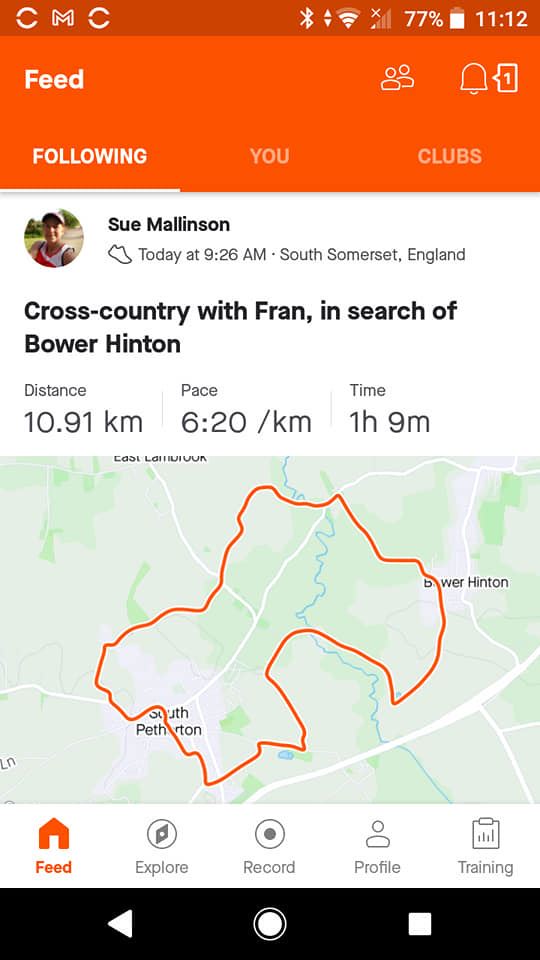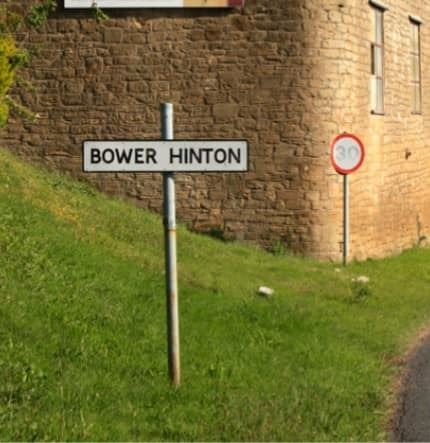 Meanwhile at Ninisprings there seems to a few Club members running down the Yellow Brick Road.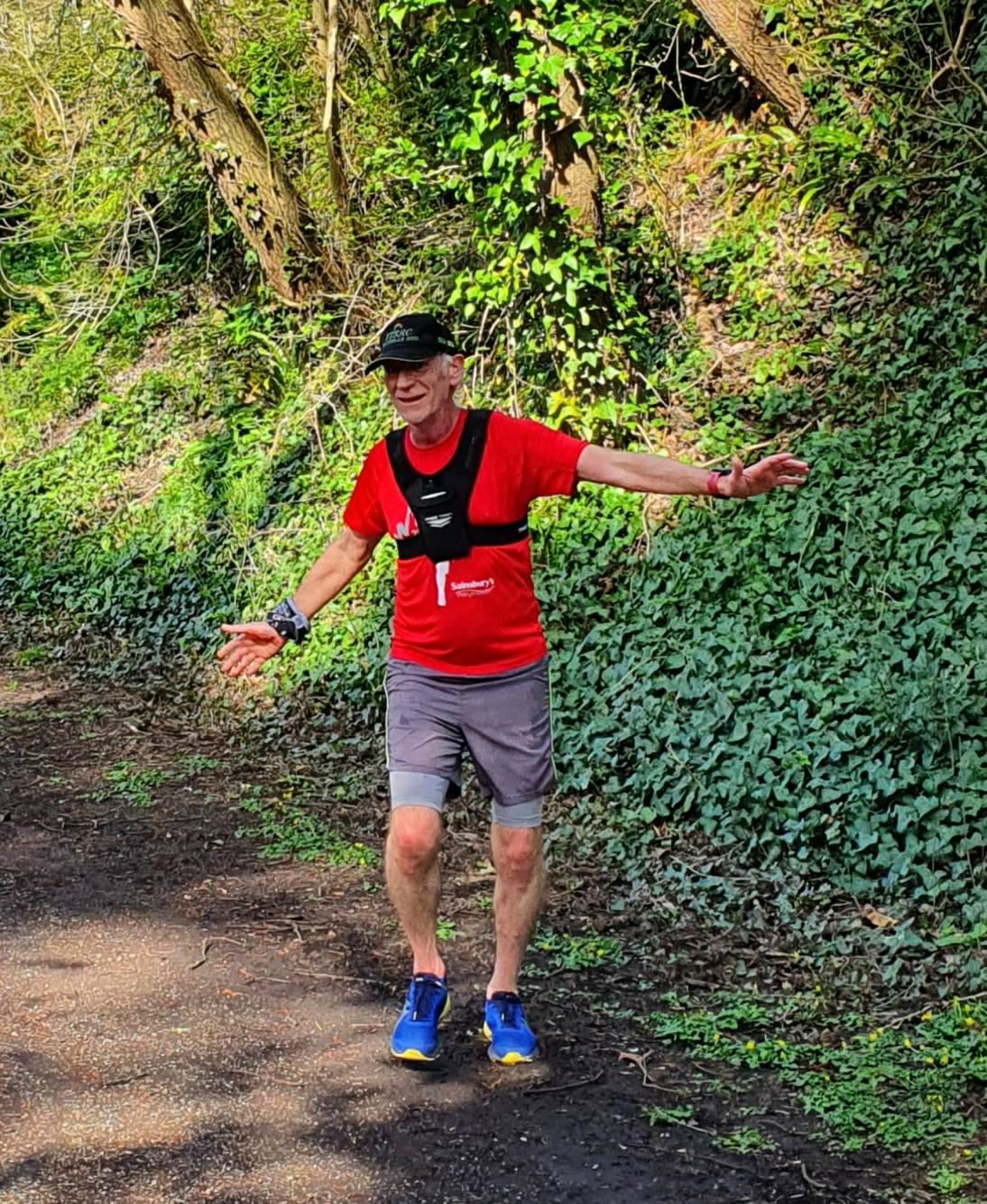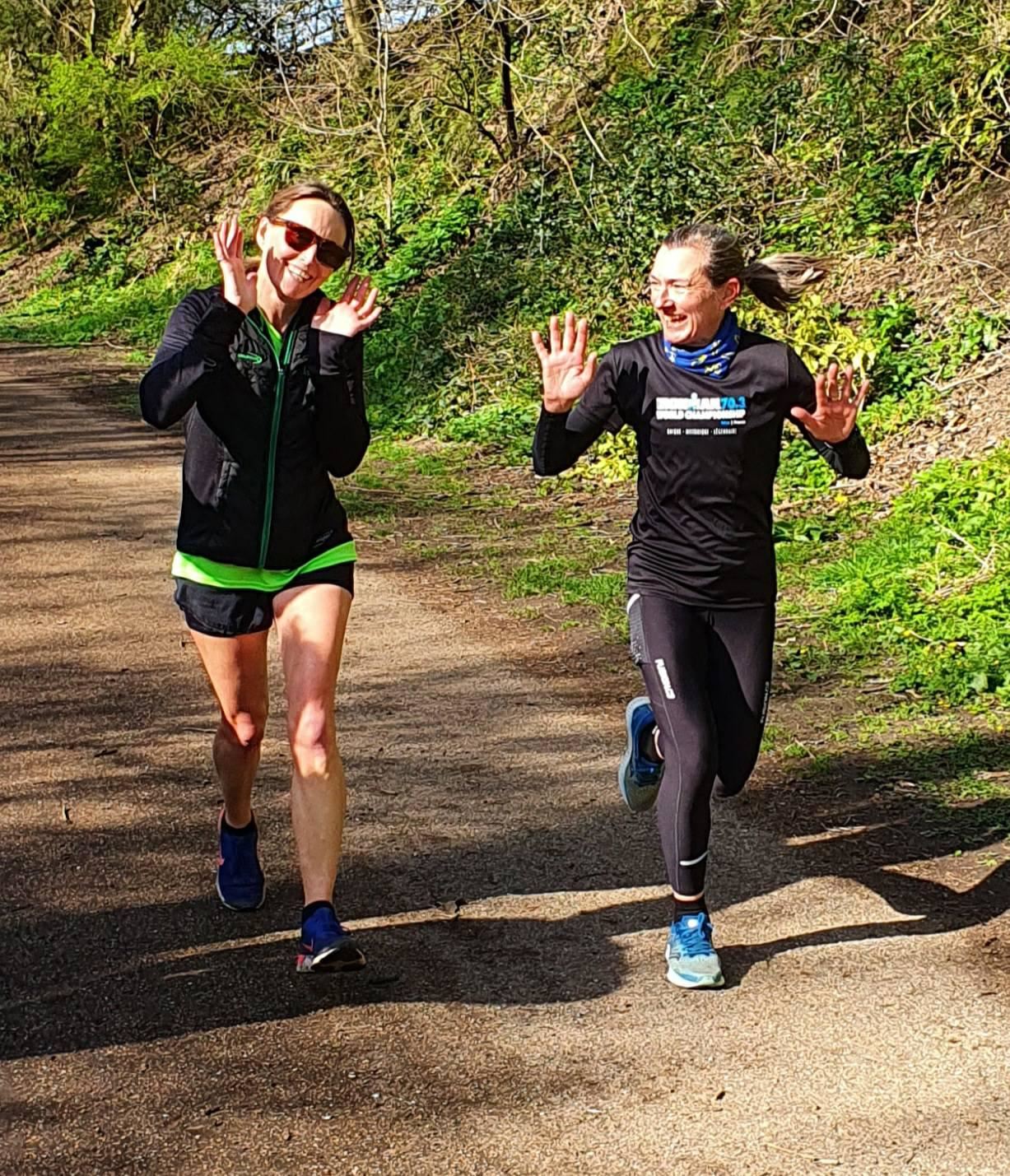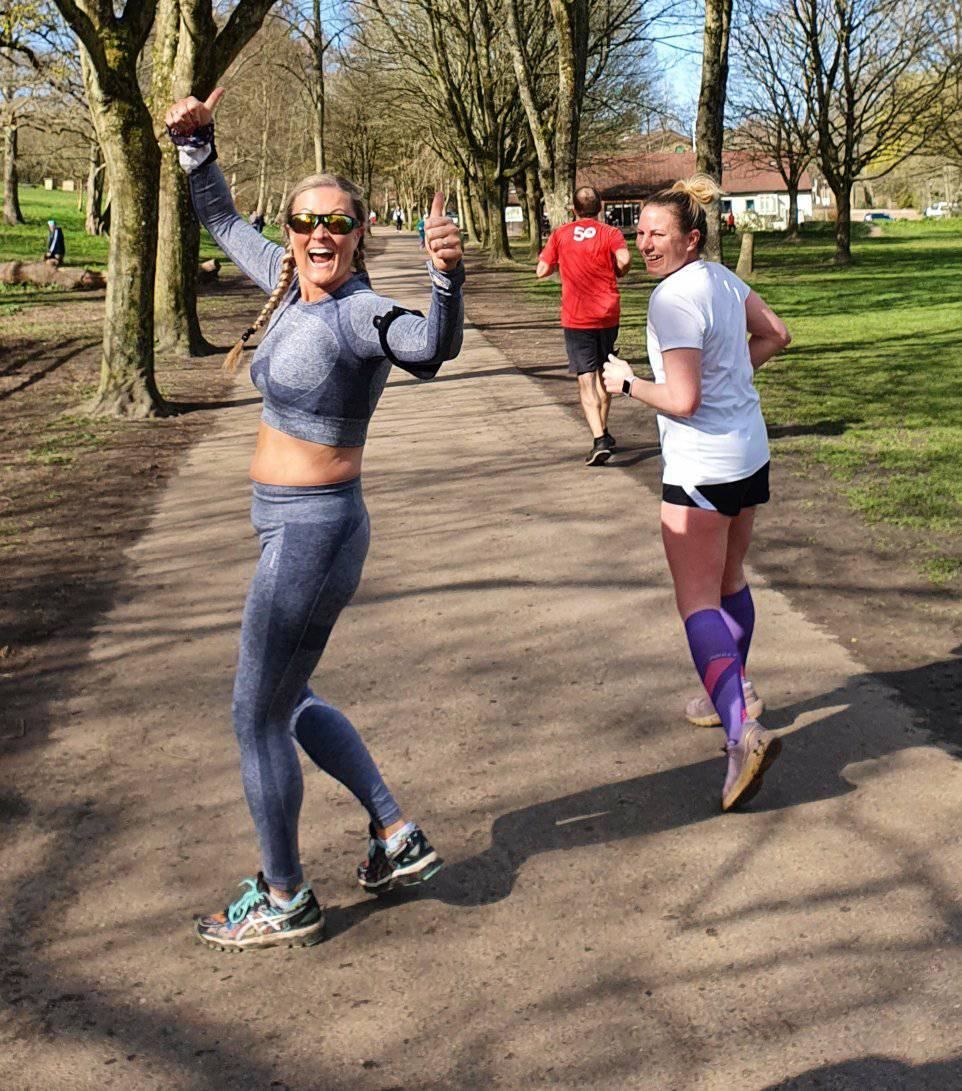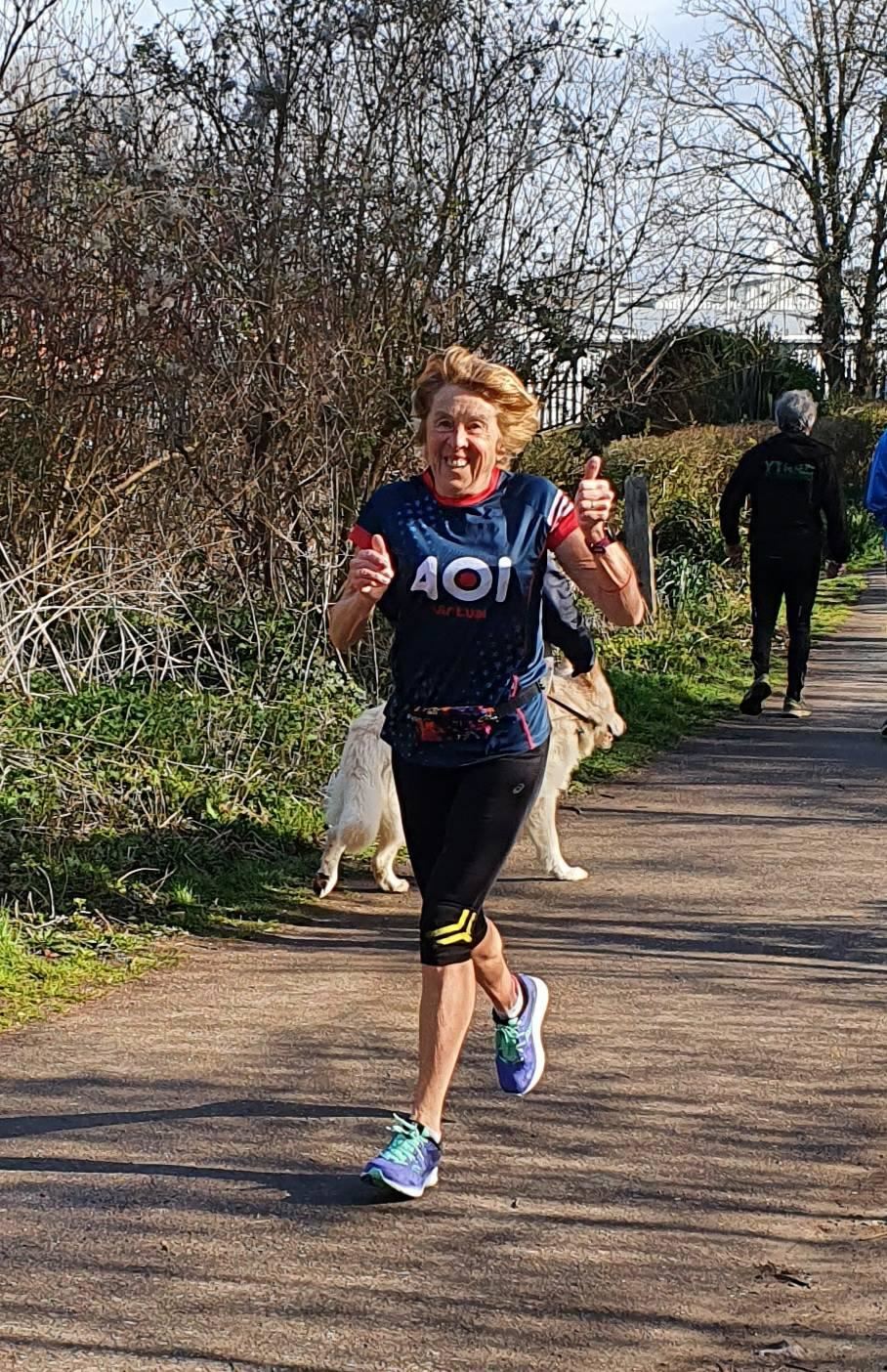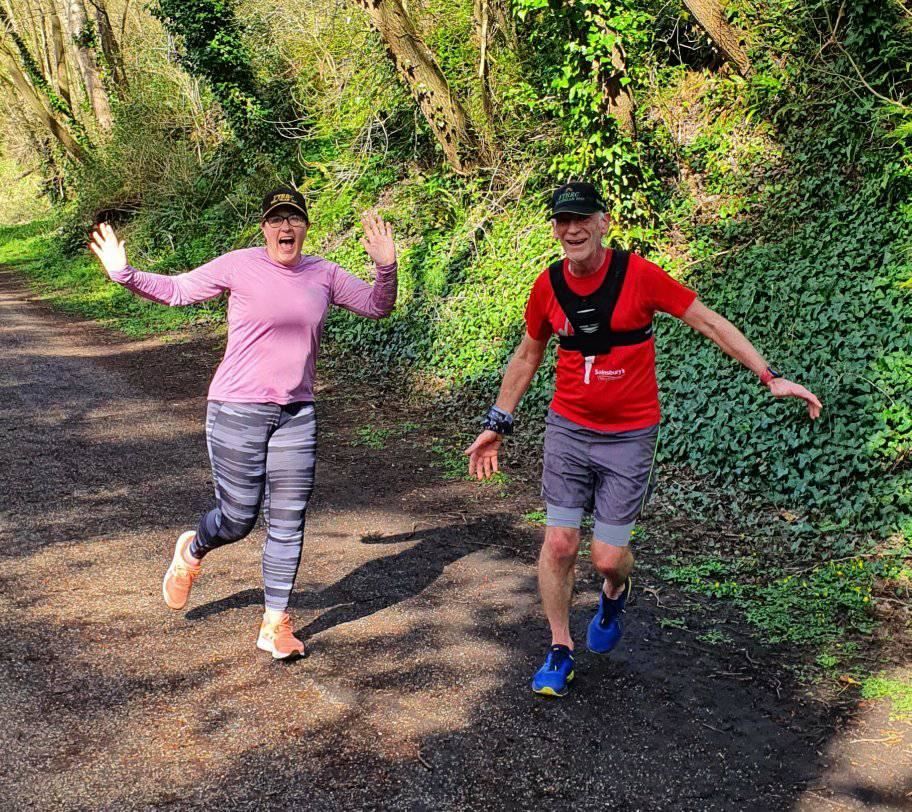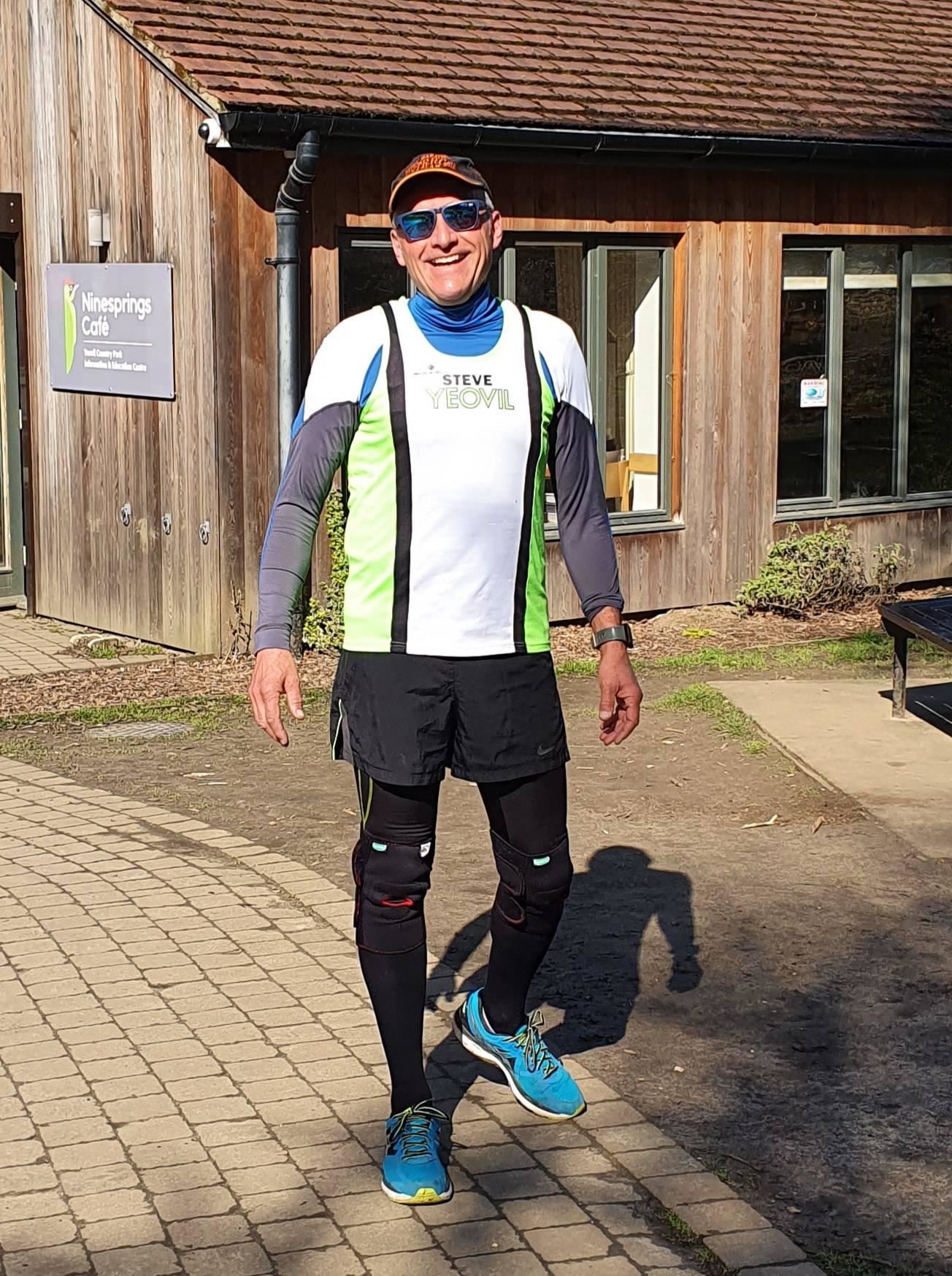 Thanks for the photographs Kev
Meanwhile over The Pond
From Marathon Mike:
The XTERRA Claw "Adventure"-Sunday 21 March 2021
About 10 of us from the local running club ventured off to do our first "adventure" race this year. It's a 10 mile trail/off-trail multi-terrain race that takes place in Alafia River State Park near to Tampa. The 8,000 acre Park is a former phosphate mine with small lakes and steep grades on the spoil heaps, popular with mountain bikers and runners who enjoy challenging trails. The south prong of the Alafia River is a blackwater stream that flows through the park and is bordered by red maple, swamp tupelo, and water hickory trees.
The whole race was on either single track, dual track, or no track, the route defined by orange markers strung to branches passing through dense scrub and grasses two or three feet tall. The single track in the scrub was on very uneven ground with continuous twists, rocks, tree roots and very muddy in places. Many sections were even difficult to walk on; some crawling needed to get under fallen trees and a lot of ducking and diving to avoid slaps in the face from low hanging palmetto leaves. About 150 people lined up for the start at 8:00am and we were soon onto single track which cause a bit of jostling and queuing in the forest. Around 2 miles we came to the first stream crossing which was just a waist deep wade in jet black water, more queueing = nice rest. There was a flat half-mile or so here and there on elevated ground around the lakes with nice views over open countryside. Some of the uphill banks required a pullup using tree roots or branches or grabbing at tufts of grass if none there. Some downhills we went down on our asses. At around 7 miles we had to cross a river, this time it was a 30 metre swim! We found out after the run that there was a nearby bridge option this year as an alligator had been seen in the water earlier in the week! It was great to be out on the trails again in a proper event after the 2020 racing drought. It was an enjoyable but very tiring event due to the terrain, an Adventure was the right description. I capped it all at 100 yards from the finish line with a trip on a rock and a fall in front of the welcoming spectators. Two others in our group also fell at other places. Everyone finished and we all partied on picnic tables afterwards for an hour with beer, prosecco and various homemade treats to eat.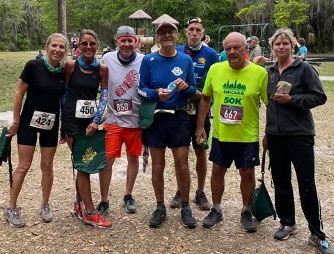 Virtual Running
SWCP Update
From Matt: We've made it past week 12 and whilethis week wil be an hour shorter (clocks going back) hopefully everyone will make good progress, especially with the Virtual Yeovil Half. Tristram Clark has moved through Westward Ho! on 89.60 while Angela Claire remains stuck on 93.63. Who will hit the 100 milestone first? Sara Driver has gotten her first postcard, proudly displayed on the fridge as she's on 109.75 having passed Hartland Quay. Kat Hurford is enjoying my favourite beach at Bude, on 122.15. And I'm liking Lauren Jessica's style as she has hit 130 miles, meaning exactly 500 miles left to go. I'm assuming she's pondering the enormity of the task from the comfort of the cliffs at Dizzard Point!
Nat Robins is still on 180.15 at Bedruthan Steps, while I've swepot past to be on 189.4 and surfing at Newquay's Fistral Beach!Oops! Almost missed Shaun Powell (how could I?), he's on 161.86 at Fishing Cove, Trebarwith...do you do any fishing, Shaun? Natasha Turner should have her 2nd postcard (Check that spam inbox) having reached Cligga Head at 201.1. Richard Clayton is making his merry way around St Agnes Head on 203.9 miles, while Nichola Chesterton has passed Ralph's Cupboard and might be trying the taste of Samphire from Samphire Island at 212.97miles.
Martin Alderman is looping around the Hayle Estuary on 224.85, while Nick Cox is bound to be at the Rosemergy Cream Tea Parlour, just past Commando Ridge! Namesake, Mel Cox is just ahead at 242.90 at Boscaswell, in sight of Mark Copping at 243.94, and Claire Shucksmith at 244.29, who is near the Bottallack Tin Mines. Rachael Gosney has reached Porth Nanven, just after rounding the exotically named Cape Cornwall on 246.91. Donna Reeves has rounded the next headland and is now at the Tater Du Lighthouse which was built in 1963 after the Spanish tradegy that was the "Juan Ferrer". At 261.41, Donna is just four miles behind Anita Garrett on 265.19 at Mousehole. Kate Gowers is at Praa Sands at 277.18, just down the road from Prussia Cove where we left the description last week. The lovely sandy bay at Praa takes us up some smaller cliffs than we've been used to; past Trewavas Head, Megiliggar rocks (Permian age granite), Porth Sulinces (an unreachable beach), until the town of Porthleven and its cosy harbour. More stretches of beach or cliff, depending if you take the higher or lower route, takes the SWCP to Loe Bar. This is a sand bank that divides the sea from The Loe - Cornwall's largest natural freshwater lake, given in trust to Cornwall by Commander Roger who gave it saying it must maintain its beauty for all with "no distractions", hence you are not allowed to fish, boat or swim in the lake! Without being distracted, Adam Hawkins has sped past to reach the fishing village of Gunwalloe at 284.88 miles.
More clifftop pathways follow as our South West Coast Path weaves in and out of rocky coves, like those at Poldu and Mullion, past the RN Airfield at Predannack, until finally rounding Lizard Point. Apparently named after the shape given by the off-shore rocks (you need a good imagination), this is the most Southerly point in Britain. Currently enjoying this spectacular headland is Sharon Hardy on 296.42 miles, and Sue Mallinson on 297.11! On her third postcard, Linda Membury is on 300.96 miles, having passed the Devils Frying Pan (an inlet where the sea rages during stormy times), past Cadgewith (a tiny forgotten fishing village), and here she is, taking a rest at Kennack Sands!
Very definitely heading in an Easterly direction, the following are all past 300 miles and on the way back towards the finish:-
Sandra Levett - 303.6
Marie Lockwood - 312.95
Louise Ward - 316.09
June Moule - 376.45
Casper Harvey - 383.91
Paul Thomas - 403.4
Lesley Nesbitt - 431.6
Tim Willis - 466.99
Andrew Holloway - 508.22
Bungy Williams- feet up at home, glass of wine in hand.
Well done all, keep progressing and we'll get there. Easter break soon, so loads of miles to come.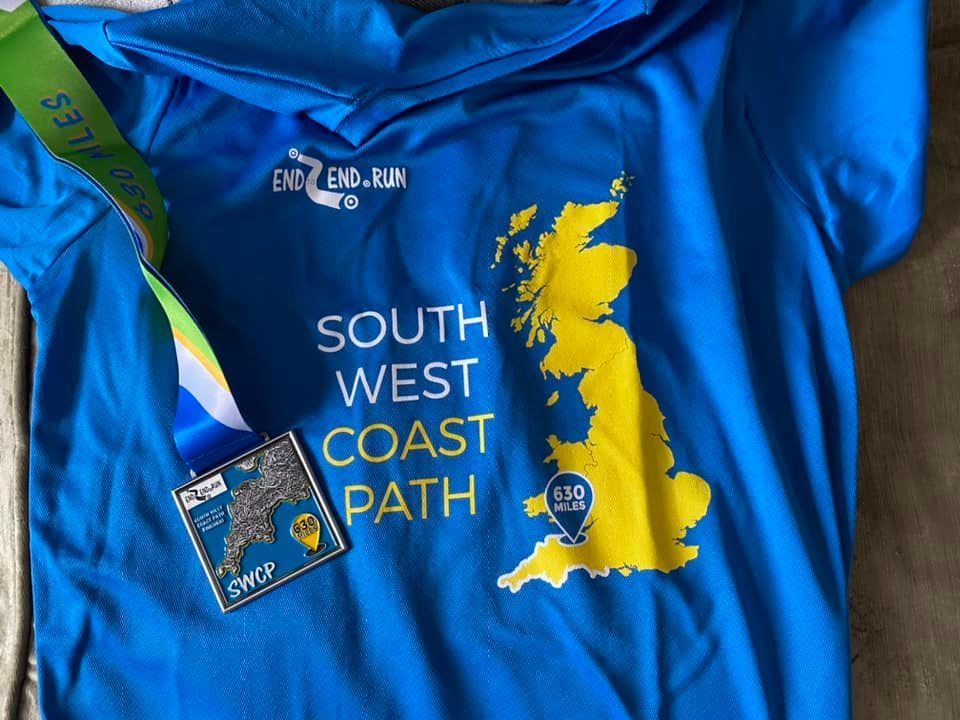 From Brian: I am doing the virtual Yeovil half marathon and on my virtual Route 66 i have reached Oklahoma. Well done Brian
Easter Bunny
From Kev: Just a heads up and guidance for next weekends " Easter Bunny 10k. Flexibility on when you want to do it. Run alone , pace a mate , race a mate. Run in accordance to lockdown rules ( could be 6) lots of photos on this page.
New members please do join in and say hi , I think 1 or 2 of you could be chasing PBs for sure ... but fun and mass participation is what we what ..
Yeovil Half
Today saw the start on the Yeovil Half Marathon, I think you have about a two week period in which to run the Half in one go. I decided to get it out the way and like a few other Club members ran it this morning. There were loads of runners out there today including a running bottle of beer.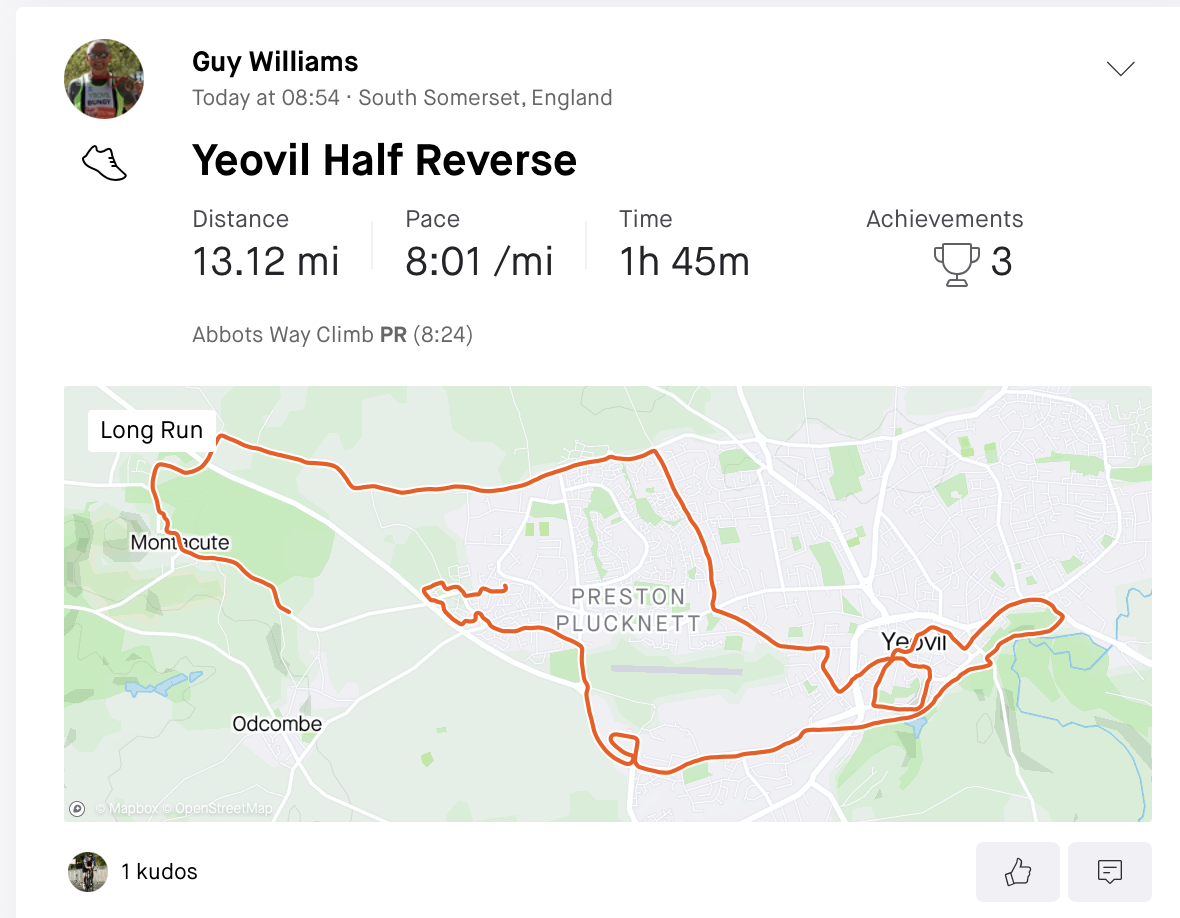 From Tryan: Virtual Yeovil half marathon done. Admirably supported at the start by Katie Stokes and last few miles by Diane Acton - Thank you both and to those runners I saw around the course well done.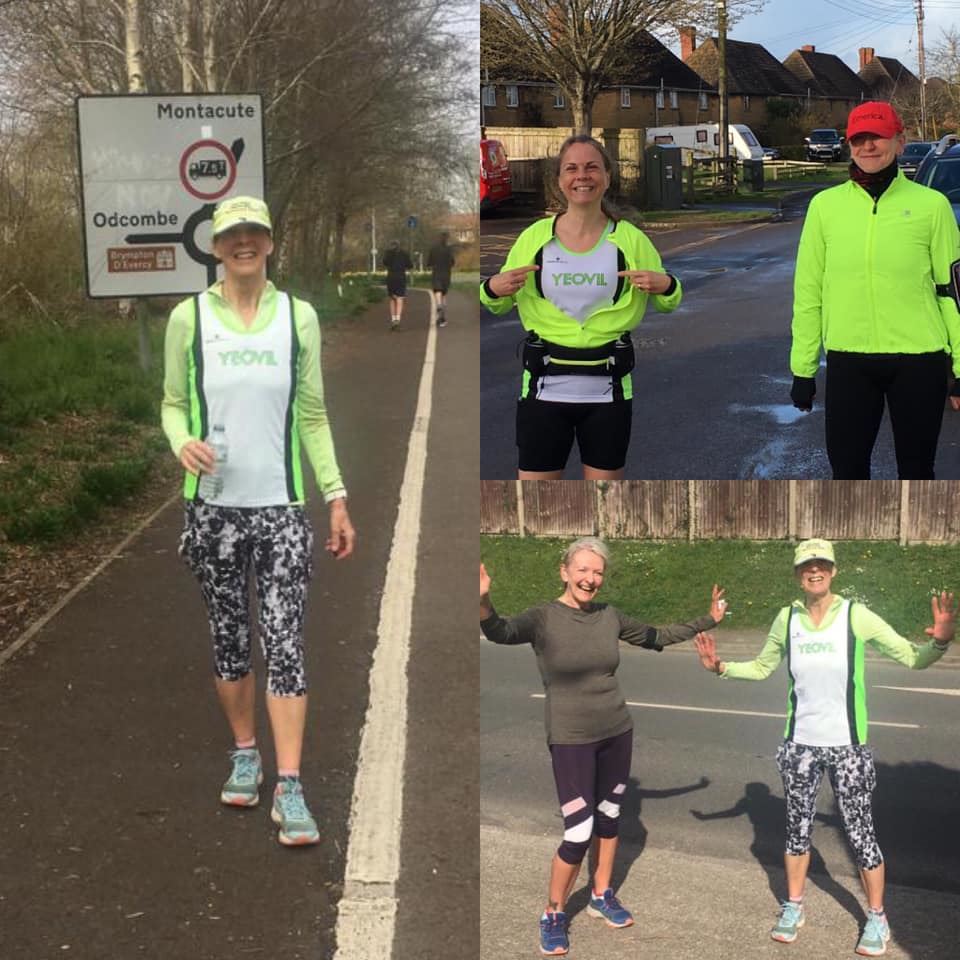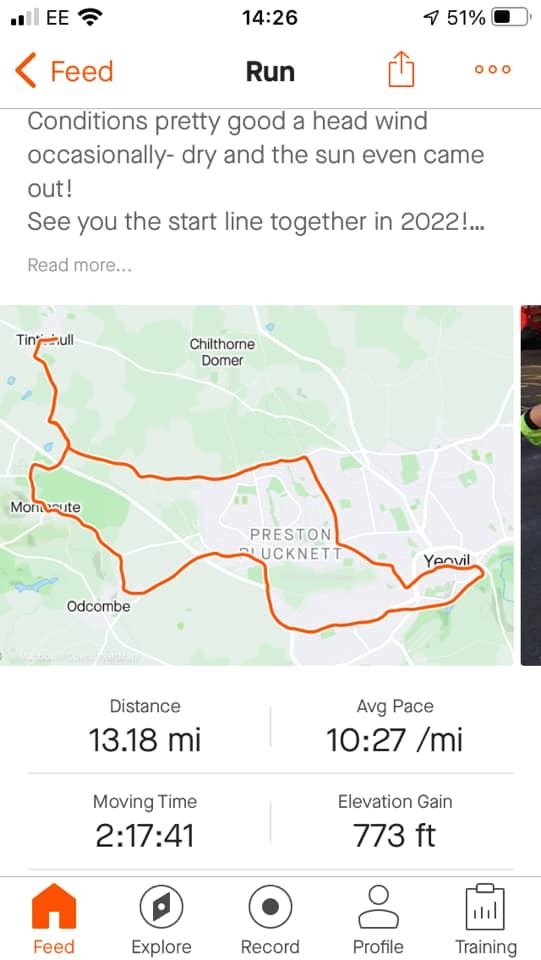 From Paul: Yeovil Virtual half Completed Missed the thrill of the race and an Awful head wind but pleased with time and nice to run somewhere different!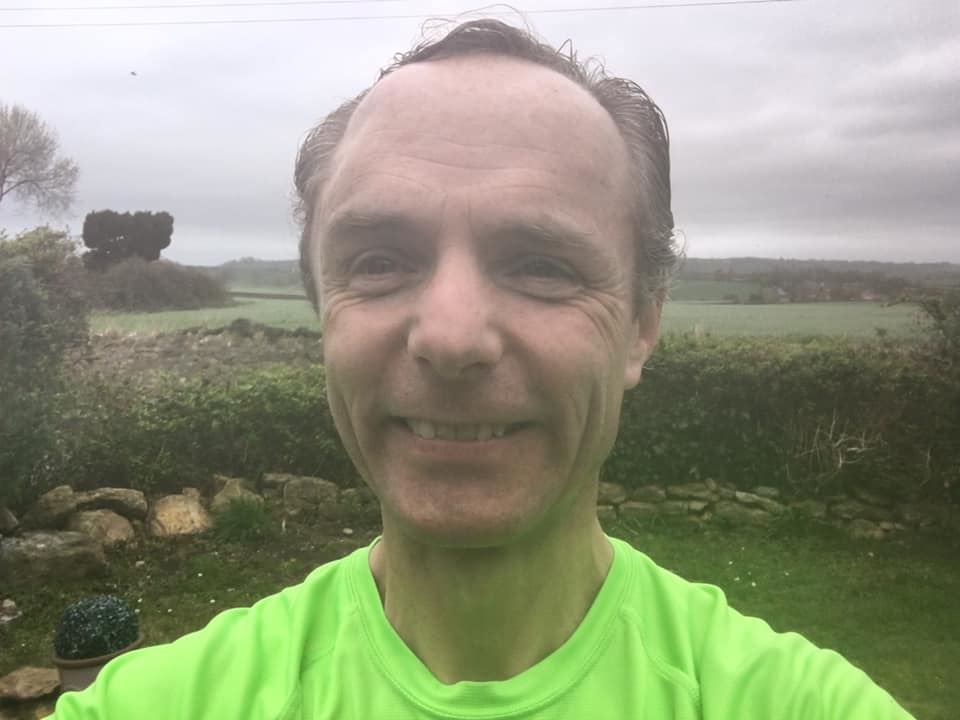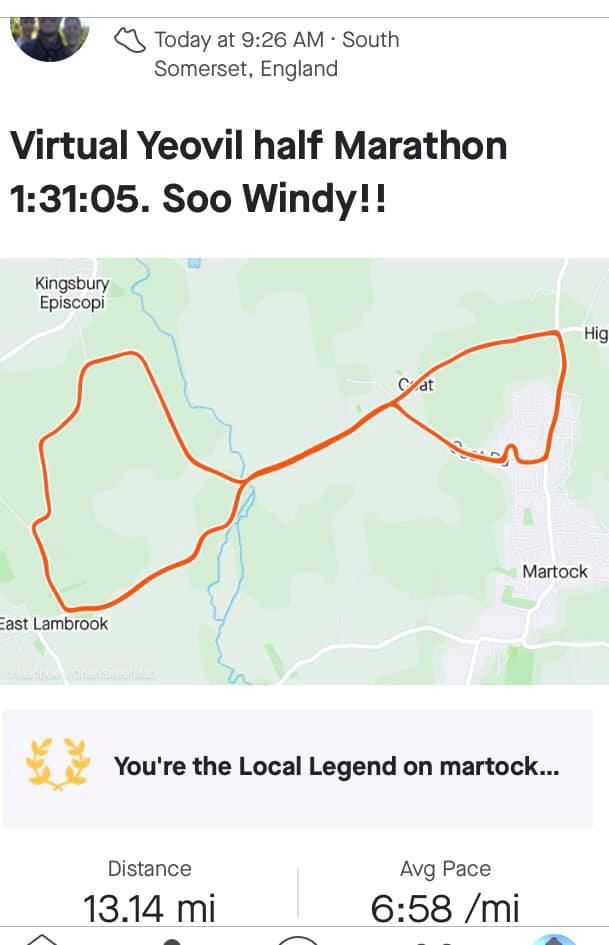 From Gav: Virtual Yeovil 2021 Half Marathon complete. Pleased with time, despite lack of runs in last 2 weeks. Nice to see lots of other runners out including some club members. Plus Linda doing some gardening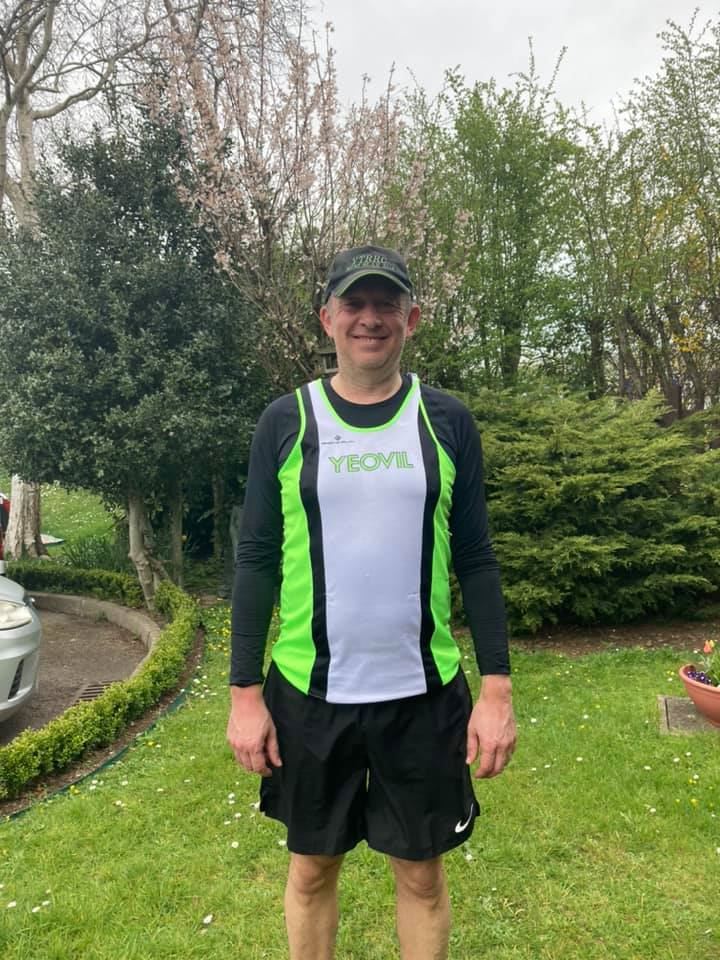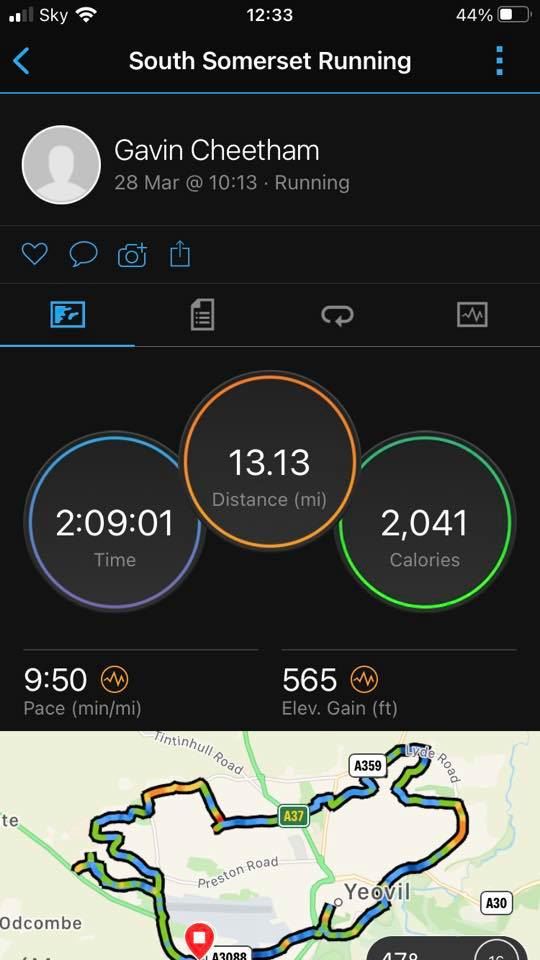 From Donna: Virtual Yeovil Half Marathon 2021 done, wasnt a PB as had stoppage time, one thing I've learnt today is I need to work on my core as my back really hurt. Lovely to see Louise, Mel, David, Alan, Joanna, and other runner even had cars stop and clap, also saw Claire on her walk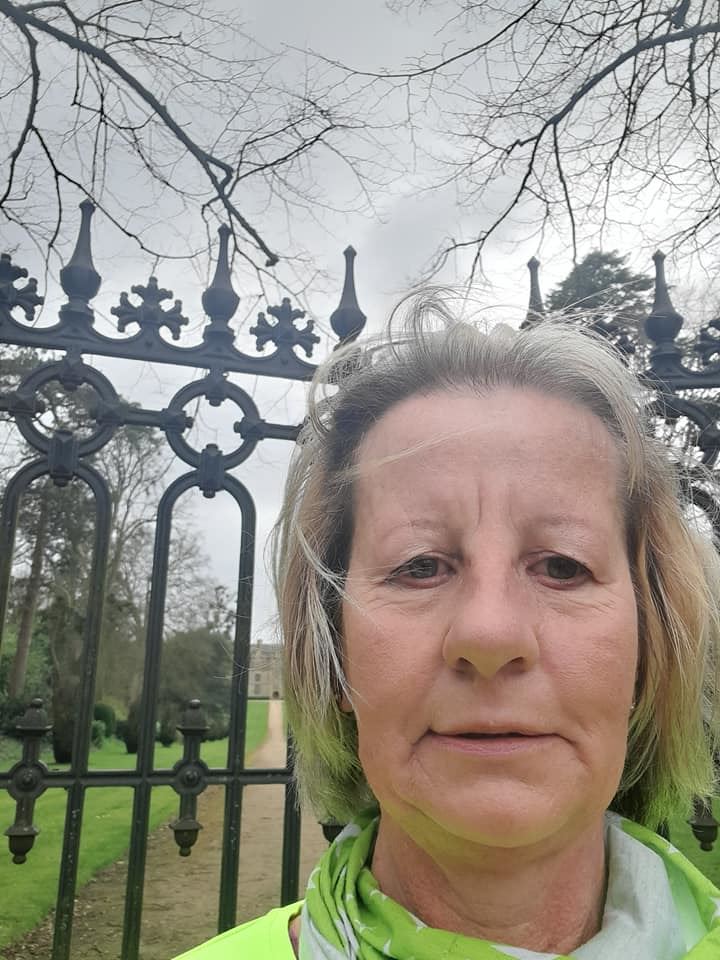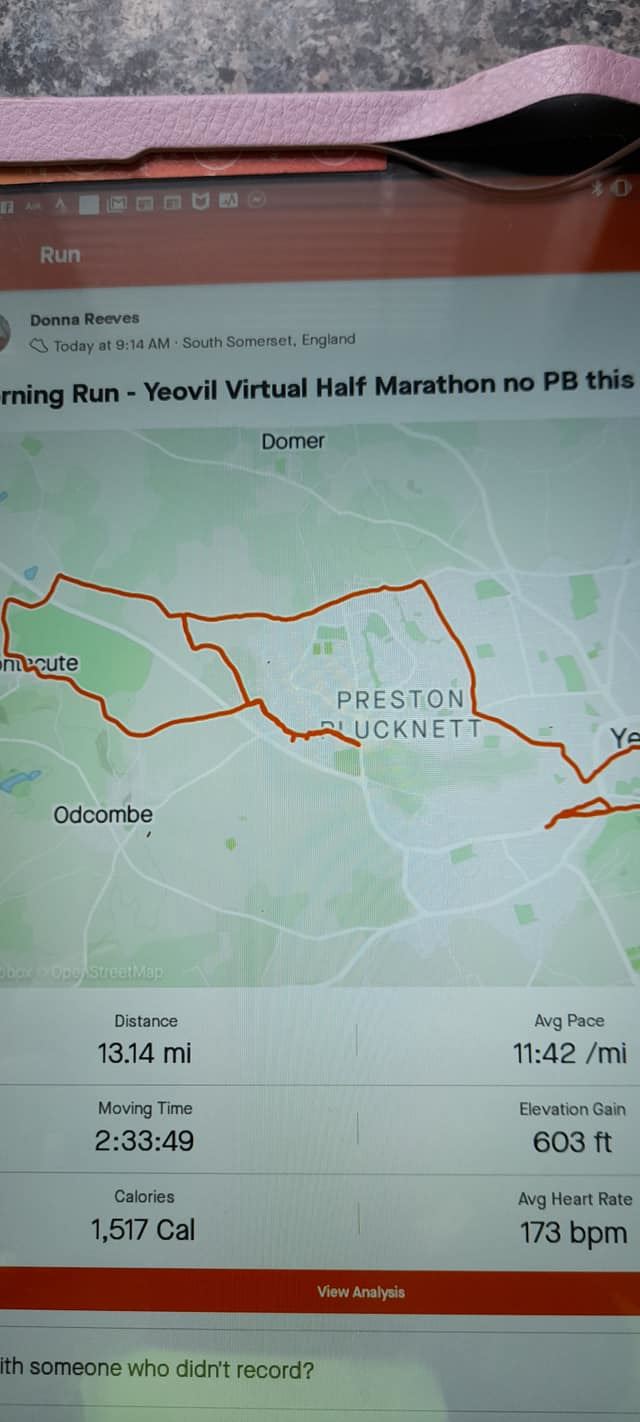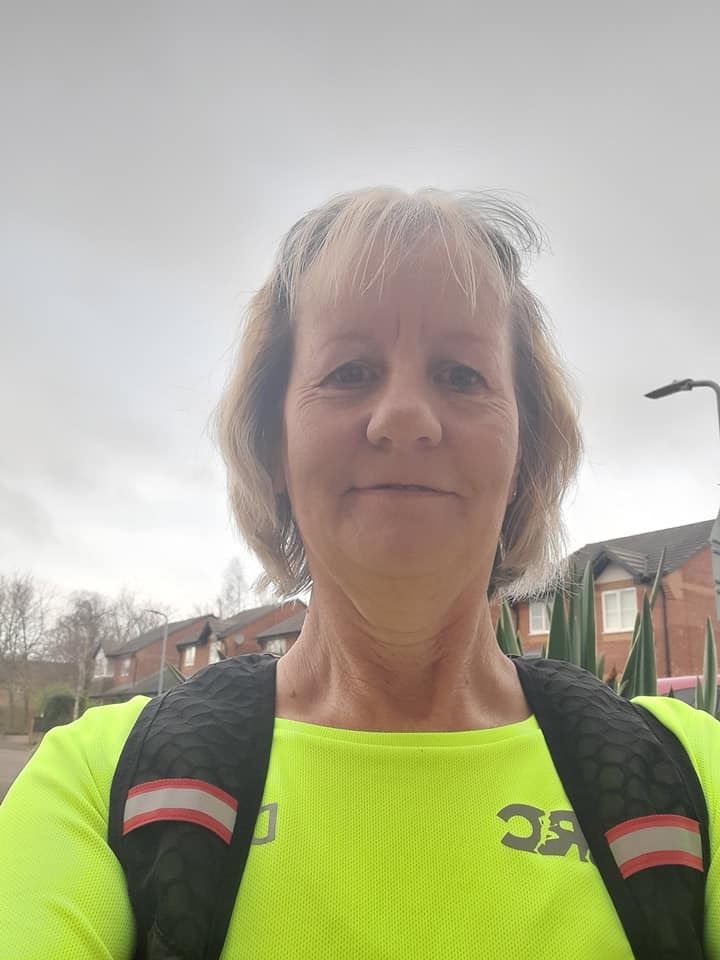 From Jo: Yeovil Virtual Half Marathon done. Great to see a lot of runners out, a couple of fancy dress runners too & several YTRRC runners. Thanks to Adam Hawkins for the toot - it certainly lifted the spirits while out on my own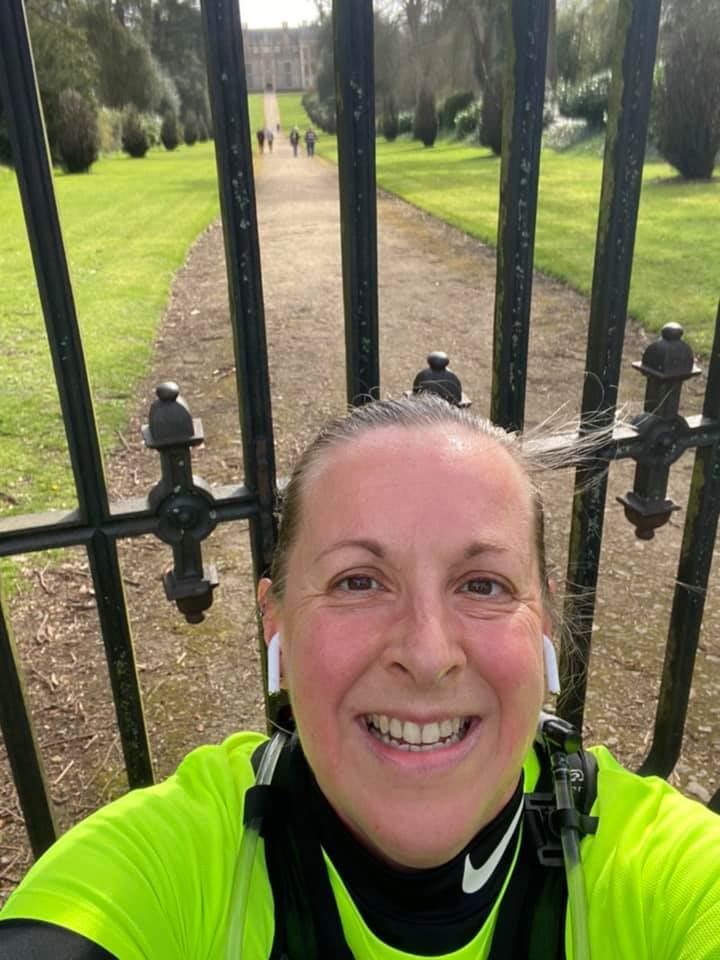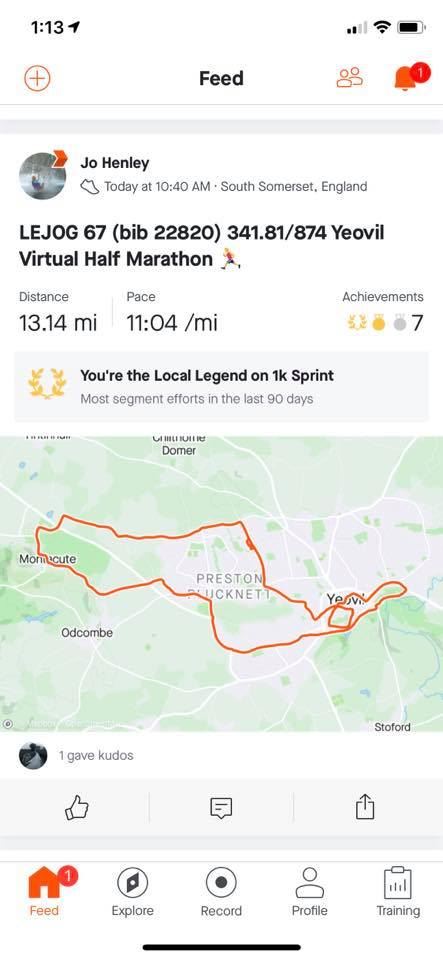 From Lesley: Helenand I completed the Virtual Yeovil half marathon this morning. The wind was cruel in places. I've decided Lockdown races are to be enjoyable, running at a comfortable-ish pace, stopping to take photos. In fact, I think that's the way going forward too. Well done to all fellow runners who ran it today and good luck to those running it before 18th April.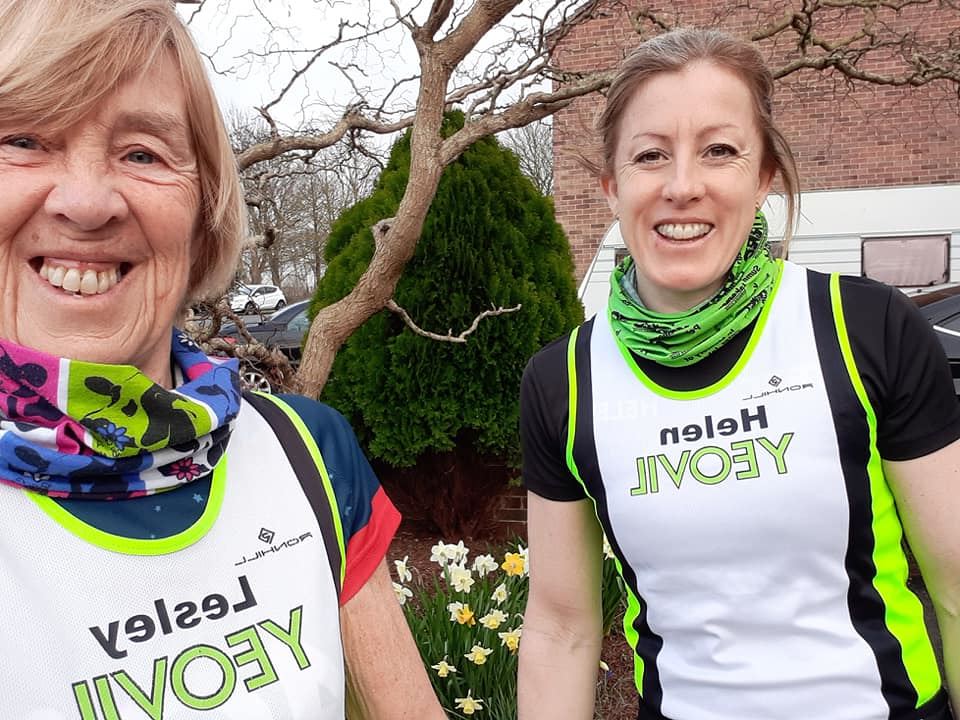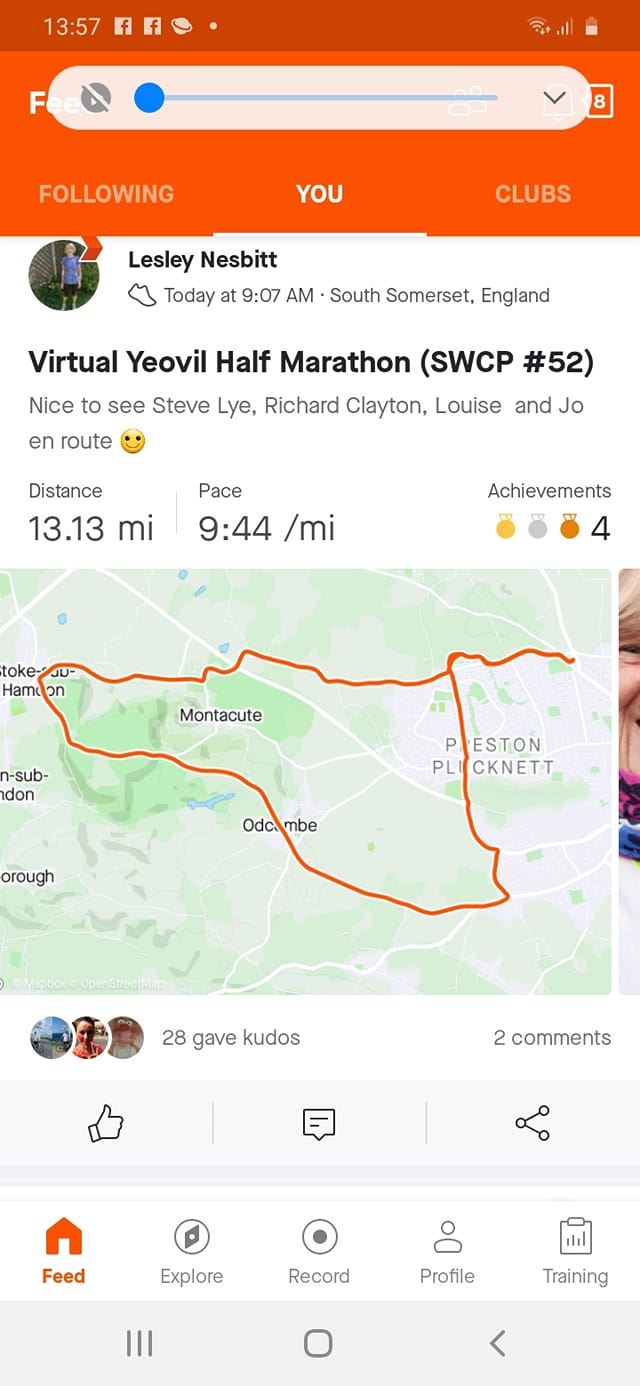 SWCP
From Donna:
Mid week brief for SWCP
Interestingly we have all stayed one or two places to where we were a month or so ago with the exception of Kate Gowers who has jumped 5 places and Nick Cox also 5 places Andrew Holloway 508.22 and is at Dawlish beech, I have looked on the beech cam but couldn't see you
Tim Willis 448.80 you have gone past Salcombe Lesley Nesbitt 424.80 left Falmouth on way to Worswell (never heard of it) Paul Thomas 397.09 you are heading out of Looe on way to Plymouth Casper 343.16 you have left St Austell on way to Duporth June Moule left Portloe on way to Mevagissey
Louise Ward 301.97 and Marie Lockwood 303.00 you both are at Coverack HarbourSue Mallinson 294.90 and Linda Membury 292.82 you are both at the Lizard, Sandra Levett 287.18 and Sharon Hardy 283.85 both left Porthleven. Adam Hawkins 275.04, Kate Gowers 266.53 Anita Garrett 262.08
Donna Reeves 261.41 have left Lands End and feels like we start again.
Rachael Gosney 241.39
Mel Cox 242.90
Claire Shucksmith 241.13
Mac 237.81
Martin Alderman 211.47
Richard Clayton 203.90
Nick Cox 214.97
Nichola Chesterton 202.30
Nat Robins 180.15
Natasha Turner 196.08
Matt Driver 178.30
Shaun Powell 147.04
Lauren Jessica 130.00
Kat Hurford 119.96
Sara Driver102.75
Angela Claire 93.63
Tristram 89.60
Not forgetting Bungy Williams who has spectacularly finished.
Released On 28th Mar 2021