A Sunny Cold One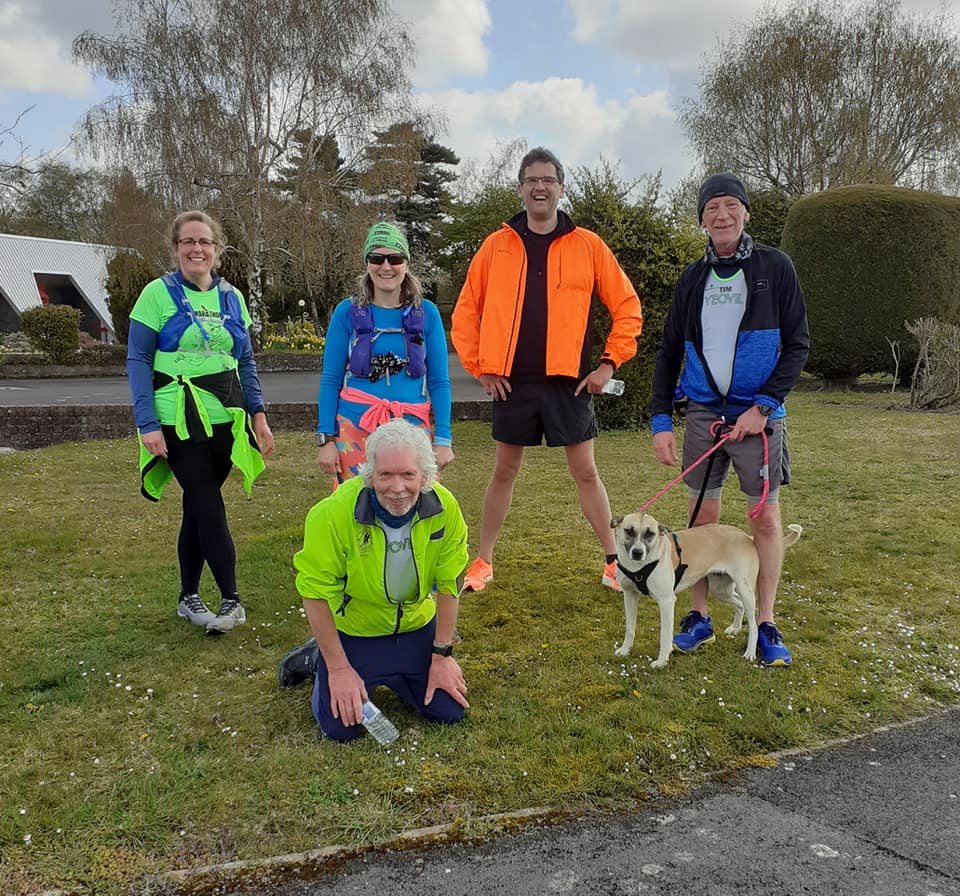 Track Night and Club Night
The Club run is at the Football Ground and the Track now has three Groups of 11 and will work the same as Tuesday bookings so book each week, please just try to stay in the same Group if you can.
Somerset Running
From Sandra: Yeovil virtual half all done!! Lovely to see club members en route and great excuse to stop for a moment! Thanks to Mel for sharing the mid section, actually, most of the half with me. Most of the actual route, with some off roading to avoid the main road into Montacute.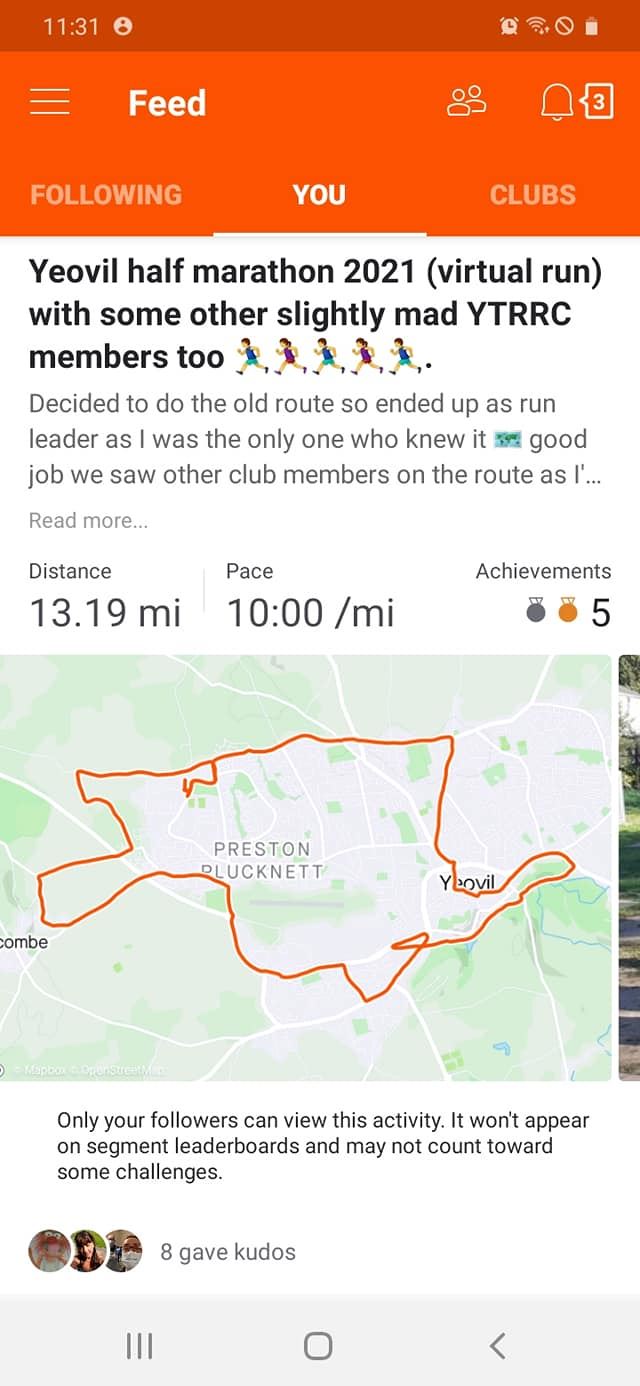 From Anita: Well this morning saw 5 hardy YTRRC club members meet up to complete the Virtual Yeovil half marathon. We did the original route with a few tweaks (due to access issues) and as I was the only one who actually knew the route they had to stick with me whether they liked it or not. I'm glad we saw some other club members on the route as my skills as a group selfie photographer are particularly poor! And lovely to have our cheer squad appear near the end of the route too. So that's it for 2021, let's hope that we can all complete it for real in 2022. I just have to work out how to send the evidence to the organisers now, that might take longer than completing the route.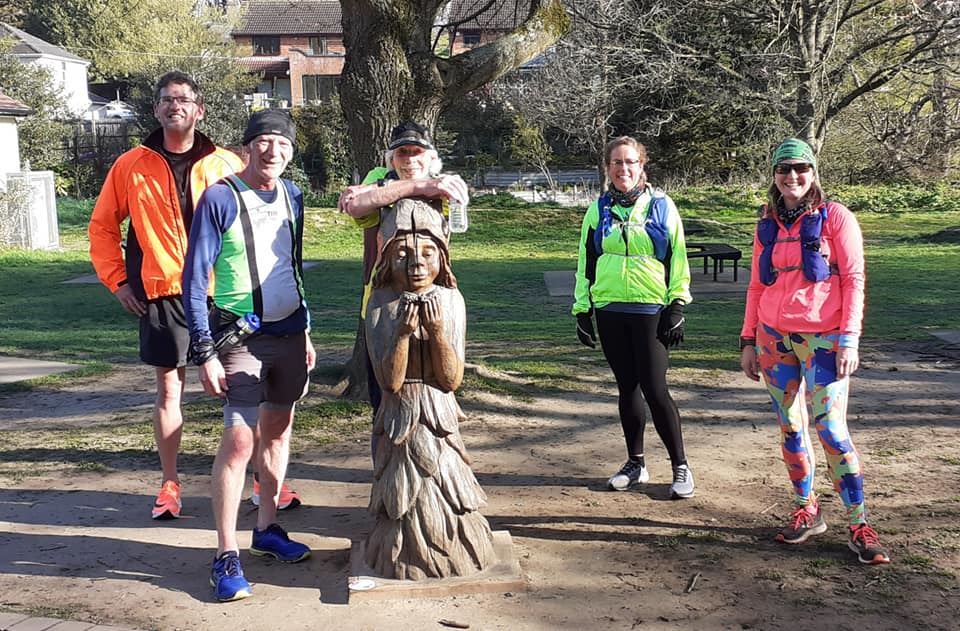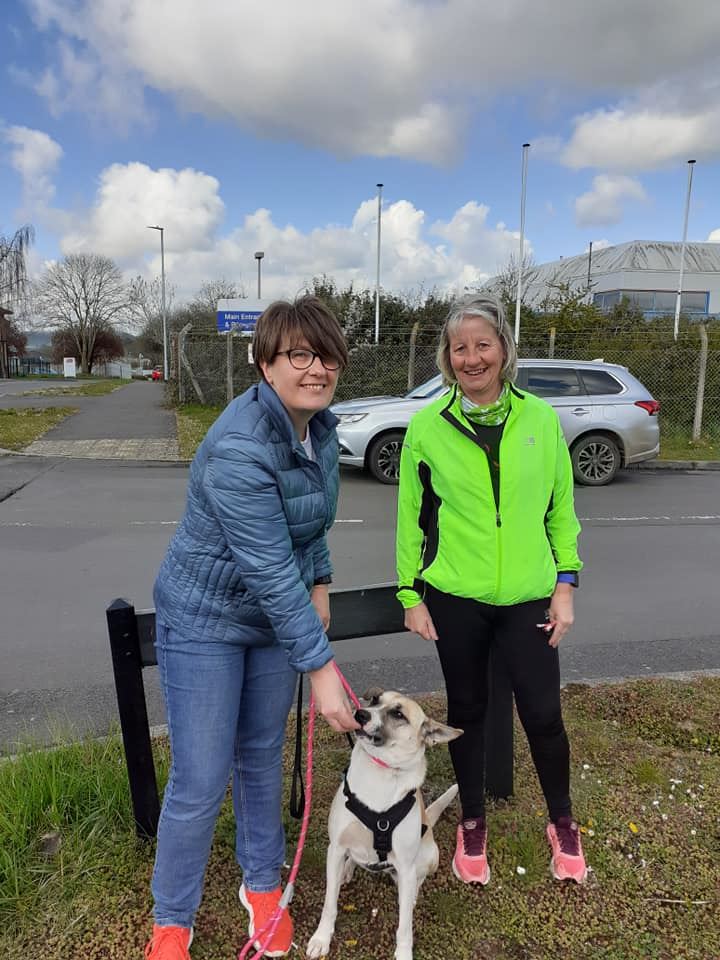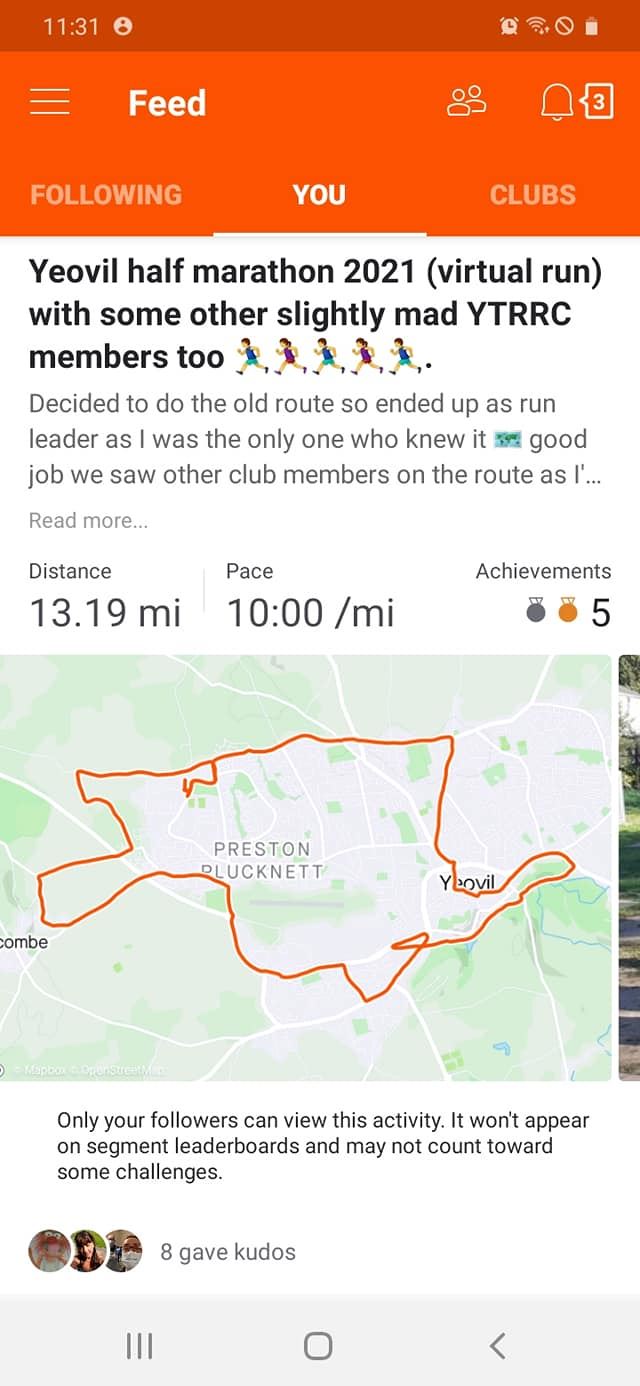 Virtual Running
SWCP Midweek Update.
From Donna: Mid week Brief, SWCP. As Matt does a brilliant job of telling us where we are on the map, my Geography skills are not so good so I thought for a while I will keep too what you have ran and what you have left. Many of you may of done miles after me and Matt have started to look at doing the reports, I apologise but with the daylight being longer, we have to start somewhere . I started looking at the times at 7pm today so some of you may have finished a run after this. We started with 34 runners starting from new years day. We have Bungy who has finished and a further 15 of you have gone over half way. Andrew Holloway 596.63 done 33.37 left.
Tim Willis 517.30 112.70
Lesley Nesbitt 503.50 126.50
June Moule 441.53 188.47
Paul Thomas 439.88 190.12
Casper 398.53 231.47
Marie Lockwood 367.52 262.48
Kate Gowers 346.27 283.73
Sandra Levett 340.10 289.90
Louise Ward 337.32 292.68
Sharon Hardy 333.42 296.58
Linda Membury 332.78 297.22
Sue Mallinson 332.60 297.40
Nick Cox 330.29 299.71
Anita Garrett 321.35 308.65
Mac 303.46 326.54
Donna Reeves 301.74 328.26
Adam Hawkins 284.88 345.12
Rachael Gosney 281.36 348.64
Mel Cox 277.10 352.90
Claire Shucksmith 272.73 357.27
Richard Clayton 253.57 376.43
Nichola Chesterton 242.97 387.03
Angela Claire 226.83 403.17
Martin Alderman 224.85 405.15
Natasha Turner 222.17 407.83
Matt Driver 221.85 408.15
Nat Robins 198.18 431.82
Shaun Powell 190.18 439.82
Lauren Jessica 162.99 467.01 happy birthday
Kat Hurford 140.61 489.39
Sara Driver 138.05 491.95
Tristram 95.62 534.38
SWCP Weekend Update
From Matt:
It's been a strange week what with the weirdly changeable weather, so well done if you managed a run and kept warm and dry. Unfortunately that's not the case for Tristram Clark who still hasn't moved from 95.62 and clearly needs a Flying Fox race to get him moving! Meanwhile, Sara Driver is in Boscastle on 138.05 near Cobweb Carpark: I would imagine most carparks down there have cobwebs at the moment, but that's all due to change! Kat Hurford is at Tintagel on 143.65 but will be moving along swiftly as she makes progress on her 5/50 challenge! Lauren Jessica is around the corner from Padstow at the RNLI station on 171.79, as Nat Robins reaches Perran Sands on 198.58, just a little shy of Shaun Powell, who, on 200.45, gets his 2nd postcard, this time from Cligga Head. At Hayle Beach on 221.85, Matt Driver has sand kicked in his face as Angela Claire swept past to 226.83 and on to Carbis Bay as she finally remembers to log her miles! Natasha Turner is on the headland at St. Ives on 228.96, while Martin Alderman, on 243.38 is relaxing at Hypnotherapy Penzance near Boscaswell On 253.57 Richard Clayton is approaching nanjizal Beach with Nichola Chesterton less than a mile ahead on 254.26 Claire Shucksmith is at Praa Sands on 277.06 and Mel Cox is at Predannack on 290.6, with Rachael Gosney on 294.58 at Kynance Cove.
At Coverack Headland, Donna Reeves is on 304.96having rounded The Lizard and traversed the Chynhalls Cliffs. Coverack is a town offering windsurfing lessons, a lifeboat service, and the services of a private investigator! A seafront road takes the SWCP around Dean head and its granite quarry, before taking on Porthoustock and it's granite quarry. More rough grassland above smaller cliffs follows to Nelly's Cove, Nave Point and the local lavender farm. You need to time your arrival at Gillan and Gillan Creek as it's a short hop across the tiny stoney brook, or a 1 1/2 mile tour around the fast flowing tidal estuary, to the road bridge! Trudging along through Trudgewell gets the SWCP to Dennis Head where "Little Dennis" is a tiny Tudor fort built by Henry VIII (or at least he was the one that got the builders in). As part of a chain of defences, it was completed in 1539 serving to protect Falmouth and it's sealanes. Zig-zagging East and West, the coastline next reaches Helford River and rather than wander all the reaches, inlets and coves, the SWCP allows us use of the local ferry - or it would, but according to it's website it is closed for winter, expecting to re-open sometime this month! Saving a 500 metre swim, most of us won't be swimming! A looping riverside trundle on soft manicured grass and woodlands gets Mark Copping to Mawnan on 320.35 and with less than 310 miles left, Mac indicates that our mid-placed (or most average) participant is now over half-way!
Others over halfway are:
Adam Hawkins - 327.19
Anita Garrett - 329.2
Sharon Hardy - 338.84
Linda Membury - 340.62
Sue Mallinson - 341.47
Louise Ward - 343.82
Sandra Levett - 346.6
Nick Cox - 357.69
Kate Gowers - 359.22
Marie Lockwood - 383.32
Casper Harvey - 403.54 (fourth postcard)
June Moule - 454.83
Paul Thomas - 460.96
Lesley Nesbitt - 503.5 (fifth postcard)
Tim Willis - 524.72
Andrew Holloway - 600.54 (last postcard)
And of course Bungy Williams, been there, got the t-shirt!
Keep running everyone!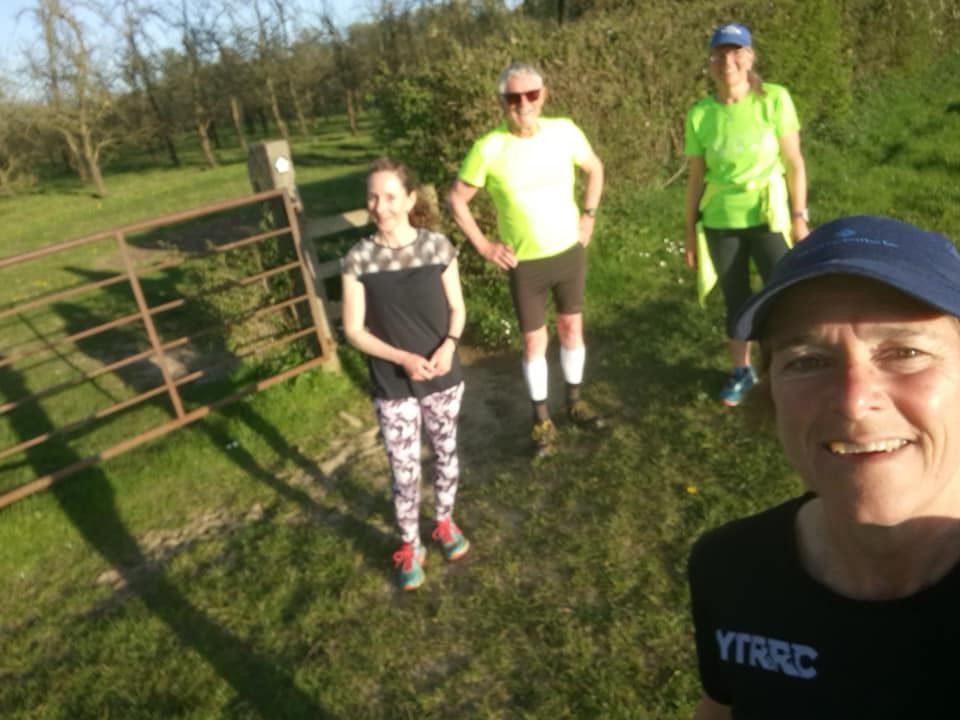 Released On 11th Apr 2021