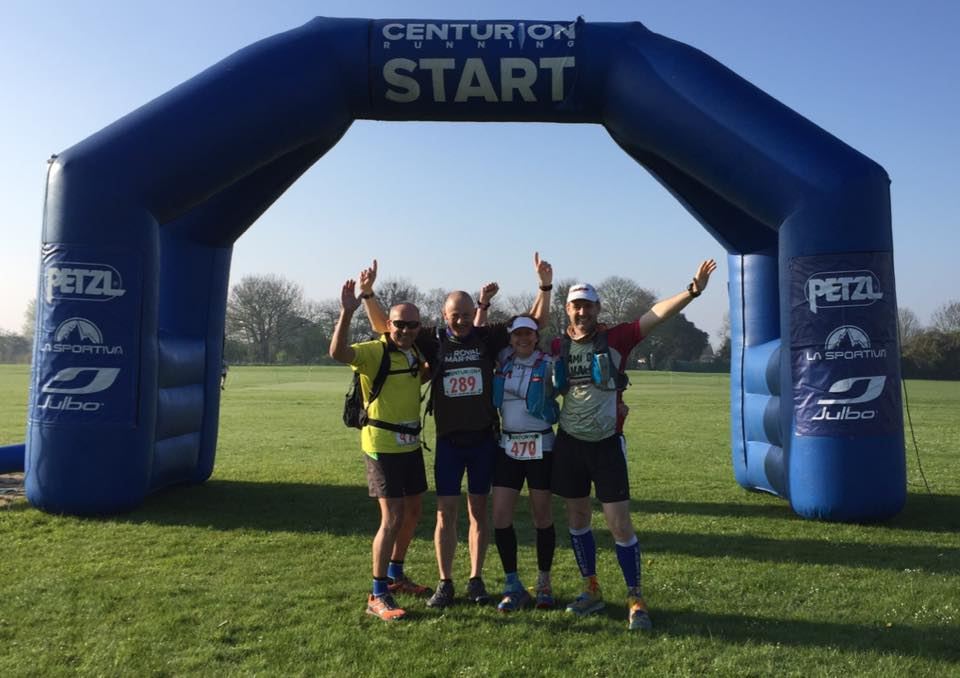 A New Beginning
A New Website
For anyone that doesn't know the Club decided some time ago to change the look of the website and also the way we collect and do our business. We were approached by Richard and Tim Howes who run their Company "Kontrolit.net" and for the past 3-4 months we have been setting this up and also training Simon (treasurer) Adam (Membership) and myself.
We are nearly there and hopefully will go live sometime next week. To that end, I have stopped updating the old website as it was taking up too much time running both and if you need any info for now just ask.
The new site will manage all our membership and once we go live I would like you all to go onto it and join. This will be the same form as the membership one but all done online and eventually, all payments will be done through the site using Pay Pal so it might be worth setting a Pay Pal account up if you have not got one already. This is not compulsory as you do not have to have an account with Pay Pal to use it but it does help. FullonsSport uses it as does White Star and more and more races are going down that way to pay.
The new website design and new logos will hopefully bring a bit more colour and is appearing on some of our new clothing range, hopefully, we will also be selling the kit this way as well. Thanks to Chris Briggs for the logos, he has done a great job on them.
I would also like to thank the previous webmaster's down the Year's, especially Nigel Moysey for getting me started and all the work Nigel has done over the Years. It is a hard job and does take up a lot of time and you only have to look at some of the other local Running Club Websites to see how out of date they are and are hardly ever updated.
So it's a final goodbye to this and you will just have to wait a few days till the new site.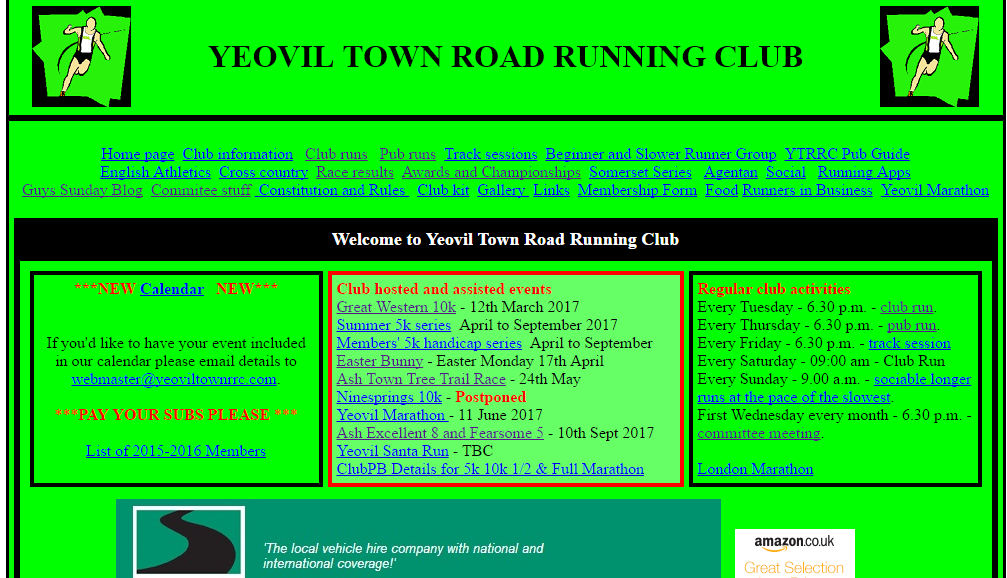 SDW 50
A fair few months away Pete had an idea to run the SDW50 miler so we signed up along with Kate and John Hayden and on Friday set off for SE England somewhere. On the way down we talked about what to do next and before we knew it we have signed up for Chester Marathon and booked the hotel, Tim Hawkins is also drinking with us, I mean running the marathon as well. Anyway back to somewhere in the SE, Friday night we went to registration and had our kit checked, Head Torch, spare Torch, Waterproof, spare clothing, bottle opener etc.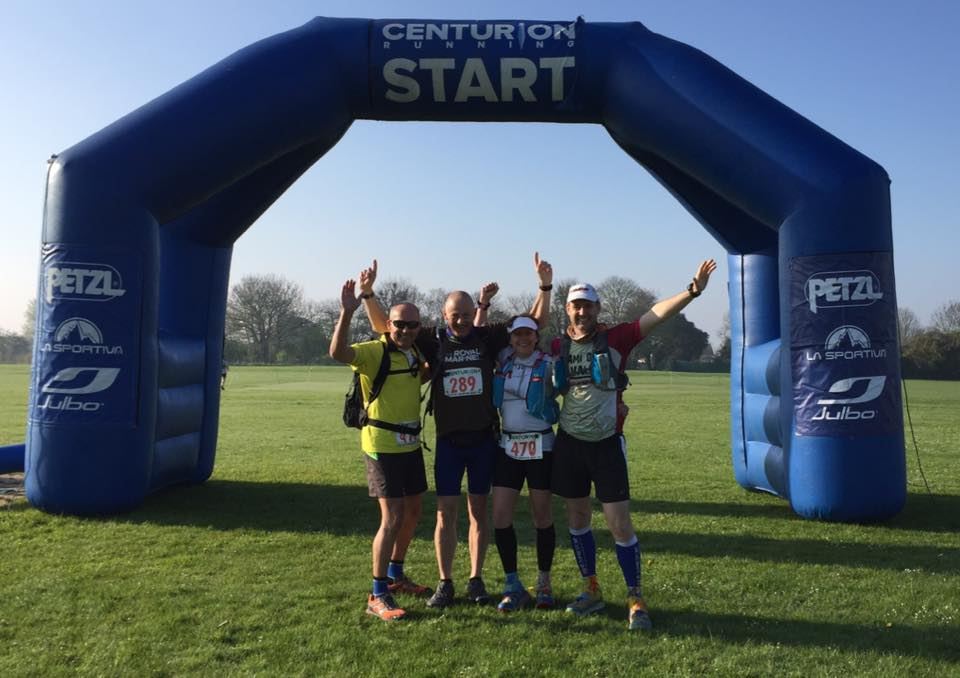 Saturday came along with some lovely sunshine and we had a photo taken of the Yeovil crew and then at 9:00am we were off to run to Eastbourne from our start point in Worthing.
It is a tough route with some of the climb well over a mile long but made up of some nice downhill, the Aid stations were great and very well run and just couldn't help you enough. The last two even had a cup and tea waiting for us.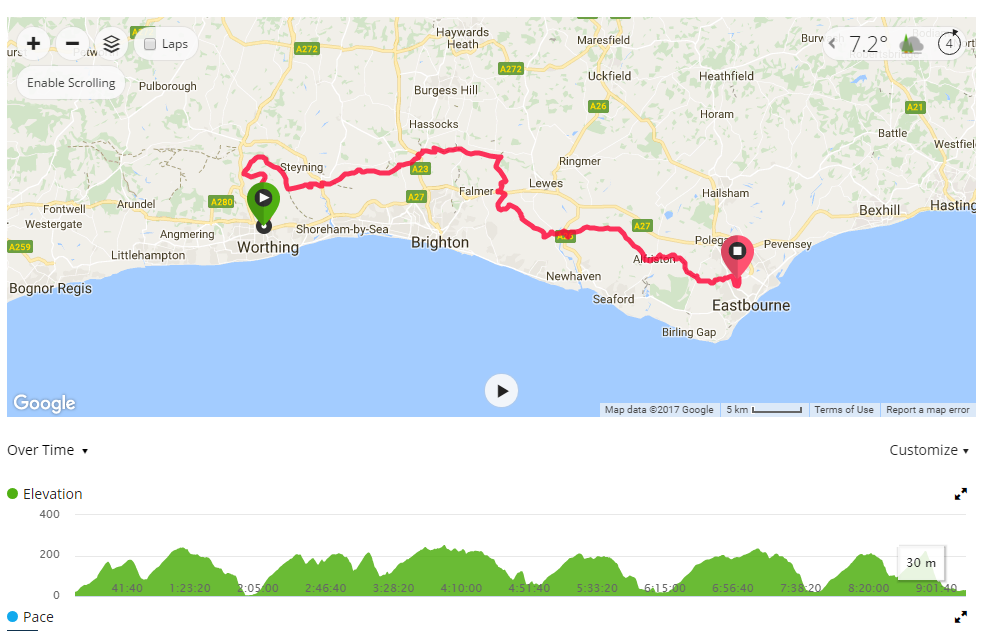 Along the way Pete and I were catching up with Kate then passing then Kate would pass us and this carried on through all the Aid stations. Kate went on to be the first YTRRC runner over the line with Pete and I not far behind. I was happy with a watch saying I was doing a sub 7 on the track at mile 50.
Pete didn't feel the love and I don't think he will be back next year but it was a great day and the sunburn is now getting better.
From Pete:
So, a bright sunny morning with blue sky and a chill breeze (on top of the downs) was the start for our (Captain Slim and myself) 50 mile challenge. We did meet up with John and Kate Hayden at the start and had the customary club photo. We all carried some form of camel bak which had to include 'head torch', waterproof jacket, base layer, hat and gloves and anything else you thought you might need. Unused to carrying such loads unlike Captain Slim, I thought I wouldn't top up my bladder (keeping the weight down) and rely on the aid stations.
Wrong move, at 34 miles I did concede and half filled the bladder, at least enough hydration to get me to the next aid station.
If anyone is thinking of running this one, it is hilly, it's nothing to spend a mile going uphill?
My time at the marathon distance was 4:37:53, total time including the stops was 10 hours and 8 minutes. The cut - off time is 13 hours.
We did run with Kate for a number of miles and caught one another up depending how long you were at each aid station.
It was a very well organised race with well-provisioned aid stations and a big bling medal at the end.
The final part of the race is run around the athletics track, I overhauled three runners and Captain Slim out did us all by sprinting around it (just because he could).
Once showered and changed all four of us made our way to a local grill place and had a meal before getting on the bus to be taken back to Worthing to pick up the car and onward to the Travel Lodge. Swiftly followed by tea and bed.

In the morning we found a Premier Inn for breakfast before arriving back in Yeovil just before midday.

All in all a hard weekend, let's hope recovery is good as London is not very far away.
Bristol Half Marathon
BRISTOL HALF MARATHON - Sunday 17/09/17
I am happy to arrange this as a club trip again. It's a good course for a pb and with approx 10,000 runners, there's lots of supporters around the course to cheer you on.
We need 20+ club members to get the discounted places at £31.20p. I will collect the payments and manage the booking.
You do need to be a paid-up YTRRC club member to qualify for the place.
In recent years the club have provided a coach for the journey so it makes for a great day out
:)
Please let me know if you are interested asap.
Easter Bunny
Thank you to all those that have so far volunteered to help at this year's race on Easter Monday 17th April, starting at 1100.
We still need the following marshal positions to be filled:
Stockwitch Cross (MP1&MP7) – x3
Urgashay Turn to B3151 (MP6) – x3
"S" Bends (MP8) – x2
B3151 Turn (MP11) – x2
B3151 Turn to Finish (MP12) – x2
Water stop – x4 or more if available?
Finish Funnel – x4
This year the "chips" will be incorporated in the race numbers so no snipping off ty-raps this year. I would appreciate it if we have any children who would be prepared to hand out this year's medals to the finishers. At the moment they will need to hold them unless I have sufficient time to make a stand to hang them on and they take them off one at a time? If no children are available I will accept grown-ups.
Also, I need people to hand out the race numbers in the Nuffield Centre before the race (sit down role).
Last but not least - Car Parking, two to three people to direct cars onto the car park (also re-directing FAA Museum visitors to their own car park)
I'm sure Guy and I will think of something else that needs help with so please keep an eye on Facebook/Blog or Phil's Parish Notices, thank you.
Marks Pub Runs
STOFORD PUB RUN
Tonight we split into 3 groups. Our group led by J.C. went off down Hooper's lane. Jaws has a Hooper. At the corner we went off-road and ran past old broken caravans and what seemed like a junk yard. At Whistle bridge, we crossed the A37 and continued across fields to Netherton road bridge. Just before the reservoir we turned right and ran along a long muddy uneven track (Isles lane). We went right then left and back off-road across fields with sheep and lambs. We turned right onto another muddy track and ran towards Coker Court. We went left down a path and ran towards East Coker and Tellis Cross. A final bit of off-road took us towards the Red House. Crossing the A37 we ran back through Barwick round the houses and into Stoford. A good route from J.C. of 7 miles. A good dose of sunshine tonight, and a negative differential coefficient of temperature with respect to time. Good pub as well. Thanks all.
Wessex Ridgeway
From Matt Driver:
All male, female, thin, not-so-thin, daft, simple, and damp (?) runners wanted...
Got your attention?
May 21st...YTRRC need two teams of six for a blast across Dorset
WE NEED YOU
See
Wessex Relay
Released On 7th Apr 2017